Carry On Constable
By Ed Garea
Miss Pinkerton
By Ed Garea
Parachute Jumper
Bette Davis' Least Favorite Film
By Ed Garea
Skyscraper Souls
By Ed Garea
Skyscraper Souls
(MGM, 1932)
–
Director: Edgar Selwyn. Writers: C. Gardner Sullivan (adaptation), Elmer Harris (dialogue continuity), & Faith Baldwin (novel
Skyscraper
). Cast: Warren William, Maureen O'Sullivan, Gregory Ratoff, Anita Page, Verree Teasdale, Norman Foster, George Barbier, Jean Hersholt, Wallace Ford, Hedda Hopper, Helen Coburn, John Marston, & William Morris. B&W, 99 minutes.
When I first saw Skyscraper Souls on TV late one night, I thought it was made by Warner Brothers, and would continue to think so for quite a while afterward. The film was right out of the Warner's playbook for the early '30s, featuring lots of furtive sex, its leading lady in various stages of undress, and sex dominating the subplots. And it starred Warren William, Warner's resident cad, a man the audience could trust as far as Stevie Wonder could see.
But no, the film wasn't from Warner's after all. It was made by MGM, and it took me a little while to wrap my head around that fact. The thing walked like a Warner's film, talked like a Warner's film, and quacked like a Warner's film. Yet, it wasn't. Once I discovered this fact, I was intrigued and began looking into how MGM could make an almost perfect copy of a Warner's film of the time.
I found Skyscraper Souls to be the poorer domestic cousin of Grand Hotel. Both films were based on popular novels of the day: Grand Hotel by Vicky Baum, and Skyscraper by Faith Baldwin. Like Grand Hotel, it's a drama, bordering on soap, which takes place in one locale. But while Grand Hotel is studded with big stars like Wallace Beery, Joan Crawford, Greta Garbo, and the Barrymores, the biggest stars in Skyscraper Souls are Warren William and MGM's newly signed Maureen O'Sullivan, fresh off her co-starring role in Tarzan. The studio must have figured that, since Grand Hotel did so well, perhaps a cheaper knockoff might do just as well and not bear the overhead of the previous film.
It would seem that MGM was attempting to produce a cheaper copy of Grand Hotel at the start. Baldwin's book was serialized in William Randolph Hearst's Cosmopolitan Magazine prior to its publication in book form in 1931. When MGM purchased the screen rights in July 1931, it announced Robert Young, Una Merkel and Madge Evans as the stars with Harry Beaumont in the director's chair.
But by the time production on the film began in May 1932, those names were scrapped. William, who had just scored a major success that year in The Mouthpiece, was borrowed from Warner's for the lead role as banker David Dwight, with O'Sullivan and Preston Foster signed for the main supporting roles. The directorial chores were handed over to Edgar Selwyn.
The cast and director were not the only things about Skyscraper that were changed. Much of Baldwin's novel was gutted as well, changing the emphasis from the romance of Lynn and Tom, O'Sullivan and Foster's characters, to the financial intrigue revolving around the character of David Dwight, who in the novel was merely a successful celebrity lawyer who once dallied with Lynn's boss some years ago.
Seeing they couldn't match Grand Hotel in both sophistication and star power, the folks at MGM decided to go with the next big thing: sex. Sex dominates the film's undercurrent and seems to be the motivating factor for most of the characters. By tying this to the surface events of big business, underhanded deals, and the resulting stock market crash, MGM is trying to emulate the Warner Brothers approach to film. And while some elements of the film come off, most of it is predictable, even down to the mawkish ending.
The film is centered about the Dwight Building, a 100-story art-deco wonder in New York. During the establishing scenes we notice it standing out in comparison to the Empire State Building, which looks smaller, even though the Empire State has 102 floors. The building is the brainchild of banker David Dwight (William), who cherishes it more than anything else. As head of the Seaboard Bank he made the huge, but questionable, loan that enabled him to erect this tower to himself, and when he is questioned over the legality of the loan by the bank's board of directors, Dwight becomes determined to save his baby at any cost.
Even Sarah Dennis (Teasdale), his closest adviser and mistress of many years, doesn't realize the extent to which he will go in order to protect his investment. As we learn, her love for him has blinded her to the fact that his in-name-only wife, Ella (Hopper) is merely an excuse not to marry Sarah, and that he ruthlessly pursues everything he wants at the moment.
His board of directors is worried, but Dwight reassures them that he has a way out. He plans a merger with Hamilton's Interstate, but when Hamilton (Morris) tells him that while he's willing to merge with Seacoast, Dwight is to have no part in the new company, Dwight declines saying, "Love me, love my building."
Switching gears, Dwight's next target is his old friend Charlie Norton (Barbier) of the Manhattan Bank. During a party held for Norton's honor in Dwight's penthouse, Dwight lures Sarah's young, innocent secretary, Lynn (O'Sullivan) up to the apartment on the pretext of delivering a report. When she arrives, however, the report is the last thing on his mind as he plies her with champagne, getting her quickly drunk to the point where she passes out in Dwight's bed. When Lynn awakens at three in the morning, Dwight propositions her, but she turns him down flat. He escorts her down to the lobby, where Tom Shepherd, a young bank teller with whom Lynn is in love, and who has been waiting for her, is hiding. He sees Dwight and Lynn and naturally assumes the worst.
Tom confronts Lynn the next day, which leads to an argument where Lynn decides to break off their relationship, saying she wants nothing to do with a man as jealous as he. Later, Lynn tearfully confesses all to Sarah, who decides to take Tom to lunch to repair the damage. Sarah explains what really happened to Tom and urges him to reconcile with Lynn. When Tom replies that Lynn insists they need more money to get married, Sarah gives Tom an insider tip to invest his savings in Seacoast stock.
Although Tom keeps the information secret, word soon gets out about the Seacoast-Manhattan merger, and the stock soars as people invest everything they have, buying the stock on margin with the faith that their hopes and dreams will come true. Meanwhile, Hamilton approaches Dwight with a plan: he and Dwight can become rich by inflating the stock, then selling short to enrich themselves and ruin the other investors. Dwight enthusiastically accepts the plan, and soon, when the stock reaches $350 a share, Dwight and Hamilton sell, causing the stock to plummet and wiping out everyone else, including Tom and Norton. When Norton confronts Dwight, not only does Dwight show no remorse, he revels in the fact that he now owns the Dwight building outright.
Almost everyone hates Dwight's guts, except for Lynn, who has decided to accompany him to Europe after one of Tom's jealous outbursts. But just before Dwight is about to leave, Sarah confronts him, begging him not to ruin Lynn's life the way he ruined hers. When Dwight ignores her pleas and starts to leave, she whips out a pistol and shoots him. Dwight pretends it's only a flesh wound and tells his butler to get a doctor. He wipes Sarah's fingerprints from the gun, explaining that he had an accident. Dwight tells Sarah he will always care for her, then drops dead. Distraught, Sarah goes to the roof of the building and throws herself off in grief. Sometime later, Ella sells the building while Lynn and Tom decide to start their life together, realizing that money's not all it's cracked up to be.
William's electric performance as Dwight dominates the film, providing a dynamic center for the rest of the cast to play off. A lesser performance would have sunk the film before it had a chance to gain steam. William is the perfect choice for Dwight, as no one could play a cad like he could, especially one so fixated on an object. The building, when we first see it, looks like a giant phallus, and one doesn't have to be reading Freud at Oxford to where this is going. But even though Dwight's machinations are motivated by his brute emotion, William pulls it off with such panache as to win our respect, if not love.
Kudos are due to screenwriter Sullivan for taking the character of David Dwight from the supporting cast of the novel and transforming it into the centerpiece of the movie. With this important change, the skyscraper itself takes on a life of its own and setting the entire film within its walls doesn't seem like a convenience for the studio.
In Baldwin's novel, Dwight obtains his information behind the scenes from the office staff and using said information to make his investments. By moving Dwight to the forefront, Sullivan brings out the dynamism Baldwin had hinted at when originally describing him in Skyscraper's pages.
Sullivan also simplifies the merger, which is now seen as important, but only in terms of Tom's character and his relationship with Lynn. In the novel, Dwight is an outsider not connected with Seacoast and the merger is between Seacoast's Norton (Barbier in the film) and another firm. The inside information becomes important to the story because Tom is Norton's assistant. With the character of Dwight now front and center, the merger becomes one by Dwight himself, and a large part of the main storyline, with the backstage shenanigans only adding to that luster.
O'Sullivan had come to MGM after a couple of films at Fox. After she finished Tarzan, MGM was eager to see what else she could do, and decided to cast her in this film as a sort of proving ground. If she failed, they could assuage themselves in the fact that the picture didn't cost that much money; if she succeeded, it was the perfect launching ramp for future roles. It turned out that they had nothing to worry about. In fact, the role fit her so well one could assume it was written especially for her. As the ingénue, O'Sullivan plays Lynn with a combination of youth, innocence and naivety. But underlying it all is a set of smarts that makes for a most sympathetic and intriguing gold digger.
Not that we can blame her for being a gold digger and accepting Dwight's offer. Her fiancé, Tom (Foster) is one of the most obnoxious characters to appear on the screen. His attempts to flirt with her when they first meet are so grating as to be genuinely creepy, coming off like a cretinous stalker with his continuous libidinous advances. That these lines actually work is even worse to contemplate, and one smells the distinct odor of fast screenwriting. Tom's constant jealousy and attempts at controlling behavior also makes us cringe to the point that we're actually relieved when she tells him she's going off with Dwight. And what can one say about a slapping match between the two brought on by his jealousy and ends up with the two of them being engaged? His frequent colliding with other persons and piles of boxes are ill-considered attempts at humor that come off as forced.
Teasdale, who was a popular supporting staple of films from the early '30s, turns in a wonderful performance as Dwight's mistress, Sarah, the building's manager. She's accomplished, smart as a whip, and the force behind Dwight as a sort of mother-confessor. Her weakness is the huge blind spot she developed towards him, brought on by love and a fear of the present, as she has a vague realization that their affair is close to burning out entirely. Yet she continues to hang on.
Sarah is a character that could have just gone by the boards as just another supporting role, but Teasdale pumps life into her, especially in her relation with Lynn as a kind of mother-mentor. She treats Lynn, who supposedly is from her own hometown, almost as a daughter.
Her relationship with Dwight is a complex one; of all the people he deals with, he shows her the most kindness and humanity, possibly from their years together as a couple. He depends on her reactions and advice; using her as his private sounding board. Yet this does not stop him from continuing to string her along when it comes to marriage. One of the best scenes in the picture is when Dwight's wife, Ella, drops by for some more support money. After Dwight leaves for a moment to attend to business, Sarah is left alone with Ella, and the two circle each other like opponents in a prizefight. But it's Ella who lands the knockout blow when she explains the facts of Dwight, telling Sarah that "marriage to him is just protection against other women." Although in the next breath Ella tries to lighten the damage by comparing Dwight's behavior to geniuses like Byron and Cellini
–
"We adore them, but we never own them"
–
Sarah is gobsmacked. The blinds have been lifted permanently from her eyes and she realizes she's been living a sham. Even if Ella were to divorce him so Sarah could have her turn at the altar, she realizes that although the horses may change, the race will remain the same. We also realize at the end that if Dwight were leaving with anyone else except the young and innocent Lynn, Sarah would simply accept his gifts and bid him a fond bon voyage.
Hopper, as Ella, heads the ensemble cast. Based on her acting in this and subsequent films, it's easy to see whey she decided to switch careers. Other minor characters inhabiting the building include the kindly jeweler Jacob, played by Jean Herscholt. He's the only man with wealth that emerges from Dwight's scheme with any cash. He's also in love with model and part-time hooker Jenny (Anita Page). And then there's Myra (Helen Coburn), who loves Slim (Wallace Ford) but is married to Bill (John Marston).
The lives and activities of the lesser characters are glossed over in the film. The story between Anita Page's Jenny and Hersholt's Jacob is touching, but hardly touched upon as the film progresses. No, this is the story of David Dwight, and anything that gets in the way is tossed aside, as are the characters that come between Dwight and what he wants.
As mentioned before, this is an MGM film done in the style of Warner Brothers, but with an important difference. Were Skyscraper Souls a Warner Bros. film, Dwight would have pulled off his scam, but paid for it in a business way. He would have been seen as the totally immoral cad he was. However, in the MGM film, Dwight is a cad, true, but he wins the audience's sympathy in that he's likeable in addition to being shrewd. He could well have forced himself on a drunken Lynn that night in the bedroom, and given his business proclivities, it's something we well might have expected of him. Instead he plays the waiting game, knowing that sooner or later she will come to him.
All throughout the movie, Dwight is supplied with a number of defining speeches, pointing out to his co-conspirators that if he had been working with them instead of against them, they would see him as a hero, no matter how many people he drove in penury:
"Listen, if I double-crossed somebody else for you I wouldn't be a double-crosser. I'd be a financial genius. You'd profit by it. You'd love it. You'd love me. I'd be your pal, your leader. But I put one over on you, so I'm a double-crosser. It's all in the point of view, gentlemen. But don't despair. There's lot of small fry that you can double-cross. Just like the good old days."
And there we have it: Social Dawrwinism, pure and simple, the survival of the fittest. Dwight is the type of person who destroys lives, the difference being in his motives: if it weren't him, it would be someone else. That's the way the world works, and it was a philosophy strongly embedded during the Depression. We respect Dwight because we know that what he said is true, and it takes away from any pity extended to his victims, for they were also playing the same game. Only Dwight was better at it than they were.
In the end, Dwight is punished, but not for betraying the other characters, but for a personal betrayal, compounded by Sarah's overwrought suicide from the top of the building after she shoots Dwight. It's the "hell hath no fury like a woman scorned" plot, and brings down in only a few minutes what it took the film 95 minutes to build. It seems improvised on the spot and is something we would expect in a film from one of the many smaller studios that populated Gower Gulch, not MGM.
Right before fadeout we see Dwight's widow, Ella, selling the building while Tom and Lynn have decided to persevere, deciding they can indeed live on Tom's salary as a bank clerk. The moral to the working class is not to hope to rise above one's situation by manipulating the stock market; that's the province of the elite. No, learn to live within your means.
Afterwords
During the party in Dwight's penthouse, a drunk, giggly Lynn accidentally says "shitty" rather than "silly." Instead of a retake, the film makes a joke about it.
Co-conspirator Ham is played by William Morris, the real-life father of then leading man Chester Morris.
My Favorite Christmas Movies
By Ed Garea
Christmas is a time of celebration, of getting together with relatives, exchanging presents, and sitting down to a sumptuous holiday meal. But for the cinephile, Christmas season also means movies - and lots of them. As one who has seen more than his fair share of Christmas movies over the years, I've compiled a list of my ten favorites. I was at first tempted to title this "The Twelve Best Christmas Movies," but it's patently absurd, not to mention preposterous, to preach to fellow cinephiles what their favorite Christmas movies should be. What I do ask of readers is to comment - tell us what your favorite Christmas movies are and in what order. We'll publish your lists on the website.
12. National Lampoon's Christmas Vacation (WB, 1989): As usual, inept, disaster-prone Clark Griswold (Chevy Chase) wants to celebrate in the traditional way, even though his idea of celebration is typically over-the-top. But his plans are ruined when his redneck relatives, led by Cousin Eddie (Randy Quaid), decide to visit in this oft-times hilarious movie. Clark seemingly can't do anything halfway. His Christmas lights blind the neighbors while sending the city's electrical meters into a spin. His idea of a family Christmas tree is an oversized pine he cuts down in the forest and had trouble getting into his house. And, of course, the grand finale of disaster when Uncle Lewis (William Hickey) throws his lit cigar down a sewage drain into which Cousin Eddie had earlier dumped his port-a-potty sewage from his trailer. It explodes, sending a flaming Santa and reindeer across the sky.
11. 3 Godfathers (MGM, 1948): This poignant John Ford film is not only one of my favorite Christmas movies, but it's also one of my favorite Westerns. John Wayne, Pedro Armendariz and Harry Carey, Jr. are outlaws who just held up the bank at Welcome, Arizona. Pursued by lawman Ward Bond, they are on the way to making their escape when they come across a dying woman (Mildred Natwick) who has just given birth. They promise her they will take care of the baby, and what begins as a standard Western soon morphs into a beautiful Christmas story, with the three bandits taking the place of the three wise men carrying the Christ child through the desert to safety in a town named Jerusalem. Though the religious parallels are there, Ford never forces them, leaving it to the three outlaws, and us in the audience, to discover them.
10. The Bishop's Wife (Goldwyn/RKO, 1947): Cary Grant was never more debonair than as Dudley, an angel sent to help a Bishop Henry Brougham (David Niven), who is too busy with fundraising for a elaborate new cathedral to tend to his family, especially wife Julia (Loretta Young). Henry is losing sight of his family and why he became a churchman. Dudley is sent to remedy the situation, and not necessarily in the way everyone would have preferred. Though everyone loves Dudley, Henry begins to think that Dudley has come to replace him, both at work and in his family's affections. It was remade in a fashion as The Preacher's Wife (1996), with Denzel Washington in Grant's role.
9. A Christmas Carol (MGM, 1938): Dickens MGM style, with Reginald Owen as Scrooge, Gene Lockhart as Bob Cratchit, and wife Kathleen Lockhart as Mrs. Cratchit. Look for daughter, June, as one of the Cratchit children. Speaking of the children, one of the main flaws in the film is that Tiny Tim is none too tiny, almost as tall as Bob. Leo G. Carroll is the ghost of Jacob Marley, and Ann Rutherford shines as the Spirit of Christmas Past. Lionel Barrymore was originally penciled in a Scrooge, but illness forced him to withdraw.
8. Remember the Night (Paramount, 1940): Christmas, Preston Sturges style. Sturges wrote the screenplay for this story of Lee Leander (Barbara Stanwyck), a shoplifter arrested for the third time and remanded to court. Prosecutor John Sargent (Fred MacMurray) postpones the trial because it is hard to get a conviction at Christmas time. However, because this would necessitate Lee being in jail over the holiday, Sargent takes pity and arranges her bail. His first move is to take her to her mother's for the holiday, but after witnessing the cold reception she gets, he decides to take her to his family's Christmas gathering. Surrounded by a loving family, they fall in love, which in turn creates a new problem: how do they handle the upcoming trial? It's typical Sturges, with periods of caustic comedy broken up with scenes of sentimentality. Stanwyck and MacMurray are terrific in their roles with great supporting work from Beulah Bondi, Elizabeth Patterson, Sterling Holloway, and Paul Guilfoyle. As for Sturges, the film "had quite a lot of schmaltz, a good dose of schmerz and just enough schmutz to make it box office."
7. Un Conte de Noel (A Christmas Tale, Why Not Productions, 2008): To say the Vuillard family is dysfunctional is putting it mildly. They hate each other, and are only getting together this one Christmas because the family matriarch, Junon (Catherine Deneuve) has a rare bone cancer and needs a marrow donor. The matches for the marrow come down to her alcoholic son and her mentally disturbed nephew, and after a day spent with them, she's wondering if it's even worth going to the trouble of asking one of them to donate. It's not your usual Christmas movie, but reflective of how most families really are during the holidays, sniping at each other over long-simmering resentments, getting into jealous arguments, and just plain acting obnoxiously. All of which makes it a perfect Christmas movie.
6. Christmas in Connecticut (WB, 1945): Given her wonderful performances in dramas and noirs, it's easy to overlook Barbara Stanwyck as a comedienne. However she shines in this movie as Elizabeth Lane, a popular food writer for "Smart Housekeeping" magazine. In truth, she cannot boil water and gets her award-winning recipes from her friend, chef Felix Bassenak (S.Z. Sakall). The bucolic life she describes herself living on a farm in Connecticut with husband and baby is also a fiction. She lives alone in an apartment in New York City. Unfortunately for her, war hero Jefferson Jones (Dennis Morgan) is also an avid fan of her column, and after his harrowing life and death struggle at sea, he dreams of nothing more than sampling her dishes at her farm. Her publisher, Alexander Yardley (Sydney Greenstreet), not only thinks it would be great publicity, but he has also invited himself along. Now Stanwyck has to improvise a husband, baby, farm and cooking skills at the last minute if she's not to be exposed as a fraud. Only someone like Stanwyck could take this paper-thin plot and make it into a hit. She pulls it off brilliantly, knowing when to put forth and when to pull back on the characterization, and interacting beautifully with her co-stars. Stanwyck is the reason this is one of my Christmas favorites.
5. A Christmas Carol (Renown Pictures, 1951): Considered as the most definitive and faithful of the Dickens adaptations, it also boasts the great Alastair Sim as Scrooge. Sim plays Scrooge as Dickens envisioned him: a cruelly smug man who has no remorse, no regrets, and feels zero guilt for his selfishness. It's when he is forced to see the consequences of his life's choices does he realize that the only way out is to wholly embrace goodness. The scene with the ghost of his partner, Jacob Marley, is particularly chilling, especially Marley's indignation when Scrooge calls him a good man of business. Marley screams "mankind was my business!" and describes how the chain he "forged in life, link by link" is choking and weighing him down in the afterlife, following it by telling Scrooge his chain was just as long when Marley passed and it has grown even longer. It's the movie's most unforgettable scene and paves the way for Scrooge's redemption, a redemption he is led into kicking and screaming at times. It is exactly the starkness of this version that places it heads and tails above all other adaptations.
4. It's a Wonderful Life (Liberty, 1946): Frank Capra's take on Charles Dickens aims not at the redemption of Scrooge, for greedy misers can never really be redeemed, but the redemption of Bob Crachit. Jimmy Stewart is George Bailey, a man who had big dreams of what he wanted to do with his life, but whom circumstances forced to make do with the life he had. As a result, when his savings and loan comes up $8,000 short due to his Uncle Billy's forgetfulness, George begins to despair of his life, feeling himself a failure and pondering suicide. He stops to raise a prayer to God, who, upon hearing George, sends Clarence, a most unusual angel, to the rescue. George refuses to have anything to do with Clarence, thinking him a loon, but when he mutters to Clarence that it would be better if he were never born, Clarence takes the novel step of showing George what life in Bedford Falls would be like if he was never born. In short, it's a first-rate horror show, as George learns how one person's life and sacrifices can affect so many, even if he is unaware of it. Lionel Barrymore, as the greedy banker Potter, finally gets to play the Scrooge role, though he'll never reform. That's Capra's message: Don't wait for evil men to see the light, but take the wheel yourselves and steer humanity towards a better destination.
3. Miracle on 34th Street (20th Century Fox, 1947): It would surprise many to know that the studio that made this renowned Christmas classic, 20th Century Fox, had so little faith in it they released it in May 1947 instead of holding it for the holiday season. It mattered little to the throngs that came out to see it, or the Academy, who awarded Edmund Gwenn the Supporting Actor statue for playing Kris Kringle, which marks the only time a actor has won an Oscar for playing Santa Claus. Gwenn is superb as Kringle, who we first see as a man hired by feisty skeptic Doris Walker (Maureen O'Hara) to be Santa in the Macy's Thanksgiving Day Parade after the original actor hired to be Santa passed out drunk. Kris soon becomes the Macy's Santa, eve though Doris is somewhat nervous working with a man who claims he is Kris Kringle. A misapprehension she makes turns into a head-on conflict between Kris and the store's cruelly incompetent psychologist and results in Kris being committed to Bellevue. Lawyer Fred Gailey (John Payne), who loves Doris, takes up his defense. The trial is the highlight of the film, as Gailey argues Kris's sanity before a judge with higher political aspirations who's afraid to make the wrong move. When Gailey produces bags and bags of "Dear Santa" letters forwarded to the courthouse by the Post Office and makes the claim that Kris must be Santa Claus because the government recognizes him as such, the judge is spared a difficult decision and frees Kris. It's a beautifully constructed film that never comes right out and tells us Kris is the real Santa or that he's not the real Santa. And that's why it works so well.
2. The Shop Around the Corner (MGM, 1940): For sheer charm alone, this film cannot be beaten. It's the heartwarming story of two feuding co-workers, Alfred Kralik (James Stewart) and Klara Novak (Margaret Sullavan) in a Budapest gift shop who are unaware they are secret romantic pen pals. Alfred, who is in love with Klara, learns that he is the secret pen pal when she begins to quote his letters without knowing their author. He would like to announce he is the object of her affections but cannot confide it to her; he's afraid of not measuring up to the fiancée she has imagined him to be. Eventually things come to a head on Christmas Eve, when Klara finally confides to Alfred that she finds him attractive does he come forth as her secret pen pal. Almost everything about this movie is pitch perfect, from the direction by Ernst Lubitsch to the camerawork by William Daniels to the supporting cast, which includes Frank Morgan, Felix Bressart, Joseph Schildkraut, Sara Haden, and William Tracy. And, of course, Stewart and Sullavan, who bring a sense of earnestness to an otherwise frilly story.
1. A Christmas Story (MGM, 1983): For me picking this film is a no-brainer because I grew up with its author, Jean Shepherd. Spending my childhood in the New York Metropolitan Area, I tuned into Shepherd's radio show in WOR-AM every night, and was familiar with the tales A Christmas Story was based on long before he published them in the collections In God We Trust, All Others Pay Cash and Wanda Hickey's Night of Golden Memories. He was a greatly underrated humorist; not until A Christmas Story came out was he mentioned in any anthology of American humor. But there was no one else who understood the pulse of American life better than Jean Shepherd. The plot of the movie is pure Shep: All Ralphie Parker (Peter Billingsley) wants for Christmas is a Red Ryder BB gun with all the accoutrements, just like the ones he saw in his boys' magazine. But whenever the subject comes up, all he hears from adults is "you'll shoot your eye out." Ralphie looks for any loophole to get his prize, and thinks he has it in going to see Santa at Higbee's department store. But when he blurts out his heart's wish to Santa, all he gets is a quizzical stare accompanied by the phrase "you'll shoot your eye out, kid." But while other writers must be satisfied to stop with the basic plot, Shepherd makes razor-sharp observations on the Christmas season, especially as it pertains to a kid: "Christmas was on its way. Lovely, glorious, beautiful Christmas, about which the entire kid year revolved." No truer words were ever spoken.
Beauty and the Boss
By Ed Garea
Beauty and the Boss (WB, 1932) - Director: Roy Del Ruth. Writers: Joseph Jackson (adaptation), Ladislas Fodor and Paul Frank (play "A Templon Egere"). Cast: Marian Marsh, Warren William, David Manners, Charles Butterworth, Frederick Kerr, Mary Doran, & Robert Grieg. B&W, 66 minutes.
With all the social dramas Warner Brothers had been presenting to their audience, perhaps they figured the time was ripe to break it up a little and give the audience something to lift their spirits. And this cheery little fairy tale is just what the doctor ordered.
Viennese banker Baron Josef von Ullrich (William) is a busy man who believes women have no place in the office. ("Women are for non-working hours.") He fires his current secretary, Ollie Frey (Doran) because she distracts him during working hours. He then gives her six months' pay and but promises her that she'll be seeing him when he has "a weak moment."
Enter Susie Sachs (Marsh) - literally. While making her rounds in the city looking for work, she sneaks into his office. Rather oddly dressed, sporting a black umbrella and a black hat, she tricks the Baron into seeing her, and despite her shabby clothes and impoverished appearance, she amazes him with her energy, brains, and efficiency, so much so that he hires her on the spot. (She tells him she takes shorthand at 150 words a minute.) Here, he thinks, is the perfect secretary, a plain Jane that won't tempt him on the job, so he can keep his mind focused on business.
But, in addition to her qualifications, she's also very savvy. She immediately negotiates a higher salary and then picks up the phone, ordering a large amount of groceries to be sent to her mother (with a goose, at the Baron's insistence). It takes her roughly five minutes to organize the Baron's office into a model of efficiency, so much so that the Baron's younger brother, Paul (Manners), and colleague, Count

Von Tolheim

(Kerr), are mightily impressed.
The Baron and Susie make a great team, as she keeps his affairs organized and protects his from distractions, especially the long list of women who are dying to see him (of which he is unaware). We immediately see that her protectiveness is spurred on by the fact that she, too, has fallen for the boss. Everything is fine until the Baron, accompanied by Paul, the Count and his aide, Ludwig (Butterworth), and Susie, travel to Paris to complete a business merger. After the merger goes through, and the Baron reaps a great profit, he suggests to Susie that she go out and experience Paris nightlife. What he doesn't realize is that Susie longs to experience Paris nightlife, particularly in the company of the Baron. But he is all business towards her, and suggests she see Paris accompanied, not by him, but the delighted Von Tolheim and Paul. And that's just fine with Paul, who seems to have developed a crush on her. (Shades of Sabrina.)
Hurt by the Baron's suggestion, Susie confesses that she's been keeping women away from his door. When the Baron discovers that Ollie is one of those women, he immediately sets up a date, and, as a punishment, orders Susie to deliver a box of flowers to Ollie's room.
Ollie tells Susie that men will never notice her as long as she acts more like a machine than a woman, advising her to be more feminine, and demonstrates some of her flirtation techniques. Upon leaving, Susie decides to take Ollie's advice, and that evening, when Paul and the Count arrive to take her out, she has transformed herself from ugly duckling into beautiful swan, dressed in a stunning evening gown with her hair styled attractively. The Baron cannot believe what he is seeing. She flirts with the Count and Paul, but runs back to the Baron, telling him that she is hungry for life. He fires her, but as she goes to leave, he asks her to take one more dictation. He dictates a memo in which he asks her to marry him and Susie happily consents.
Checking in at an economical 66 minutes, Beauty and the Boss boasts far more than a neat title. The film was adapted from a 1931 play by Ladislas Fodor and Paul Frank titled A Templon Egere (The Church Mouse), which starred Ruth Gordon and ran for 164 performances on Broadway during the 1931-32 season. Though the material is thin, the film benefits from a great cast, with Warren William, Marian Marsh, Charles Butterworth, and Mary Doran giving terrific performances. William, who usually plays Our Favorite Cad in Warner Bros. movies, is once again a cad, but in this case, he's a nice cad. William is always fun to watch, but in this film we get to see him in a bit of a stretch, for as the film progresses, we see a change in his character as he tones down the edges and finds himself humbled by actually falling in love.
Marsh is perfection itself in a role that, were this film made a year later, would almost certainly go to the young Bette Davis. Marsh's rapid-fire delivery would give Glenda Farrell and Rosalind Russell a run for their money. Director Del Ruth, goes out to ensure we're on her side; the first time we see her, she's dressed in impoverished clothing with little make-up, her face pressed against the window in a Viennese restaurant, where she watches William's aide, Butterworth, enjoying his repast.
And the establishing scene, where she sneaks in and confronts the Baron, is the highlight of the picture, as she tells him about the plight of her class - what she refers to as the mice - poor and hungry. She describes herself to him as "hungry and poor as a church mouse," which would become his nickname for her later in the film. To our surprise, the Baron is interested in her story; being rich and from the upper class, it never occurred to him that there just might exist a young lady in Austria more interested in being fed and clothed rather than collecting bling. The social Darwinian tone of the scene is lost on today's audience, but back in the '30s, it was dominant in intelligent conversation. Were the film made today, that scene would have to be heavily revised to reflect today's social consciousness.
As for Butterworth, what can I say? He specialized in playing droll, perpetually bewildered characters, and was a mainstay in early Warner Bros. films. We can always count on him for good comic relief and he is quite good in this film as the Baron's assistant who is always writing last-minute instructions on his sleeves, is always at the boss's beck and call, even having no objections when informed at the last minute that he will have to work through the night. Butterworth graduated from Notre Dame, where he studied law, and turned to newspaper reporting for the Chicago American and the South Bend News-Times before being bitten by the acting bug.
Former Ziegfield girl Doran makes the most of a minor part, shining in the film's opening scenes with William, and later as Susie's teacher in the subject of femininity. In the film's opening scene, she's taking dictation from William in a really racy scene. (Well, it is a Pre-Code film.) A close-up of her legs is followed by the Baron telling her "Yes, I see it, but I've seen better." "But I didn't think you could see my, umm . . ." "No, of course not." William then continues distractedly looking over her form as he begins to criticize her obvious charms for distracting him from his work. As mentioned before, he fires her, but with generous severance pay and a "nudge-nudge, wink-wink, know that I mean, know what I mean" agreement to keep meeting after work that would have made Eric Idle proud.
David Manners has almost nothing to do but function as a sort of prop to William, and sleepwalks through his scenes. For someone supposedly totally infatuated with Susie, we'd never know it from the way he acts. And as for Frederick Kerr, why this wonderful actor was always given bite-size parts was always beyond me.
Director Roy Del Ruth keeps the film going at a breakneck pace, as if realizing that the less time we have to think about, the less thin and silly the plot seems. During the early '30s, Del Ruth was one of the workhorse directors in the Warners' stable, where his nickname was "fastest of the fast," due to his mastery of the in-house style. Checking on IMDb, I found he directed 10 films during 1932-33 alone. After his contact with Warner Bros. expired, Del Ruth worked for his old boss, Darryl Zanuck, at 20th Century before signing on with MGM, where he turned out a succession of musicals, including Broadway Melody of 1936, Born to Dance, Broadway Melody of 1938, and The Chocolate Soldier, among others.
Beauty and the Boss
, although much lighter than the usual Warner Bros. fare of the period, is still a creature of its zeitgeist, and as such should be enjoyed with a grain of salt.
Winner Take All
By Ed Garea
Winner Take All (WB, 1932) -- Director: Roy Del Ruth. Writers: Robert Lord & Wilson Mizner (s/p). Based on a story by Gerald Beaumont. Cast: James Cagney, Marian Nixon, Guy Kibbee, Dickie Moore, Virginia Bruce, Alan Mowbray, Esther Howard, Clarence Muse, John Roche, Clarence Wilson, Ralf Harold, Julian Rivero, Charlotte Merriam, & George "Gabby" Hayes. B&W, 66 minutes.
Winner Take All is a rather ordinary film with an extraordinary performance from its lead, James Cagney, as a feisty lightweight giving a heavyweight performance in a featherweight boxing movie.
The plot is such that the audience will have no trouble figuring out its ultimate destination, but the real interest lies in how the principal characters arrive there. This is where Cagney comes in. He plays Jimmy Kane, a boxer sorely in need of a rest due to his high living away from the ring. The film opens in Madison Square Garden. The ring announcer introduces Kane to the audience, before the main event, telling them that this is "a boy who needs no introduction. A boy who has fought his way up to the top, an old friend and an old favorite . . . " After a dozen tough fights, it seems that his rough fighting has cost him and he needs time to recuperate. To do this he needs financial help and the announcer asks the audience to help. They do so by tossing money into the ring.
In the next scene, we see that his manager, Pop Slavin (Kibbee) is packing him off to recuperate at a health resort in the middle of the New Mexico desert. We also learn that it wasn't the work rate that did Jimmy in, but also his hearty after-hours partying. Pop and trainer Rosebud (Muse) see Jimmy off and advise him to take it easy for six months, after which time Pop will get him some solid-paying bouts.
At the health farm, a pre-Gabby George Hayes welcomes Jimmy to the ranch and explains the layout, rules, and menus. On his first night. he hears a coyote. He wanders out to the veranda for a better look and meets young widow Peggy Harmon (Nixon).

They chat about coyotes and strike up a friendship when Jimmy remembers her from a night at a New York restaurant. Del Ruth now presents a flashback depicting the incident. Seems Peggy is seated at Jimmy's table and she irritates Jimmy's girlfriend (Merriam), who starts a fight with Peggy. Watch closely during the flashback, because we are treated to a cameo of both Texas Guinan and another, future Warner Brothers tough guy George Raft, in archive footage taken from their 1929 film,

Queen of the Night Clubs

.
Peggy has come to the health ranch because her young son, Dickie (Moore), is ailing and needs a cure. We learn that she hopes to use using the promised proceeds from her late husband's life insurance policy to pay the $600 bill. Jim becomes instantly attracted to Peggy (of course, we only have 66 minutes), and attached to both her and her son. Then Peggy discovers that the life insurance proceeds she was so desperately counting on will not arrive because her husband failed to pay his premiums. She tells Jim, who decides to take matters into his own hands. He goes to Tijuana and wangles a fight from Ben Isaacs (Wilson), the town's boxing promoter. Isaacs doesn't trust Jimmy because he hasn't fought in so long, and is afraid that he'll take a dive just to get the $600 loser's purse (Convenient plotting, isn't it?). Isaac tells Jim that if he's that desperate for a fight with local hero Joe Pice (Rivero), it will be "Winner take all. Two thousand bucks and not a stick of peppermint for the loser." Jim replies that he'll fight Pice for the "winner take all" purse.
The fight ends when both boxers knock each other out. Jim manages to stagger to his feet, holding on to the ring ropes, and is declared the winner (shades of Rocky II), but not without a price. His nose is broken and one ear is cauliflowered. But Peggy's bill has been paid, and she quickly puts one and one together and deduces he must have fought to pay it. Soon they're making plans for a life together. However, Pop has heard about the Tijuana fight and, deciding Jimmy's cured, calls him to Chicago for the necessary build-up bouts to contend for the lightweight championship. Peggy and Dickie see Jimmy to the train station, where Jimmy promises to get back as soon as possible so they can marry.
Jim fights well and is on his way to a championship bout. Returning to New York, he is introduced by Roger Elliot (Roche) to vampy socialite Joan Gibson (Bruce). Jim falls head over heels for her. Joan may be a man-hungry vamp, but she is also a Park Avenue snob, and treats Jimmy with a barely concealed contempt. Jimmy, for his part, misses all her signals and mistakes this attention as love. He begins to spend all his time with Joan and her uptown crowd. They, in turn, regard him as a sort of a mascot from the slums; good for a few laughs but not much beyond. A casual remark by Joan about Jimmy's nose and ear hits him hard. When Pop arranges for Jimmy to fight the champion, Jimmy nixes the fight and goes instead to a plastic surgeon to fix his nose and ear. He also takes lessons in etiquette from Forbes (Mowbray), who is part of the crowd that surrounds Joan. But all his good work is for naught, for Joan is not amused, She tells her friend, Ann (Howard), "The fool took me seriously and went and had his face done over. Now, he's lost all the things that made him colorful and different. He's just ordinary, now like any other guy."
Confused by Joan's attitude, Jimmy tells Pop to set him up with some palookas so he can get into fighting rhythm. However, with his newly reconstructed face, he is reluctant to take a beating, so he changes his fighting style from that of a puncher to more of a boxer, to avoid risking any damage to his profile. The fans, appalled by this new style, begin to boo him.
Joan discovers that getting rid of Jimmy is much harder than being introduced to him. Arriving at her apartment one evening, he is told by the butler that she isn't home. He bursts into a party, telling her that his championship bout will be his last. Win or lose, they will get married. He gives her ringside tickets.
Meanwhile, Pop knows what's going on and sends for Peggy. She surprises Jimmy and his reaction is callous, telling her that not only is he seeing someone else, but that he intends on getting married to Joan after his championship bout. Peggy, who has been most saccharine to this point, has had enough and tells Jimmy what's what in a great scene for which we've been waiting since Jim met Joan.
It's the night of the fight. Jimmy looks over the crowd, and guess what? No Joan. He sends Rosebud to call and find out where she is. After one round, in which Jimmy once again avoids contact, Rosebud reports that Joan is leaving on an ocean liner in about 20 minutes. With time slipping away, Jimmy goes on a furious attack and knocks out the champion. Without changing, he takes a taxi to the pier, boards the boat and frantically looks for Joan's room. When he finds her, she lies and tells him that her sister needs her. Jimmy's reply is that he didn't even know she had a sister. Then, who else but Roger Elliot enters the cabin? It all becomes crystal clear to Jimmy. He punches Roger and kicks Joan when she bends over Roger's unconscious body before leaving. The film ends with Jimmy proposing to Peggy, who accepts.
Cagney gives
Winner Take All
the power it needs to keep its audience interested, and it's to director Roy Del Ruth's credit that he let his star bust loose, rather than trying to confine him within the strictures of the script and filming schedule. His Jimmy Kane is straight from the lower East Side, a loud and fast talker with an over abundance of pride that, combined with his tendency to think with his crotch, leads to his romantic troubles and almost to a career downfall. When he's taken out of his element, as he is at the health farm, Kane's demeanor changes from feisty and obtrusive to relaxed and compassionate. We sense that he seems to have found a true love match with Peggy. But when he's back in the city, his demeanor returns to obnoxious. His pride, combined with his lack of intelligence, lead him down the merry road to ruin at the hands of Joan and her Park Avenue buddies.
It is only when Elliot comes into Joan's cabin that Jimmy finally realizes the game is up and he takes what to him is the natural and appropriate action. Kane is a character whose callousness is more driven by ignorance than maliciousness; when in the company of the socialite wolves, he's a lamb in the wilderness, and we can't help but take delight when he gets his comeuppance in the end. Cagney's ease in the ring, especially his footwork, caught the eyes of both critics and professional boxers. He trained for the role with former amateur boxing notable Harvey Parry, who has a role in the film, and would become Cagney's regular stunt man. In his autobiography, Cagney noted that another boxer, watching him spar, was certain that Cagney had fought in the ring - his footwork proved it.

"I said, 'Tommy, I'm a dancer. Moving around is no problem.'" He also said in interviews that he based the character of Jimmy Kane on guys he had grown up with, and it shows in his persona and delivery; imitating them, apparently, was no problem. It wouldn't be his only role as a boxer - he would go on to play boxers twice more, in The Irish in Us (1935) and City for Conquest (1940).
Guy Kibbee and Clarence Muse offer solid support as Kane's manager and trainer, respectively. Muse always brings a dignified persona to his roles and never allows himself to be placed into stereotype-land, no matter what the picture. Alan Mowbray does a fine job playing the "ponce" (this is a Pre-Code film), trying to teach Kane etiquette. John Roche is pleasantly invisible as Elliot, and it's always good to see George Hayes in a film, Gabby or no Gabby.
As for the female leads, let me mention that, back in the Pre-Code era, Warner Brothers was tilted towards it male stars. Female stars often received short shrift, except when they could be exploited as sex objects. Consider the wealth of female talent at the studio: Barbara Stanwyck, Joan Blondell, Mae Clarke, Virginia Bruce, Mary Astor, Aline MacMahon, Loretta Young, Myrna Loy, and Bette Davis. Then note that the only ones who lasted with the studio into the late '30s were Blondell and Davis. The others either left for greener pastures at other studios, or like Astor, chose to freelance. Jean Harlow, who was in The Public Enemy with Cagney, also left the studio for Columbia, and later, MGM. A wise career move on her part, otherwise she never would have learned to act or given vehicles in which to star and build a career.
Winner Take All has two prominent female roles: poor widow Peggy Harmon (Nixon) and vampy socialite Joan Gibson (Bruce). Bruce is a marvel to behold in the film, playing the man-hungry snob to perfection. Though she takes awhile to arrive on the screen, once she makes her entrance we are immediately drawn to her patrician looks. It also seems obvious that Del Ruth and Bruce placed more into her character than the script originally called for. Watch the scene where she meets Kane for the first time. We can see the excitement in her eyes as her hand brushes against Kane's sweaty chest; a look of longing mixed with disgust for his lower-class origins. And yet she is hooked. It's not until later, when Kane loses his gorilla-like charm, that Joan is no longer interested and returns to her own kind. The use of Esther Howard as her friend, Ann, is brilliant on both the writers' and director's part, for their conversations fill in the blanks and tell us what direction Joan is going to take her games with Kane. Howard, by the way, is marvelously catty in her small role. I think it was John Ford who said that film acting is done with the eyes, and Bruce does a lot with her eyes, using them to maximum effect in both medium shots and close-ups.
Marian Nixon, on the other hand, is the Good Girl, and as such, has the sugary role. Unlike Bruce, Nixon's Peggy cannot exist without Kane, and during the middle part of the film, when the only thing she gets from Kane is a postcard with a brief message to the effect that he'll be back, we begin to surmise that Peggy simply can't take a hint. When Pop brings her back and she tells Kane off, we're totally on her side and muttering to ourselves that it's about time. But then comes the ending, and she takes Kane back with only his poor excuse for an explanation. He's supposed to be crawling back to her, but it seems as if she's crawling back to him.
Lord and Mizner adapted Winner Take All from Gerald Beaumont's 1921 story "133 and 3." Wilson "Bill" Mizner was one of America's great characters. Besides being the co-owner of The Brown Derby ("If you know anything about food, you can sell it out of a hat."), he was also a land speculator in Florida with architect brother Addison (they developed Boca Raton and Palm Beach), a successful Broadway playwright, boxing manager, and an opium addict. According to Cagney in his autobiography, Mizner would entertain him for hours on the set between scenes with tales of his exploits in Alaska, where he swindled miners with rigged boxing and wrestling matches. He died on April 3, 1933, at the young age of 56 from a heart attack. Presumably, he was all worn out. Anita Loos and Robert Hopkins later based the character of Blackie Norton (Clark Gable) in the 1936 MGM production of San Francisco on Milner. Loos referred to Mizner as "America's most fascinating outlaw."
Director Roy Del Ruth began his Hollywood career in 1915 as a gag writer for Mack Sennett. He was a Warner's favorite because he brought the product in fast and cheap, without compromising the quality any more than was necessary. For instance, he needed only 15 days for Winner Take All. Other Warner's titles he oversaw included Blonde Crazy (1931) with Cagney and Joan Blondell, Taxi (1932), with Cagney and Loretta Young, Blessed Event (1932) with Lee Tracy, Employees' Entrance (1933) with Warren William and Young, Little Giant (1933) with Edward G. Robinson and Mary Astor, and Lady Killer (1933) with Cagney and Mae Clarke. From 1934 to 1942, he was Hollywood's second-highest paid director. He continued to make films until 1960, and died in 1961 at the age of 67, leaving behind his wife of 27 years, the former actress Winnie Lightner, and two sons, Richard and Thomas.
Winner Take All was yet another hit for Warner Brothers and solidified Cagney as a box-office draw. At its New York premiere, Warner's played up the boxing theme by bringing in several ex-champions and using New York boxing promoter Jimmy Johnston as Master of Ceremonies. It also provided the actor with more ammunition in his ongoing fight with the studio for bigger paychecks, a fight that eventually led to Cagney leaving the studio in 1935 before returning in 1938.
A FACE IN THE CROWD: CLARENCE WILSON
When I spotted him in the role of Tijuana promoter Ben Isaacs in Winner Take All, I wasn't surprised Clarence Wilson was in the film. He seemed like a regular staple of early '30s films. What did surprise me, though, was that Clarence was playing an honest promoter. I fully expected him to try to double-cross Cagney in some form or another. With that pickle puss, Wilson was destined to play the sneaky heel.
Face it, we've probably seen him more times than we can remember in films, yet some of us often mistake him for fellow character actor Jimmy Findlayson, the nemesis of Laurel and Hardy, to whom he bore a slight resemblance. But we loved this sourpuss, who, according to Bruce Eder on AllMovie.com, looked as if he was "evidently weaned on a diet of pickles and vinegar." Wilson usually played the heel, the sort of person who dances while evicting a poor widow and her children. In those roles there was no one like him.
Clarence Hummel Wilson was born in Cincinnati, Ohio, on November 17, 1876. He began his career as an actor in Philadelphia in 1895 as part of a stock company that toured the United States and Canada. Making his way eventually to Broadway, he played a series of supporting roles to such stars of the day as James K. Hackett, Marguerite Clark, Charles Cherry, and Wilton Lackaye.
Wilson entered motion pictures in 1920 as "Jues" in Goldyn's Duds. He followed this a short time later with an uncredited role in The Penalty, starring Lon Chaney. He worked steadily in the '20s, sometimes as "Wilson Hummel," sometimes as "C.H. Wilson," and sometimes as Clarence H. Wilson. When sound arrived, Wilson found himself still in demand. His first sound film was the Carole Lombard/Robert Armstrong newspaper comedy, Big News, for Pathe in 1929. He had a small role as a coroner.
Over the next 12 years, Wilson would specialize in playing crabby judges, cold-hearted landlords or orphanage officials, angry school or city officials, grouchy process servers, and stingy and nasty businessmen. Most of his roles were little more than bit parts (many uncredited), and he was wonderful as a humorless foil for the likes of W.C. Fields, Wheeler and Woolsey, and Charley Chase, though he occasionally landed a bigger role, such as Helen Mack's drunken father, who ran a pathetic sideshow in
Son of Kong
(1934). He was best known as the corrupt sheriff in 1931's
The Front Page
and for appearing as an Our Gang comedy foil. Shortly after playing school board chairman Alonzo K. Pratt in the Our Gang short
Come Back Miss Pipps
(1941), Wilson died, at the age of 64, on October 5, 1941.
Breathless
Godard's Pop Culture Noir
By Ed Garea and Jean-Paul Garr

ieu

x
Breathless (Les Films Imperia, 1960) - Director: Jean-Luc Godard. Writer: Francois Truffaut (story). Cast: Jean-Paul Belmondo, Jean Seberg, Daniel Boulanger, Henri-Jacques Huet, Roger Hanin, Claude Mansard, Richard Balducci, Jean-Pierre Melville, Francois Moreuil, Jean-Luc Godard. (Original title: A bout de soufflé) B&W, 90 minutes.
"

To make a film all you need is a girl and a gun." -- Jean-Luc Godard
If only it were that simple. And yet, Godard pulled it off, for all he needed was a low budget and enough imagination to overcome it. Dedicated to Monogram Studios, whose films were often playing at the theater down the street from the offices of Cahiers du Cinema, where Godard was plying his trade as a film critic, the film resembles a Monogram product in that it was made and looks on the cheap. However, while Monogram Bs emphasized action over characterization, Breathless turns that formula on its head, emphasizing the characters. A film that might have begun as a noir has instead aged over the years to become a pop culture watershed.
Godard was eager, almost chomping at the bit to make a movie. His friends and colleagues at Cahiers, Francois Truffaut and Claude Chabrol, had already made their feature debuts. However, while Truffaut and Chabrol drew upon the autobiographical in their films, Godard chose to do a film with almost no touches of the autobiographical. Perhaps this is because Godard, unlike Truffaut and Chabrol, grew up in the pleasant climes around Geneva, Switzerland, the son of wealthy parents.
SYNOPSIS
Breathless details a simple story: Michel Poicaard (Belmondo) is a young punk who styles himself after Humphrey Bogart. He steals a car in Marseille and heads for Paris, but is stopped by two motorcycle cops. Discovering a pistol in the glove compartment, he uses it to kill one of the policemen, and takes off running. Reaching Paris, he looks up old girlfriend Patricia Franchini (Seberg), an American student and aspiring journalist, who is hawking copies of the New York Herald-Tribune (where she works) on the street. After some conversational give-and-take, she agrees to hide him while he tries to get in touch with an associate who owes him money to that he can evade the police and flee to Rome. But the police are closing in and pressure Patricia to give Michel up. She betrays him, which leads to the finale, where Michel is shot in the street while attempting to flee.
The synopsis strongly resembles a film noir of the type for which Monogram was famous. However, Godard's approach to the material departs radically from the Hollywood template. He employed his experience as a critic, his knowledge of both high and low culture, and his philosophical meanderings, derived principally from existentialism, to transform the story. His lack of movie-making experience was not a problem, for he had the help of such as Claude Chabrol, Francois Truffaut, and Jean-Pierre Melville whenever he became stumped. He also had the services of cinematographer Raoul Coutard, suggested to him by producer Georges de Beauregard, who had Coutard under personal contract. Coutard cut his teeth shooting documentaries for the French Army's Information Service in Indochina. His background suited Godard perfectly, especially considering the budget and Godard's lack of expertise. Coutard was able to show Godard how to shoot with a handheld camera and a minimum of lighting, for which he used a specialized film,

Ilford HPS, intended for still photography and not available at the time as motion picture stock. He spliced 18-meter lengths of the film into 120-meter rolls. Because the sprocket holes differed from the sprocket holes for normal motion picture film, Coutard used an Eclair Cameflex camera, the only one that would work with the film stock. However, this presented

a

whole new set of problems, for the camera was noisy and unable to produce synchronized sound. The only alternative was to dub the film during post-production.
Melville showed Godard the tricks of placing the cameraman in a wheelchair (as he did with Bob le flambeur) for tracking shots, giving the film a look of improvisation. Because Godard did not have the necessary permits to shoot on the street, Melville showed him an old trick he improvised during the shooting of Bob le flambeur: placing the cameraman inside a postal cart with a hole cut out for the lens along with packages on the top. (Melville also neglected to get the necessary permits to film.)
Melville schooled Godard in the art of jump cuts, which further enhances the illusion; not only of improvisation, but also of what goes hand-in-hand with it - imminence. To his credit, Godard took the craft of jump cuts to a whole new level, giving the film fluidity. Some of the cuts took place within the camera while other cuts were made in the editing room. Godard's first cut of the film was about 2½ hours long, but producer Georges de Beauregard wanted the film at no more than 90 minutes, so rather than take out whole scenes, Godard shortened them through the use of jump cuts, cutting within scenes and even within shots. To shorten the film even more, Godard also cut between shots from disorienting angles, breaking the traditional rules of continuity. The result is a film that not only looks like a newsreel, and appears amateurish, but one that conveys the idea of imminence, for as the film progresses, the audience remains on top of the action, rather than viewing it at a distance, as is done with most other films. Godard saw the act of making a film as an important prelude to its meaning; as important as its content and style. Film for Godard is a sort of "action painting," reflecting the conditions under which it was made. The role of the director, such as his technique, was the means to the end of making it personal, in this case the infusion of original ideas to the overall aesthetic.
The title, A bout de soufflé, loosely translates as "Breathless." However, Godard is using another meaning: at the end of breath, at the last gasp

, giving a clue as to the ending and the new beginning the viewer can infer.
THE STORY BEHIND THE LENS
To listen to Godard talk, one would believe the film sprang all ready-made from his head, and all he had to do was fill in the blanks. But this, of course, is not so. We have already seen the help Melville provided on the set with regards to the technical side. As to the story, Godard has Truffaut to thank. For years Truffaut was fascinated with a November 1952 incident concerning petty criminal Michel Portail that French tabloids France-Soir and Detective featured on their pages and which kept their readers in thrall. Portail, a young thug imprisoned for armed robbery and then expelled from the United States, returned to France and spent the summer with his American journalist girlfriend, Beverly Lumet, on the Cote d'Azur, living the high life. Learning that his mother, who lived in Le Havre, was dying, Portail stole a diplomat's car from in front of the Greek embassy and was driving to see her when a motorcycle policeman named Grinberg pulled him over. He shot and killed the patrolman and managed to hide out for two weeks until police found him in a barge docked on the Seine, in the center of Paris. What especially interested Truffaut about the story was the American girlfriend who helped him hide out from the police. Portail hoped to take her with him on his escape. Instead she turned him over to the police.
Truffaut worked with both Chabrol and Godard in developing the story for film, but failed to find an interested producer, in part because Michangelo Antonini's 1953 film, I vinti (The Vanquished), had an episode based on a sensational 1948 case where a 16-year old boy shot a classmate to death, ostensibly over the affection of a girl. The girl's father sued in French court, asserting that the identity of his daughter was not protected. The French government agreed and censored the film on the grounds that it implicated people still living. As Michel Portail was in prison at the time, producers understandably backed off. In 1959, Godard, now itching to make a movie, asked if he might revive the project. Truffaut, fresh off the overwhelming reception of Les Quatre cents coups (The 400 Blows) at Cannes, not only gave his blessing, but also hooked Godard up with producer Georges de Beauregard. Both Truffaut and Chabrol agreed to work on the film if de Beauregard agreed to produce it. Their offer secured the necessary financing, and so Truffaut was credited as the writer and Chabrol as technical adviser, although neither really had much to do with the film itself.
Given a budget of roughly $90,000 (one-third of the average cost for a French film at the time) to realize his dream, Godard began casting. For the role of Patricia he wanted Jean Seberg, a young actress given the star push by Otto Preminger in his Saint Joan and Bonjour Tristesse, and about whom he had written admiringly in Cahiers du Cinema. She was readily available, as her star had plummeted after critics savaged both films. As he was acquainted with Seberg's then-husband, Francois Moreuil, an attorney with aspirations of being a director, Godard was able to secure an interview with Seberg. She was less than impressed during their meeting, finding him to be "an incredibly introverted, messy-looking young man who didn't even look her in the eye as she talked." Moreuil, however, convinced her to take the role, and she signed with producer de Beauregard for $15,000. Convincing Columbia Studios to loan her out was not as easy, but Moreuil managed to get the studio to accept a small fee for her participation. To express his appreciation, Godard gave Moreuil a small part as a journalist interviewing the author Parvulesco at Orly Airport.
Some of the minor roles went to Godard's friends. He asked Melville to play the celebrated novelist, Parvulesco. Two of the other journalists in the crowd interviewing him were producer Andre S. Labarthe and director Jean Douchet. Director Jacques Rivette had a cameo as a man Michel sees run over in the street. And, finally, Godard himself makes an appearance (a la Hitchcock) as a man who recognizes Michel outside the Herald-Tribune office and informs to the police.
For the male lead of Michel, Godard wanted Jean-Paul Belmondo. Belmondo had appeared in a few films prior, but he was virtually unknown outside France. However, the problem with securing Belmondo's participation came from his agent, who told the actor that he would be making the biggest mistake of his life if he were to accept the lead. Belmondo, who knew Godard personally, was beholden to him for some good write-ups in Cahiers and agreed to be in the film.
Now that Godard had his leads, the next thing on his list was to work the story into a screenplay. His original plan was to film the story, adding only dialogue. But soon he realized he needed to rewrite the entire story. In the original outline, Truffaut's antagonist, having missed the last train from Paris to Le Havre, steals a car near the Saint-Lazare station and later kills the patrolman who pulled him over. He then goes to meet his girlfriend, Betty, a young American journalist, and the chase shifts from one cinema to the next in the streets of Paris. The police arrest Betty and she gives Michel up. The police find him hiding on a barge. He gives himself up but tells them he has swallowed a fatal dose of aspirin. No one believes him, but once at the station he keels over and dies.
Godard and Truffaut worked on a treatment (officially attributed to Truffaut) that is closer to a continuity script, though without the dialogue. This version matches the locations and most of the narrative developments in the finished film. Truffaut's vision of the anguished young man who turns to crime out of despair now becomes, in Godard's vision, an existential hood indifferent to common morality and the law. Also, the girl, renamed Patricia, now enters the film near the beginning with their love story dominating the middle portion of the film. She has become a neophyte journalist, reduced to selling the Herald-Tribune on the street in addition to other assignments. Godard moved the opening sequence from Paris to Marseilles, where Michel pretends to read Paris Flirt while observing the pedestrian and auto traffic in front of the Vieux Port.
Filming began on August 17, 1959. Godard began by shooting the lengthy bedroom scene at the Hôtel de Suède, shooting for two hours with only a minimal crew and no lighting before running out of ideas. This proved to be the hardest location for Godard to secure, but as he was smitten with the hotel, having lived there in the early 1950s, producer de Beauregard managed to obtain permission from the hotel's management (with a little grease, no doubt). The rest of the film was filmed chronologically, with the exception of the first scene in Marseilles, which was shot toward the end of filming.
According to Coutard, Godard discarded the screenplay he had written early on in the shoot and instead improvised by writing the dialogue day by day as production went along.

He would then give the lines to the actors, have a few brief rehearsals on the day's scenes,

and then

filming began.

The actors found this a strange way of working causing them to sometimes forget their lines. However, since the soundtrack was to be post-synchronized later, Godard would simply solve this problem by calling out their lines to them from behind the camera.
Richard Balducci, who played Tolmatchoff, stated that the shooting days ranged anywhere from 15 minutes to 12 hours, depending on how many ideas Godard had that day. When he ran short of ideas he would cancel the day's filming. This erratic shooting schedule angered de Beauregard to the point he wrote a letter to the entire crew complaining about it. According to Coutard, on a day that Godard had called in sick, de Beauregard bumped into the director at a café, and what began as an argument quickly escalated into a full-blown fistfight.
Despite the erratic schedule, though, filming lasted for 23 days, ending on September 12, 1959 with the final scene (where Michel is shot in the street) filmed on the rue Campagne-Premiere in Paris.
THE INFLUENCE OF SARTRE
When it comes to a deeper examination of the motivations of the central characters, Breathless is heavily influenced by the philosophy of Jean-Paul Sartre. His concepts of the priority of the individual versus society, the absurdity of life, Michel's view of death as an everyday event, the impossibility of love, and the idea of "bad faith" are all found in the film. Michel is defined through his actions, not his thoughts. In fact, he barely thinks of anything outside his own immediate existence. He lives for the moment. Patricia, on the other hand, lives according to her dreams and thoughts. She lives an inner life, expressed by her attachment to art, music, and romantic versions of love. For instance, during the scene in her hotel room she poses next to a Renoir poster of a young girl and asks Michel if he thinks she's prettier than the girl. Michel, for his part, tellingly sits beneath a Picasso poster of a man holding a mask. She thinks of tomorrow while he thinks only of today. When Patricia reads him William Faulkner's conclusion to The Wild Palms, "between grief and nothingness, I choose grief," Michel's rebuttal is "Grief is a compromise. I'd choose nothingness. You've got to have all or nothing."
But Michel himself is a flawed "hero," for he lives in bad faith. For Sartre, bad faith (mauvaise foi) is a condition where an individual, under pressure from society, adopts false values and rejects his or her innate freedom to act authentically. Michel's bad faith is expressed by his desire to be Humphrey Bogart. He's not just a punk; he sees himself as an uber-criminal, a man totally outside the law and society, as Bogart's characters were. When he walks by a cinema showing Bogart in The Harder They Fall, Michel takes a moment to admire Bogart's face on the poster. Tellingly he swipes his thumb across his lip, uttering only one word, "Bogie." He had earlier stopped to admire a poster for Robert Aldrich's film, Ten Seconds to Hell, featuring the tag line, "Live dangerously till the end," which brings a knowing smile to his face. He wants to be as tough as Bogart in the films he loves. He practices facial expressions in the mirror, wears a fedora, aviator-style sunglasses, runs his thumb across his lips in a constant gesture, and is never -- ever -- seen without a cigarette, removing one only to insert another. But as Godard shows, the fedora, and even the cigarette seem too big for Michel's face. Underneath his persona, he is frightened. Even his killing of the policeman was driven by the panic of the moment, not a cool, controlled action. Michel uses this persona to hide his desperation. Note his increasing panic at finding the associates who owe him money. When he takes his newly stolen car to a shady dealer, only to discover the dealer ripping him off, he slaps the dealer around a little, grabbing enough money for a taxi, but leaving the car.
And what of Patricia? She is Michel's opposite, but she is also wallowing in bad faith. We can read Michel right away, for he wears his persona on his sleeve, but Patricia is hollow and inscrutable, an enigma. And she is Michel's Achilles heel. When we see him first encounter her as she sells copies of the Herald-Tribune on the streets, he tells her, "It's crazy, but I love you." She walks with an arched back, rebuffing Michel's attempts to move in. Michel may be attempting to emulate the thuggish persona of Bogart, but it is Patricia who has the upper hand in their relationship. When he teasingly asks why she doesn't wear a bra, she coldly retorts, "That's no way to talk." His only response is to issue a meek apology.
The manner in which Patricia detaches herself from the immediate world is also telling. She briefly ponders whether she might be pregnant by Michel, but then thinks no more about it. The more he reveals himself to her, the more her detachment grows. She learns some shocking facts: that he's a cop killer, that he is married (though he says it ended long ago), and that he uses more than one name (aka Laszlo Kovacs). But her gamin face betrays not the slightest notion of what she is thinking. In his attempt to establish control in their relationship Michel tells her about a story he'd read in a newspaper: a bus conductor had stolen five million francs to seduce a girl. After going through the money in three days the conductor reveals to the woman that it's stolen money; he may be a hood, but he likes her. The real point of the story is that she stuck by him, standing lookout as they were caught trying to rob fancy villas. Later, as he drives her to an interview in another car she asks what happened to the Ford. "It's in the garage," he answers. She never stops to question his answer, but rides along quietly. At the same time

she benefits from their relationship by riding around in the expensive cars Michel swipes and dining at fine restaurants, which confirms her image as an up and coming journalist. That image, however, is confined to her inner life.
As she ascends the escalator to her meeting with a journalist who was doing favors for her in return for sex, she tells him that she doesn't

know if she's unhappy because she's not free, or if she's not free because she's unhappy. As they leave, he puts his arm around her and she yields to him. Michel spies the two of them kissing in his sports car. He has done what Michel has not been able to do - get her to submit to him.
Sartre's theme of the impossibility of real love comes to the fore during their romp in Patricia's bedroom. For Sartre, loving

relationships

are doomed to failure because they are stuck in a subject-object scheme: I cannot love the other without losing my freedom or denying the freedom of my loved one. Godard's dialogue in the bedroom scene emphasizes the deception and stratagems both employ to enslave the other in the battle for domination. "I'll stare at you until you stop staring at me," Patricia says. "Me, too," he replies. When Patricia takes a rolled up poster and frames Michel's face, he looks totally smitten by love, totally betraying his tough guy persona, thus reversing the roles. When Michel drops his façade and admits to her in all sincerity that he wants her to stay with him, he exposes his vulnerability, enabling her to gain the upper hand. He now becomes the naïve one and she becomes the schemer. In the long bedroom scene, the two of them talk, joke, argue and fool with each other, but totally fail to understand each other. There is no coming together of lovers as one.
Patricia's hollowness, though, is never more clearly shown than during the press conference she attends at Orly Airport. Holding the conference is the writer, Mr. Parvulesco (Melville), who speaks in terse banalities. Asked about the difference between French and American women, he answers,

"French women are totally unlike American women. The American woman dominates the man. The French woman doesn't dominate him yet." Patricia now realizes that no matter how thuggish Michel desires to appear, he falls within Parvulesco's framing of men.
Patricia then asks if women have a role to play in modern society, to which Parvulesco responds, "Yes, if they're charming and wear striped dresses and dark glasses," a reference to her appearance, which draws a slight smile. Another journalist asks him how many men can a woman love in a lifetime. "Physically, I mean." Parvulesco begins counting on his fingers, adding large numbers. More than that," he continues "two things matter in life. For men, it's women, and for women, money." Patricia's only response is to smile broadly. When she asks Parvulesco about his greatest ambition, he answers, "To become immortal, and then die." She pulls the sunglasses from her face, places the arm into her mouth, and in a gesture of contemplation, she gazes into the viewer's eyes. Parvulesco has just exposed her real intentions. And thus lies the absolute distance between Michel and Patricia: Michel thinks a lot about death, while Patricia thinks of life. Michel's significance in life might be women, but Patricia's is not just money, but immortality, life, and that immortality does not include being subject to Michel's scheme.
Their gulf grows during a cab ride with Michel. His anxiety about getting his money is emphasized by Godard's frequent jump cuts.

He blames Patricia for the fact he hasn't yet received his money; he

makes

belligerent remarks to the driver, and becomes frustrated with Patricia's desire to be a writer. Patricia's response to his inquiry about her being a writer is that her intention is "to have money and not rely on men."
When detectives track Patricia down at the offices of the New York Herald-Tribune, one shows her the cover of the newspaper with Michel's face in full display. She initially denies knowing him, but when the detective persists and threatens her with passport trouble if she didn't cooperate, she admits she knows him, using an excuse that the picture was old. The detective gives her his number to call when she sees him again. As she leaves the office she tips off Michel, who is waiting across the street. A detective is tailing her but she loses him by ducking into a cinema.
When they meet up shortly afterward, her doubts about the innocence of their relationship begin to surface. "And killing a policeman?" "I was scared," Michel replies. She asks,

"How did they know I knew you?" "Someone must've seen us together and informed on us," "That's horrible, informing on people," she replies. Her face, though, betrays her thoughts; we can see her weighing the advantages and disadvantages of calling the police.
It is when they find Antonio, who owes Michel money that their relationship begins to seriously unravel. He sends them to stay at a photography studio. Patricia's doubts about Michel begin to become manifest itself early that evening, as she tells Michel that she dumped the journalist because she had to make sure she didn't love him first. She then asks Michel if he wants to go to bed. "Sleeping's so sad. We have to separ…" Michel fills in the last syllable, and she reiterates the word "separate," continuing, "You say 'sleep together,' but you don't." When Patricia looks into the camera again, her mind is made up. Michel is doomed.
The next morning he sends her to buy the France-soir

newspaper for the latest details about the search. She stops into a café and reaches into her purse, pulling out the detective's number. She ponders for a few seconds, then calls Inspector Vital and reveals Michel's location. Returning from the café, she tells Michel she can't go to Italy with him. She also tells him that she has informed the police as to his whereabouts:

"Michel, I called the police. I said you were here. I don't want to be in love with you." Michel replies that, "You're like the girl who sleeps with everyone except the one man who loves her, saying it's because she sleeps with everyone." With that exchange the roles have become fully reversed. It is Michel who now is unsure; Patricia has taken cool façade from him, disposing of Michel after concluding that he no longer fits within her objectives. How could she achieve her dreams of immortality by maintaining a low profile or escaping to Italy? It no longer suits her -- she has chosen money and potential immortality over Michel's proclamations of love.
Leaving the photography studio, Michel is like a zombie.

All the air has been removed from his sails. Antonio pulls up in a car and hands Michel his money. "I'm tired," says Michel. "I want to sleep. I shouldn't be thinking of her but I can't help it." Another car also stops. It's the police, who exit the

car

brandishing pistols. Antonio offers Michel a pistol, but Michel refuses it. Antonio drives off, throwing the pistol at Michel's feet. The police open fire and hit Michel in the back. He stumbles trying to escape before collapsing. The men approach, along with Patricia. Michel's mouth opens high, expands wide, and he purses his lips looking at Patricia. As they stand over him, and life escapes from his body, he looks at Patricia and mutters softly,

"C'est vraiment dégueulasse" (It's disgusting). As he dies, Patricia turns to the policeman, asking what he said. The answer: "Il a dit: 'Vous êtes vraiment une dégueulasse'" (He said: "You are a disgusting person"). She now stares directly into the camera and traces her lips with her thumb in the way Michel has done in imitation of Bogart. The final words of the film are now uttered by Patricia: "Qu'est que c'est:

dégueulasse?"

(What does that mean,

dégueulasse?

)

That she fails to even understand his dying words sums up the flawed nature of their relationship. It doesn't matter, though, for by her final gesture she reveals that she has become Michel.
GODARD AND SARTRE
Besides the influence of Sartre in the film's plot, Godard also reflects Sartre's theory of aesthetics. In fact, it might be said that he is a child of Sartre inasmuch as when Godard was reaching intellectual maturity, it as Sartre who dominated the French literary and artistic scene. For Sartre, authentic art comes from artists who extend the sacred tradition only when they forget that tradition and forge a new art for the present age with contemporary tools of expression. Each and every true thought must be reinvented; if not, it will wither and die on the library shelf.
Godard applies Sartre's views by stating that cinema is the medium where "reticence, as it were, is unable to hide its secrets; the most religious of arts, it values man above the essence of things and reveals the soul within the body." (Godard on Godard, p. 80)
For Sartre, it was not the realism of film, or its social and political importance, that was central; it was the energy and the illusions film creates. Like many French filmmakers of his time, Sartre was influenced by surrealism, the everyday, and the accidental transformed into the magical. Film's rhythm, harmony, integration of motifs, and its ability to produce different themes simultaneously made for a unique attraction, especially as it affects our consciousness. Sartre's contemporary and companion, Simone de Beauvoir, in her volume of memoirs, The Prime of Life, credited cinema with shaping much of Sartre's mature philosophy, especially for his view of the absurdity inherent in the world's condition.
Like the New Wave, Sartre embraced American films because of their difference from the French films. This difference sprang from an entirely new set of assumptions and perceptions of what the cinema could be, perceptions that went beyond the cinema to the way life might be led. As with the surrealists, it was a celebration of the improper, the asocial, the despised, and the disrespectful; it was unconventional, not in accordance with what art is or "should" be. Sartre's contemporary, Maurice Merleau-Ponty, valued film because in the cinema, we are constantly immersed in a world. This is what Godard means when he states that cinema reveals the soul within the body. There are no secrets in cinema; everything is on display.
Godard takes these dictums and pushes them to the limit. Of all the directors in the New Wave, he is the most "American." It might be said that his early films are the cousins to American pop culture, and of the New Wave directors, he had the most immediate impact on American pop culture. We see one American pop reference right at the beginning, when Godard dedicates the film to Monogram Pictures. Truffaut had wanted to use a quotation from Stendhal ("We are going to speak of dreadful things") as the opening citation. Breathless is perhaps the most self-conscious film in terms of its display of American consumer items, especially automobiles, and iconography, seen on the scene where Michel admires the poster of Bogart, and the jazz score.
BETWEEN THE LINES
Breathless is also filled with references to art, literature, and cinema in general. Painters Renoir, Picasso and Klee are referenced, as well as writers Faulkner, Dylan Thomas, Louis Aragon, and Dashiell Hammett. (The scene where a character criticizes Michel for wearing silk socks with a tweed jacket is lifted from Hammett's novel, The Glass Key.) And there are references to American director and their movies: When Patricia rolls up the Renoir poster and looks at Michel through it is a homage to Sam Fuller's Forty Guns, which uses a shot through a barrel of a gun that cuts to a couple kissing. Later, when Patrica is trying to shake the police tail, she ducks into a cinema playing the film, Whirlpool, directed by Otto Preminger. There's also a reference to Preminger's Where the Sidewalk Ends, as well as Richard Quine's Pushover. Joseph H. Lewis, who directed the 1949 Gun Crazy, is referenced in the scene where Michel tells Patricia the anecdote about the bus conductor and the scene is the taxi. And at the end, Patricia's "

What does that mean,

dégueulasse?"

echoes Ida Lupino's blank stare at Bogart's dead body and asking what it means "to crash out" in Raoul Walsh's 1940 classic,

High Sierra

.

The references to so many film noirs is interesting in light of what Godard is trying to do: make a film noir that breaks down the form of a film noir. This is an explicit homage to Sartre's theory that the artist must forge new ideas from traditional ones.
Despite the fact that Godard was trying to make a film noir, what he actually came up with was more of a noir comedy. Unlike other noirs, Breathess feels unreal -- it is self-conscious, which will dictate the movie's style. This self-consciousness is best seen in the films many inside jokes. For instance, when Michel (who, besides the real life Michel Portail, is based on womanizing screenwriter Paul Gegauff) goes to see the gangster Tolmatchoff (Balducci) at his travel agency for the money he is owed, they discuss Bob Montagne (the lead character of Melville's 1955 noir, Bob le flambeur, or Bob the Gambler), and it's mentioned that Bob is now in jail. When Tolmatchoff gives Michel a check he won't cash, Michel notes, "Bob the gambler would have cashed my check." The police later visit Tolmatchoff to hustle him for information. Other noirs would stage this scene in a dive bar, or at a place like the docks, but for Godard, it's the cue for another inside joke. He stages it at Tolmatchoff's travel agency, where the gangster is leaning lazily against a counter, playing with a model airplane. There he gets the spiel to turn in Michel. The cops tell him it shouldn't be difficult to rat Michel out; after all, he had done the same thing earlier to Bob Montagne.
Another reference occurs when Patricia learns Michel also uses the alias of Laszlo Kovacs. Some have mistakenly concluded that Godard was referring to the renowned Hungarian-American cinematographer, but the truth of the matter was that Godard had not met Kovacs. The name, "Laszlo Kovacs," was the name of Belmondo's character in Chabrol's 1959 film, A Double Tour. And even Godard's former place of employment was not exempt: while Patricia is selling copies of the Herald-Tribune, a young woman appears, selling copies of Cahiers du Cinema.
This feeling of the absurd, the unreal, was the result of the process of production. Godard wrote the script form his accumulated notes as he went along, and though the locations were planned ahead, what occurred within them was not. The very process he used to shoot the movie, filming it verite in the style of a documentary with light equipment and almost no crew, is the very thing that gives it such an absurd and surreal feeling. Noirs by such directors as Hawks and Lang (both of whom Godard admired greatly) took a tightly scripted and processed story, to which they added the human element. Godard begins with the human element: the spontaneity, rhythm, and everydayness, which he stylized through the use of jump cuts and other editing tricks. To this he then adds the plot, such as it is. Thus, the gangster story we come to expect is turned into a film about two lovers in contemporary Paris. The middle section of the film, where Michel and Patricia fool around, talk, and do things that any ordinary pair of lovers might do, with the only accompaniment being a recording and the cacophonous street noise of everyday Paris, is striking in its very lack of action.
Given its beginning, with Michel stealing a car and later killing a motorcycle cop, we form the expectation of a grimy noir, set in the seedier parts of Paris, as Melville gave us in Bob le flambeur, or Jules Dassin in Rififi. What we get instead is a commonplace Paris, a Paris of wide boulevards, cafes, offices, and nice hotels. Yet, it's the conflict between the characters and the setting that sharpens the film and sets it apart from its predecessors, whether in France or Hollywood. Even Michel's death and the events leading up to it is shot in a low-key manner. We can't imagine Hawks, Huston, Walsh, Dassin, or Lang being so laid back in the scene where Patricia tells Michel that she has just dimed him out. In fact, the gangster plot at times seems like an unnecessary intrusion into Godard's panorama of the contemporary Paris of his day, for what sticks with us long after the move ends are the images of the flow of everyday Paris life; not the gangster doings, which often seem like an afterthought. In subsequent films such as A Woman is a Woman, Vivre Sa Vie, Band of Outsiders, and Two or Three Things I Know About Her . . ., the city of Paris itself is as much as character as the actors in the plot.


Breathless
was an immediate hit, both with the public (it returned a profit of more than 50 times its cost) and the critics. Even before its release it won the annual Jean Vigo Prize (January 1960), given to films made with an independent spirit. The film was remade in 1983 with Richard Gere, who showed that he had none of the star power of Belmondo.
Over the years both the film and its director's style have influenced a generation of young filmmakers. Directors such as Richard Lester, Seijun Suzuki, John Woo, and Ringo Lam were influenced both by the movie and the director. In the U.S. today, Godard's most ardent disciple is Quentin Tarantino, who even named his production company, A Band Apart, after the title of a Godard film. In fact, we may well say that, if not for Godard, Tarantino might not exist, at least not in his present form.
Godard himself, who reportedly was never happy with his finished product, claimed that his 1975 film, Numero deux, was a remake of Breathless. However, be that as it may, more than 50 years later, Breathless still has the power to mesmerize and influence a new generation of filmgoers.
A Family Affair
By Ed Garea
A Family Affair (MGM, 1937) – Director: George B. Seitz. Writers: Kay Van Riper, Hugo Butler (s/p), Aurania Rouverol (play, "Skidding"). Cast: Lionel Barrymore, Spring Byington, Cecilia Parker, Eric Linden, Mickey Rooney, Charley Grapewin, Julie Haydon, Sara Haden, Allen Vincent, Selmer Jackson, Margaret Marquis, & Robert Emmett Keane. B&W, 69 minutes.
In 1935, MGM had a hit with Ah, Wilderness!, a sentimental look at turn-of-the-century life starring Wallace Beery, Lionel Barrymore, Aline MacMahon, Spring Byington, Cecilia Parker, Eric Linden, and Mickey Rooney. Based on the play of the same name by Eugene O'Neill, it centers on the Miller family and their trials and tribulations, especially those of teenager Richard Miller (Linden). The profit, combined with MGM's Louis B. Mayer looking for more sentimental family fare, led producers to dig around for suitable material. Sam Marx, a senior story editor at the studio, came across a play from 1928 titled Skidding, written by Aurania Rouverol, that he remembered seeing on Broadway. He took it to producer Lucien Hubbard, but Hubbard wasn't buying. So Marx went to Mayer, and Mayer ordered Hubbard to buy the rights to the play and put it on screen. Mayer and Hubbard agreed it should be made as a "B," fit for the bottom of the bill. They already had the sets, and signed on Seitz to direct after Richard Thorpe and Edwin L. Marin turned down the project.
It was also decided to use most of the cast from Ah, Wilderness! Barrymore was between assignments and was under contract, so despite his objections, he was cast in the lead as Judge James K. Hardy. Byington was tapped for the role Mrs. Hardy, Parker would play Marion Hardy, and Sara Haden would play Aunt Milly Forrest. Frankie Thomas was originally cast as the youngest of the Hardy clan, Andy, but by the time filming began he had grown too tall and was replaced by the diminutive Mickey Rooney. Linden was also cast as Marion's boyfriend.
Judge Hardy is a man beset by two large problems, one personal and the other political. Though he is one of the most respected men in the town of Carvel, he angers townsfolk when he issues a temporary restraining order against the construction of a $30 million aqueduct. The contractor on the project, Hoyt Wells (Jackson), threatens to oust the judge at the next election. There's even more bad news: Frank Redmond (Grapewin), the editor and publisher of the town's newspaper, The Star, supports Wells in the matter.
That same evening, Marion Hardy returns home from college, while their oldest daughter, Joan Hardy Martin (Haydon) also returns home after a secret separation from her husband Bill. A telephone inquiry from The Star's gossip columnist about a party the family is giving for Marion turns nasty after being informed by her editor that only "bad" items about the Hardys are to be printed. She writes hat Joan and her husband Bill are about to put "boxing gloves on." Also that night, teenaged Andy is reluctantly leaving to take his old childhood sweetheart, Polly Benedict (Marquis), who has recently returned to town, to a party. When she answers the door, Andy sees that the girl who left has now grown into a beautiful woman and is pleasantly surprised.
Marion's new boyfriend, Wayne Trent (Linden), who she met on the train, is an engineer who has come to town to work on the aqueduct. Her father's position on the matter worries her. Joan later confides to her father that she and Bill are separated. After telling him that she and Bill are running with a "fast crowd," she goes on to say that she went to a roadhouse with another man and was spotted by Bill. Even though everything was innocent, Bill will not listen to her side of the story.
The next day, The Star's headline reads, "Citizens Committee Moves to Impeach Judge Hardy," and the paper is posted on the public bulletin boards. An angry Judge Hardy wants to bring contempt of court proceedings against The Star and Redmond. J. Carroll Nichols, the man who originally asked for the restraining order, wants to drop the suit to protect the judge, but Judge Hardy refuses his request. Soon the entire town is now against the judge, afraid that the extra jobs and money promised by Wells will be lost. Polly refuses to speak to Andy because her father opposes the judge, and even Marion and Wayne argue because they cannot get married if Wayne doesn't get to work on the aqueduct.
It all comes to a head at a political convention, called to determine the judge's fate. Down, but not out, Judge Hardy calls son-in-law Bill (Vincent) down to set straight the gossip about his impending divorce. Bill tells the crowd that he and Joan are not only happily married, but if The Star proceeds with the divorce story, he will sue for libel. The judge then grabs the podium and begins to read the "fine print" in the aqueduct contract. It seems that under the agreement, Wells can impound the land adjacent to the Carvel River, an act that would ruin many of the townspeople. Realizing that the judge has saved the town, the crowd cheers as he makes the injunction permanent.
Judge and Mrs. Hardy and their daughters Joan and Marion are now happy, and are joined by Andy when Polly apologizes to him and gives him a kiss.
To MGM's surprise, this small B picture that was shot in only 15 days on a shoestring budget was a smash hit. Critics were near unanimous in their praise, patrons wrote to MGM asking for another Hardy movie, and most importantly for the studio, exhibitors also sent telegrams to the studio asking for another Hardy film. In many locations, the film was held over and made the "A" film while another move was brought in to fill the bill. According to Andrea Passaflume, who wrote an article on the film for TCM, "One exhibitor from Rochester, New York, wired MGM, 'For God's sake let's have more of that Rooney kid. He really wowed them...The kid's a gold mine...Please make another Hardy picture right away.'"
It was considered most unusual for studios to make sequels in 1937 – especially a sequel to a B movie – but MGM head Mayer recognized potential when he saw it and soon ordered a second Hardy film called You're Only Young Once, also released in 1937. This time out, however, only Rooney, Parker (Marion) and Haden (Aunt Milly) reprised their original roles. Barrymore supposedly declined a second feature, telling the studio that he did not want to work in a series. (He would later change his mind when struck down by crippling arthritis and happily accepted the role of Dr. Gillespie in the Dr. Kildare series. Reportedly, he said that playing second banana to Lew Ayres was preferable to playing second banana to Rooney.) I think, though, the real reason MGM was happy to bilge Barrymore was because he was too crusty a character to play the judge. Mayer was reimaging America as a kindly place, and so needed a kindly Judge Hardy. Enter Lewis Stone, who would play the role throughout the rest of the series.
Byington was also dropped, with Fay Holden assuming the role of Mrs. Hardy. Ann Rutherford replaced Margaret Marquis as Polly Benedict, and Joan, the oldest sister, was dropped entirely (shades of Chuck Cunningham in
Happy Days
). The biggest change came with the character of Andy Hardy. Though his character is secondary in
A Family Affair
, he soon became the focus of the Hardy series. And as Rooney's stardom skyrocketed, the titles for the Hardy picture, beginning with 1938's
Love Finds Andy Hardy
, started featuring Andy Hardy's name. We may laugh at the Hardy features today as antiquated corn-on-the-cob, but the series was the direct ancestor of the family sitcoms that came to dominate television in the '50s, such as
Father Knows Best
,
The Donna Reed Show
,
Leave It to Beaver
, and so on into time with
Happy Days
and
The Cosby Show
. It was none other than Mayer who saw the future, although not quite in that form.
Philo Vance
By Ed Garea
The Kennel Murder Case (WB, 1933) – Director: Michael Curtiz. Writers: Robert N. Lee, Peter Milne (s/p), Robert Presnell (adaptation), S.S. Van Dine (novel, The Kennel Murder Case). Cast: William Powell, Mary Astor, Eugene Pallette, Ralph Morgan, Robert McWade, Robert Barrat, Frank Conroy, Etienne Girardot, James Lee, Paul Cavanagh, Arthur Hohl, Helen Vinson, & Lack LaRue. B&W, 73 minutes.
Calling Philo Vance (WB, 1940) – Director: William Clemens. Writers: Tom Reed (s/p), S.S. Van Dine (novel, The Kennel Murder Case). Cast: James Stephenson, Margot Stevenson, Henry O'Neill, Edward Brophy, Sheila Bromley, Ralph Forbes, Donald Douglas, Martin Kosleck, Jimmy Conlin, Edward Raquello, Creighton Hale, Harry Strang, Richard Kipling, Wedgwood Nowell, & Bo Ling. B&W, 62 minutes.
There are very few detectives like Philo Vance. As described by his creator, S.S. Van Dine in the first of his novels, The Benson Murder Case, Vance is a "man of unusual culture and brilliance. An aristocrat by birth and instinct, he held himself severely aloof from the common world of men. In his manner there was an indefinable contempt for inferiority of all kinds. The great majority of those with whom he came in contact regarded him as a snob. Yet there was in his condescension and disdain no trace of spuriousness. His snobbishness was intellectual as well as social. He detested stupidity even more, I believe, than he did vulgarity or bad taste."
Though a cynic, Vance was not a bitter one. Rather, his cynicism was flippant, coming off as bored and supercilious, yet highly conscious with a penetrating view of life. While Vance was extremely interested in all human reactions, it was more the interest of the scientist than the humanitarian. His psychological knowledge was "uncanny;" gifted instinctively with accurate judgment of people backed by his college studies of psychology (Van Dine has him studying under William James) and supplemented by constant reading in the subject.
Physically, Vance was "unusually good-looking;" a man about 35 years of age, slightly under six feet, and "giving the impression of sinewy strength and nervous endurance." He was an "expert fencer," a golfer with a three handicap, a polo player and sometime archer. He bred and showed thoroughbred dogs, and was also a winning handicapper of horses and an expert at chess, Chinese ceramics, psychology, the history of crime, ancient Egypt, and Renaissance art – in fact, art was his passion. He also spoke several foreign languages.
Given Van Dine's description of Vance and the popularity of the Philo Vance mysteries, it was evident that not just any actor could portray him. By and large, throughout the history of the Vance series attempts were always made to secure someone who could pass physically and could sell the other attributes to the audience. A list of those who played Vance over the years included Basil Rathbone, Paul Lukas, Edmund Lowe, Warren William, and James Stephenson.
But the one who the public saw as closest to the Vance ideal was William Powell, who played the role four times, The Kennel Murder Case being Powell's last time as the character. It's a fast-paced movie, given the "A" treatment by Warners, though the way Warners cranked them out in the early '30s, no one could really tell the difference between this and a B–version. Michael Curtiz, known as one of the fastest of Warners' directors, keeps up the rapid pace, effectively utilizing wipes and fast cuts to narrow and blend a plot with many characters into an entertaining whole without losing the audience.
We open at the Long Island Kennel Club, where Vance is putting his Scotch terrier, Captain, through his paces in front of the judges. Unfortunately, Vance and his dog do not make it into the next round. Not only is Vance disappointed by the result, but so is his fellow dog fancier and competitor Archer Coe (Barrat), who had been looking forward to "savor a victory" over Vance. Vance and Captain are sailing for Italy and another dog show.
The very next morning, Coe's butler, Gamble (Hohl), discovers him sitting in a chair, dead of a self-inflicted gunshot wound to the head. As the door is locked from the inside, the butler can only see through the keyhole. He summons Coe's secretary, Raymond Wrede (Morgan), who looks and tells Gamble to summon the police.
Meanwhile, Vance is about to sail for Italy and that other dog show when he hears the news of Coe's death. He makes a phone call to D.A. Markham (McWade), telling him that it might not be suicide. Markham, however, assures Vance that everything points to suicide, to which Vance replies that if Markman knew Coe as he (Vance) does, " . . . suicide is almost a psychological impossibility for him." "Psychological, bosh," replies Markham. "Two and two make four, don't they?" "How do you know you have two and two?" Vance asks, and after the call ends, he has his luggage brought up, for he is not sailing, he is going to the mansion of Archer Coe.
Arriving at Coe's house with Markham, Vance is met by Detective Sgt. Ernest Heath (Palette). They go to Coe's room and break down the door, finding the door was, indeed, locked from the inside. Also, the windows are closed. It does look like an open and shut case of suicide, but Vance keeps finding indications that it wasn't the case. His suspicions are confirmed when the medical examiner, Dr. Doremus (Girardot) arrives and confirms Vance's suspicions that it was murder by finding a stab wound in the victim's back.
Coe's niece and ward, Hilda Lake (Astor) arrives, along with boyfriend Sir Thomas MacDonald (Cavanaugh). She's told the news of her uncle's death, and when asked if she knew of anyone who could have done it, she replies that she could have, for one. She despised her uncle and hated the way he controlled her money. And, as we know, she wasn't alone in hating him. Almost everyone he knew hated him, as we saw in the scenes between Coe's meeting with Vance at the Kennel Club and the discovery of Coe's body the next morning. MacDonald suspected Coe for killing his dog, Ghillie. Coe's brother, Brisbane (Conroy) left for Chicago and avoided meeting with him. Coe also had an argument with Doris Delafield (Vinson) in her apartment next door, accusing her of two-timing him with art dealer Eduardo Grassi (LaRue). And to cement matters, on the way out of Delafield's building he ran into Grassi and canceled the deal he had with Grassi to sell a valuable Chinese art collection to the Milan Museum. When Grassi reminded Coe that they had a contract, Coe replied that he had the contract in his desk, and as soon as he got home he was going to burn it.
Thus we have a list of suspects, all with sufficient motive. Brisbane Coe joins the suspect list as they learn that he wasn't on the 5:00 to Chicago. Vance also notes that Brisbane's walking stick was hanging up in the other room, the same stick Gamble swore Brisbane was carrying with him when he left. Deducing that Brisbane never caught the train, Vance and Markham retrieve this traveling case from the station. Among its contents is a book titled Unsolved Murders, which Vance opens to a marked passage and begins to read before handing the book back. But where is Brisbane? As they find out shortly after, he's in the closet, dead. Later, the mystery is compounded further when Miss Delafield's Doberman is found in Coe's library with a wound to its head, apparently struck with a fireplace poker.
As the film progresses each suspect is highlighted and each looks equally guilty. And we add a new suspect in the cook Liang (Lee). In actuality a refined man with a degree from Columbia University, Liang had been helping Archer Coe amass his collection of Chinese art. He warned Archer against the sale and was fired as a result. Vance also exposes Gamble's criminal past, but Brisbane Coe is Vance's prime suspect, though his death leaves Vance puzzled. By making use of the passage on the book of unsolved murders found in Brisbane's bag, Vance demonstrates how the room was locked from the inside after the murder, so part of the mystery is solved.
But now the mystery takes another crazy turn when an attempt is made on the life of Sir Thomas with the same dagger used to kill Archer. After sifting the clues, Vance is able to reconstruct the crime: Archer had gotten into a heated argument with someone in his library, was struck with the poker and then stabbed. After his assailant left, Archer stumbled up to his bedroom and began changing into his pajamas when he died in the chair. Brisbane arrived back, took Archer's gun from the library desk, and went to his brother's room, shot him, and placed the gun in Archer's hand. Meanwhile, the assailant saw Archer in his room and returned to finish the job. In the darkness he mistook the figure of Brisbane descending the stairs and stabbed him to death. Delafield's dog then wandered in and attacked the murder, who slugged him with the poker.
Despite being able to solve how the crime was done, Vance is unable to name the murderer. He is about to admit defeat when he overhears Markham telling Heath that he wishes he had something on the case to sink his teeth into. This triggers an idea to Vance and he makes a telephone call, telling the person to meet him at the Coe residence. As they arrive, there is a heated argument between Sir Thomas and Wrede over Hilda's plan to marry Sir Thomas. The men come to blows and Wrede is decked. He rises and grabs a fireplace poker. It is then that Vance and Markham release their guest, the healed Doberman, who recognizes his attacker and makes a beeline for Wrede. Subdued, Wrede confesses that he stabbed Archer over Archer's crude dismissal of Wrede's plans to marry Hilda. Later, thinking Brisbane was Archer, he killed him and stuffed the body in the closet. The film ends with Wrede in custody and Heath thanking Vance, as always, for helping him solve the case.
Though Powell placed Vance four times, this was the first Vance film made by Warner Bros. For director Curtiz, this was but one of six films for which he was credited with at Warner Bros. that year. He also worked on two other films (The Mayor of Hell and From Headquarters), but was not credited. Of his 1933 credits only this film and Mystery of the Wax Museum are noteworthy, though Female gets its share of notice due to the subject matter. Curtiz does a wonderful job with this film, racing from scene to scene, employing smart, fast cuts and wipes that move the film along nicely. He also used a mobile camera to cut down on the script's talkiness and to give the necessary movement so as not to bore the audience. This is a complicated plot, with many suspects coming and going into the proceedings. In addition the plot contained quite a few twists and turns. The fact that the film moves so quickly and remains compelling given the hectic Warners' assembly-line methods is a tribute to the skill of Curtiz.
The film also represents Powell's best performance of the year, but that's a little disingenuous considering that he was in only three films that year (the other two were Private Detective 62 and Double Harness). But here he was aided by solid support from leading lady Mary Astor, Robert McWade, and the superbly talented Eugene Pallette. Pallette is able to take what is essentially a comic relief role and play it in the required comic style without lapsing into buffoonery, as so many others often did.
The film was a surprise hit, making a profit of almost $400,000, which led to better, and more expensive, assignments for director Curtiz. And for Powell, it also led to much better assignments, but at a different studio. Warner Bros., as was typical of their studio style, never really treasured their actors and at the time, was not interesting in making a big-budget type of film. They were happy with what they churned out – a rat-a-tat-tat exploitation picture with the story almost literally removed from the day's news. And with a budget kept in the low figures, to boot.
Powell made only one more film for Warners after this – Fashions of '34, where he played a swindler named Sherwood Nash who bootlegs the latest Paris fashions for sale at cut-rate prices. After this, he signed with MGM, where his first film was the classic Manhattan Melodrama with Clark Gable. It was also his first film with Myrna Loy, with whom he made the film that made him famous worldwide, The Thin Man, in 1934.
As for Vance, William took over the role in Warners next go with the detective, The Dragon Murder Case (1934). MGM then took over the detective for two films, The Casino Murder Case in 1935 with Paul Lukas as Vance, and The Garden Murder Case in 1936 with Edmund Lowe starring.
Warner Bros. tried reviving the Vance series in 1940 with Calling Philo Vance. James Stephenson, an English stage actor who had made a strong impression that year in The Sea Hawk and The Letter (for which secured a nomination as Best Supporting Actor), played Vance. The film was made as a B-movie; in fact, it's almost a shot-for-shot remake of The Kennel Murder Case, updated to involve Vance in international espionage, as the first 10 minutes or so are lifted directly from Powell's Private Detective 62 (1933).
This time around Archer Coe is a designer suspected of selling his designs to a foreign power in Europe. (Guess who?) As the film opens, Philo is in a Vienna office building cracking a safe to retrieve Coe's plans for his latest fighter. (In Private Detective 62, Powell's character is cracking a safe in Paris.) He grabs the plans with Coe's signature and almost gets away, making it to the station before Coe himself spots him, seeing through his disguise, and informs the police, who arrest and deport him. This time around, Philo is working for the State Department, and Markham is an investigator there. Now back in America, Philo plans to confront Coe, but Gamble (Kosleck), Coe's butler, looks through the keyhole to Coe's bedroom when his knock gets no answer and finds Coe sitting in the chair, dead, as exactly in The Kennel Murder Case. The rest of the film follows closely on the original with only a few cosmetic changes, the biggest being that the Chinese cook in the original is now a Chinese maid in the remake, and, yes, she too is working for a foreign power, in this case Japan.
While The Kennel Murder Case clocked in at 73 minutes, Calling Philo Vance runs for only 62 minutes. Add the time given to the new scenes in Vienna, and cuts had to be made. Unfortunately the cuts obliterated whatever little characterization was left, so each supporting character (and suspect) gets only the briefest of introductions. For instance, in the original, we learned a little about Coe's niece, Hilda Lake and why she disliked her uncle so intensely. Now, all we get is that she hated him because he controlled her money. About her English boyfriend, now christened Tom McDonald, we get even less; it's the same with Wrede. Wrede remains the villain of the piece, only now he, too, is out to steal the plans to sell abroad. Brisbane receives almost zero air time, apart from being a corpse, and his apparatus to lock his brother's bedroom door from without, which made for such a wonderful explanation in The Kennel Murder Case, is now reduced to a simple explanation from Vance, lacking all the intrigue and color of the original.
If the characters in the remake have been stripped of anything of interest, the actors playing them are also lacking that necessary passion, for there is now nothing in the script to give their characters more than the bare bones of motivation. Stephenson plays the role of Vance in a disinterested manner, sort of like Sherlock Holmes, but without that detective's amazing intellect and imagination.
Edward Brophy's Sergeant Ryan replaces Eugene Pallette's wonderful Sergeant Hearth. Brophy is good as Ryan, but is not given the time or lines to establish his character fully, so what the audience is left with is a character merely saying his lines without any reason why, such as his ripostes with medical examiner Doremus (Conlin). In the original these lines resonated with our knowledge of the history between the two, even for those who had not seen any of the other films, for all were given the necessary time to establish their characters through their scenes together, which hinted at an ongoing head-butting relationship. In this film, however, there is no time allotted for the development of any relationship, just the hint of one, and so the film falls flat for this lack of time. When we watch The Kennel Murder Case, we can see that the actors used the dialogue and scenes allotted to them to their fullest; both were masters of characterization. Each supporting character in this film suffers from this lack of focus, which in turn diminishes our overall enjoyment of the movie. What we are left with is just the bare bones of a plot and the words "What if" resonating in our minds as the film reaches its abrupt conclusion.
This was the only film of Warners proposed re-launch. Part of the reason for the abandonment may have been the sudden death of Stephenson from a heart attack. At any rate, Vance would not appear again in a movie until 1947 when Poverty Row studio PRC released Philo Vance's Gamble, starring Alan Curtis as the detective.
Deflating Hitler
By Ed Garea
You Nazty Spy!
(Columbia, 1940) – Director: Jules White. Writers: Felix Adler & Clyde Bruckman (story). Cast: Moe Howard, Larry Fine, Curly Howard, Don Beddoe, Richard Fiske, Lorna Gray, & Dick Curtis. Short, B&W, 18 minutes.
It has become an item of accepted wisdom that Charlie Chaplin was the first artist to take on Adolf Hitler with his comic masterpiece The Great Dictator, which premiered in New York on October 15, 1940. But that wasn't the case at all. In fact, some nine months prior to the release of Chaplin's film, on January 19, 1940, a short by the Three Stooges beat him to the punch. Before there was Adenoid Hynkel, there was Moe Hailstone.
Both films were conceived roughly around the same time. During the late '30s, Hitler was frequently noted as looking like Chaplin's Little Tramp. When producer Alexander Korda told Chaplin of the resemblance at a party in 1937, it supposedly gave Chaplin the idea for a satire of Der Fuehrer. Korda wasn't the only one: In 1939, British comedian Tommy "It's That Man Again" Handley released a song called "Who Is That Man (Who Looks Like Charlie Chaplin)?"
Though Chaplin was inspired, he took his time preparing a script and getting the film off the ground. Part of his problem lay with his company, United Artists, who told him that such a film wasn't a good idea as Germany was a major market and it would also alienate the many around the world who sympathized with Hitler. In 1938, Joseph Breen, the Production Code's chief bluenose, wrote German Consul George Gylissing in response to Gylissing's letter asking whether such a film was actually being planned that his office had not heard of anything and that any script would first have to be approved before it could be produced.
However, by the summer of 1939 it was a foregone conclusion that Europe would soon be at war. Hitler marched into what was left of Czechoslovakia, and in August signed the infamous peace pact with Stalin that effectively sealed Poland's fate by dividing it between Germany and the U.S.S.R. Chaplin began writing the script for The Great Dictator in June 1939 and production began shortly after on September 9, finishing in June 1940.
Chaplin was not the only person that could resemble Hitler. The story is that in 1939, between takes of a Three Stooges short, Moe did a hilarious impression of Hitler. According to Lynn Rappaport in The San Diego Jewish Journal, it gave Jules White, the head of Columbia's Shorts Department and producer-director of many of the Stooges shorts, the idea of a Hitler parody of his own. Also in the summer of 1939, White came to his brother Sam's office and announced his plans to make a comedy about Hitler. Moe would be Hitler, Larry would play Goebbels, and Curly would be Goering. Sam's reply was that the situation in Europe was pretty grim; could Jules make it funny? Jules told Sam not to worry on that account; he'd make it plenty funny.
Filming on the short began December 5, 1939, and lasted for seven days. Cutting was finished on December 26, 1939, and on January 19, 1940, You Nazty Spy (a play on the popular "You nasty man" catchphrase of radio comic Joe Penner) became the 44th Three Stooges comedy released by the studio. Moe Howard thus became the first American actor to lampoon Hitler.
As the film opens we are in the fictional country of Moronica. A meeting is taking place among munitions manufacturers Messers. Ixnay (Fiske), Ohnay (Curtis) and Amscray (Beddoe). Complaining that business is on the decline, they come to the conclusion that they need to oust the king who is for peace and establish a dictatorship so they can start a war. "We must find someone who is stupid enough to do what we tell him," says Ohnay. "But where can we find anyone that stupid?" Amscray asks. "I've got the very man and he's in this house right now," says Ixnay. "His name is Moe Hailstone. He and his two helpers are papering my dining room right now."
Cut to the dining room, where the Stooges are working. Ixnay introduces his companions to Moe Hailstone, Curly Gallstone, and Larry Pebble, who answer "Shalom aleichem" in unison. Rarely did the Stooges ever make reference to their Jewish roots, but here they decided it was essential.
Ixnay asks Moe is he'd like to be dictator. When Moe asks what a dictator is, Ixnay explains it to him: "A dictator? Why, he makes love to beautiful women, drinks champagne, enjoys life and never works. He makes speeches to the people promising them plenty, gives them nothing, then takes everything! That's a dictator." "Hmm," says Curly. "A parasite! That's for me!" Moe tells the munitions men he must think about it and leans back on a table. His fingers accidentally pick up a swatch of dark wallpaper. When he raises his hand to his lips, the paper attaches itself like a mustache. Brushing his hair back at the same time, Moe looks almost exactly like Hitler.
But Moe won't do it without his friends: "Our motto has always been all for one and all for me." Ixnay says that's no problem – Curly can be Field Marshal of all the armies and Larry can be Minister of Propaganda. When Larry asks what propaganda is, Curly answers by saying that a papa gander marries a mama gander and they raise a lot of little goslings. Moe says, "We'll take the job. What do we do?" "First," says Ixnay, "you start a beer putsch." "How?" asks Larry. Curly explain it thusly" "You putsch your beer down and wait for the pretzels."
So far the short is following the popular perceptions of both Hitler and how he rose to power. It was widely assumed the time that munitions manufacturers and other industrialists were responsible for putting Hitler in power, and there's truth in this assumption, for Hitler was actually given the position of Chancellor by those in the Reichstag that represented the business classes. Led by Franz Von Papen, it was thought they could control him, an assumption that proved disastrously wrong – and shown during the course of the short, when Moe, Larry, and Curly spiral out of control. It was also commonly thought that Hitler was a paperhanger in Austria before the First World War, a belief that persisted well beyond the Second World War as well. The truth was that paperhanging was work, and work was the last thing on Hitler's mind. Even then, the future Fuehrer imagined he was too important for ordinary work. He lived off a small bequest from his mother and from earnings painting watercolors for tourists.
As Moe speaks to the masses with Larry and Curly at his side, the resemblance to Hitler is remarkable, especially in reference to Hitler's gestures and speech pattern. Curly and Larry stand alongside, with Curly in uniform posing more like Mussolini than Goering and Larry holding up cue cards for the audience. Moe tells the throng that, "We must lend our neighbors a helping hand! We must lend them two helping hands, and help ourselves to
our neighbors!" Larry holds up the cue card that says "Cheer," and the crowd cheers. Later, when Moe is promising the masses goodies, Larry accidentally holds up "Hiss." The reaction surprises Moe who sees Larry with the wrong card and bonks him. Larry then turns the card around to read "Applause." Moe then tells the crowd that "we must throw off the yoke of monarchy, and make our country safe for hypocrisy!"
Back at Hailstone's office, Moe catches Curly reading a book. He tells Curly that he should be burning books, not reading them. Looking at the wall behind Moe's desk, we see the new flag of Moronica – two snakes intertwined into the shape of a swastika – and below the flag a motto, "Moronica for Morons," a parody of the Nazi slogan "Deutschland fur Deutschen" ("Germany for Germans"). They are informed that Matte Herring (Gray) has arrived and Moe tells the secretary to "marinate her and send her in." The name is a play not only on the famous World War I spy, but also on the Yiddish and German name for pickled herring, matjeshering. (In fact, there are several Yiddishisms used throughout the course of the film, as Yiddish is a High German language, originating with the Ashkenazi Jews. The Stooges were of Ashkenazi origin, being from Lithuania.)
Matte has come to read their fortunes. They sit at a table while she pulls out a large 8-ball. As she tells their fortunes, both Moe and Curly stick their hands under the table for Matte's but end up holding each other. Moe discovers what's going on and breaks the 8-ball over Curly's head. They find a note inside for Matte. It turns out she's the daughter of the deposed king and has orders to kill them. They arrest her, and as Curly takes her out to be shot, he tells her they'll shoot the works, a '30s reference to injecting morphine and a slap at Goering's morphine addiction. Curly takes Matte into the hall and asks her "Blindfold?" She agrees and proceeds to tie it around Curly's head. He tells her he'll take 10 paces, turn, and fire. While he paces, she runs away. "We must catch her," says Moe, "before she reports to her father, the King, and the people turn on us."
Delegates from Moronica's neighbors now enter to begin a peace conference. When Moe demands a corridor through the country of DoubleCrossia to the Bay of Window, the conference breaks down into a brawl. Moe and Curly shoot golf balls off the delegates' heads while they are busy pummeling Larry. Knocking out the delegates, the trio plans to throw them to the lions when noise is heard outside. It's the people, coming to overthrow Moe. The Stooges run into the arena and lock the door, but realize too late that they've locked themselves in with the lions, who then proceed to chase them around the corner into a back room. Roars and screams are heard and only the lions emerge. One, wearing Moe's cap, proceeds to belch (possibly from indigestion) as the short ends.
There are several interesting points about the film. One is that, while the Hays Office objected to Chaplin's film (FDR himself helped push it through), You Nazty Spy passed through unscathed, perhaps because the censorship requirements were not as stringent for shorts as for full-length features. (Article X of the Production Code stated: "The history, institution, prominent people and citizenry of all nations shall be presented fairly. No picture shall be produced that tends to incite bigotry or hatred among peoples of differing races, religions or national origins.") During the autumn months of 1941, a Senate Subcommittee on the motion picture industry and war, led by several Isolationist senators, began looking into what it termed "anti-Nazi propaganda films" coming out of Hollywood. (Congress always enjoyed looking into Hollywood from time to time, as many in the film industry – actors and moguls – lacked the intellectual wherewithal to properly fight back.) The Great Dictator was subjected to close scrutiny while You Nazty Spy was overlooked, despite its popularity at the box office. The hearing mercifully came to an end on the morning of December 8, 1941, after the Japanese attacked Pearl Harbor and turned isolationists into traitors.
While everyone praises Chaplin's portrayal of Hitler, it must honestly be admitted that Moe Howard did it better. Whenever I watch The Great Dictator, I come away with the impression that if only Germany – and Hitler – would listen to the sweet reason of Chaplin's speech at the end, they might be convinced to do good. Nothing of this sort happens with You Nazty Spy, for Moe did a better job of channeling Hitler's lower-class origins and manic rage. Chaplin's Hynkel speaks with a soft voice and almost breaks into an English accent at times while Moe shrieks, substituting nonsensical gibberish sprinkled with a few Yiddish phrases, more closely imitating the real Fuehrer in his irrationality and pure rage. More to the point, like Hitler – and unlike Hynkel – Moe Hailstone is undone by farce. Hitler was living a farcical existence during the last months of his life trapped underground in Berlin. Moe and associates retreat to a bunker of sorts in their attempt to escape the lions. The image of the one lion emerging wearing the Fuehrer's cap and belching almost approaches the level of an editorial cartoon in its sharpness.
The short did well in theaters, even playing in first-run houses that did not normally run Stooge shorts. It became so popular, in fact, that the ending was forgotten in favor of a sequel, titled I'll Never Heil Again (July 1941). In this sequel, the industrialists Ixnay (Vernon Dent), Amscray (Lynton Brent), and Umchay (Bud Jamison) approach the exiled King Herman VI 7/8 of Moronica to seek his help in getting rid of Moe Hailstone and his associates. The king sends his daughter, Gilda, to assassinate Moe, Larry and Curly with an explosive billiard ball – to be used when they play pool. This is somewhat close to the real attempt on Hitler's life at the Wolf's Lair in East Prussia when Von Stauffenberg placed a briefcase loaded with explosives under Hitler's conference table. I'll Never Heil Again reaches its climax when, during a conference of the Axis powers, Hailstone declares the world to be his, which results in an all-out brawl during the course of which Curly detonates the explosive pool ball. The king is restored and the heads of Moe, Larry and Curly are mounted on his trophy wall.
The Early Edward G. Robinson
By Ed Garea
The Widow From Chicago (WB, 1930) – Director: Edward Cline. Writer: Earl Baldwin (story & s/p). Cast: Alice White, Edward G. Robinson, Neil Hamilton, Frank McHugh, Lee Shumway, Brooks Benedict, & E.H. Calvert. B&W, 64 minutes.
One of the really neat things about TCM is getting to see an actor or a director's first films, for we can see how far they've come – or fallen, as the case may be – since their debuts. And when it's a superstar like Edward G. Robinson, our enjoyment is even more enhanced.
While The Widow From Chicago wasn't Eddie G.'s first film, it was his first film for Warner Brothers. Robinson was an entrenched Broadway star, having walked the boards there for 15 years. While on Broadway, he took the time to test the waters in the silent films of the day, appearing in Arms and the Woman (1916) and The Bright Shawl (1923). Both his appearances were in small, supporting roles and did nothing to shake his conviction that Broadway was where his fortunes lay. In 1929, he starred in The Kibitzer, a play he wrote with Jo Swerling. It ran for 120 performances, closing in June of 1929. While in The Kibitzer, Robinson took the train to Astoria, Queens, appearing in Paramount's The Hole in the Wall for director Robert Florey. Playing a gangster simply called "The Fox," he was second-billed behind the star, Claudette Colbert. The film itself no great shakes, a drama in the Tod Browning-Lon Chaney vein and one of those early Paramount prehistoric talkies.
When the Wall Street Crash made its impact felt on Broadway, Robinson headed out to Hollywood to try his luck there. The collision of the Crash, the resulting drying-up of Broadway productions, and the onrush to sign actors that could speak for the new talking medium gave Robinson hope for work until such time as Broadway recovered.
His first film in Hollywood was for Universal, a quickly made crime drama titled Night Ride (prerelease title Out to Kill). Robinson was given third billing as gangster Tony Garotta. He is eventually outsmarted and brought to justice by reporter Joe Rooker (Joseph Schildkraut). Critics, though, noticed that Schildkraut outshone Robinson in the film, and a script that gave Robinson little to play except a cardboard cutout gangster didn't help his cause, either.
Eddie G.'s next stop was MGM, where he was second-billed to star Vilma Banky in the romantic drama A Lady to Love (1930). A lousy film, it would be silent star Banky's last. But she wasn't really to blame; a bad script did her in. The common wisdom is that Banky was a lousy actress with a thick accent. She did have a thick accent, but she was a decent actor and actually acquitted herself well in this film. So it comes down to the accent. However, Garbo also had a thick accent, so why Garbo and not Banky? It was simply because Garbo had cache and a huge following in Europe while Banky didn't. The European market accounted for a huge chuck of a studio's profits, one reason why the moguls suffered Hitler as long as they did despite his anti-Semitism. As for Robinson, he was nothing to write home about, playing an Italian immigrant wine grower, but he did catch the eye of Resident Genius Irving Thalberg, who thought Robinson could really amount to something given the right vehicles.
Thalberg summoned Robinson to his office to negotiate a contract, but the meeting was a disaster for both concerned. Thalberg offered Robinson a long-term contract that would have made him a millionaire by the time it expired. However, there was a catch: Robinson would have to forego the stage for the life of the contract, and, for Robinson, who like many other stage-trained actors, looked down on the movies, that was the deal-breaker. He did two more quickies for Universal in 1930: Outside the Law, a remake by director Tod Browning of his 1920 film of the same title starring Lon Chaney, and East is West. Whereas in the former Eddie G. was again a gangster, in the latter things are a bit different – he plays a Chinese gangster. Both films died quickly at the box office and Robinson slunk back home to New York, hopeful that the slump on Broadway was turning around.
But upon arriving back in New York he found Warner Brothers executive Hal Wallis waiting for him. Wallis had just missed him in Hollywood and wasted no time telling Robinson that he was a big fan, as were the Warners themselves, who loved Robinson in his turn as an Al Capone type in the 1927 play, The Racket. Warner Brothers wanted him and wanted him badly, for despite being the first studio to introduce sound, they were a bit late to the dance in signing up stage stars. Wallis offered a four-picture contract at a flat $35,000 per film. Robinson again asked about Broadway. "No Problem" was the answer. So Robinson, with his wife's blessing, signed the contract and the couple headed back to California.
The Widow From Chicago
is your typical crime film, a bit odd in that it was directed by Eddie Cline, who was much more at home with comedies. (He would later go on to direct two of W.C. Fields' best:
The Bank Dick
, and
Never Give a Sucker an Even Break
.) Eddie G. again finds himself second-billed, this time to Alice White, a cutie Warners was giving the big push to build her up for bigger and better things to come.
Robinson is Dominic, a nightclub owner and bootleg baron. It seems the joint across the way won't buy Dominic's swill, so he sends for torpedo "Swifty" Dorgan (Neil Hamilton). Chased by the police, Swifty jumps out a train window into the river and is presumed dead. As word is kept quiet, it's decided that detective Jimmy Goodwin will go undercover as the departed gangster to nail Dominic, but the gangster catches on to Jimmy's real identity and has him gunned down right outside his apartment with sister Polly (White) watching from a window.
Polly decides to take matters into her own hands and shows up as Dominic's nightclub as Swifty's widow. Dominic gives her a job and she's doing quite well, getting the goods on the gang, until – guess what? – Swifty suddenly shows up, a bit worse for wear. Now the fun starts. Swifty discovers his "wife" is none other than "Palpitating Polly," the club's dance hall hostess. But (of course) Swifty goes along with the gag – Polly is, after all, palpitating, and Swifty is not the only guy taken with her many charms. Dominic also has a thing for her. But Dominic is S-O-L, for Polly has already fallen for the handsome Swifty.
The climax comes when Dominic sends Swifty over to finish the original job of whacking the recalcitrant owners of the club who won't buy Dominic's swill. Polly goes along to protect her beau and during a fracas, shoots a detective to save him. Realizing she has to nail Dominic, she contrives with the cops to foil Dominic into believing that he's ga-ga over him, and while he's distracted, she props the phone receiver open with a matchstick so the police in an adjoining area can listen in to Dominic confessing to several murders. The cops crash in, Dominic tries to escape using Polly as a shield, and a shootout between Dominic and Swifty ensues, with Swifty coming out on top. (What is he doing there?)
What a plot: While Alice White as Polly may be palpitating, she can't act to save her life. Hamilton is his usual bland self. Frank McHugh has a brief spot as comic relief, portending things to come. It's Eddie G. who comes across as the real highlight, underplaying the role of Dominic while most other stage actors would overplay it. This makes Dominic even more menacing, further setting him apart from the silly antics of White.
Eddie Cline does a nice job of directing, helped by the sharp cinematography of Sal Polito. As it's a Pre-Code, the wise cracks fly fast and furious. "I'd like to give her a piece of my mind!" "Don't do it, you can't spare it." As for the necessary risqué, Alice isn't even sighted in her undies even once. The only risqué part is what Swifty and Polly are alone and he tries to take advantage of his husbandly status, but to no avail.
The film opened to decent reviews and good business. It all went to Alice's pretty little head and she became a major pain-in-the-ass for Warner Brothers. When the brass discovered Joan Blondell could do everything Alice did better, was infinitely cuter, and, unlike White, could act, Alice was demoted and eventually shown the door. She toured as a singer-dancer in vaudeville and returned to Hollywood in 1932, but a sex scandal where she left her wedding ceremony with another man derailed her comeback. Thereafter she only worked sporadically in films, her last being 1947's Flamingo Road, starring Joan Crawford. After that she returned to Warner Brothers as a secretary, ironically, the position from which she began her ascendancy to fame.
Heat Lightning
By Ed Garea
Heat Lightning
(WB, 1934) – Director: Mervyn LeRoy. Cast: Aline MacMahon, Ann Dvorak, Lyle Talbot, Preston Foster, Glenda Farrell, Frank McHugh, Ruth Donnelly, Jane Darwell, Edgar Kennedy, James Durkin, & Theodore Newton. B&W, 64 minutes.
Heat lightning is a common natural phenomenon usually seen during warm and humid nights in July and August. In actuality, it is a distant thunderstorm, and while the lightning can be seen, the clap of thunder has died out before it reaches the viewer. The term itself comes from an old wives' tale that a hot, sultry summer night can generate lightning without a thunderstorm.
"Heat lightning," then, is a perfect term for the title to this movie, itself adapted from the 1933 Broadway play of the same name by Leon Abrams and George Abbott. It implies the spontaneous generation of sparks without an accompanying storm and accurately describes both the plot and motivation of its lead characters.
This rather unusual B programmer prefigures the more famous The Petrified Forest in its similar setting and plot by almost two years. Released right before the Code crackdown, this would have been an unusual movie no matter when it was made. Olga (MacMahon) and Myra (Dvorak) run a combination gas station/café/motel in the California desert. Olga has sworn off men and handles the mechanical side of the business. Repressing her femininity, she dresses in a pair of baggy bib overalls. But she is most definitely a woman with a past who has gotten away from the corrupting atmosphere of the city to make a fresh start. She's taken younger sister Myra with her, determined not to let Myra make the same mistakes with men that she did. Myra, on the other hand, is nursing a serious case of Cabin Fever, especially as Myra won't let her see boyfriend Steve Laird (Newton). In fact, Olga won't let Myra date at all, which is increasing the tension between them.
However, everything between the sisters changes with the arrival of George Schaffer (Foster) and his friend, Jeff (Talbot), two criminals on the lam. Olga takes one look at George and recognizes him as Jerry, a man she was intimately involved with when she was a cabaret girl in Tulsa. Their relationship ended abruptly when Jerry took a hike and neglected to invite her along. This was traumatic enough to cause Olga to flee to the desert and bury forever any further notions of love and marriage.
With the arrival of the duo, Myra begins to notice a slow, but profound, change in her sister. The constricting bandana worn around her head and the dirty overalls give way to a dress and a change in hairstyle. When the sheriff (Durkin) passes through, he informs Olga about two men that held up a Salt Lake City bank, killed two cashiers, and were last seen heading this way towards the Mexican border. George and Jeff, though, claim to be oilmen and Olga vouches for them. Myra takes advantage of Olga's compromised position and makes plans to hook up with Steve after dark.
Enter two recent rich divorcees, Mrs. Tifton (Farrell), called "Feathers," and Mrs. Aston-Ashley (Donnelly), called "Tinkle." Renting a room for night, the ladies store their jewelry in Olga's safe. With a small fortune in jewelry locked in the hotel safe, George and Jeff begin making plans for its liberation. Quickly surmising that Olga's still head-over-heels with George, the plan is for George to distract Olga while Jeff picks the safe.
Steve brings Myra home from their date at dawn, after doing what Olga had feared – taken advantage of Myra. Myra sees George leaving Olga's room and enters to tell her sister what Steve had done to her last night. They hear a noise downstairs and go to investigate. Olga overhears George tell Jeff while the two are in the process of breaking into the motel safe that he slept with Olga just to set up the theft. With that, Olga fetches her revolver and shoots George before he can shoot her. Before he dies, though, he apologizes to her. Knowing George forced Jeff into the theft at gunpoint, she lets Jeff get away, albeit without the jewels. Things go back to normal the next day, with Olga returning to her mechanic's garb and Myra sadder but wiser.
Although Heat Lightning is a highly enjoyable film and moves at a quick pace, director LeRoy tries to walk a fine line between comedy and drama and ultimately lets the viewer down. There are several scene-stealing bits by the supporting cast, most of whom are familiar faces from the Warner Bros. stock company. At the star of the movie, Kennedy as a hen-pecked husband and Darwell as his nagging spouse stop for repairs, providing a good argument against marriage with their constant bickering. Divorcees and traveling companions Farrell and Donnelly trade deliciously tart quips and insults while competing for the attention of their chauffeur (McHugh). Two showgirls and their sugar daddy, bound for Hollywood, also stop by for some repartee, and a Mexican family arrives and camps out on the hotel premises, providing a musical accompaniment to the later actions of the cast. It is their arrival that spurs the divorcees to stow their jewelry in the hotel safe, fearing the Mexicans are gypsies out to steal.
The movie falls on the shoulders of MacMahon and she does not let LeRoy, or the audience, down. She brings believability to a character that would have been considered out of place in those times, although it's never made clear, given her background as a cabaret girl, where she got the wherewithal to become a mechanic. Perhaps she took a course at Engine Tech.
Nevertheless, the plot and characters revolve around her. If she gives anything other than a standout performance, the movie will sink. When we catch sight of her at the beginning of the movie, she does everything possible to hide her femininity, wearing baggy overalls, a bandana, and little, if any, makeup. When she puts on the dog to make nice with Foster's character, the change is astounding. Dvorak, on the real live wires of Pre-Code cinema, is essentially wasted in a thankless role that gives her little to do but react to her sister's authoritarian manner. The screenplay by Brown Holmes and Warren Duff (from the play by Leon Abrams and George Abbott) is uninspired, cramming too many characters into a film with a running time of only 66 minutes. LeRoy's direction is passable, but flat in tone. One mistake he made with respect to the plot was George's apology to Olga as he lay dying. It makes no sense and only serves to open up more worms than are indicated in the plot.
The critics were less than kind in general, with Mordant Hall of the New York Times calling it "a drab melodrama with occasional flashes of forced comedy." According to Hall, the film "does not offer Miss MacMahon the opportunity she deserves, for although she gives a believable performance, the role is not well suited to her." However, despite his noting, "The other characters seldom ring true," he does state that, "Ann Dvorak does well enough as Olga's sister, Myra," and "Preston Foster gives a glib portrayal as Schaeffer." Ultimate blame, however, is placed with LeRoy: "Mervyn LeRoy, the director of 'Heat Lightning,' was not in an imaginative mood when he handled his scenes."
The Hays Office objected to George leaving Olga's bedroom in the morning and buttoning his coat. It also objected to a line by one of the showgirls that the other would have to ride up front with "the old thigh pincher." But as with other objections by the Office during this time, Warners quickly placed them in their circular file. The Legion of Decency banned the film, and when the Code was enforced later that year, the movie was shelved and not shown until it popped up on television in the '60s.
Trivia:
This was Aline MacMahon's first starring role in a film. The film was remade in a fashion as Highway West (1941), starring Brenda Marshall and Arthur Kennedy.
Priscilla Lane - Western Star
By Ed Garea
Cowboy From Brooklyn
(WB, 1938) – Director: Lloyd Bacon. Cast: Dick Powell, Pat O'Brien, Priscilla Lane, Dick Foran, Ann Sheridan, Johnnie Davis, Ronald Reagan, James Stephenson, Granville Bates, & Emma Dunn. B&W, 77 minutes.
Silver Queen
(UA, 1942) – Director: Lloyd Bacon. Cast: George Brent, Priscilla Lane, Bruce Cabot, Lynne Overman, Eugene Pallette, Janet Beecher, Guinn "Big Boy" Williams, Frederick Burton, Roy Barcroft, & Marietta Canty. B&W, 80 minutes.
There are two surprising things about the career of Priscilla Lane: (1) – She made only 22 films before retiring in 1948 to start a family with husband Joseph Howard, an Army Air Force officer she met during World War II. (2) – Of these 22 films, two of them were Westerns. Ironically the same man, Lloyd Bacon, directed them.
Only 22 films? It seemed as if she made more. However, that's an optical illusion, perhaps spurred on by the fact she made a few very popular films that are often broadcast (Saboteur, Four Daughters, Brother Rat, The Roaring Twenties, and Arsenic and Old Lace) and give the impression she made many more.
But back to her Westerns. Technically, both are Westerns only in the academic sense of the word. Silver Queen is set in the city, and Cowboy From Brooklyn, is more of a musical with a Western setting, sort of like Abbott and Costello's Ride 'Em Cowboy (which was a much better film).
Originally titled Romance and Rhythm, Cowboy From Brooklyn stars Powell as Elly Jordan, who, along with his two bandmates, is broke and stranded in Two Bits, Wyoming, where they come across the Hardy Dude Ranch, run by Ma and Pop Hardy (Bates and Dunn), and their children, Jane (Lane) and Jeff (Davis). Elly and his mates are hired to play for the dudes. However, Sam Thorne (Foran) – ranch cowhand, crooner, and Jane's self-appointed boyfriend – is jealous of Jane's interest in Elly.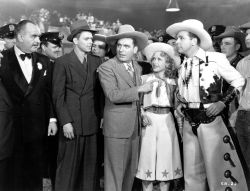 Elly does a good job of singing – so good, in fact, that Roy Chadwick (O'Brien), a theatrical agent spending his vacation at the ranch, signs him up, thinking Elly's a real cowboy. But even though Jane coaches him on how to talk like a cowboy, there is one thing that could stop Elly's career cold: his fear of animals, including horses. But he pulls off the deception with help from Chadwick and makes a successful screen test as Wyoming Steve Gibson. While they go to New York to await the Hollywood people, Chadwick is still worried that Elly will be exposed. He has good reason, for while Jane and some of the ranch people are on the train to New York, where Sam will compete on Captain Rose's Amateur Hour radio show, she tells Sam she's in love with Elly. Sam is so angered by this confession that when he fails to win on the show he blurts out the real story on Elly over the air.
Chadwick and his press agent Pat Dunn (Reagan) must now show that Elly's on the level. They suggest that he compete in a rodeo and take him to Professor Landis (Stephenson), who hypnotizes him. While under hypnosis Elly rides a horse to Madison Square Garden and enters the bulldogging contest, where he sets a world's record. The movie people are convinced he's the real thing, and Elly signs his contact while kissing Jane to seal both deals.
Truth be told, this is not a very good film. Powell, who had made his bones at Warner Brothers playing juvenile roles, found himself unable to break out of that mold. Although he began starring in a few films such as Hard to Get (1938) with Olivia de Havilland, acquitting himself well in an adult comedy role with the obligatory few songs thrown in, management at the studio wanted him to continue in the juvenile singing roles despite Powell's strong desire to switch to dramas. The rift grew so broad that two years later, Powell left the studio for good to pursue an acting career.
As was the case with their Bs, the studio used this film to showcase new talent, albeit in minor roles, providing them with some experience. Reagan and Lane had only been with the studio for a little over a year, while Sheridan had been in movies since 1934, but most of her parts were unbilled (in fact she had only two brief scenes). The only one that had much to do was Lane in her role as the daughter. The manner in which she played the role would later determine her future with Warner Brothers as "the girl next door."
Trivia:
Dick Foran was actually Warner Brothers' answer to the singing cowboy craze of the time and starred in series of Westerns, billed as "Dick Foran, the Singing Cowboy . . . Jeffrey Lynn has one line as a reporter . . . Warner Brothers remade the film as Two Guys From Texas, starring Dennis Morgan and Jack Carson. Carson is the one with the fear of animals.
Lane's next foray into the Western genre came in 1942 with Silver Queen. How it came about is a story for a good movie trivia book. Producer Harry Sherman, famous for his Westerns (he produced the Hopalong Cassidy series) made a deal with Warner Brothers wherein he secured the services of three contractees who were not in the studio's plans: Lane, Brent, and director Bacon. According to Robert Osbourne, Sherman had a deal in place with Paramount to handle distribution, but United Artists, short on product since the declaration of war, asked Paramount to sell them a few movies to distribute to their theater chain. Silver Queen was among those movies sold.

Silver Queen
suffers from the casting of Lane as a card sharp, a role outside her range and one that would have been better in the hands of someone like Barbara Stanwyck, Ida Lupino, Linda Darnell, or even Lana Turner. Ellen Drew was originally set for the part, but Lane replaced her before filming began. Lane's "girl-next-door" image worked against her, ultimately rendering her unconvincing. Thankfully, her screen time is relatively limited and she is working with Brent, who could make a mannequin look like Vivien Leigh. The rest of the cast is excellent: Cabot, Pallette, and Williams deliver entertaining performance and keep the picture moving.
The movie opens in 1873 against the background of looming financial woes for the United States. A newspaper quotes President Grant as stating the national debt is $3 billion. Cut to James Kincaid (Brent), a professional gambler operating a parlor in 1873 New York City. Assisted by his valet, Blackie (Williams), he makes a good living. He's invited to a charity ball being held by the fabulously wealthy investment broker Stephen Adams (Pallette), and against Blackie's advice to the contrary, decides to make an appearance. Once Kincaid arrives, his eyes become riveted to Adams' daughter, Coralie (Lane), who has inherited her father's interest in gambling and is indulging in her hobby of poker, cleaning out the other players for charity. It's love at first sight for both, but there's one obstacle. (Isn't there always?) Coralie is engaged to the affluent Gerald Forsythe (Cabot), and before the evening ends, Stephen urges Gerald to tie the knot soon, as he wants to make sure Coralie's future is assured, both financially and socially.
As we could surmise from the opening, the Panic of 1873 sets in and everyone is scrambling for cash to cover his margins in the stock market. The one thing that would keep the wolves from Stephen's door is his deed to the "Gambler's Luck" silver mine. Unfortunately, Stephen withdrew the deed the night before to play poker at Kincaid's parlor, and has lost it. The shock of the crash and loss of the mine combine to bring on Stephen's death from heart failure, and Coralie now discovers, in going through her father's financial portfolio, that he was wealthy only on paper. She assures the creditors she will make good on her father's debt, and Gerald traces the deed to Kincaid's, where he offers a substantial sum for the supposedly worthless deed. Kincaid is suspicious of Gerald, but nevertheless does the cavalier thing and gives Gerald the deed to take to Coralie as a wedding gift and heads out with Blackie for greener pastures. Coralie also leaves New York, asking Gerald not to look for her until she sends for him.
Unfortunately for Coralie, she's neglected to ask about the deed. Gerald has it and he's keeping it. Cut to 1877 and we find Coralie and her maid, Ruby (Canty) in San Francisco, where she's used her talents at poker to amass a tidy fortune and become a casino owner. She sends Gerald her final payment of $10,000 to cover her debts, but unknown to her, Gerald's been funneling the payments into the Gambler's Luck mine, hoping for that rich silver vein that will make all his problems disappear. Despite all the money he's scammed from Coralie, he still needs $30,000 to keep in running. So he goes to his mother for the extra scratch, but Mother knows that Sonny Boy's a cad and refuses to give him one thin dime. Gerald then orders the mine foreman, Carson (Barcroft) to cut expenses to the bone.
Meanwhile James and Blackie arrive in San Francisco looking for action, and James is startled to discover that the renowned dealer known as the "Silver Queen" is none other than Coralie. He also learns that Coralie and Gerald never married, and when they meet once again, it's still love at first sight. We now enter the world of absurd plotting: Enter Coralie's Uncle Hector (Overman). He's was also wiped out by the crash and never recovered. When James learns that no one knows of the fate of the mine, James gives Hector money, Coralie's address, and a note telling her he's going to Nevada City to check everything out. But Hector falls victim to that old screenwriter's solution for a sticky situation – a carriage runs him over in the fog, and all Coralie can get out of him before he dies is that James has gone to Nevada City.
Continuing the absurdity, enter Gerald, who tells Coralie that Hector lost all his money gambling and that he purchased the mine from Kincaid on her behalf. His solution to everything is that Coralie should marry him ASAP. Gerald's obvious duplicity should be setting off red lights and klaxons in Coralie's head; but, no, she accepts the proposal, her only caveat being that they should wed in the town of her birth and where her father discovered the mine: Nevada City. Upon their arrival, James and Blackie crash the party and are threatened by Carson and the sheriff, confirming James's suspicion that Gerald is crooked. A fistfight ensues between James and Gerald. Gerald pulls a gun and shoots, but hits Coralie. Blackie grabs the sheriff's badge, declares that he's the new law in town and hauls off the three to the hoosegow. The doctor takes Coralie away, but can't find anything wrong save for the fact she' s unconscious, and we soon learn that Coralie collapsed only to prevent further shooting. When she overhears the truth about Gerald, she suddenly comes to and pledges her lifelong love to James, giving us the requisite happy ending.
Yeah, the plot has more holes than a wheel of Swiss cheese, but film buffs have long learned that bad plotting can be overcome by good acting with interesting characters. Besides. It isn't exactly Howard Hawks or John Ford in that director's chair. It's only Bacon and he's trying to do his best with a limited budget. Fortunately for Bacon, the one person around whom the entire film revolves is the excellent Brent. Brent is a consummate professional who could develop chemistry with the Bride of Frankenstein. Here he has Lane and they work well together, allowing us to overlook the fact that Lane's not exactly the Annie Duke type when it comes to card playing.
Cabot is solid playing a role he is noted for – the bad guy, and pulls off the required villainy without resorting to mugging or other obvious overacting. In fact, if anything, Cabot underplays the role, allowing Gerald to emerge as even worse. Williams was also fine playing a role his limited range calls for – the buddy, and his chemistry with Brent allows us to believe that these guys are really a team. The only fly in the soup, aside from Lane's miscasting, is that one of our favorite supporting players, Pallette, has a small role that doesn't really allow him to expand his talents. It's almost like a cameo. Looking back, anyone could have played the role of Stephen Adams and it seems like a waste of a good actor. On the other hand, it's always good to see Pallette in a film. Silver Queen is a good way to spend 80 minutes; you could do way worse.
Trivia:
My uncle, who served in the Marine Corps during World War Two and saw considerable action in the Pacific, told me that producer Sherman's Hopalong Cassidy movies were by far the most popular with the troops. They could watch them again and again without ever becoming bored. When I asked him why, he simply replied that there was something about Hopalong few others had. Only Clark Gable and Humphrey Bogart rivaled Cassidy's popularity among the men. Among women, Betty Grable and Lana Turner led the field.
Story of Women
(MK2 Productions, 1988) Director: Claude Chabrol. Cast: Isabelle Huppert, Francois Cluzet, Marie Trintigant, and Nils Tavernier. Color, 108 minutes.
Claude Chabrol has been called "the founder of the French New Wave." At any rate he was the first one of the Cahiers du Cinema crowd to become a director. Cahiers cohorts Francois Truffaut and Jean-Luc Godard would quickly follow. Chabol was known for his vicious satires – films exuding a pointed disgust for humanity in general and the French bourgeoisie in particular. Story of Women (Une affaire de femmes) is a dramatization of the story of Marie-Louise Giraud, who in 1943 had the dubious distinction of being the last woman beheaded in France. Her crime? She was an abortionist, and abortion was a capital offense in Vichy France.
For those not acquainted with Vichy France, a little history lesson is in order. In 1940, France was soundly beaten and occupied by Nazi Germany. One of the terms of the armistice was the division of France into a Northern Zone, occupied by Germany, and a Southern Zone, a puppet state known for its capital in the spa town of Vichy and headed by Marshall Philippe Petain, the former hero of World War I. To mollify their masters, the rulers of Vichy France promised that, besides ferreting out Jews to be handed over to the Nazis, its State Tribunal would execute a certain number of "criminals." After clearing the jails of hardened criminals, Communists, and other dissenters, the Tribunal broadened its net looking for bodies to meet its quota. And into that net fell young Marie-Louise Giraud, arrested for performing 23 back-alley abortions, and renting rooms to prostitutes. Given the circumstances, with abortion being illegal in France since 1920, she could look forward to an imprisonment from one to five years and a fine of up to 10,000 FF. But the Vichy regime took the extreme position of sending her to the guillotine, justifying its action by stating that it was protecting the common morality of French society. The case was the basis of a book written by Francis Szpiner and caught the attention of Chabrol, who was drawn to the existential irony of the story: that a state wishing to make an example of how women should not say no to motherhood wound up depriving Giraud's children of their mother.
Now, if you think this is going to be a simplistic film in favor of women's rights, you are clearly barking up the wrong Chabrol. Chabrol was a dedicated Communist and his films were noted for their close examination of the issues. This is a complicated film and Chabrot had exactly the actress for the lead in Isabelle Huppert. This was nothing new for Huppert. About 10 years prior she starred in his Violette Nozire as a young bourgeois woman in the mid-1930s who poisoned her parents (her mother survived) and stole their money to give to her lover. Once on the stand, she defended her actions by saying that her father had sexually abused her for years – although Chabrol never commits to any definitive answer of what really motivated Violette. Like Story of Women, this was based on a true story.
Chabrol has given Huppert a great canvas to fill in with her talents. And she comes through superbly; delivering a mesmerizing, richly nuanced performance that does not lead us in the audience to come to any final conclusions about her actions. Huppert draws on the ambiguity in her character and thus we do not know whether to support her as a victim or to condemn her as a self-serving criminal. The judgment lies not with Huppert or in Huppert, but rather with Vichy France and its policies – this is Chabrol's real target.
As the film opens, the year is 1941. Marie and her children, Mouche and Pierrot, are picking greens for dinner. Later she pays a farmer 50 franc for a rake to unearth the potatoes that will accompany dinner. When they get home, she notices boots on the table. This can mean only one thing: husband Paul (Francois Cluzet) has been released from the POW camp in which he's been imprisoned since France's surrender. She should be glad to have him home, but she's only annoyed. Paul, having not seen her for about a year, wants to pick up their relationship, but she won't sleep with him. He's unkempt and needs a job, she says. It's made clear right then and there that both she and Paul are victims, not only of the war, but of their own incompatibility. As time passes it also becomes clear that Paul is not the man she's looking for; she wants a husband that represents success and the money and power that accompanies it, not a menial worker. Paul's condition makes it difficult for him to hold a steady job.
While she is despairing over her condition, opportunity suddenly knocks in the form of a woman who tells Marie that a mutual friend has recommended Marie's services. The woman is pregnant and does not want to carry to term, so Marie performs the abortion. The scene makes clear that she performs this service as a favor, but when the woman recovers after a night or so of heavy bleeding, she comes back and pays Marie for the "favor." Until then Marie has earned a scanty living knitting sweaters, a job she's not temperamentally suited for, as is made clear in the film. Now she's being paid for her "favors," and it opens new vistas. Marie uses the money for necessities for the children, but also has an epiphany: why continue performing abortions free when there's money to be made? At first Paul is curious about where the new money is coming from, suspecting her of prostitution; maybe that's the reason she refuses to sleep with him. But he learns to look the other way when he discovers her true trade.
As the money begins coming in, Marie moves the family out of the rathole they were occupying to a larger place, and then to an even larger place. Along the way she makes the acquaintance of Lucie (Marie Trintignant), a prostitute plying her trade under the name "Lulu." As they become fast friends, Marie confides to Lulu about how she makes a living and soon Lulu is sending her friends to Marie. It seems that unwanted pregnancies are a necessary hazard of their profession. As a result, Marie is making a pretty good buck, as Lulu is referring friends, and women are coming in from other referrals. Marie now gets another brainstorm. As she is now ensconced in a much roomier apartment, she rents out a spare room to Lulu and friends to use as a safe trysting place. Marie has graduated from a poor simpleton to a well-to-do capitalistic simpleton. And death has made it all possible.
Things keep going well for Marie. She goes with her kids to a town fair. A young man named Lucien (Nils Tavernier) has won the grand prize: a goose. He and Marie make an immediate connection and he invites her and the kids to sit down for a drink. As he leaves he gives Marie the goose, which she bakes for the family, telling husband Paul that she won it in a raffle. Soon Marie and Lucien are lovers and, for Marie, everything is perfect. If only Paul would leave. She even goes so far as to ask the new housekeeper if she would sleep with Paul to keep him happy.
But into every serene state a little rain must fall. And here is where it gets disquieting. As Marie is running to a date with Lucien, a woman stops her outside her door. The woman wishes to speak with her, but Marie brushes her off. It is only when the woman asks if Marie would rather she went to the police that Marie invites her in. The woman identifies herself as the sister-in-law of one of Marie's "patients," and tells Marie that her patient never recovered and died. Her husband, heartbroken, took his own life shortly after and now the woman has the six children. She asks Marie how she could do this; don't unborn babies have souls, too? Marie's answer is only along the lines of "I did everything I could for her. It isn't really my fault." The woman throws money at Marie to finalize the bill. Marie's reaction is to pocket the money after the woman leaves.
Marie soon makes the mistake that will lead to her downfall. Seeing Paul now as absolutely useless, she looks down on him openly, showing her contempt. When he asks her where she's going, she tells him to shut up and get back to his hobby, cutting photos and text from magazines and newspapers and making collages. Paul knows he's being cuckolded, but not how or with whom. One day he returns to the apartment to find Marie and Lucien asleep in her bed. It's at this point that Paul goes to his room and uses the cutout text to compose a letter to the police telling them what Marie is doing. They come to arrest her and she is thrown into a prison where she is a misfit with the rest of the population.
We learn that the state is not so much interested in her association with prostitutes, but with the abortions. It cites her for breaking the public morality, odd for a state that exists at the luxury of its German conquerors. Marie now becomes a victim, held by the much darker forces that constitute the government of Vichy France. They are determined to throw the book at her, but even her lawyer does not believe that they will actually put her to death. This, of course, is exactly what they do, and Marie is guillotined. Before she is led to the guillotine Chabrol shows her losing her faith (if she ever had any), doing an obscene version of the "Hail Mary." The final scenes are moving and Chabrol makes his final point in a conversation her lawyer has with another attorney, where both voice their shame at being Frenchmen in a time of defeat and collaboration.
The most important subplot in the film is the story of Paul. What can one do when he and his children are dependent on a woman who doesn't love him? Paul is a complex character, superbly realized in the performance of Cluzet, who could simply have remained in the background. He has been doubly betrayed: by Marie and by the defeat of his country for which he fought. The easy surrender and collaboration is also eating away at him.
In the end this is the secret of the movie's success. Chabrol made the film with a careful eye upon each scene's composition so as to have maximum effect on the viewer. Story of Women has a rough look to it, which is deliberate to avoid scenes that may look too orderly, or artificial; in other words, too slick. The camera becomes not a dictator of a scene, but rather a viewer itself, which gives the film a look of naturalism and the impression of an almost careless inattention to the style of its composition, adding even more to the illusion that we are witnessing not a film, but someone's life, and keeps the audience from noticing each subtle manipulation. By taking a woman and exploring each and every detail of her persona, Chabrol manages to map that persona onto an epic scale – Marie Latour as a study in the corruption of an entire society.
To paraphrase Antonio Gramsci, the Italian Marxist, the personal is the political. However, while we applaud Chabrol for his insight, we must never forget that it is the performance of Huppert that makes the film what it is; her portrayal of a confused, contradictory and ambiguous woman. She has made an indelible stamp on our minds.
Where's Hulot?
Playtime
(Spectra, 1967) Director: Jacques Tati. Cast: Jacques Tati, Barbara Dennek, Rita Maiden, France Rumilly, France Delahalle, and Valerie Camille. Color, 115 minutes.
I'll be the first to admit it: I'm a huge fan of Jacques Tati. His two films in the '50s – Les vacances de Monsieur Hulot (Mr. Hulot's Holiday) and Mon Oncle – are comic masterpieces. And I'll also be the first to admit that I was hugely disappointed by Playtime. I wasn't the only one, apparently: This was the film that broke director Jacques Tati. He mortgaged everything to make what he believed to be his masterpiece, and lost it all when the film tanked at the box office. Frankly, I believe it to be a flawed masterpiece, done in by not what it shows, but by what it doesn't show.
As there is no real story to the film, the plot is simple: Mr. Hulot (Jacques Tati) has an appointment with an American official in Paris. At the same time tourists are arriving at an airport terminal that easily could pass for an office building and are taken in busses for a whirlwind tour of the city. As the tourists gawk at the wonders of modern Paris, Mr. Hulot finds himself lost in the maze of the new, modern Paris. The old, romantic Paris is only glimpsed as reflections in car windows and glass doors.
Meanwhile, Hulot attempts to navigate the city as if he were not a denizen, but rather an explorer; finding himself lost in the maze of office cubicles and enclosed glass waiting rooms, dwarfed by the huge size and scale of the impersonal surroundings while trying to cope with all the accompanying indifferent efficiency with his usual individualism.
The last half of the movie takes place at night at the grand opening of a night club, an almost Chaplinesque scene that opens with the arrival of workmen and waiters sweating the fine details as the first night's crowd arrives. This paean to modernity begins to self-destruct as every design flaw becomes glaringly apparent through the evening, resulting in spontaneous sort of revolution of fun and laughter amidst the chaos of the shallow dignified facade.
Playtime
follows Tati's earlier films with the absence of close-ups in favor of long and medium shots. It also continues Tati's theme of the cold and modern versus the warm and friendly older city, done so well in Mon Oncle. And like the earlier films, while Hulot is our most recognizable character, equal emphasis is placed on the supporting cast. In fact, Hulot disappears into the crowd during the second half of the film, and the film itself contains a running gag involving men who look like Hulot, but aren't.
And that is the problem that ultimately sinks the film. Without Hulot at the center there is no clear connection between the personal and the impersonal. He is our guide, so to speak; our bulwark against the cold impersonal forces that seek to diminish the warmth found in humanity.

In Mr. Hulot's Holiday, vacationers are so intent on having fun that they fail to do so. (A beautiful running gag in that film is the man whose vacation is always interrupted by calls from his broker.) It is only when Hulot accidentally sets off the shack of fireworks that people come to their senses and realize that the purpose of their visit is to put aside modern life and its accompanying hustle and bustle and just relax.
In Mon Oncle, the difference between Hulot and his sister and brother-in-law couldn't be made clearer. The relatives live in a cold, impersonal, modern building with all its accoutrements while Hulot occupies a small apartment at the top of an old building in a section of Paris we think of when we imagine the 20s and 30s. (The running gag concerning the apartment is the length of stairs Hulot must ascend to reach his abode.) While sight gags were the dominant element in the earlier films, Playtime features sound effects, such as the many different sounds of people walking in the city. A little more dialogue instead might have worked wonders. When we do get a sight gag, Tati doesn't disappoint, as with the scene in the cafeteria where the intrusion of the light from a green pharmacy sign has a pronounced unpleasant effect on the customers and their food. But there simply aren't enough of these gags; between them are minutes and minutes of dreary colorless film where nothing happens. We wait for Mr. Hulot to take center stage and get the film moving, but instead of Hulot we seem to be waiting for Godot.
Hulot is there; his presence meant to link us with the human against the impersonal. But his diminished role and subsequent disappearance during the second half of Playtime robs us in turn of the one person who can mediate our viewing experience and help us reach the point, as in his earlier films, of emotionally interacting with the film instead of merely being a spectator. Our sympathy and empathy with Hulot, so evident in the earlier films, diminishes greatly with Playtime. And takes our enjoyment with it.


Danny Kaye: Animated on Film and Spoofed in Animation
UP IN ARMS
(Goldwyn/RKO, 1944) - Director: Elliott Nugent. Cast: Danny Kaye, Dana Andrews, Dinah Shore, Constance Dowling, Louis Calhern, Elisha Cook, Jr., Lyle Talbot, and Margaret Dumont. Color. 105 minutes.
BOOK REVUE
(WB, 1946) - Director: Bob Clampett. Voices: Mel Blanc (Daffy Duck/Big Bad Wolf/Henry VIII/Cop/Sailor/Cuckoo/Mice), Bea Benaderet (Bobby-Soxer/Woman on "Freckles" cover/various screams), Sara Berner (Henry VIII's mother/Swooning Bobby-Soxers). Color. 7 minutes.
The year 1944 saw the birth of a new musical star on film. He was Danny Kaye and he did not come into movies unprepared. Born to Ukrainian Jewish immigrant parents in Brooklyn, he began his career as an entertainer shortly after the death of his mother while in his early teens. He dropped out of high school and went to Florida with a friend, where he worked as a busker. Returning to Brooklyn, his father decided not to pressure his son to find a job, leaving it to young Daniel to follow his muse. While still in his teens, Kaye worked as an entertainer in the "Borscht Belt," the resorts in New York's Catskill Mountains. He perfected an act as an emcee that interacted with his audience between introducing other acts.
His first break in the business came as one of "The Three Terpsichoreans," a vaudeville dance act. With them he toured the Far East, but when he came back to America the act could not find work and Kaye had to work hard for bookings. One of his jobs was in a burlesque act with fan dancer Sally Rand, making sure her fans were always held in front of her.
In 1935, Kaye managed to once again land a job in the Catskills, and signed with New York-based Educational Pictures, a low-budget outfit famous for its two-reel comedies, which were released through 20th Century Fox. Kaye debuted in Moon Over Manhattan (1935), and went on to star in a number of two-reelers for the company, usually playing a manic, fast-talking Russian. Educational Pictures went bankrupt after Fox failed to renew their contract and a short-lived attempt to produce feature-length films with Grand National turned out to be a dream. Kaye returned to the Catskills but shortly after auditioned for and won the lead in the Broadway show The Straw Hat Revue. Sylvia Fine was the show's pianist, lyricist and composer. The show closed after only 10 weeks, but Kaye was around long enough to be noticed by critics. He also formed a lifelong bond with Sylvia Fine when they married shortly after the show's closure.
The reviews were glowing enough for Kaye and Sylvia to be booked at La Martinique, an upscale New York City nightclub on West 57th Street. It was there playwright Moss Hart saw the act and signed Kaye for his new show, Lady in the Dark, starring Gertrude Lawrence. Though Lawrence was the star, Kaye brought down the house in his role as fashion photographer Russell Paxton with his patter song "Tchaikovsky (and Other Russians)" in which he dashed through the names of 50 Russian composers in only 39 seconds or so. He became a star, and the next season headlined a smash musical about a young man who has been drafted entitled Let's Face It!
It wasn't long before Hollywood beckoned and Kaye signed with producer Samuel Goldwyn to star in Up in Arms, a remake of Eddie Cantor's 1930 musical, Whoopee! Goldwyn made two suggestions to Kaye about his appearance: a nose job so he would look less Jewish, which Kaye refused; and a request to change his hair color from its natural red to blonde for the cameras, to which Kaye agreed.
As Cantor dominated Whoopee! so Kaye dominates Up in Arms. He plays Danny Weems, a man that can best be described as a hypochondriac's hypochondriac. He even gets a job as an elevator operator in a medical building so he can be close to the doctors. His snap diagnoses of patients irk the doctors, who are constantly telling him to mind his own business. He is in love with nurse Mary Morgan (Dowling), but she's in love with his best friend Joe (Andrews). Conversely, Joe's girl, nurse Virginia (Shore) is secretly in love with Danny.
When Danny and Joe are drafted, the fun really begins. After a rough stretch in basic training, they are shipped to the South Pacific, where Danny again runs afoul of the Colonel (Calhern) and is imprisoned. As can only happen in Hollywood, he is "rescued" by a squad of Japanese and brought back to their camp for questioning. He manages to knock out the Japanese commander and, disguised as him, manages to capture the entire Japanese force, making him a hero.
The film mixes its unabashed themes of patriotism, romance, and idealism, both on the front lines and the home front quite nicely, as would be expected. It's the star power of Kaye, however, that allows the film to transcend from the ordinary to the superlative. He rivets us with his performance of the song, "Theatre Lobby Number" (written by his wife Sylvia with Max Leibman), taking the audience through the credits of an entire movie in swing time. Another highlight was born on the stage: singing a song in scat. This Kaye does in "Melody in 4-F" (also written by Sylvia and Leibman, originally performed by Kaye in Let's Face It). It's a wonderful and entrancing number about the life of a soldier from draft questionnaire to the field of battle, told in scat style with only a few words emphasized for the audience's benefit and accentuated with Kaye's manic style.
It wasn't just Kaye, however, who makes the magic in the movie. Credit must also be given to Dinah Shore, who matches Kaye almost note for note, albeit without the mania. During a dream sequence in which Kaye is married to Mary by preacher Calhern, it turns out that she married Joe instead. This leads to a dynamic number with co-star Shore with Kaye decked out in a burgundy suit traipsing amongst Goldwyn Girls dressed in black and made up as a sort of Postmodern forest. He and Shore then launch into a frenetic number segueing in and out of a variety of styles, slang, scat and jive, almost as if Kaye were trying to impersonate a Black performer impersonating Danny Kaye pretending to impersonate a Black performer. It's utterly amazing to watch, with an almost hypnotic effect that makes one want to rewind and watch again and again. In fact, during all Kaye's numbers he seems to transcend the movie itself, as if he were performing in another dimension while the movie was going on behind him and not as part of the movie.
For some strange reason, the movie is not currently on DVD. We can only hope that whatever Powers-That-Be come to their senses and release this one. In the meantime, watch our TCM TiVo Alert for its next showing.
By 1946 Danny Kaye was a staple of America's cultural landscape.
Up in Arms
was a major hit, he had a hit radio show, and was in demand at clubs all across the nation. So it was only natural that he should be lampooned in some form or other. Incredibly, the work that lampooned Kaye later came itself to be regarded as a work of both cinematic art and cartoon art.
Book Revue
was produced by the animation unit of Warners and released in 1946. Directed by Bob Clampett and animated by Manny Gould, Robert McKimson, Bill Melendez, and Rod Scribner, it follows in the "books and other things come to life" style of earlier Warners efforts as Have You Got Any Castles? (1938) and Goofy Groceries (1941) that featured pop culture stars of the time. However, Book Revue transcends these prior efforts by taking us into the Postmodern, as it were, blending real personalities with fictional titles and characters and no demarcation line between the two. The cartoon begins at Midnight (the Witching Hour) when an inebriated cuckoo emerges from his clock to announce the time. Cut to the cover of The Complete Works of Shakespeare, where a silhouette of the author is shown with clock gear insides. Harry James, Gene Krupa, Benny Goodman, Bob Burns (as a hillbilly playing his bazooka), Tommy Dorsey, and Frank Sinatra all make appearances and the scene changes into a full-blown jam session.
Suddenly cut to Daffy Duck, on the cover of a Looney Tunes & Merrie Melodies comic book. (Look quickly in the background. There is a book by Ann Anomymous titled The Invisible Man: A Biography of Robert Clampett.) Daffy walks over to the cover of Saratoga Trunk and begins going through the trunk, putting on a purple zoot suit with a big green bow tie, a blond wig, and a set of teeth in the style of Danny Kaye.
He shouts "Stop!" bringing the music to a halt. The cartoon now belongs wholly to Daffy, in a manic parody for the ages, and one that has yet to be duplicated.
Daffy goes over to the cover of Danny Boy (in case we didn't get it by now) and denounces the goings-on in a faux Russian accent in the style of Kaye. "Swing music. Jazz. Phooey! Ah, bublichkas. How difference in my native willage: Soft music, why-o-lins; the happy peoples sitting on their balalaikas, playing their samovars. And then … there was Cucaracha. Ah, Cucaracha. So round, so firm, so fully packed, so easy on the draw. They would sing to me a little Gypsy love song, like this. Listen. CUCARACHA! CUCARACHA CUCARACHA,

HOO-HOO-HOO-HOO

. CUCARACHA, CUCARACHA,

HOO-HOO-HOO-HOO-HOO-HOO

." He then launches into a version of Carolina in the Morning: "Nothing could be feener than to be in Caroleener in the morning..."
As he sings, Little Red Riding Hood passes by (a parody of Margaret O'Brien) and Daffy makes his way to Grandma's house, where the wolf is sitting in the window. As Daffy dances away, finishing the song, the Wolf snaps at him repeatedly. Daffy now beats Red to Grandma's door and warns her about the wolf in scat, a parody of "Melody in 4-F." It goes like this (Thanks to zerozordon620 on You Tube for the lyrics):
"Beep deep beep da boop doo bay, Big bad wolf in a suit zoo gay, Heep zoop zaddle zoodle zed, Heep doop oodle up to Grandma's bed, Heep doop zeedle zondle zeers, Zeep zoop zoddle great big ears, Heep doop doddle doodle zid, Hop da better to hear you with. Hey hey hoo hoo how 'bout that? Say hoo what eyes you got, Laddle dad laddle did, Reet toot toddle to see you with, Leet toot toddle zaa zoo beet, Zeep zoop zoddle great big teeth, Heet zoop zoddle det doo top, Heet zoop zoddle to eat you up. Doorain, doorain, doorain."
Red screams and runs away. Daffy does a double take with the Wolf salting his leg and becomes a giant eye lens as he realizes the Wolf now wants him. After a chase, The Long Arm of the Law reaches out, grabs the Wolf and deposits him before Judge Magazine. The Wolf is sentenced to Life (Magazine), but breaks out. He's tripped by Jimmy Durante's nose (on the cover of So Big), landing on Skid Row. As he tries to scramble out, a pair of hands is holding Sinatra up before him. The Wolf merely says, "Frankie," and faints into Dante's Inferno. Everyone breaks into celebration when the Wolf suddenly pops his head out of the Inferno and shouts, "Stop that dancing up there! . . .ya sillies." This is the actual title of a 1944 song by Harry "the Hipster" Gibson, with the lisping "ya sillies" added as a take-off on Joe Besser.
Book Revue
was one of six cartoons Clampett made in 1946, his last year at the studio. Unlike his co-directors, Jones, Tashlin, and Freling, Clampett's work frequently pushed the bounds of storylines and characterization. From '30s black and white cartoons like Porky in Wackyland (1938), The Daffy Doc (1938) and Africa Squeaks (1940) to Horton Hatches the Egg (1942), the classic Great Piggy Bank Robbery and his finale, the thoroughly surrealistic The Big Snooze (both 1946), Clampett continued to blur the lines between character, story and audience to the point where the accepted rules of storytelling no longer applied. After he was fired by new production chief Eddie Selzer in 1946 for continuing to break the rules, Clampett began a new career as a puppeteer, creating Beany and Cecil, which later became a successful cartoon series, but nowhere near the level of his work for Warner Brothers. More's the pity.
The Strangest Comedy Team in Film History
Before I begin, I'd like to provide some background: I was watching the wonderful miniseries The World at War on the Military Channel. The episode I was watching was concerned with German life during the war. During the course of the episode, German propaganda was discussed and it cut to a short segment featuring the "Nazi propaganda comics" Tran and Helle.
This completely blew my mind, so to speak. The Nazis had a comic duo? This was certainly news to me, and I knew I had to look into it.
Tran (Ludwig Schmitz) and Helle (Jupp Husserls) made a series of 14 shorts that ran along with Die Deutsche Wochenschau (The German Weekly Review) before the feature film. The shorts were two to three minutes long and concerned the doings of Tran (which translates as "dopey"), a fat, bald, dim-witted character who was always trying to circumvent the Nazi system for his own profit. His friend Helle (which translates as "brightness") was always there as the foil who would ultimately show Tran the error of his ways.
In the clip from The World at War, Tran is listening to foreign broadcasts on his radio. Helle warns against listening to foreign broadcasts, mentioning that it's against the law. Tran replies to the effect that it's not illegal if he's not caught, to which Helle responds that it doesn't matter, "good Germans don't do it." Tran then hears on the radio that someone caught listening to foreign radio broadcasts has just been sentenced to two-and-a-half years in prison, and hurriedly turns the radio off. Afterward, Tran wonders if he's entitled to a reduction in his radio tax since he's no longer listening to foreign broadcasts.
Another short deals with meeting P.O.W.'s. Tran has just returned from visiting his relatives in the country. He then mentions that he forgot to mail a letter. Helle asks about the letter and Tran replies that it's a letter he was given by a prisoner to mail. "Are you crazy?" Helle asks. Tran then mentions that there were prisoners working on his relative's farm and he became good friends with one. The prisoner spoke good German and asked Tran about a lot of things. When Helle disapproves, Tran says, "You mean it wasn't all right?" Helle replies that Tran has as much sense as he has hair and goes on to explain how prisoners can transmit covert information through letters. "They are using every possible way to destroy our economy and our farms. He then says he'll take the letter to the proper authorities. Tran then says concerning the mention of farms he bought a few pounds of butter at the train station and that he didn't have to use his ration coupons. When he takes the butter out of his suitcase he discovers to his dismay that what he really bought was a brick, to which Helle replies, "Serves you right."
Other episodes concerned hoarding metallic scrap, shopping on the black market, and illegal use of ration coupons to obtain goods. In each film Tran gets his comeuppance while Helle lectures him on doing the right thing.
The series was discontinued in 1940 after a Gestapo poll revealed that instead of being regarded as a heel, Tran was actually quite popular with audiences and his activities were looked upon favorably. When Goebbels read the report on the poll, he quickly pulled the films from circulation and cancelled the series.
One other point: while Jews are looked upon with disdain as being totally untrustworthy, the series steered clear of the heavy-handed anti-Semitism found in other movies such as Der ewige Jude (The Eternal Jew), the 1940 "masterpiece" of Goebbels concerning Jews that was so disgusting that German audiences avoided it. It was later shown as an indoctrination film to SS recruits and did surprising well in Nazi-occupied countries such as France and Czechoslovakia.
Episodes from the series can be found on You Tube and can be accessed by typing in "Tran and Helle."
The Hound of the Baskervilles
(Hammer Film Productions, 1959) –
Director: Terence Fisher. Starring Peter Cushington, Andre Morell, and Christopher Lee.
Channel 13, public broadcasting station in New York City, is often my haven for entertainment when the other network stations offer very little beyond American football. Seeing that this movie was being re-aired and offering me two of my favorite actors, Christopher Lee and Peter Cushing, I tuned to it directly.
The back story is that Sir Hugo Baskerville (David Oxley) was a boorish master of Baskerville Hall and a cruel task master to those below him. When it came time for him to debase a servant girl at one of his drunken parties, the girl (Judy Moyens) escapes. In a rage he sets his foxhounds on her and chases her on horseback to the old ruined Abbey on the Moors, where he kills her with ornate silver dagger. However, the Hound of the Baskervilles howls, scaring his dogs back to their kennels, nearly throwing him from his horse, and attacks and tears him apart.
We then see Doctor Richard Mortimer (Francis De Wolff) enlisting the services of Sherlock Holmes (Cushing) and Doctor Watson (André Morell) to protect the last of the Baskervilles, Sir Henry (Lee) from the same fate. Of course, Sherlock is dubious of the legend and curious as to why a doctor should believe in it at all. Nevertheless, Watson accompanies Mortimer to Baskerville Hall while Holmes has business in London.
While at Baskerville Hall, Watson meets the strange Bishop Frankland (Miles Malleson), a pre-eminent entomologist who keeps live tarantulas and scorpions in his home (one of the tarantulas turns up in one of Sir Henry's boots and crawls up to his shoulder before Sherlock flicks it away with his cane and kills it). He also meets the caretakers of Baskerville Hall, Barrymore (John Le Mesurier) and his wife (Helen Goss) who have been with the family for a long time, even inheriting money from Sir Hugo. Lastly, he meets Stapleton (Ewen Solon) and his daughter Cecil (Maria Landi) when he's trying to take the short cut through the moors and they have to fish him out of Grimpen mire.
Upon learning that the Baskerville men all suffered from atherosclerosis and thus had weak hearts, Watson and Holmes conclude that this made them easy targets for fearsome legends. But all is not what it seems. There is also a convict named Selden (Michael Mulcaster) loose on the moors, who becomes a victim of The Hound when he unfortunately wears hand-me-downs from Sir Henry. The clues pile up. Mrs. Barrymore's maiden name was Selden and she's the sister of the convict. Stapleton and his daughter are really related to the Baskervilles but were ignored by them and left in an impoverished state on their own lands.
It's not until Holmes enters the abandoned mine and injures his leg in a cave-in caused by a runaway mine car (which was supposedly held in check by Stapleton and Mortimer) that we learn the true nature of the doings at the Abbey on the Moors. The Hound is a Great Dane wearing a fearsome mask which was kept starving in the mine until given the scent of a Baskerville by Stapleton (who himself was the last casualty of the beast before Watson shoots it).
In this day of high tech graphics, elaborate stage sets and costumes, it's refreshing to watch a movie with limited staging, green lighting to indicate a deadly atmosphere, a main character who wears the same dress throughout the movie while Holmes and Watson change repeatedly but carry no luggage. Most of all, it was good to see Cushing and Lee together. And none of that "Hello, what's this?" from Sherlock.
Three from Godard
While Francois Truffaut is the most consistently excellent director of the French New Wave movement, Jean-Luc Godard is easily the genre's most compelling, adventurous and political filmmaker.
And because Godard is so unique and productive – there's been talk since 2010 of a 3D movie,

Adieu au Langage (Goodbye to Language)

he's making

– over his nearly 60-year career as a director, the quality of his films range from among the greatest to among the strangest.
There are few films that can match the quality and brilliance of Godard's 1960 full-length-film debut, A bout de souffle (Breathless), or 1964's Bande a part (Band of Outsiders). Other great Godard films include 1963's Le Mepris (Contempt) as well as Masculin, Feminin, and Made in U.S.A. (both released in 1966). I highly recommend all of them.
But, at times, Godard made films, heavily influenced by his far-left-wing, anti-American politics, that leave me wondering: "What am I watching?" I end up being disappointed that the film never seems to go anywhere.
An example would be 2 ou 3 choses que ju sais d'elle (2 or 3 Things I Know About Her) from 1967. The film is about a French suburban housewife who becomes a prostitute to make money in order to buy material things. It's an interesting subject, and something that was happening in France at the time, but Godard's effort to capture it on film fails. Women who become prostitutes for money aren't uncommon plots in Godard movies, as will become obvious shortly.
Because Godard's films are compelling, even though some are much better than others, and rarely boring, I'm always looking to see as many as possible.
Here are three I recently saw in the order in which I saw them.
Week End (1967)
: This is definitely one of those films that left me wondering: "What am I watching?" It's a black comedy about a married couple, Roland and Corinne, who want to kill each other. But first, they want Corinne's father to die – they unsuccessfully try to do it themselves a number of times – in order to collect the inheritance.
The movie is a collection of bizarre scenes, including one at the beginning that lasts for more than eight minutes. It's a traffic jam with angry and impatient people honking their horns. The camera very slowly goes to the right, passing large animals and people picnicking, as we get closer to what caused the tie-up. It's a horrific accident that's left dead bodies all over the street and on the nearby grass – and nobody cares.
When they get to her parents' house, the father is dead, but Corinne's mother won't share the inheritance. Bad move on her part as the two kill her. But their problems are hardly solved. On the way home, they end up kidnapped by cannibal revolutionaries, led by legendary French actor Jean-Pierre Leaud (Truffaut's semi-autobiographical character, Antoine Doinel, in four full-length films and one short).
The film is definitely black and has comedic and absurd moments. The couple meets historical and fictitious characters, killing some of them without concern because they're not real. It seems as though Godard was too busy focusing on the evils of a capitalist society and on the look of the film to give the movie much of a plot.