By Steve Herte
It was fifty years ago that the first James Bond movie Dr. No was released with Sean Connery as the suave, international spy based at MI6 in London. Ursula Andress became the first "Bond Girl" in her role as Honey Ryder, and Monty Norman wrote the signature "James Bond Theme" with its characteristic guitar riff as performed by John Barry and his Orchestra. It was the only one of the 24 Bond movies (Yes, I count Never Say Never Again) with a totally instrumental theme song. Since then, I have been collecting the Bond themes both on records and karaoke discs. Why? I find them exciting pieces of music with interesting, sometimes complex melodies and therefore a challenge to sing. So, if you will, let's take a musical journey through time with James Bond.
It's 1963 and the movie is From Russia with Love. Again, Connery stars and we have two Bond Girls, Eunice Grayson as Sylvia Trench and Daniela Bianchi as Tatiana Romanova. Lionel Bart (responsible for music in the Broadway musical Oliver) wrote the title theme, which was hauntingly rendered by Matt Monro. This song made my top five favorites (to be listed at the end of the article).
1964 brought us Goldfinger. Sean is still the man and Honor Blackman is Pussy Galore (Sean had a real problem pronouncing her name), with Shirley Eaton as Jill Masterson. Shirley Bassey belted out the theme song written by Leslie Bricusse and Anthony Newley. Apparently, she impressed everyone because she's the only singer to get more than one theme song. She actually did three, as you will see.
Thunderball
followed in 1965. Sean is still white hot as Bond, and Claudine Auger is hotter as Domino Derval. John Barry and Don Black wrote the theme song, which was sung by Tom Jones when he could hit the high note at the end without going into his vibrato. (Tom put a lot of passion into this one.)
Nancy Sinatra hung up the boots that were made for walkin' in 1967 and sang the beautiful theme to You Only Live Twice, again written by Leslie Bricusse and backed by cascading violins. It was Sean's fifth movie and Akika Wakabayashi was Bond Girl Aki. If I had to choose the easiest Bond theme song to sing, this would be one of them.
Then, in 1969 came In Her Majesty's Secret Service with Barry handling the theme song's music and Hal David writing "We Have All the Time in the World" for Louis Armstrong to perform. This song pretty much went unnoticed because of Sachmo's rendering, but when I bought the sheet music and played it at home on my Hammond it became an instant favorite. It was an, "Oh that's what it really sound like!" moment. George Lazenby did his only performance as Bond in this movie and the wonderful Diana Rigg was Bond Girl Teresa Bond.
We're back to Connery in 1971 when Diamonds Are Forever hit the big screen and we saw Jill St. John as Tiffany Case and Lana Wood as Plenty O'Toole. Shirley Bassey returns to perform the sultry theme song sounding as if she learned some song styling from Eartha Kitt. But as the song progresses, there's no doubt that it is Shirley singing. The team of Barry and Black once again wrote a great song.
The first of the Roger Moore James Bond movies airs two years later in 1973: Live and Let Die. We now see a different, more mischievous, rather than sardonic, Bond. Once again we have two Bond Girls – Jane Seymour as Solitaire and Gloria Hendry as Rosie Carver, and for the first time we have a rock and roll band, Paul McCartney and Wings alternately crooning and hammering out the theme song. I imagine this song became popular because it was easier to sing than "You Only Live Twice" (that and considering Paul's popularity with the ladies).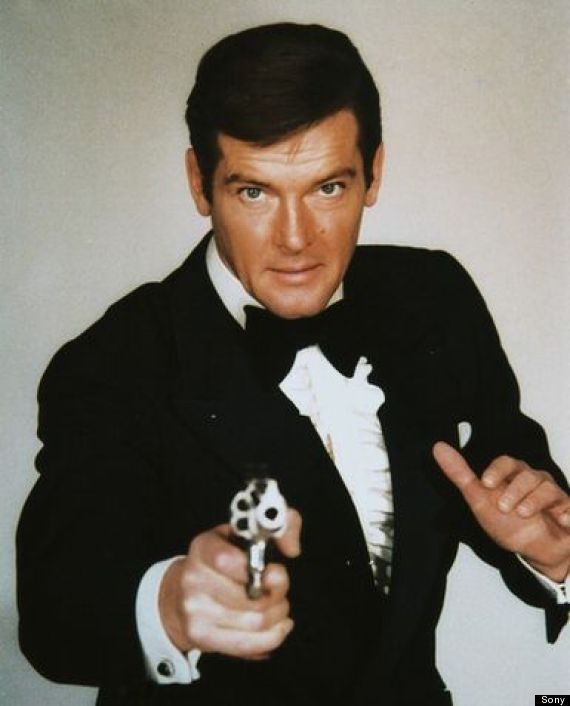 The team of Barry and Black return in 1974 with the theme to The Man with the Golden Gun sung vivaciously by Lulu. Moore stars again with Britt Ekland as Mary Goodnight and Maud Adams as Andrea Anders. Even though this movie was produced in the "Disco" Seventies, the theme song harks back to the Go-Go Sixties – and Lulu was perfect for that.
After three years without a Bond film, 1977 gave us The Spy Who Loved Me. Moore is once again at the helm with Barbara Bach as Anya Amasova. The great Carly Simon took the theme written by Marvin Hamlisch and Carole Bayer Sager and made it a soaring love song to Bond.
Two years later in 1979, Bond (Moore) goes into orbit with Moonraker and we once again have two Bond Girls: Lois Chiles as Holly Goodhead and Corinne Cléry as Corinne Dufour. Barry and David are back together again to create the third theme that Shirley Bassey takes off with and flies to the ionosphere and back.
Two years later and For Your Eyes Only is produced (1981) featuring Moore in his fifth appearance and Carole Bouquet as Melina Havelock, with Lynn-Holly Johnson as Bibi Dahl (great name). The airy and clear tones of Sheena Easton are heard singing another one of my favorite themes written by Bill Conti and Michael Leeson with a wonderful piano background.
A pattern seemed to have developed of a Bond film every two years when in 1983 the impossible happened. Two films in one year! The first, Octopussy with Moore as Bond and Adams reappearing as Octopussy had a theme song written by Barry. However the song "All Time High," was much better and sung beautifully by Rita Coolidge.
The second movie, Never Say Never Again, has been vilified as "never should have been made." It was Connery's seventh (and last) appearance as Bond and featured Kim Basinger as Domino Petachi, with Barbara Carera as Fatima Blush. The great Michel LeGrand wrote the theme to this unfortunate movie and it was performed rather lack-lusterly by Lani Hall. It is a good song, but just not performed in the exciting Bond style.
The two-year pattern is back in 1985 when A View To A Kill gave Roger Moore his seventh, and last, Bond role. It also had the debut of the first black Bond Girl: Grace Jones as May Day. The other Bond Girl, Tanya Roberts as Stacey Sutton, is almost eclipsed by her. (I'll never forget when May Day parachutes off the Eiffel Tower.) The pop group Duran Duran created and banged out the title song. Though I've tried singing this one, I find the melody still escapes me.
1987 saw the showing of The Living Daylights, marking the debut of Timothy Dalton as Bond. Our Bond Girl is Maryam D'Abo as Kara Milovy. Barry returns to do the theme song, which is performed by pop group A-ha, but two other songs beautifully done by Chrissie Hynde and the Pretenders shine much brighter: "Where Has Everybody Gone," and the wonderful love song, "If There Was A Man."
Dalton performs as Bond for the second and last time in 1989 in the movie Licence To Kill, and Carey Lowell (remember her in Law and Order?) as Pam Bouvier is the Bond Girl. Gladys Knight lends her inimitable style in singing the theme song written by Narada Michael Walden, Jeffrey Cohen and Walter Afanasieff. It's a perfect vehicle for her vocal talents and she does a great job.
Six years pass (1995) before GoldenEye allows Pierce Brosnan to try his hand at the leading role (frankly I think he's too pretty to be a believable Bond, but he is suave). Famke Janssen plays Xenia Onatopp (another great name) and Izabella Scorupco is Natalya Simonova. If you can catch the video online of Tina Turner cranking out the slinky, sexy theme of this movie written by Bono, do it. It's worth it.
The pattern is back in 1997 with Tomorrow Never Dies and Brosnan is back with Terri Hatcher as Paris Carver and the gorgeous Michelle Yeoh as Wai Lin. One of the most difficult and least familiar theme songs is the one from this movie written and performed by Sheryl Crow and co-created by Mitchell Froom. It's an excellent song with lots of echo and formidable sounding violins.
In 1999, The World Is Not Enough brings Pierce to the screen for a third time and, for the first time, there are three Bond Girls: Serena Thomas as Dr. Molly Warmflash, Sophie Marceau as Elektra King, and Denise Richards as Dr. Christmas Jones (I love the Bond Girl names!). Shirley Manson of the rock group Garbage sings a very, very traditional-sounding Bond Theme song written by David Arnold and Black; one that almost harkens back to the beginning.
Three years later in 2002, Brosnan gets his last chance to play Bond in Die Another Day, flanked by Halle Berry playing Jinx Johnson and Rosamund Pike as Miranda Frost. Madonna uses her baby-doll voice, electronic vocals and rap to perform by far the second least traditional and melodic theme written by herself and Mirwais Ahmadzaï. In fact, this theme repeats the title more than any other lyric. The meager verses seem unimportant, but it's great for dancing.
The remake of Ian Fleming's first Bond tale, Casino Royale is Daniel Craig's first Bond role in 2006 with Eva Green as Vesper Lynd and Caterina Murino as Solange Dimitrios. Craig is an edgier, down-to-Earth Bond with a no-nonsense attitude that would have made author Fleming proud. Add to that the equally edgy and much more traditional song, "You Know My Name" belted out by Chris Cornell and written by him as well with Arnold. For some reason, however, Casino Royale doesn't have a title song.
Craig's second Bond movie, Quantum of Solace (2008), pairs him with Gemma Arterton as Strawberry Fields (you have to love that) and Olga Kurylenko as Camille Montes. Being the second movie in a row without a title theme, Quantum of Solace has a song, "Another Way To Die," written by Jack White and performed in a duet with Alicia Keys. It emanates the Bond feel in excitement and passion but ranks least in melodic content (it's mostly on one note).
Finally, four years later (2012) comes the most recent Bond film Skyfall, starring Craig again with Naomie Harris as Eve and Bérénice Marlohe as Sévérine. The title theme song is a masterpiece written by Paul Epworth and Adele and sung beautifully by Adele (definitely destined to be an Oscar award winner). The dynamics, the melody, the background and Adele's impassioned vocals make it perfect.
I know I promised you my top five songs. Here they are:
1. We Have All The Time In The World
I was surprised at how wonderful Skyfall was and how high it immediately placed. I'm still learning the post-1985 songs for future karaoke sessions and I'm hoping this little journey has put the 50 years of James Bond movies in a new light for you. Maybe you'll even notice how the music in other films add to the mood as well.