A Guide to the Interesting and Unusual on TCM
12:30 am
The Kid
(Charles Chaplin Productions, 1921) – Director: Charles Chaplin. Cast: Charles Chaplin, Jackie Coogan, Edna Purviance, Carl Miller, Tom Wilson, & Chuck Reisner. B&W, 68 minutes.
Everyone's heard of this film, but how many have seen it? Face it, it's not shown that often, and unless one collects Chaplin films or DVDs in general, one is not likely to see this outside of TCM, unless it was at a retrospective, which are once in the proverbial blue moon.
We all know the plot: Chaplin "adopts" young Coogan and the pair live in happy domesticity until the authorities and Coogan's birth mother (by now a major theater star) come looking for him. The mix of slapstick, pathos and a genuine warmth made the film a major hit and became the template for future Chaplin movies. He borrowed $500,000 from an Italian bank to finance the film; it has so far grossed $60,000,000. That's quite a return on a half-million dollar investment.
Trivia:
Chaplin was in the middle of an acrimonious divorce from his first wife, Mildred Harris, during the filming. When her lawyers threatened to confiscate the film's negative, Chaplin sneaked the film out of California to Salt Lake City, where he cut the highly-flammable nitrate stock on the floor of his hotel room . . . During filming, Chaplin made the acquaintance of 12-year old Lillita McMurray, who played a flirtatious angel in the Heaven sequence. Four years later, now named Lita Grey, she married Chaplin.
8:30 am
Headline Shooter
(RKO, 1933) – Director: Otto Brower. Cast: William Gargan, Frances Dee, Ralph Bellamy, Jack LaRue, Gregory Ratoff, & Wallace Ford. B&W, 61 minutes.
TCM is running this back to back with Picture Snatcher, and if you ever wanted to see the difference in how the two studios approached and shot a film, this is an excellent example. RKO's version is a relative softball, with Gargan as a lady-killing newsreel photographer who is in competition with best friend Ford to get a scoop. Along the way Gargan meets reporter Dee, gets mixed up in competition with her, and ultimately wins her away from her dull banker fiancée, played by Bellamy. The film does provide a good insight into the newsreel business and how it operates as compared to the print media. There is also excellent stock footage spliced in, which ups the pace. All in all, it's an enjoyable 61 minutes.
Trivia:
Bellamy would later play the same sort of character as the fiancée of Rosalind Russell in His Girl Friday.
9:45 am
Picture Snatcher
(WB, 1933) Director: Lloyd Bacon. Cast: James Cagney, Ralph Bellamy, Patricia Ellis, Alice White, Ralf Harolde, Robert Barrat, & Sterling Holloway. B&W, 77 minutes.
It's one of Cagney's best early efforts as he plays an ex-con who reinvents himself into a star photographer for a struggling tabloid in this fast-moving programmer for Warner Bros. Bellamy's in this one as well, moving up in the world from dull lawyer to newspaper editor. Or rather moving down, for Picture Snatcher was released on May 6, while Headline Shooter was released on July 28.
Like other Warner Bros, films that claimed to be "snatched right from the headlines," Cagney's character is based on New York Daily News photographer Tom Howard. Howard would do almost anything to get a snapshot, and his moment of ultimate fame came on July 12, 1928, when he strapped a camera to his ankle and got a shot of convicted murderess Ruth Snyder being executed at Sing Sing. However, there is no reference made to Snyder or the actual case in the movie.
Since the famous grapefruit scene with Mae Clarke in The Public Enemy, almost every Cagney film had him getting physical with a female. Picture Snatcher is no different: in one scene, Editor Bellamy's mistress, played by Alice White, slaps Cagney when he get a little too aggressive and Jimmy retaliates by cold-cocking her. During the filming, Cagney coached her on how to take a punch, but when the cameras rolled she moved a little too forward and he connected solidly, sending the lithe actress to the floor in a daze and Cagney with a major case of guilt.
Trivia:
The infamous Snyder photo is contained in William Hannigan's book New York Noir: Crime Photos From the Daily News Archive, available at Amazon.
11:45 am
Spitfire
(RKO, 1934) Director: John Cromwell. Cast: Katharine Hepburn, Robert Young, Ralph Bellamy, Martha Sleeper, Louis Mason, Sara Haden, Sidney Toler, & Will Geer. B&W, 87 minutes.
Bad Film Alert:
Think you've seen it all? Not until you check out Hepburn as Trigger Hicks, a faith-healing Ozark hillbilly! What were they thinking? What was Hepburn thinking? Along with Silvia Sidney (1935), this is her oddest role. Young (on loan from MGM) provides the love interest, while Bellamy twiddles his thumbs in yet another undemanding role. Look for Haden (Aunt Millie in the Andy Hardy series at MGM), Toler (later known as Charlie Chan), and a young Geer.
Hepburn had no one else to blame for this travesty but herself. The role was originally meant for Dorothy Jordan (a silent film star best known for Cabin in the Cotton. She retired but came back in the '50s, most notably in The Searchers). But Hep used her star power to take the role, claiming that it would be interesting to play against type. No, it was boring. Were it not for the weird casting and Hepburn's equally weird acting, this film has absolutely nothing going for it. The film was a big loser at the box office and has been noted among historians as the beginning of her slide into "box office poison."
Trivia:
The only triumph for Hepburn came as the film went over schedule. She was contractually obligated to star in The Lake on Broadway and had already given RKO an extra day past her studio contract. Producer Pan Berman said he needed her to finish the scene and she held RKO up for an extra $10,000, this on top of the $50,000 she received for the movie in the first place.
June 20 – Mamie Van Doren Night
If there could be said to be a psychotronic version of Marilyn Monroe, Mamie Van Doren would fit the bill. Known for her trademark platinum blonde hair, her voluptuous presence made many an unwatchable movie somehow watchable. TCM is screening seven of her films, beginning at 8:00 pm, and each and every one of them can be found in Michael Weldon's authoritative The Psychotronic Encyclopedia of Film.
8:00 pm
Untamed Youth
(WB, 1957) – Director: Howard W. Koch. Cast: Mamie Van Doren, Lori Nelson, John Russell, Don Burnett, Eddie Cochran, & Lurene Tuttle. B&W, 80 minutes.
In this great, campy exploitation film from Warner Bros., Mamie and Lori play sisters who are falsely arrested and railroaded onto a cotton farm run by Russell in cahoots with crooked judge Tuttle.
But no matter how hard they're worked during the day, the inmates always have the time and energy to musically cut loose at night. Yet, does it make any sense that Mamie sings four songs and Eddie Cochran only one? However, this is definitely one to catch – if anything else, for the sheer nonsensical entertainment.
Trivia:
The film opened to atrocious reviews and looked as if it was headed for box office oblivion when the Catholic Legion of Decency publically condemned it. That turned its fortunes around as the curious flocked to see what all the fuss was about, and the picture copped a nice profit.
9:30 pm
The Beat Generation
(MGM, 1959) – Director: Charles Haas. Cast: Steve Cochran, Mamie Van Doren, Ray Danton, Fay Spain, Louis Armstrong, Maggie Hayes, Jackie Coogan, Maxie Rosenbloom, Vampira, & Irish McCalla. B&W, 93 minutes.
MGM had finally found the youth market thanks to producer Albert Zugsmith, who made the highly-profitable High School Confidential the year before. Van Doren was a huge reason for that film's success, so it was considered a no-brainer to give her a leading role in this lurid tale of a detective (Cochran) in pursuit of a serial rapist (Danton) known as "the Aspirin Kid." (Don't ask.) The rapist is being given shelter by a group of unwitting beatniks, who probably think he's cool because he can spout philosophy.
Mamie is Georgia Altera, a striking divorcee (what else?) who gets all mixed up with the Aspirin Kid and his beatnik friends. It's a potentially decent thriller sunk by a dumb script, but it's bad enough to be entertaining. The amazing cast includes Coogan as Cochran's partner, McCalla as Coogan's wife, Maxie Rosenbloom as a beat wrestler, Vampira as a poetess who spouts awful poetry and keeps a pet rat, and Spain as Cochran's wife and the egotistic Aspirin Kid's next victim. The film also features Armstrong and his band.
Trivia:
Look for Regina Carrol, who later starred in a series of wonderfully trashy films directed by husband Al Adamson, in a small part as a dancer (billed under her real name, Regina Gelfan) . . . Believe it or not, the co-author of the horrid script was none other than noted sci-fi writer Richard Matheson.
11:15 pm
Born Reckless
(WB, 1959) – Director: Howard W. Koch. Cast: Mamie Van Doren, Jeff Richards, Carol Ohmart, Tom Dugan, Nacho Galindo, & Allegra Varron. B&W, 80 minutes.
Mamie's a saloon singer who falls for rodeo star Richards. Ohmart is Mamie's competition. While it's not bad enough to be a howler, Mamie does get to belt out a couple of tunes. Richard in real life was a former minor league ballplayer before he got into the movies. And look for Galindo, from the great Budd Boetticher/Randolph Scott Western Buchanan Rides Alone, as Papa Gomez.
12:45 am
Guns, Girls and Gangsters
(UA, 1958) – Director: Edward L. Cahn. Cast: Mamie Van Doren, Gerald Mohr, Lee Van Cleef, Grant Richards, Elaine Edwards, & John Baer. B&W, 70 minutes.
In this fast-moving heist film Mamie is a Vegas singer drawn into a scheme by husband Van Cleef and his cellmate Mohr to rob an armored car carrying casino revenue. Produced by Edward Small and directed by low-budget specialist Cahn, it's a diverting 70 minutes in length.
Trivia:
Small was sued for plagiarism a couple of years after the picture's release by writer Art Estrada, who claimed he and co-writer Steve Masino had submitted a script titled "Blueprint for Crime" to Small, who turned it down. The case was settled out of court.
2:00 am
Vice Raid
(UA, 1960) – Director: Edward L. Cahn. Cast: Mamie Van Doren, Richard Coogan, Brad Dexter, Barry Atwater, Carol Nugent, & Frank Gerstle. B&W, 71 minutes.
Another campy little gem from producer Small and director Cahn starring Mamie as a prostitute enlisted by syndicate boss Dexter to frame police Sergeant Brandon, who is in the midst of his campaign against vice. But when Mamie's sister (Nugent) is assaulted by one of the hoods, she and Brandon join forces to take down the syndicate.
Trivia:
Working titles for the film were Women Confidential, Pleasure Girl, and The Blonde in 402. The Hollywood Reporter review of the movie refers to it as Vice Squad.
3:15 am
Sex Kittens Go to College
(Allied Artists, 1960) – Director: Albert Zugsmith. Cast: Mamie Van Doren, Tuesday Weld, Mijanou Bardot, Mickey Shaughnessy, Louis Nye, Pamela Mason, Martin Milner, Conway Twitty, Jackie Coogan, John Carradine & Vampira. B&W, 94 minutes.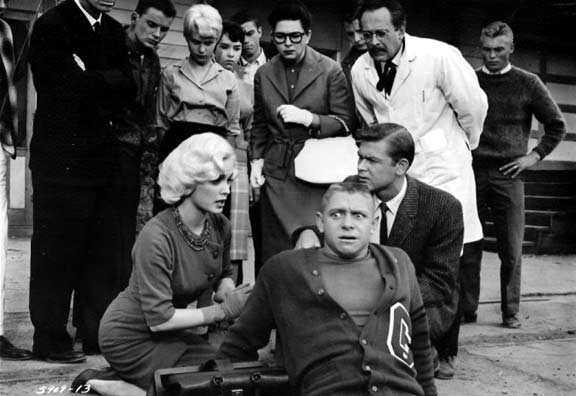 Bad Film Alert
: The best thing about this relentlessly unfunny comedy is its great title. Get this plot: Collins College needs a new head for its science department, so Doctors Carter (Mason) and Zorch (Nye) feed all relevant information into their super-computer, Thinko, and it comes up with Dr. Mathilda West (Van Doren). Unfortunately, the brainy Dr. West has secret past: she's stripper Tassels Montclair. And we'll leave it at that.
Trivia:
Because if its title, the film would play porn houses and was later released to television as The Beauty and the Robot . . . Working titles included Sexpot Goes to College, and Teacher Versus Sexpot.
5:00 am
The Girl in Black Stockings
(UA, 1957) – Director: Howard W. Koch. Cast: Lex Barker, Anne Bancroft, Mamie Van Doren, John Dehner, Ron Randell, Marie Windsor, & Gene O'Donnell. B&W, 75 minutes.
A maniac is on the loose at a Utah resort. He murders, and then mutilates his victims, all voluptuous women. Who is he? Almost everybody at the resort is a suspect because each has skeletons in his or her closet. This is a great sleazeball production, part noir and part exploitation. Besides Mamie there are several other performances to watch: Bancroft, who was making a career for herself in B films and had to go to Broadway to find her niche as a great actress; Windsor, who co-starred in several noir films before this, most notably The Narrow Margin (1952) and The Killing (1956), but she was also in such films as Catwomen of the Moon (1953), and Abbott and Costello Meet the Mummy (1955); and Barker, a former Tarzan noted for being another in the line of men married to Lana Turner and identified by Lana's daughter Cheryl Crane in her autobiography as the man who molested her as a child. Thus we add a touch of reality.
10:45 am
The Falcon in Mexico
(RKO, 1944) – Director: William Berke. Cast: Tom Conway, Mona Maris, Martha McVicar, Nestor Paiva, & Emory Parnell. B&W, 70 minutes.
When Leslie Charteris, creator of the popular fictional character Simon "The Saint" Templar, wouldn't stop complaining long and loud to RKO about how the studio was adapting his stories, RKO began to search for a replacement. They found it in Michael Arlen's short story, Gay Falcon. This was the full name of Arlen's detective character, but when RKO bought the rights they changed the character's name to "Gay Lawrence" while still keeping the moniker "the Falcon" as his nickname.
The first of what became a profitable B series was The Gay Falcon with George Sanders, who had previously played Templar, as Gay Lawrence. The movie was filmed under the working title of Meet the Viking to keep its existence from Charteris. But Charteris did find out, and the similarities between Lawrence and his Templar were so evident he sued RKO for unfair competition.
After the fourth Falcon movie, Sanders quit the series and was replaced by real-life brother Tom Conway as Tom Lawrence in The Falcon's Brother (1942). Conway went on to make nine more in the series before RKO threw in the towel. As a whole, the Falcon movies are fast-moving diversions of about an hour's length with mystery and a little comedy thrown in for effect.
This film is one of the better entries in the series as Tom Lawrence travels to Mexico in a search for a mysterious woman and a dead painter who may not be dead after all. Vickers, who would later go on to play Lauren Bacall's wild sister in The Big Sleep, is the daughter. Maris plays her stepmother, and Paiva almost walks away with the film as a helpful Mexican cabdriver. While there are other entries in the series that are much better, you could do worse on a Saturday morning than this one.
For other Cinema Inhabituel films, click here