French Rarebit

By Steve Herte
French Rarebit (WB, 1951) – Director: Robert McKimson. Animation: Phil DeLara, Emery Hawkins, Charles McKimson, Rod Scribner. Backgrounds: Richard H. Thomas. Layout: Cornett Wood. Voices: Mel Blanc, Tedd Pierce (uncredited). Color, animation, 7 minutes.
Being a self-proclaimed gastronome, one of my all-time favorite Warner Brothers' cartoons is Robert McKimson's delightful portrayal of Bugs Bunny in Paris. The Brooklyn-raised and accented character expresses his diametrically opposed culture in his first few sentences and we know this is going to be funny. After he pops up from a crate of carrots that fell off a truck he concludes his location by reading street signs, "Eye-full Tower" and "Champs Elly-Eye-zeeyay." Then he strolls off to look at the Mon-sewers and Madamoiselles.
What he's not expecting is to be sized up and measured for the stew pots of two rival chefs with restaurants directly across the street from each other. But he catches on quickly. "Somethin' tells me this little grey hare is in the middle again." Chefs Francois (Mel Blanc) and Louie (Tedd Pierce) both attack with covered plates simultaneously and Francois returns to his door victorious. But it isn't Bugs he's caught. "Eh, whatcha got in the tooreen, Doc?" Francois is still bubbling over his prize, but Bugs takes a look and disagrees. Flustered, Chef Louie stumbles from the plate and the two argue over whose the rabbit (they say rabbeet) is.
Bugs can't help but interfere. He whispers into each one's ear and has one tweak the other's "pink tomahto nose" and get his beard yanked in return. The battle goes on until Chef Francois snatches Bugs up with an "Ah Ween!" Into the pot on the stove goes Bugs. He asks Francois what's cooking and proudly, Francois recites his famous rabbit dish. "Oh," says Bugs, dismissively, and hints at knowing the recipe for Louisiana Back-Bay Bayou Bunny Bordelaise a la Antoine. "Antoine of New Orleans?" "I don't mean Antoine of Flatbush."
At the time of the creation of this cartoon, Antoine's of New Orleans was already 110 years old and the name was virtually synonymous with fine food. Ignoring the ridiculous title of the dish, Francois takes Bugs out of the pot and insists he teach him the recipe.
"
OK Doc, I'll be the chef." Bugs dons and apron and a toque. "And you'll be the rabbit." "But I don't look like a rabbeet." After cutting off two fingers from a rubber glove and putting it on his head, shoving two sugar cubes to act as buck teeth into Francois' mouth, and making whiskers from a broom, Bugs holds up a glassless mirror and looks through it at Francois.
Convinced he does resemble a rabbit, he allows Bugs to dowse him in a barrel of wine, stuff him into a jar, shake it violently, coat him with flour, roll him out with a rolling pin, knead him severely, and fill his mouth with the fieriest spicy ingredients in the kitchen until flames burst out of his lips. Then it's back into the bowl to be showered by vegetables, when Francois hoists up a sign saying "Hold La Onions." "Oh, OK."
At this point Monsieur Louie bursts in and tries to take Monsieur Francois back as his rabbit but Francois slams him on the head with a mallet. "Monsieur Francois!" "You were expecting maybe 'Umphrey Bogart?" "Wha Hoppen?" When Francois explains that he's learning a recipe, Louie wants to learn as well. Bugs is only too happy to accommodate him, putting him through all the tortures he visited on Francois. Now there are two faux rabbits in the bowl.
Bugs carries them to "La Oven" commenting to the audience, "Don't they look yummy, yummy?" Lastly he hollows out a "nice big carrot" and puts in a stick of dynamite, closing the oven door. The blast blows the oven door off and there they both are, basting themselves, singing Alouette and shouting "Vive Antoine!" Bugs again turns to us and says, "Poisonally I prefer hamboiger."
Afterwords
The title of this cartoon is a play on the delicious cheese and beer dish, Welsh Rarebit, often mispronounced as "Welsh Rabbit." Tedd Pierce is credited for the clever writing of this wonderful bit of animation and was fabulous as the voice of Chef Louie.
In fact, it was this cartoon that motivated me to make a reservation for myself and my quartet at Antoine's of New Orleans when I visited there in 1992 at the time of the Barbershop Harmony International Convention. Though I do not remember all I ate (we only arrived at about 10:30 pm) I will not forget the experience. Our waiter spoke slower than Droopy the Dog and I thought our order would never be taken, much less fulfilled, but it was, and it was worth it.
Antoine's was established in 1840 by Antoine Alciatore and set a standard not only in New Orleans, but in the entire United States. When Antoine returned to France and died a year later, his son Jules took over and eventually invented Oysters Rockefeller. I'm almost sure I ordered that dish. I love it. We sat in the large annex, one of ten different rooms to choose from and it was charming. There was Potage Alligator au Sherry on the menu and a choice of a Demi-Bordelaise Sauce, but no Louisiana Back-Bay Bayou Bunny Bordelaise a la Antoine.
Hold the Lion, Please
By Steve Herte
Hold the Lion, Please (WB, 1942) – Director: Chuck Jones. Writer: Tedd Pierce. Animation: Ken Harris, Robert Cannon (uncredited), Ben Washam (uncredited). Background: Gene Fleury (uncredited), Bernyce Polifka (uncredited). Layout: John McGrew. Voices: Mel Blanc, Tex Avery (uncredited), Harry Lang (uncredited), Tedd Pierce (uncredited). Color, 8 minutes.
It was in my teens that I discovered my horoscope sign, Leo, the Lion. Since then I've embraced the qualities and tried to minimize the weaknesses of such a proud and strong symbol. Everywhere I've traveled is remembered in lion memorabilia, be it a photograph of the statue of Cuthbert in London, the two outside the Chicago Museum of Art, or Patience and Fortitude in front of the main library in New York. Most of the images and figurines are dignified and life-like. A few, like my statuette of Burt Lahr as the Cowardly Lion from The Wizard of Oz (1939) are less "lion-like" and some are just silly. And speaking of silly brings me to the cartoon in question.
Hold The Lion, Please is a Chuck Jones cartoon in the Merrie Melodies series that pits an out of shape, not too bright lion against a developing Bugs Bunny character. I say developing because Bugs is in the middle stages of transformation from an annoying, looney prankster to the suave, wise-cracking victim we know today, who always gets the best of a situation.
The cartoon opens with a hippo (voiced by Tex Avery) bathing (not wallowing in mud like a real hippo – he even cleans the bath tub ring before toweling off), a giraffe and a monkey touting the short-comings of Leo, who sits nearby. "There he is. The King of the Jungle, The Mighty Hunter, The Killer of the Congo." (Note: there are no lions in jungles or even in the Congo.) To each of these titles Leo nods his head excessively. "Why that palooka (an old boxing term for a loser) couldn't catch a rabbit!" Leo is still nodding as if it were another flattering title. He suddenly realizes he's been insulted and tries to prove he's still got it by striking a comic boxing pose, but though he jabs out with his right paw, his left paw socks him in the jaw. The three taunters are hysterical with laughter. Getting angry, Leo tries to roar, but when he opens his jaws we see only a few teeth, none of them sharp, and his roar gets choked off in a cough. The other animals feign fright by pretending to pick up their skirts and back away. As they continue to laugh, Leo stalks off to prove he can catch a rabbit.
Being a lion aficionado, I feel sorry for Leo but I know which rabbit he's going to encounter. The familiar laugh of Tex Avery as the hippo has been heard in other cartoons, but this one is significant because it's the last one before he left Warner Brothers for Metro-Goldwyn-Mayer.
Leo's misguided hunting technique sees him walking upright holding a carrot by the bottom tip, calling out, "Here, bunny, here rabbit!" as if he were calling a dog. He breaks the fourth wall to inform the audience, "Carrots are good for rabbits." In a clearing, he comes upon a railroad crossing sign bearing the words "Stop, Look, Rabbit Tracks." There's a sound of a train approaching and Bugs Bunny zooms by smoking a cigar (for the smoke effect). We hear brakes applied, he backs up, snatches the carrot, and zooms off.
Our slow-witted feline suddenly reacts with recognition that he just saw the rabbit. He zips after Bugs but has to screech to a halt as he approaches the hollow log seen in many Warner Brothers' cartoons. Instead of going off a cliff though, he skids into it backwards and shoots out the other end with his head in his front paws, mane covering them. When he lifts up his head, he's cradling Bug Bunny. At this point, any lion worth his stuff would have started chowing down. Not Leo. He talks with Bugs. Bugs pulls out a carrot from a cigarette holder as Leo pushes invisible buttons in his paw to extend his claws (one of which turns out to be a cork screw, for which he's embarrassed). Leo swipes at Bugs with his claws and only connects with the carrot Bugs holds out, slicing it neatly. "That's a nice trick, Doc. Can you do this?" Bugs wiggles his ears. Leo struggles to do so but can't. He gets frustrated and angrily announces to Bugs that he's a lion.
Bugs starts a string of logic that if Leo is a lion (to wit), then he's to be scared (unto wit), and suddenly, he realizes that he is scared and goes into a screaming fit. This time Bugs breaks the fourth wall by speaking the words "Shriek, shriek, scream, scream" to the audience and makes an elaborate, terrified exit.
In the next scene, Bugs, wearing a lady's gardening bonnet is picking carrots, snipping off the greens and singing "When The Swallows Come Back to Capistrano," For the first time, Leo acts like a lion and stalks Bugs crawling close to the ground (but in obvious, full view). When Bugs notices him, he stops, nonchalantly whistling. The scene continues and Leo creeps closer. When Bugs sees him again he pretends to be swimming the backstroke to the "Blue Danube." But when Leo pounces, Bugs escapes, losing his bonnet to the lion's head.
Bugs heads for his rabbit hole and sets up a door (which we've seen him do in other cartoons). Leo (of course) knocks. "Who is it?" "It's me. The Lion." Bugs opens the door and starts giggling, then laughing at the lion, now wearing the bonnet. He holds up a mirror and the lion starts laughing uncontrollably. Bugs takes the opportunity to re-position the door and slams it shut. "Hey, let me outta here!" says Leo banging on the door. Bugs reaches around the door to show him the key, but snatches it back before Leo can grab it.
The door-to-nowhere is so Bob Clampett. One is reminded of Porky Pig's adventure with the Dodo. Rather than just going around the door, Leo takes several steps back and gets a running start to (hopefully) push open the door, but Bugs opens it as he gets there and he flies through off-scene and we hear a crashing sound. Chuckling, Bugs walks through the door to encounter a snarling, bandaged lion. He tries to escape but Leo's too angry now and pins him to the ground.
As Leo raises a claw to strike however, a telephone rings in Bug's rabbit hole. "It's for you." He hands it to Leo. His anger drains away and is replaced by fear as he speaks to his wife Hortense and beats an embarrassed retreat. "Sorry I can't stick around and kill ya."
Bugs discusses the fact with the audience that the King of the Jungle isn't even master of his own home. But as soon as he states that he wears the pants in his family (strictly a euphemism, Bugs rarely wears pants at all) we suddenly see a female rabbit and a sign appears identifying her as Mrs. Bugs Bunny. "What's up, Doc, Dear?" she says and he slinks into his burrow. This is the only time we see her in any cartoon. She has the last line, "who wears the pants in this family?" She raises her skirt and a pair of pants covers her legs. The End.
This cartoon, in the middle stages of Bugs' development, is also one of the few times he shows fear. Yes, he realizes danger later on but he never slinks away from anyone, actually cowering. We know him as the one who is harassed until we hear the line, "Of course you realize this means war!" And…he's still being drawn similarly to the way he originated, the oval head with few defining features and the short stature.
The ice-water hoarse tone of Leo's voice reveals Tedd Pierce's characteristic sound. He put that voice on for the cartoon of course. Ted actually sang second tenor in a barbershop quartet and provided coming-attractions voice-overs for Universal Pictures. Having been a barbershop singer myself, I know they love to have an "afterglow party" after each performance and Pierce indulged avidly in parties. At these parties, Chuck Jones would hear of Pierce's love exploits (true or not) and used them as a model for the lovelorn skunk, Pepe LePew.
Leo is, as I said, not the prime example of a lion, but he's fun in a backward sort of way and respectable when his dander is up. That's one thing I read in the horoscope of a Leo. Don't get them angry. In a discussion, they'll insist that they're the only ones who are right. I try to control that and think of all points of view. Even though the main character is silly, Hold The Lion, Please is a special part of my lion collection.
A note for the younger readers. Before cellphones, there were phones with rotary dials most texters would not even recognize. But before that, there were phones that only required picking up the receiver and an operator would connect you to your party. What's an operator? Ever seen Lily Tomlin do her routine as Ernestine? If not look it up on YouTube. Operators were famous for the line, "Hold the line, please" when they were connecting you. Hence the punny title of this cartoon. You might know it simply as a computer saying, "Please hold."
Bully for Bugs
By Ed Garea
Bully for Bugs
(WB, 1953) – Director: Chuck Jones. Writer: Michael Maltese (story). Animation: Ken Harris, Lloyd Vaughan, Ben Washam. Background: Philip DeGuard. Layout: Maurice Noble. Sound: Treg Brown. Music: Carl Stalling, Milt Franklyn (uncredited). Voices: Mel Blanc. Color, 7 minutes.
If there was anything that could be considered as the quintessential Bugs Bunny cartoon, this might be it, a knock-down, drag-out battle between Bugs and an angry bull loaded with marvelous sight gags.
According to Chuck Jones in his memoir, Chuck Amuck, the idea for the cartoon came one afternoon when Jones and Michael Maltese were in their workroom wrestling with a new story idea:
Suddenly, a furious dwarf stood in the doorway. 'I don't want any gags about bullfights, bullfights aren't funny.' Exactly the same words he had used to Friz Freleng about never using camels. Out of that dictum came Sahara Hare, one of the funniest cartoons ever made, with one of the funniest camels ever made.
After Eddie Selzer, Warner's animation producer and the "furious dwarf" mentioned above, returned to his office, Jones and Maltese had solved their storyline dilemma. Selzer was famous among the staff for his lack of judgment about cartoon subjects. He had once told Jones that a skunk that speaks French wasn't funny. Result: For Scent-imental Reasons, which won an Oscar for Best Short Subject in 1950. Selzer, as Jones recalls, had no trouble going up to accept the award.
Bully For Bugs opens at a bullring somewhere south of the border. An impeccably dressed and self-assured matador is standing in the middle of the arena. We hear a bellow and a bull crashes through the doors marked "Toros." He sizes up the matador and smiles knowingly. The matador grows nervous and we see sweat beading up on his forehead. He throws his cape up in the air as the bull charges through it and begins to chase him around the arena.
Suddenly we see that someone is tunneling into the arena. It's Bugs, who immediately grasps that he's in the wrong place. "Hey, this don't look like the Coachella Valley to me," he says as he gets out a map and issues that frequent line: "I knew I should've made that left toin at Albuquerque." He sees the matador run by. "Hey, I know. I'll just ask this gent in the fancy knickerbockers." He catches up to the fleeing matador and asks if he can direct him to the Coachella Valley and "the Big Carrot Festival therein." But the matador is too busy fleeing for his life and climbs over the wall. Toro stops right behind Bugs and is snorting heavily. Bugs turns around and smacks him on the nose. "Stop steaming up my tail!" Toro retreats and chalks his horns like a pool cue. He then charges and rams Bugs out of the arena into town. As Bugs sails through the air he tells us, "Of course you realize this means war!"
Toro celebrates his triumph by moving a bead over a line like in a pool hall and bowing to the cheering fans, who are throwing roses at him. We quickly cut to two doors marked Cuadrillas. The doors open to reveal Bugs in a matador's outfit holding a cape. Toro charges. Bugs stands still. Just before Toro reaches him Bugs holds out the cape, pulls it away and Toro runs head-on into an anvil atop a concrete block. Dazed (his eyes turn from red to light blue), he follows Bugs, who is waving his cape at him and they prance to the underscore of "La Cucaracha." Toro regains his senses and makes a full charge at Bugs, who once again lifts the cape as Toro runs into the bull shield, piercing it with his horns. Bugs quickly nails them down with a hammer, as one would do with a nail. He thinks he has Toro where he wants him and remarks, "What a gulli-bull! What a nim-cow-poop!" But he is unaware that Toro has detached his horns (this is a cartoon) and bops Bugs in the head with his hoof, knocking the rabbit cold.
While Toro sharpens his horns on a manually powered grinding wheel Bugs interrupts to place a large rubber band over the horns. He then pulls back the band and places a boulder on the end like a slingshot. As he lets it go we see everything from the bull's perspective. Now it's Bugs' turn to bow to the cheers, but as he does so he has his back to Toro and the bull rams him in the behind as he takes his bow, driving him through the wall. Bugs merely peers out at us with his hand on his face, much like Jack Benny, and gives us an embarrassed look.
The next scene finds Bugs wearing a sombrero, dancing up to the bull in tempo to the accompaniment of "Las Chiapanecas," slapping Toro twice in the face each time he comes up to him. Toro follows, but gets the same treatment. As Bugs goes into a wild dance Toro charges and Bugs disappears into his hole. His arm reaches out to pinch the bull twice on the nose.
A very angry bull is once again sharpening his horns on the wheel as Bugs waits with a shotgun behind his cape. He turns to the camera and says, "Booby trap," as Toro charges through the cape, swallowing the shotgun, which transforms the shape of his tail. When he strikes his tail against the ground, one of his horns fired a round. The Bull quickly grasps what's going on, and smiling at the rabbit, begins to chase him, firing bullets from each horn. Suddenly we hear a 'click, click' as Toro runs out of bullets. He quickly gets a box of elephant gun bullets and proceeds to swallow the entire box. When he hits his tail against the ground to test fire, however, he explodes.
All this is noticed by Bugs, who is standing before the entrance gates, remarking, "What an im-bezzile! What an ultra-maroon!" Suddenly Toro charges and Bugs realizes he's trapped against the doors. He awaits his fate by writing out a will and praying, but as the bull reaches him, Bugs simply opens the gates like a garage door as Toro runs past him through the town and out into the horizon. We hear the sounds of hammer and saw in the ring as we cut back to Toro, who bellows loudly and begins running back to the arena. Just before he arrives, Bugs has laid a slick of axle grease, which the bull hits dead on, sliding him up a ramp. He sails over a platform on which there is a paint brush laden with glue, on past a platform with a sheet of sandpaper, which sticks to the Bull's underside, then past a platform holding a match. The sandpaper lights the match, which in turn lights a fuse. The bull floats at the same speed as the fuse burns and they arrive simultaneously over a barrel of TNT, which explodes, sending the unconscious bull flying into the wooden bull shield.
The cartoon ends with the unconscious bull's hindquarters sticking out, over which Bugs holds up a cape with the words "The End" stitched on it.
Afterwords
Several things about this cartoon stand out. One is that Jones did take some of his producer's advice seriously and made sure the bull he drew was merely a caricature. In later interviews he remarked that if he drew the bull anatomically correct, it would have the effect of making the audience root for the bull and evoke feelings of pity, considering what happens to him.
When the bull moves, Jones and his animators have him leave behind multiple hooves in the air to simulate quick movement. He would do the same thing with Witch Hazel later on; when she moved quickly, hairpins were left in the air.
The gag with the bull holding the rubber band in his horns as Bugs placed a boulder on the other end and lets it go was first used in Jones' 1948 boxing cartoon, Rabbit Punch. In that cartoon, the boulder moving forward and connecting is also shown from the victim's perspective. Over the years, Jones experimented with perspectives. In his 1946 cartoon, Hair Raising Hare, he shows Bugs inside a suit of armor atop a horse galloping quickly to the sound of a freight train at the monster, who is also in a suit of armor, waiting to waylay Bugs. The action is seen from overhead as Bugs' lance hits the monster head-on, driving him into the wall and bouncing off as a tin can labeled "Canned Monster."
The cartoon follows the format of Tex Avery's Señor Droopy (1949) which sees challenger Droopy taking on the champion matador The Wolf for the affections of actress Lina Romay. Avery's gags, however, were a lot wilder than those of Jones.
In turn, the opening segment of Bully For Bugs would be reused by Friz Freleng in his 1963 Speedy Gonzales cartoon, Mexican Cat Dance. Animator Ken Harris also used part of the cartoon in his 1959 Hare-Abian Nights, in which Bugs entertains the Sultan with tales from his cartoons Bully For Bugs, Sahara Hare, and Water, Water Every Hare. And even the Pink Panther got in on the act, as Bully For Bugs was remade twice as Bully For Pink (1963) and Toro Pink (1979).
Jones' memoir, Chuck Amuck has other anecdotes about producer Eddie Selzer. According to Jones, Selzer's stupidity knew no bounds. He was always asking to see the script for a cartoon. The simple fact of the matter is that cartoons do not have scripts, but are laid out on storyboards. No matter how many times his directors told Eddie about this, it simply went in one ear and out the other, and he continued to ask for scripts.
Another classic Selzer story as related by Jones was the time he walked in as four or five of the staff were laughing over a storyboard. "Just what the hell has all this laughter got to do with the making of animated cartoons?" he thundered.
Those interested in the art of animation should obtain a copy of Chuck Amuck. It's a scintillating peek into the mind of a creative genius, who, along with Friz Freleng, Tex Avery, Robert McKimson, Bob Clampett, Frank Tashlin, Michael Maltese, Tedd Pierce and a group of superbly talented artists gave us some of the finest animation ever produced.
The Big Snooze
By Ed Garea
The Big Snooze (WB, 1946) – Director: Bob Clampett (uncredited). Story: Warren Foster. Animators: Izzy Ellis, Manny Gould, Bill Melendez, & Rod Scribner. Backgrounds: Philip De Guard and Thomas McKimson. Voices: Mel Blanc & Arthur Q. Bryan. Color, 7 minutes.
There's an old saying to the effect that if you're going to go out, go out with a bang.
And that's exactly when Bob Clampett did in 1946, making some of not only his best work that year, but also some of the best cartoons in the history of animation: Book Revue, Kitty Cornered, The Great Piggy Bank Robbery, Bacall to Arms, and this, which would be his last cartoon for the studio. A year after Clampett left, the studio took one of his classic Looney Tunes from 1938, Porky in Wackyland, and remade it in color, adding in some footage from Clampett's 1943 Tin Pan Alley Cats, and renaming it Dough for the Do-Do, with Friz Freleng directing uncredited. Nor was any credit given to Clampett; as far as the studio was concerned he ceased to exist.
There is some conjecture as to Clampett's exit from Warner Bros. The generally accepted story is that Clampett quit over matters of artistic freedom and to explore new vistas, but animator/director Arthur Davis, who took over Clampett's unit after he left, said in an interview that Clampett was fired by the new head of animation, Eddie Selzer, who took over after the studio bought the unit from then-owner, Leon Schlesinger, who worked as a subcontractor.
Clampett's style was becoming increasingly divergent from that of established directors Friz Freleng and Chuck Jones. Clampett, like Tex Avery (who left the studio in 1941) and Frank Tashlin (who left in 1945), hewed more closely to a plot line while Jones and Freleng used the plot line for witty dialogue and a series of gags. When Schlesinger ran the studio, Clampett was his favorite, and the executive frequently told his other directors to emulate Clampett's style.
Eddie Selzer was a producer given an assignment he neither wanted or particularly liked. Chuck Jones in his autobiography, Chuck Amuck, described Selzer as someone who not only had no conception of animation, but also had no sense of humor. That Clampett would have problems with him was a given. When Clampett left, his name was taken off the credits for The Big Snooze (Art Davis finished it) and the projects he had in preparation were given to directors Davis, who took over from Clampett and headed his own unit until 1949, and Robert McKimson, Clampett's master animator, who was promoted to director the year before and given Tashlin's unit.
The Big Snooze, whose title is a take-off on the Warner Bros hit of the same year, The Big Sleep, is actually a cartoon within a cartoon. We begin with Elmer Fudd chasing Bugs Bunny. Bugs tricks Elmer into following him into a hollow log, which Bugs spins around so that the exit is over a cliff. This occurs the usual three times (the "Rule of Three") until Elmer finally scrambles to safety.
Having reached safety, Elmer becomes enraged. He breaks his gun in two and vents his anger: "I quit! I'm through! I get the worst from that wabbit in every one of these cartoons!"
He then looks at the camera. "Of course, there's the little matter of my contract with Mr. Warner." Elmer then begins to angrily tear the document to shreds. "Well, this for my contract and that for my contract!" (Was Clampett venting his own anger at management?) Bugs is aghast: "Hey Doc, you're not being serious, are you? You're kidding, ain't you?"
Elmer's isn't kidding. He grabs a fishing pole and basket. As he walks away he declares, "From now on nothing but fishing for me. And no more wabbits!"
Bugs begins following Elmer, begging him on his knees to stay. "No, Doc, no. Think what we've been to each other. Why we've been like Rabbit and Costello, like Damon and Runyon, Stan and Laurel. You can't do this to me, I tell you. You don't want to break up the act do ya?" Bugs then looks at us, breaking the fourth wall, and says, "Bette Davis is gonna hate me for this." Some think this is a reference to the fact that Davis also wanted to get out of her Warner's contract, but I think Clampett is poking fun at Davis' overly histrionic style. Bugs continues to follow Elmer, telling him, "Think of your career." And for that matter," he says as he turns to the camera, "Think of my career!"
Catching up to Elmer, Bugs sees him peacefully asleep under a tree, dreaming gently of a saw cutting a log on a pink cloud. "I gotta look into this!" Bugs exclaims as he takes out a bottle of sleeping pills, marked on the label Sleeping Pills: Take Dese and Doze, a typical Clampett pun. (In recent years, Turner Networks, which acquired the rights to the Warner cartoons, often deleted this sequence for its supposed celebration of drug use.)
As Bugs falls asleep, we see him ascending towards Elmer's dream on a sailboat. As he weighs anchor on Elmer's dream, Bugs looks around. "I reiterate, what a heavenly dream. You know it would be catastrophe if perchance harm were to befall this serene scene." At that he brings out a can of "Nightmare Paint" and begins repainting the dream in surrealistic style. Elmer pops up, clad only in tights made from leaves as rabbits begin hopping over his head with Bugs singing "da rabbits are coming, hooray, hooray," to the tune of "The Campbells Are Coming" four times over. "Biwwions and twiwwions of wabbits," Elmer says. "Where are they all coming from?"
"From me, Doc," replies Bugs, "from me. See, I'm multiplying." He's punching an adding machine and producing the rabbits. Bugs takes out a giant volume titled A Thousand and One Arabian Nightmares. "Let's see," he muses, "what can I do to this guy next?" He looks up from the book, "Oh no! It's too gruesome! But I'll do it." He carries a bound Elmer to the railroad, where he ties him to the track. "Good gravy!" exclaims Bugs. "Here it comes, the Super Chief!" As Elmer shouts "Oh agony, agony," a conga line of baby rabbits led by Bugs in an Indian headdress crosses over Elmer's head.
Elmer angrily breaks his bonds and chases Bugs, who jumps into a rabbit hole. As Elmer prepares to follow, Bugs pops out of a nearby hole and moves the hole, causing Elmer to fall on his head. As he melts to the ground, he is briefly naked as the leaves fall onto his body. Elmer stands up, angry. "Brrrrrrrr!" he exclaims. "What's the matter, Doc, you cold?" Bugs asks as he wraps a green dress around Elmer, places a wig on his head and applies lipstick to Elmer's mouth. Looking over his handiwork, Bugs lifts the backdrop to reveal a pack of wolves dressed in zoot suits at the corner of Hollywood and Vine. One of the wolves howls, "Hooowooooold … is she?" and they begin chase. "Gwacious!" says Elmer as he runs. He then stops to ask the audience "Have any of you girls ever had an experience like this?"
Bugs tells the perplexed Elmer, "Quick, run this way!" taking Elmer through a surrealistic version of the Cossack dance, which also includes flipping upside down and hopping like a frog. Bugs and Elmer continue the dance as they run to the edge of the cloud, then jump off. Elmer thanks Bugs for his help, then realizes they're falling. "What'll we do, Mr. Wabbit? What'll we do?" Elmer asks as they continue to fall. "I dont know about you, Doc, but as for me ..." Bugs says as he pulls out a bottle with the label Hare Tonic, Stops Falling Hare. Bugs drinks from the bottle as Elmer continues to fall and comes to a screeching halt. "Gosh, ain't I a stinker?" Bugs asks the audience.
Elmer falls into his sleeping self, which awakens him from the nightmare. "Oooh, what a howwible nightmare!" he exclaims, and speeds back to the set, where he reassembles his contract as he gets back into the log. Oh Mr. Warner, I'm back. Okay Mr. Wabbit, woll 'em." The cartoon closes with a close up of Bugs exclaiming "I love that man!"
Afterwords
The Big Snooze is probably the best of Bob Clampett's Bugs Bunny cartoons and shows the influence of his friend and mentor, Tex Avery. The sequence with the log in the beginning of the cartoon is directly lifted from Avery's 1940 cartoon All This and Rabbit Stew, where Bugs is being hunted by a stereotypical African-American hunter. Clampett simply substitutes Elmer for the hunter, copying the scene even down to Elmer turning into a lollipop labeled "sucker" as he realizes he's been fooled, as in the original.
The cartoon also shows Clampett's fascination with surrealism, as exemplified in the dream sequence. Clampett was heavily influenced by Spanish surrealist artist Salvador Dali. The most obvious example of Dali's influence comes in Clampett's 1938 cartoon, Porky in Wackyland, where the entire short takes place in a Dali-esque landscape complete with melting objects and abstract forms. (I think it would be fair to say that Clampett's work can be considered part of the surrealist movement.) The animation in the dream sequence is simply amazing as Clampett continues to push the boundaries, something he began doing when he started back in the mid-'30s working in Avery's unit.
The highlight of that sequence is the Cossack dance (said to have been animated by Manny Gould), a play on the old "walk this way" gag. A man enters a pharmacy. "I'm looking for talcum powder," he says to the clerk. The clerk answers, "Walk this way," to which the man replies, "If I could walk that way I wouldn't need talcum powder." As Bugs and Elmer make their way doing the dance, they stop to shout "Hey" into the camera as Clampett uses an extreme close up of their faces to highlight it.
Clampett was also famous for incorporating catchphrases and tunes from popular culture into his cartoons. For instance, as Bugs sails towards Elmer's dream he sings "Someone's Rocking My Dreamboat," by Leon Rene, Otis Rene, and Emerson Scott. When Bugs and Elmer do the Cossack dance, the traditional Russian tune, "Vo sadu li, v ogorode" ("In My Garden") is mixed with the traditional tune, "Chicken Reel." When Elmer panics after they jump off the cliff, Bugs stands serenely, with one hand out, as if leaning against an invisible wall singing "September in the Rain" by Harry Warren and Al Dubin. The losing line, where Bugs exclaims: "I love that man!" is taken from the popular radio show Fibber McGee and Molly and was one of the trademark catchphrases of Beulah, their maid.
The wolves in the zoot suits seem to be copied from Avery's 1943 MGM cartoon Red Hot Riding Hood (the inspiration for Jessica Rabbit, by the way). As the wolves chase Bugs and Elmer they go right through a fence as if the fence wasn't there, or if they melted through, another instance of surrealism.
In the '40s, Clampett's cartoon style became wilder and more violent, with his trademark animation of a character stretching out to double his body length whenever frightened, excited, or hurt. After he left, his style was kept to an extent by his master animator Robert McKimson, but after a few years McKimson toned down his style to the often mediocre style we are familiar with today.
To fully appreciate Clampett's style, compare The Big Snooze to other cartoon releases that year by Jones and Freleng. Shorts like Jones' Hare-Raising Hare and Freleng's Baseball Bugs display the evolution of Jones' and Freleng's style as the humor is somewhat milder, the background designs are much more sophisticated (especially Jones). Facial expression (more muted than Clampett), gags and dialogue dominate and are pushed almost non-stop through the shorts while Clampett seems trapped in a time warp of sorts. (Jones in particular became famous for introducing the concept of subtlety into his cartoons.) The Big Snooze and The Great Piggy Bank Robbery play out almost like mini-movies, with characterization first and the gags unique to and used to emphasize the characters. They're full-frame, with plenty of flexible animation.
But for all his genius Clampett was despised by many of his colleagues. Chuck Jones doesn't mention him once in his autobiography, and he ignores the contributions of Clampett to the character of Bugs Bunny, as he has Bugs review his "several fathers" in The Bugs Bunny/Road Runner Movie (1979). The only "father" missing is Clampett, proving the survivors write history.
Those who despised Clampett saw him as someone who tried to claim the contributions of the other Termite Terrace animators for himself. In a 1946 interview, Clampett claimed he conceived the character of Bugs Bunny after watching Clark Gable munch on a carrot in It Happened One Night. (Daffy Duck was created by Tex Avery, but it was Clampett who first animated him. Daffy would go on to become the quintessential Clampett character.) However, there is no doubt that Clampett, along with Avery, provided the influence that would prompt the Warners directors to shed the Disney influence and take the direction for which they are famous today.
After leaving Warner Bros., Clampett briefly worked for Columbia and Republic Pictures before turning to television, where he won acclaim and Emmy awards for the puppet show Time for Beany, which later morphed into the animated Beany and Cecil Show in the '60s. He leaves behind a body of work second to none.
SpongeBob SquarePants
By Steve Herte
SpongeBob SquarePants (Nickelodeon Network, 1999-present) – Creators: Stephen Hillenburg, Derek Drymon, Tim Hill, & Nick Jennings. Voices: Tom Kenny, Rodger Bumpass, Bill Fagerbakke, Clancy Brown, Dee Bradley Baker, Mr. Lawrence, Carolyn Lawrence, Sirena Irwin, Lori Alan, Mary Jo Catlett, Ernest Borgnine, Tim Conway, Paul Tibbitt, Bob Joles, Guy Siner, John Rhys-Davies, & Jill Talley. Color, Rated TV-Y7.
Most animation fans know the answer to "Who lives in a pineapple under the sea?" when Patrick Pinney starts the theme song, and shout "SpongeBob Squarepants!" at the appropriate time. Created by Stephen Hillenberg and released on May 1, 1999, the yellow, porous, and absorbent character with the annoying laugh is now 17 years old and his nautical nonsense continues to the delight of fans everywhere.
My admiration for the art of animation goes back to my childhood. I grew up with Warner Brothers' cartoons and preferred them to the Disney characters who, by comparison to Bugs Bunny and his crew, were more for children and less sophisticated. And like other WB fans, a great part of my appreciation for classical music comes from background music to their cartoons. This love affair took me to the early 1990s, when the supply of new episodes petered out. Fortunately, in 1993, Animaniacs took center stage and renewed my love of the clever, hilarious WB wit and the flawless animation. That lasted until 1998, when again I had to search for a comparable quality cartoon. Then, seemingly in the "nick" of time, along came SpongeBob.
Why SpongeBob (voiced by Kenny)? He's only an innocent, childish character who loves his job flipping Krabby Patties at a fast food joint called the Krusty Krab. His best friend Patrick Starfish (Fagerbakke) is one step up from a total ignoramus and he continually drives his clarinet-playing, would-be-sophisticated next-door neighbor Squidward Tentacles (Bumpass) completely crazy. And that laugh of his!
There's something beyond the basic premise of SpongeBob. Those who've seen the Warner Brothers' 1992 cartoon Invasion of the Bunny Snatchers, directed by Greg Ford and Terry Lennon, know what I mean. In that cartoon, anyone who eats a radioactive carrot becomes a "badly drawn" automaton. Bugs Bunny notices all of his friends going from three-dimensional to two, and it's more like a scribble than a clearly defined figure. When put side-by-side with many other cartoons created since 1999, SpongeBob is definitely not flat and not "badly drawn." That was the first thing that drew me to the series.
With a combined staff of about 40 writers, the dialogue is funny, sometimes hilarious, and many times as clever as a Bugs Bunny aside. My favorite example is in Season 1, Episode 11b, Squidward, the Unfriendly Ghost, that has Squidward coated in a white substance and SpongeBob and Patrick convinced he's a ghost. They think they're responsible and wind up obeying Squidward's every command. While carrying him around on a litter, they repeatedly ask him where he'd like to be set down. Squidward is fully taking advantage of this situation. "No, too wet!" "No, too dry!" (remember, this all takes place under the sea) Then they walk onto a scene recognizable from a poster of Moulin Rouge, and Squidward negates, "No, Toulouse Lautrec!" Excellent! I can hear children saying, "Why is that funny?" This sort of writing is the link for me between Warner Brothers and Nickelodeon.
What also draws me in is the big element of absurdity – both in the various plots and the cartoon as a whole. SpongeBob's other best friend is the karate-chopping squirrel Sandy Cheeks (Carolyn Lawrence), who prefers living in her underwater home to living on land. She wears an underwater suit when she leaves her glass home and SpongeBob and Patrick have to don water-filled helmets to visit her.
SpongeBob's boss, the pirate-accented, penny-pinching Eugene H. Krabs (Brown), has a daughter Pearl Krabs (Alan) who is quite obviously a sperm whale. His mother Mama Betsy Krabs (Tibbitt), the widow of Victor Krabs is undeniably a crab. You have to wonder what Eugene's wife was (hopefully a whale, but we don't even want to think about that). And we mustn't forget SpongeBob's pet snail Gary (also Kenny) who meows.
The absurdity continues in the second SpongeBob Movie; A Sponge Out of Water (2015) (read our review here) when a pirate steals the secret formula for Krabby Patties and causes chaos to break out in Bikini Bottom, including gang warfare and houses being set on fire (we're still under the sea, mind you). In a few episodes of the television show, campfires are lit as well. It's a part of the unique attraction of the cartoon.
But what about conflict? Besides the usual head-butting between SpongeBob and Squidward, there is Sheldon J. Plankton (voiced by Mr. Lawrence), the owner of the Chum Bucket restaurant just across the way from the Krusty Krab. He never has customers because his food is ... well … chum! With his W.I.F.E. (Wired Integrated Female Electroencephalograph) Karen (Talley), Plankton (also the smallest character in the cartoon) is always plotting to steal Mr. Krabs' recipe. We also occasionally meet the master villain ManRay (voiced at various times by Bob Joles, Guy Siner, and John Rhys-Davies) and reinforcements have to be called in (sort of). SpongeBob's superhero favorites Mermaid Man and Barnacle Boy (guest stars Adam West and Burt Ward) are now almost senile (Borgnine and Conway, respectively) but still fighting crime. Absurd, no?
Among the cast of wacky characters, we can't forget Driving Instructress Mrs. Poppy Puffs (Catlett), appropriately a blowfish who inflates with terror whenever SpongeBob is behind the wheel. Oh, and by the way, everyone drives in wheeled boats in Bikini Bottom. There's the body-builder Larry the Lobster (voiced again by Mr. Lawrence) who, strong as he is, cannot defeat Sandy. In one episode, we see Squidward's former classmate, the debonair, successful Squilliam Fancyson (Baker) and Squidward is embarrassed to be seen by him as a mere cashier in a fast food restaurant – a fun episode.
Besides the regular characters the voices of other famous people, some because they are fans, are heard in various episodes. The list includes Marion Ross and Amy Poehler as Grandma SquarePants, John Hurley and Jeffrey Tambor (in the movie) as King Neptune, Ray Liotta as Bubble Poppin Leader, Charles Nelson Reilly as the Dirty Bubble, David Bowie as Lord Royal Highness, Johnny Depp as Jack Kahuna Laguna, Henry Winkler as Sharkface, Mark Hamill as the Moth, Ricky Gervais as a narrator, Dennis Quaid as Mr. Krabs' Grandpa Redbeard, Laraine Newman as Plankton's Grandma, John Goodman as the Imaginary Santa, Gene Simmons of Kiss as the Sea Monster alongside his wife, Shannon Tweed, Betty White as the aged Beatrice, a fish who owns a store called Grandma's Apron, and Pat Morita as Karate Master Udon.
Playing themselves in cameos on the SpongeBob series are: Will Ferrell, Tina Fey, LeBron James, Pink, Robin Williams, Gene Shalit, and – strangely and appropriately – Davy Jones of The Monkees.
If this were not enough, like Warner Brothers, the cartoons are still funny after multiple viewings. Whenever I'm away from home and just want to rest and watch TV, if I find SpongeBob, I'm hooked. (pun intended.) The series has been nominated for 16 Emmy Awards, winning two. It's not a substitute for Warner Brothers and it's had tough competition with The Simpsons, which is 10 years older, but when you want laughs and you don't want to think about it, SpongeBob is waiting for you in a pineapple under the sea.
Witch Hazel
By Steve Herte
Bewitched Bunny (WB, 1954) – Director: Charles M. Jones. Writer: Michael Maltese (story). Voices: Mel Blanc & Bea Benaderet. Color, 7 minutes.
Broom-Stick Bunny (WB, 1956) – Director: Charles M. Jones. Writer: Tedd Pierce (story). Voices: Mel Blanc & June Foray. Color, 7 minutes.
A Witch's Tangled Hare (WB, 1959) – Director: Abe Levitow. Writer: Michael Maltese (story). Voices: Mel Blanc & June Foray. Color, 6 minutes.
Halloween. In my early years, it was one night I looked forward to, planned what costume I would wear for and hoped for cool, but not rainy, weather. Getting together with friends and visiting house after house for who-knows-what goodies was great fun. And ... back when it was safe to go out after dark without a parental escort. The worst that would happen is you came home chalky or streaked with lipstick.
Ghosts, goblins, vampires and witches, and things that go bump in the night were always stars in my favorite stories in books and on film. The scarier the movie, the more I liked it. Now, with the advanced stage of computer graphics, horror can be (and is) taken to the give-you-a-heart-attack level, which makes me a little wary of spooky films today.
But Warner Brothers cartoons took those same creatures of the night and made them funny and memorable characters. Remember Gossamer, the red-haired monster in Hair Raising Hare (1946)? How about the Mr. Hyde creature that terrorized Bugs in Hyde and Hare (1955)? One of my all-time favorites was Witch Hazel, who appeared in three cartoons: Bewitched Bunny (1954), Broom-Stick Bunny (1956) and A Witch's Tangled Hare (1959). Bea Benaderet provided Hazel's voice in the first and June Foray brought the character to her place in my heart in the other two cartoons.
In the late '40s into the early '50s, the animators for Warner were looking for a new enemy for their most popular character, Bugs Bunny. Until that moment, Elmer Fudd had been the most popular of Bugs' foes, but they realized there were just so many takes on stories revolving around the two. Friz Freleng's unit came up with Yosemite Sam (said to have been modeled on Friz himself), who became very popular with audiences. Robert McKimson's unit developed one of the studio's most popular characters in the Tasmanian Devil.
Chuck Jones' unit, for its part, experimented with several characters, each of which faced Bugs in a few cartoons, but none of which became a long-term answer. The most popular of those characters were Marvin the Martian and Witch Hazel. Witch Hazel appeared in three cartoons with Bugs, beginning in 1954 with Bewitched Bunny. The 'toon proved so popular with audiences that she was brought back in 1956 by Jones. The final Witch Hazel cartoon from Jones' unit was made in 1959 with veteran animator Abe Levitow taking up the director's chores. It's unclear whether Jones was ill during the shooting or simply wasn't interested, or perhaps it was intended on Jones' part to give Levitow directorial experience.
The character's name, Witch Hazel, is a takeoff on the name of a North American shrub and the astringent made from it. Other studios have also had a character with the same name. In 1952, Witch Hazel appeared in Disney's Donald Duck cartoon, Trick or Treat, where she helped Huey, Dewey and Louis get candy from Uncle Donald. Ironically, Foray provided her voice. Her appearance is very different from the Warner Bros. cartoons: short with a warty chin, large red nose, green eyes, traditional witch's outfit, long blonde (sometimes grey) hair, and as tall, black hat. She is also far more benevolent that the Warner version. After the cartoon appeared, she was relegated to Disney comic books.
The character also appeared for Famous Studios (Paramount) and MGM, though not as a starring or co-starring character. Independent Rembrandt Studios had a character called "Hazel Witch."
But no one used her like Jones did. He admitted in an interview that he got the idea for the character from Disney's cartoon, but he thought he could improve on it by making her a villain and teaming her with Bugs.

Despite the common name, Jones' conception of Witch Hazel differs greatly from the witch appearing in the Disney cartoon. Jones' witch is much more stylized, with a rotund, green-skinned body wrapped in plain, blue dress and supported by twig-like legs. She also has wild black hair, out of which hairpins fly, spinning in midair whenever she zooms off on her broom or cackles in glee over her next evil scheme. Her crumpled hat looks as though it had been through one too many campaigns. Her nose and chin jut out from her face, as she sports only a single tooth. And she's far more villainous than Disney's witch, who was benign.
In
Bewitched Bunny
, the first of the series, Hazel is the witch in the classic tale
Hansel and Gretel
. She has lured a boy and a girl into her house to eat them, looking up
recipes like "Waif Waffles" or "Moppet Muffins."
Bugs Bunny is reading the classic fairy tale, and happens by just as she's luring the two greedy children into her cottage singing, "Let's go eat the goodies." Bugs gives the audience a Superman-like, "This looks like a job for…" and dons a disguise as a truant officer. He finds the two porcine urchins already in a covered pot wolfing down ice cream. Learning their names Bugs puts two and two together and advises them to run for their lives. But before they do they stop in front of Hazel saying in a thick German accent, "Ach, your mother rides a vacuum cleaner." (I told you they were urchins, right?)
Unfazed by this sudden change of events, Hazel realizes Bugs is a rabbit. She quickly switches her menu to rabbit stew and the chase begins. Hazel makes sure the audience knows she's a lady of quality by riding her broom sidesaddle. Tiring of the chase, she fills a carrot with poisoned brew and dangles it in front of Bugs, who can't resist and chows down. He passes out after a hilarious gagging scene and into the pot he goes.
While Hazel goes to her root cellar, a character resembling Prince Charming makes a dramatic entrance and kisses Bugs' hand, bringing him out of the spell. Bugs wakes up and says: "You're looking for Snow White, this is the story of Hansel and Gretel." The Prince leaves, confused over how Bugs pronounced the name "Hansel." The chase is on again.
Our Hero attempts an escape down a hallway, but Hazel has him trapped.
He passes an emergency box on the wall and notices a vase of her magic powder on a shelf bearing the sign "In Case of Emergency." He breaks the glass, and throws the vase at Hazel, instantly transforming her into beautiful female rabbit with a soft and sexy feminine voice, albeit with Hazel's laugh. She's more enticing than a carrot to Bugs. As they walk off he remarks to the audience,
"Ah sure, I know. But aren't they all witches inside?"
Yikes! You can't say that today. The cartoon caused controversy in Canada over the last line, the complainers averring that the lines made Bugs into a misogynist. It was also edited out of commercial showings in the United States and replaced with the line:
"Sure uh, I know. But after all, who wants to be alone on Halloween?" However, the original version has been aired in Canada as recently as this year on the Canadian cable channel Teletoon Retro.
As drawn by Jones and company, Witch Hazel is quite jovial in her villainy, with a strong sense of humor. During the cartoon, she frequently says things that cause her to break into hysterical, cackling laughter. She can also laugh at herself when she blunders. During one sequence when she mounts her broom, it goes backwards and she crashes into a wall. She looks at the audience and says with a smile, "Oh, we women drivers... I had the silly thing in reverse!" Jones wanted Foray to voice Witch Hazel, as he loved her voice of the Disney Witch Hazel, but she was contracted to Disney at the time, which led him to cast Warner contract player Benaderet.
Broom-Stick Bunny
opens on Halloween night. Witch Hazel is preparing a batch of witch's brew while singing her own words to the old standard, "A Cup of Coffee, A Sandwich and You." In her case, they come out as, "A cup of arsenic, a spider, some glue."
She pauses at her magic mirror, asking it who's the ugliest one of all. The genie in the mirror (something of a takeoff on Rex Ingram, who famously portrayed the genie in 1940's
The Thief of Bagdad
) replies that she, Witch Hazel, is the ugliest one of all. Hazel turns to the audience and explains that she "deathly afraid" of growing prettier as she gets older, a statement she concludes with a laugh.
She returns to mixing the potion in her bubbling cauldron, but finds herself missing one ingredient, when the doorbell rings. It's Bugs Bunny dressed as a witch for Halloween, his face hidden by an ugly green mask. She howls, "DARLING!" and drags Bugs to the table for some tea, hoping to "worm all of your ugly secrets" out of him. "Funny," she notes, "I don't remember seeing her at any of the union meetings." Realizing how ugly the creature is, in a pique of vanity she consults her magic mirror, which confirms, "that creep is uglier far than thou!" Whoops! Can't allow that. After she leaves, Bugs turns to the audience. "
She isn't pretty now, but she was someone's baby once," he says.
Witch Hazel makes a tea brewed with an assortment of beauty enhancers to make this new witch a pretty one, and grows impatient when she won't drink it. When Bugs takes off the mask, revealing that he's really a rabbit, Hazel flashes out of the room to her recipe book, where it reads, "a rabbit's clavicle." It's the last ingredient she needs for her brew.
Innate fear is rising in Bugs as he starts to leave, when Hazel zips back in with a cleaver behind her back. And the chase is on. Hazel chooses the wrong broom from the broom closet and chuckles at her mistake in trying to ride her "sweeping broom." ("Crazy me, that was my sweeping broom!") "Dat old babe means to do me serious hurt!" Bugs gasps, as a carrot on a fishing line appears behind him. Hazel reels him in and ties him up head to toe.
Back at her cauldron, Hazel prepares to kill Bugs and use him in her brew. But as she's about to bring the cleaver down on his head, Bugs gives her his patented big tear-filled eyes routine in an attempt to win her sympathy. Bugs' routine catches Hazel off guard and she breaks down in a torrent of tears, claiming he reminds her of Paul, her pet tarantula. Bugs, still hog-tied, tries to calm her down. He brings her the cup of "tea" clenched in his teeth, walking on tip-toe. She guzzles it down and becomes beautiful, instantly changing into a slender and curvaceous redheaded beauty wrapped in a tight teal-colored dress that exposes her finely shaped legs and the top of her cleavage as music director Milt Franklyn strikes up "Oh, You Beautiful Doll" in the background. (Her new look was based on Foray, even copying her hairstyle.) Shocked, she runs to her mirror and asks in a new softer, sexier tone of voice whether she's still "the ugliest of them all." The genie immediately becomes enamored of her, making Bob Hope type lecherous guttural noises and trying to grab her. Hazel then flees on her broomstick, with the genie on a flying carpet closely in pursuit.
Bugs, still at Hazel's house, looks at the two flying in the sky, silhouetted by the moon and makes a call to the local air raid headquarters, telling them, "You're not going to believe me, but I just saw a genie with light brown hair chasing a flying sorceress."
Critics and historians alike have cited Broom-Stick Bunny as the funniest of Jones' Witch Hazel cartoons, praising the film's witty dialogue, written by Tedd Pierce. The cartoon contains hysterical lines, such as such as Hazel's asking the costumed Bugs, "Tell me, who undoes your hair?" He replies, "Do you like it?" and her response is a gleeful "Like it? Why, it's absolutely hideous!" Later, when she leaves the room to prepare the beauty tea, she tells him, "Make yourself homely!"
Philip DeGuard's backgrounds and Ernie Nordli's (who came over to Jones's unit from Disney) layouts remind me of those pioneered by UPA Studios in the early '50s. The minimalist, expressionistic backgrounds help the audience not only focus on the characters but add a bit of other worldly-ness to the proceedings.
The feather-in-the-cap for Jones for this cartoon was in wooing Foray away from Disney and signing her to Warner Brothers. When first informed of the carton, Foray expressed reservations about Jones "stealing" a character from Disney, but, as Jones well knew, the fact that "witch hazel" was long ago established as the name of an astringent rub prevented Disney from establishing any ownership. And when Foray first saw the depiction of Witch Hazel and read the script, she knew this character was as far removed from Disney's character as an apple from as orange.
In a 1989 interview with writer/historian Michael Mallory for
Animation Magazine
(
www.animationmagazine.net
), Foray speaks of her experience:
"My agent called me and said, 'You've never worked at Warner Bros. before.' And I was just getting my feet wet (in animation), I really didn't know too much about Bugs Bunny, or all that had gone on before. So in 1954, Chuck called my agent and said, 'I'd like to hire June Foray,' and I did Witch Hazel over there, you know, with the hairpins flying, and who had a pet tarantula named Paul. He named her 'Witch Hazel' too, and Disney of course was unable to sue because Witch Hazel had been copyrighted by some alcohol company. They couldn't do anything about it. Chuck Jones fell in love with Witch Hazel."
A Witch's Tangled Hare
is the last made by Jones' unit. As the cartoon opens, we see a character that looks like William Shakespeare on the scene with pen and scroll at the ready, pausing at the castle Macbeth (clearly labeled on the mailbox in front of the castle). We then see Hazel quoting, "Double, double, toil and trouble..." and the Shakespeare character scribbles frantically. Hazel lifts a platter dome to reveal a sleeping Bugs Bunny. She awakens him and he flatters her by calling her Zsa Zsa. He sees the boiling kettle and, thinking it's a bath, gets in.
Immediately, Bugs reprises similar scenes from Hiawatha's Rabbit Hunt (Freling, 1941) and Wackiki Wabbit (Jones, 1943) where he's in the same situation and comments on how good it smells (in this case until he looks at cook book and realizes he's the main ingredient). Hazel chases him once again with a cleaver (her kitchen tool of choice), then goes to mount her broom, but her bloomers show. She covers up and comments to the audience about her modesty being one of her girlish qualities.
When Hazel catches up to Bugs, she cackles and Bugs imitates her laugh. She laughs again and he goes through a ridiculous, exaggerated laugh with crazy bodily contortions and retorts, "Top that, Lollobrigida!" This cartoon has everything. Bugs even hands Hazel an anvil from one of the turrets to foil her broom riding. The highlight, though, is a parody of

Romeo and Juliet

. Hazel stands on a balcony and shouts, "Romeo, Romeo, wherefore art thou Romeo?" (with the Shakespeare character scribbling furiously) "I art down here." "Why don't thou come up here?" "I art shy. Why don't YOU come down here? I'll catch you." (You just know Bugs doesn't mean that.) Hazel lands on the ground with a thunderous crash. (

Continuity mistake:

When Witch Hazel is chasing Bugs Bunny up the castle tower, Bugs throws a stone through the window before Hazel appears from behind the curtains. When we see Bugs dressed up as Romeo, the glass panes disappear. When we see Hazel dressed up as Juliet, they are back.)
The final chase leads Bugs to the Shakespeare character. He is sitting and moaning that he'll never be a writer. When Bugs praises him as being William Shakespeare, he denies it. "I'm Sam Crubish!" Hazel recognizes him from her past. "Yes, I waited outside apartment 2-B for you." "But I didn't say 2-B," Hazel protests. As Sam and Hazel walk off together, Bugs picks up the perfect last line, "2-B or not 2-B, that is the question!"
As mentioned above, Jones turned over the director's reins to Levitow, who does an excellent job with the story by Michael Maltese. Mel Blanc voices Bugs, while Foray once again provides the voice of Witch Hazel. The carton is very funny, with several references to plays by William Shakespeare: Hamlet, Macbeth, Romeo and Juliet, and As You Like It.
Other Appearances
In Chuck Jones' 1963 Merrie Melodies short Transylvania 6-5000, Witch Hazel makes a very brief cameo appearance as Bugs transforms the cartoon's vampire villain, Count Bloodcount, into Witch Hazel by chanting a magic spell.
When Warner Bros. shut down its animation studio in 1963, production of Merrie Melodies and Looney Tunes shorts was contracted out to Freling's DePatie-Freling Enterprises, who produced animated shorts from 1964 to 1967, when Warner Bros. again resumed production, finally closing for good in 1969. Director Robert McKimson made her one of the stars of his 1966 cartoon A-Haunting We Will Go, with Daffy Duck and Speedy Gonzales, which borrows several elements from previous Warner cartoons.
It's Halloween, and this time around

Daffy Duck's nephew (essentially a pint-sized version of Daffy) goes trick-and-treating as a witch, in the same outfit that Bugs Bunny wore in

Broom-Stick Bunny

. He visits Witch Hazel's house, and after seeing her hideous face (her skin is more a yellowish than green), he runs home screaming. At home, Daffy's nephew tries to tell his uncle that he saw a witch, but Daffy is unimpressed, explaining that Daffy "there is no such thing as a witch, and that she's just a poor old lady trying to get along." He tells him that he will prove it by meeting Witch Hazel himself.
We cut to Witch Hazel's home, where she's complaining that "all she does is work in front of a hot stove making potions." She concludes she needs a vacation, but, before going, she must find someone to take her place. At this point, Speedy Gonzales knocks on her door asking for a cup of cheese. Hazel complains, but soon gets an idea, grabbing a special piece of cheese and feeding it to Speedy. This causes Speedy to turn into an identical copy of Witch Hazel. The real Witch Hazel asks Speedy if he can act like her. Speedy (who takes this all quite calmly) says okay and runs around the house yelling his usual "Ándale, ándale, arriba, arriba, arriba, epa, epa." Witch Hazel notes that he still acts like himself, but it will have to do. She takes off to Hawaii, leaving Speedy in charge of the shop.
Soon Daffy comes over and Speedy welcomes him in, offering him a cup of tea. As Speedy goes off to make the tea, Daffy begins to get a little frightened. He tries to reassure himself by stating "She can be somebody's mother, or father, or something." Witch Speedy gives Daffy the tea, which turns him into the flower creature from Duck Amuck.
Hazel, returning from Hawaii, sees what Speedy has done and turns him back into a mouse. Spotting Daffy, she gets in the mood for a duck dinner and returns Daffy to his old self. Daffy immediately runs away, but Hazel catches him on a broom. Daffy jumps off her broom and parachutes down, but Hazel turns the parachute turns into an anvil. Witch Hazel laughs so hard at what she's done she fails to see where she's going and runs into a rock.
Down on the ground, another witch scares Daffy, but this turns out to be his nephew in his witch disguise. His nephew asks him if he saw the witch, but Daffy just tells him, "She's just some creepy old lady trying to scare people, and that witchcraft is just a myth, an old superstition." On the way home, Daffy turns back into the flower creature, unbeknownst to his nephew.
Witch Hazel has also appeared in cameos in various Warner Bros. productions, such as the 1966 movie, Space Jam, and the video games Bugs Bunny: Lost in Time (in which she appears as a boss and also appears on the cover of the game) and Looney Tunes Collector: Alert! (2000). She has also appeared in one episode each of Animaniacs (in a Rita and Runt episode), The Sylvester and Tweety Mysteries, Pinky and the Brain, Tiny Toon Adventures, and Duck Dodgers (which not only alludes to Broom-Stick Bunny, but also brings back Foray to do her voice).
In 2011, she evolved into Witch Lezah (Hazel spelled backwards) in The Looney Tunes Show, and was voiced by Roz Ryan, but she was never quite the same wacky character she was before. Sometimes change is not good.
Witch Hazel is one of my favorite Chuck Jones creations. She's incredibly vain, completely at home with the audience (she breaks through the fourth wall in every cartoon), and consistently funny. I love how her scene exits in Broom-Stick Bunny always end in a flurry of hairpins, a masterful Jones addition. She's a great foil for Bugs Bunny. Even though she may want to cook and eat him or just needs an essential part of his body for another potion, he's still able to distract her by playing on her femininity. She's all witch, but at the same time, she's all woman, and vulnerable to flattery and sentiment. She can be fierce, or she can be tender. And, similar to Steve Allen, she enjoys her own jokes enormously. "That's sharp enough to split a hair…Split a hare!" (gales of cackling laughter). But whatever mood she's in, she's a great, funny character.
I still like Halloween. I still love costumes, but I don't go gallivanting in the dark wearing one – too dangerous. I'll stick with my cartoons, especially those by Chuck Jones.
Where To Find The Witch Hazel Cartoons
Bewitched Bunny: Looney Tunes Golden Collection

, Vol. 5 (audio commentary by Eric Goldberg).

Looney Tunes Platinum Collection

, Vol. 1.
Broom-Stick Bunny: Looney Tunes Golden Collection

set, Vol. 2 (audio commentary by June Foray).

Looney Tunes Platinum Collection

, Vol. 1.
A Witch's Tangled Hare: Looney Tunes Platinum Collection

, Vol. 1.
A-Haunting We Will Go: Looney Tunes Golden Collection

set, Vol. 4.

Looney Tunes Platinum Collection

, Vol. 1.
Duck Amuck
Demolishing the Fourth Wall

By Steve Herte
Duck Amuck
(WB, 1953) – Director: Charles M. Jones. Writer: Michael Maltese (story). Animation: Philip DeGuard (background), Ken Harris (animator), Maurice Noble (layout), Lloyd Vaughan (animator), & Ben Washam (animator). Music: Carl Stalling. Voices: Mel Blanc. Released on February 28, 1953. Color, 7 minutes.
From 1946 to 1958, Warner Brothers made some of the best and most remembered (and quoted, if I may add) cartoons in the history of animation. In the forefront was the dynamic duo of directors, Isadore "Friz" Freleng and Charles M. "Chuck" Jones. Most notably, it was Jones who contributed most to the art of animation. Bugs Bunny and Daffy Duck have him to thank for the characterizations we know today, and in the process he made some of today's best-loved and most innovative cartoons.
In 1953, he created Duck Amuck, a cartoon that not only totally demolishes the fourth wall, but also asks "Just who is Daffy Duck?"
The short proved so popular with critics that in 1994 it was voted #2 on a list of the 50 greatest cartoons of all time by members in the animation field, second only to the remarkable 1956 short What's Opera, Doc? (also by Jones). In 1999, the film was deemed "culturally significant" by the United States Library of Congress and selected for preservation in the National Film Registry.
The cartoon opens in a conventional manner; the titles, in an Old English font, suggest Robin Hood or other swashbuckling characters. The heroic opening music by Carl Stalling reinforces this notion. A medieval setting appears with a castle in the background. Daffy Duck bursts onto the scene brandishing a sword saying, "Stand back, Musketeers! Let them sample my blade!" Daffy continues to charge forward to discover the scenery has disappeared and he's now on a blank background. Confused, he lowers his sword, and almost embarrassed, he leaves the scene, later sticking his head out and reminding the animator about the empty whiteness: "Hey, whoever's in charge here, the scenery … Where's the scenery?"
A farm scene is hastily drawn and Daffy reappears in Musketeer costume, repeating his opening line, until he looks behind him. "OK, have it your way," he says as he walks offstage. He reappears in overalls and a straw hat, singing, "Daffy Duck, he had a farm…" right onto a snow scene, "and on this farm he had an … igloo?"
He turns to the unseen animator, "Would it be too much to ask if we make up our minds?" Suddenly, on skis he sings "Dashing through the snow" into a Hawaiian jungle set. Quickly changing into a flowered sarong and strumming a ukulele, he switches to "Farewell to thee, farewell to thee." And the scenery goes blank again.
There is no better way to get Daffy's goat, as he is by now totally flustered. "Buster, it may come as a complete surprise to you to find that this is an animated cartoon. And that in animated cartoons they have scenery…" But before Daffy can finish his sentence, a giant pencil comes into the scene and erases him. "All right, where am I?" he growls.
He is quickly drawn as a cowboy with a guitar, but as he tries to play the guitar, there is no sound. He holds up a sign asking for sound and gets every sound but the right one. Even when he tries to remonstrate, all he gets are auto horns, barnyard squawks, and the sound of a kookaburra.
By now he's red-eyed angry, and throws a tantrum. All we hear is the end of the tantrum "...and I've never been so humiliated in all my life!"Embarrassed at what has been done, he looks at the animator, asking him to get organized and repeating his demand for some scenery. The animator answers by pencil-sketching a simple black and white cityscape. "That's dandy. Ho, ho. That's rich, I'll say. Now how about some color, stupid?" But instead it's Daffy that is painted in bright patterns. "Hey! Not me, you slop artist!"
Once again he's erased, except for his beak. "Well, where's the rest of me?" he asks. He's redrawn as a flipper-footed quadruped with a purple daisy around his head and a yellow flag flying from his upright tail. On the flag are a screw and a baseball, signifying 'screwball." "That's strange, all of sudden I don't quite feel like myself," he says. The artist draws a mirror and Daffy sees himself. He screams. "EEEK! You know better than that!"
Another erasure and redrawing shows Daffy as a sailor and he's pleased; he says he's always wanted to do a sea epic, until the background drawing sets him over water and he sinks. He swims to a deserted island in the distance. Demanding a close-up, he finds the frame shrinks around him. "This is a close-up? A close-up, you jerk! A close-up!" Then the opposite, the camera zooms in until all we see are his eyes.
As he walks away, he mutters, "Thanks for the sour persimmons, cousin." (A line Jones and Maltese picked up from Ben Washam. It was one of his favorite sayings.) Daffy walks into a background of neutral green. He tries to reason with his tormentor, suggesting letting bygones be bygones, when the frame suddenly begins sagging in from the top. Daffy futilely tries to prop it up with a stick provided by the animator, but it breaks ("Brother, what a way to run a railroad!"), and the frame keeps sagging until Daffy eventually shreds it in a loud tantrum.
"

All right! Let's get this picture started!" Suddenly, the end title card comes into view. "No, No!" Daffy shrieks as he pushes the card out of the frame. Dismissing the artist (he thinks), "You go your way and I'll go my way," he apologizes to the audience and tries to entertain them with a tap dance when the scene rolls up and his bottom half is on top and his top half is on bottom. He winds up arguing with himself. "Listen brother, if you wasn't me, I'd smack you in the puss!" "Don't let that stop you, Jack!" But as he swings at this twin the animator erases the twin and Daffy's punch goes wild into empty space, landing him on his butt.
Daffy is now redrawn as a pilot in a plane, "Oh brother, I'm a 'Buzz Boy,'" he exclaims as he flies the plane. But the animator quickly draws a mountain and we hear the crash of the plane, which is gone except for the canopy. Daffy bails out and deploys his parachute, which is erased and replaced with an anvil, and Daffy quickly crashes.
In a daze, he's next seen hammering the anvil and quoting the "Village Smithy" when the animator replaces the anvil with a blockbuster bomb, which explodes.
Now, burnt, blackened and beyond rage and frustration Daffy demands to see his tormentor. "Enough is enough. Who's responsible for this … this! I demand you show yourself! Who are you, hmm?" A door is drawn in front of him and a pencil shuts the door. The frame pulls back to reveal that the artist is none other than Bugs Bunny, who looks at us, and snickers, "Ain't I a stinker?"
We have mentioned that Duck Amuck breaks (an understatement) the fourth wall. Other critics have mentioned that as well. But this act is hardly revolutionary, for cartoons have shattered the fourth wall since the late 1930s. Tex Avery was the first, with I Love to Singa (1936), when the policeman giving the report on the radio about the missing young owlet answers his mother after she asks her husband if the police have found him yet. In Avery's Thugs with Dirty Mugs (1939), a patron viewing the cartoon in the audience gets up to inform the police about the plans of Killer and his gang.
In Bob Clampett's Falling Hare (1943), the plummeting sabotaged plane stops seconds before hitting the ground. The gremlin responsible tells us "Sorry, folks, but we ran out of gas." To which Bugs adds, "Yeah, you know how it is with these 'A' cards," pointing with his carrot to the card in the plane's window, a reference to gas rationing. And in Clampett's The Big Snooze (1946), Elmer Fudd tears up his contract and quits, tired of being made a fool of by Bugs Bunny. After a Bugs-induced nightmare, not only does Elmer (in drag) turn to the audience with "Has this ever happened to any of you girls?" but he returns to the studio and pieces his contract back together, saying, "Oh, Mr. Warner. I'm back."
But in Duck Amuck there is no fourth wall. The entire cartoon is a confrontation between its star – Daffy Duck – and the unseen animator who is foiling his every move, later revealed to us as Bugs Bunny. The only remnant of the wall left standing is visibility. Daffy cannot see the cause of his frustration and has no idea who it is.
What is revolutionary about the genius of Chuck Jones is actually more evolutionary. He is the catalyst that allows the character of Daffy Duck to ascend the cartoon development scale. When Avery first created Daffy in Porky's Duck Hunt (1937), the character was totally loony and out of control, serving as a foil for the likes of Porky Pig and Egghead (early Elmer Fudd).
As the years wore on, Daffy began to headline cartoons, but was still a loose cannon and prone to surreal wackiness. After the war, Robert McKimson and Chuck Jones began to work on the character, giving him a sense of savvy to counteract his explosive tendencies. But whereas the character of Bugs Bunny was dominated by reason, Daffy's emotions controlled him: he was vainglorious, staunch in his assumptions (even when usually proven wrong), mercurial, and quick to erupt. Given the chance to do the right thing, as in Tom, Turk, and Daffy (Jones, 1944), it only lasts until he realizes that in doing the wrong thing, there's something more in it for him. He agrees to hide Tom Turkey from hunter Porky until Porky mentions all the Thanksgiving goodies Daffy would miss out on if Porky didn't kill Tom. After a short wrestle with his conscience, Daffy is only too glad to reveal Tom's location. But things backfire when Tom places his tail feathers on Daffy, gobbles loudly, causing Porky to mistake Daffy for a turkey.
When teamed with Porky in Drip-Along Daffy (Jones, 1951), Duck Dodgers in the 24½ Century (Jones, 1953), and Deduce, You Say (Jones, 1956), Daffy is the arrogant Know-It-All hero-type and Porky is his comic-relief assistant. While Daffy blusters and strides boldly into inextricable traps, Porky quietly saves the day. When up against Bugs Bunny in Rabbit Fire (Jones, 1951), Rabbit Seasoning (Jones, 1952), and Duck! Rabbit, Duck! (Jones, 1953), Daffy is again a slave of his emotions, arguing to have Bugs killed by Elmer. But he's the one who always gets shot, as Bugs traps Daffy in his own verbiage. In Freleng's Show-Biz Bugs (1958), Daffy's ego and his jealousy of his co-star leads him to perform a dangerous trick that finally wins the audience applause. But when Bugs tells him he's a hit and that they want him to do it again, Daffy replies that he can only do it once as he ascends to Heaven.
Remarkably though, in Duck Amuck Daffy is not the instigator (for once, if ever). He's the victim. He's the one trying to bring reason into an unreasonable situation, and try as he might, he never gets through to his tormentor. He even questions what he might have done to deserve such treatment. As he's being depicted as a screwball, he says to himself, "Goodness knows, it isn't as if I haven't lived up to my contract, Goodness knows. And Goodness knows it isn't as if I haven't kept myself trim, Goodness knows. I ... I've done that." But he still keeps to whatever script he's given because he wants to be the good employee (and star of the cartoon, for once). It's only at the end that Daffy totally loses it and demands to see who it is.
The true magic of Jones shows in the unmistakable personalities of his characters no matter what their appearance, environment, or even their voice. According to Jones, the ending, showing Bugs as the animator, is for comedic purposes only. He's asking the audience to identify Daffy Duck. Would they still recognize him if the artist changed something about him? What if he didn't live in the woods, or didn't live anywhere in particular? What if he had no voice, or no face? In fact, what if he wasn't even a duck anymore? It doesn't matter. Whatever happens, even if he's totally erased, Daffy is Daffy. ("All right, where am I?") If Bugs is for comedic purposes only, then we ask, is there a real life figure he's allegorically symbolizing? Who would be so conniving as to deliberately misunderstand everything Daffy requests? The simple answer is Edward Selzer, the unit's producer.
After Leon Schlesinger sold his studio to Warner Brothers in 1944, the studio assigned Selzer to head the department. In his delightful autobiography, Chuck Amuck: The Life and Times of an Animated Cartoonist, Jones painted a grim portrait of Selzer, depicting him as beyond difficult, boorish, and totally without an understanding of or talent for animation. His inept managerial style was more like the man beating the drum for the slave rowers on a galley. His obtuse Judge, Jury and Hangman attitude nearly caused Freleng to quit when he poo-pooed the pairing of Sylvester and Tweety. (Tweetie Pie, the first cartoon to co-star the two, won the Academy Award for Best Animated Short in 1947.) Thank goodness that difference of opinion was resolved.
In a way, Selzer's humorless lack of instinct was a boon for animation directors. Whatever he disapproved of would no doubt turn out to be a hilarious hit. For instance, Selzer thought that camels and bullfighting weren't funny!" Hence, Freleng's Sahara Hare (1955) with Yosemite Sam and a dim-witted camel, and Jones' and Mike Maltese's Bully for Bugs (1953) – one of the funniest Bugs Bunny cartoons. Selzer proved a dependable source for doing exactly the opposite and the clever directors cashed in on it.
One of his own quotes sums up his genius level for being wrong: One, upon entering a room and seeing his animators standing around a storyboard laughing, he asked aloud, "What in the Hell does all this laughter have to do with the making of animated cartoons?" In Duck Amuck, Selzer is represented by Bugs as the interfering supervisor. The poor beset Daffy is Jones himself. He knows his own worth as an employee makes him immune to change or deletion. Jones once said, "We all want to be Bugs Bunny, but most of us are Daffy Duck."
Trivia
In 1955, Jones created Rabbit Rampage recasting Bugs Bunny as the harassed victim and Elmer Fudd as the manipulator. It was not nearly as funny. It didn't work. Bugs is cool, savvy and doesn't get flustered. Bugs finally gets even, but only does when backed into a corner. Elmer's last line, "Well, anyway, I finally got even with that scwewy wabbit!" may satisfy him but not the cartoon viewers. It's about as believable as Daffy decking Nasty Canasta with one punch.
Up - The One That Got Away
By Steve Herte
Up (Disney/Pixar, 2009) – Directors: Pete Docter & Bob Peterson. Writers: Pete Docter, Bob Peterson & Thomas McCarthy (story); Pete Docter & Bob Peterson (s/p). Voices: Edward Asner, Christopher Plummer, Jordan Nagai, John Ratzenberger, Jeremy Leary, Bob Peterson, Delroy Lindo, Jerome Ranft, David Kaye, & Elie Docter. Color, 96 minutes.
Recently I have been talking about "the one that got away" – the animated film that left the theaters before I could see it. Imagine my surprise when that very film appeared on network television.
Up is one of the marvelous productions from Pixar that seriously separate the animated feature from the cartoon. The differences are so obvious that even the biggest cartooniphobe (new word) could recognize them. The characters are three-dimensional and move believably as actual people and animals. There is nothing flat about it. The digital details can be seen in the movement of hairs, feathers and eyelids, and articulation of joints. This all combines to make characters not just credible but identifiable personalities.
The movie starts with an old-time newsreel in a movie theater touting the intrepid explorer and naturalist, Charles Muntz (Plummer). Muntz has just returned from South America with incredible skeletons of huge beasts and an enormous bird thought to be extinct. Upon inspection of the bones, however, scientists pooh-poohed his discovery, and he angrily vowed to take his zeppelin back to retrieve a live specimen. Little Carl Fredericksen (Leary) is in the front seat of the theater cheering his idol on while wearing an aviator's leather cap and goggles. On his way home he hears a girl's voice coming from an abandoned Victorian-style house and he sees the weather vane atop the roof turning in a purposeful manner. He enters and is bowled over by Elie (Docter); she is adventure personified and an extroverted tidal wave. She shows him her "Adventure Book," turns to the page marked "Stuff I'm Going To Do," and tells him she's eventually going to Paradise Falls in South America. He has now become hooked and in love.
Fast-forward and we see them get married, buy and fix up the old Victorian house, save their money (from his job as a balloon salesman in the park) in a jar for their adventure, and grow old together. However, each time the money mounts up, something happens to require its use. They never make it to Paradise Falls and Elie passes away before they can. Now Carl (Asner) is elderly and alone; fighting a development company building skyscrapers all around his property. He speaks to the mailbox and the house as if Elie's spirit inhabits them. He's grouchy and even sends Russell (Nagai), an aspiring Junior Explorer, on a "snipe hunt" just to stop the kid from bothering him about his merit badge for helping an old person. When he clobbers a construction worker with his cane, thinking the guy was stealing his mailbox, the court sentences him to be placed in a nursing home.
The orderlies that come to pick him up don't even notice the abundance of helium tanks littering his front lawn. As he distracts them with his suitcase and re-enters the house, the chimney blossoms into thousands of colorful helium balloons and lifts the house into the air. He's off to South America. What he doesn't know is that Russell was tracking the "snipe" under the house at the time and is clinging to his front porch. Grudgingly, he lets Russell in.
From there it's the adventure of a lifetime, navigating a flying house to South America (Carl thinks he's going to drop off Russell by cutting loose a number of balloons), landing only a few miles from Paradise Falls. Now they have enough to keep the house off the ground but not to fly the last few miles. They start walking, dragging the floating house. On the way they meet Dug (Peterson), a dog with a collar that allows him to talk, and the colorful giant bird, which is the object of Muntz's search. Russell befriends it with chocolate and names it Kevin – although it turns out to be a female.
The real surprise is when they discover that Muntz is there as well his zeppelin and an army of talking dogs all trained to seek out the bird – now known as Kevin, and who has a brood of his own chicks to care for.
Up
is one of those rare animated films that successfully mixes comedy, action and pathos into a blended treat that makes the viewer suspend rational reality and willingly fly into fantasy and fun. Yes, even I was surprised that Muntz was still alive when Carl was an old man (and could still handle a sword), but I too was caught up in the story, and it didn't matter what was real or not. When Carl opens the Adventure Book for the last time and sees the "Stuff I'm Going To Do" part filled with photos of his life with Elie, I also got teary-eyed. Pixar did their usual excellent job in producing a film enjoyable by both children and adults. I'm glad I was home to see it, finally.
I

Love to Singa
By Ed Garea and Steve Herte
I Love to Singa
(WB, 1936) – Director: Tex Avery. Animators: Chuck Jones, Virgil Ross, & Bob Clampett. Voices: Billy Bletcher, Tommy Bond, Joe Dougherty, & Martha Wentworth. Color, 8 minutes.
Slowly, but surely, Leon Schlesinger began to recover from his personal debacle of 1933, when Rudolf Ising and Hugh Harman's dispute over budgets led to the animators leaving Schlesinger for the cozier climes of MGM. What particularly stung was the fact that Harman and Ising took their animated creation, Bosko, with them, as they owned the rights, leaving Schlesinger without a main attraction.
Schlesinger attempted to fill the void with the creation of another cartoon star, Buddy, created by animator Tom Palmer. But Schlesinger hated Buddy from the start; so unhappy was he with the first cartoons he screened, that he sacked Palmer and brought back Friz Freling (who had left with Harman and Ising) to fix the cartoons into something that could be released to Warners.
Buddy was perhaps the most unappreciated cartoon star of all time, starring in only 23 shorts before Schlesinger and his crew dumped him in search of new characters. As with his predecessor Bosko, music dominated the cartoons and plots were treated almost as an afterthought. But over the life of the series the plots began to become more complex and Buddy gained a girlfriend (Cookie) and a dog to tag along on his adventures. In 1935 the character was retired in favor of Beans the Cat, who didn't last long with the animators, either. (See Trivia) It wasn't until Porky Pig came along that Schlesinger finally had a main attraction for his cartoons.
Meanwhile, in the wake of the void left by the departure of Harman and Ising (who took their animators with them), Schlesinger began hiring new talent. Fred "Tex" Avery came over from the Walter Lantz studio and fast-talked Schlesinger into letting him head his own production unit. Schlesinger agreed and assigned animators Chuck Jones, Robert Clampett, and Virgil Ross to the new unit. (They dubbed the building in which they worked as "Termite Terrace" due to the large population of the insects there.) It turned out to be the best hire Schlesinger made, as Avery and his co-horts began to create a new style of cartoon.
The new unit's first cartoon, Gold Diggers of '49 (alluding both to the famous California Gold Rush and to the popular series of Warner musicals from Busby Berkeley), set the mark for the direction Avery and his unit would take. Though its star was Beans the Cat, it was Porky Pig who stole the cartoon and became a star in his own right.
Avery and his unit were initially assigned to make Looney Tunes, which were strictly black and white. To make an entry in the Merrie Melodies series, which were in color, meant that the cartoon had to be shaped around a song, taken from the vast Warner Brothers library. This Avery did, and in doing so, he created what later critics see as an early masterpiece, and one that has gained a cult following over the years.
I Love to Singa
is a fond parody of The Jazz Singer. It opens with an iris shot featuring a house in a tree. A sign hanging near the door, reads "Prof. Fritz Owl, Teacher of Voice, Piano, and Violin, BUT – No Jazz!" Inside Papa Fritz is pacing back and forth as Mama Owl is sitting on four eggs. Finally she nods with a smile – the eggs are about to hatch. The Professor (voiced by Bletcher) taps each with his conductor's wand and gets a harmonious sound from each until he taps the last egg; it rings with a metallic clang. The first hatchling comes forth singing the opening of "Chi mi frena in tal momento" from the opera Lucia di Lammermoor. "Ah, what a fine voice," Papa Fritz exclaims, "A Caruso." The next hatchling enters the world playing the beginning of "Traumerei" by Robert Schumann on the violin. "What sweet music, a Fritz Kreisler," says Papa Fritz. The third comes out playing Felix Mendelssohn's "Spring Song" on the flute, and Papa Fritz calls him "another Mendelssohn." The last youngster (voiced by Bond) upon hatching (and dressed in a red coat with a blue bow tie) looks at his father and says "Hello Strenza!" (See Trivia) He then launches into the title song. "Ach! A Jazz Singer! A Crooner! Stop! Stop! Stop!" exclaims Papa Fritz as Mother faints. Papa fans her and tells her not to worry, "Listen Mama, if we must sing, we will teach him to sing like we want him to."
However, all is not going to plan. Forced to sing "Drink to Me Only With Thine Eyes," while his mother accompanies him on the pump organ, the youngster does a little rendition of "I Love to Singa" between verses. He's caught doing this by Papa Fritz, who picks him up and boots him out of house, yelling, "Enough is too much! Out of my house, you hotcha, you crooner, you falsetto, you jazz singer! You, you, you!" The youngster takes it all in stride, pointing back and telling us "That's mein pop." He then goes on his way, whistling the title tune. Meanwhile, Mama Owl (voiced by Wentworth) is telling Papa Fritz that he was too hard on the boy. She calls the police, describing him as "a little fellow with big eyes and a red coat."
As the youngster is walking he notices music coming from a tree. It's radio station GONG, which is broadcasting "Jack Bunny's Amateur Hour." Numerous contestants are gonged and dropped down a trap door. One stutters his way through the rhyme "Simple Simon" before saying "Oh well, shucks," and gongs himself down the trap door. (He was voiced Joe Dougherty, the original voice of Porky Pig.) Cut to Mama Owl as she listens to the police report on the radio. She wonders if the police have found her son, to which the radio answers back "No we didn't lady," as both Mama and Papa Owl look at each other in astonishment. This was the first use of a trick Avery was to repeat and be noted for in later cartoons: breaking the bounds of reality to enhance the laughter.
Finally out young hero gets to show what he can do. When Jack Bunny asks who he is, he's handed a card that simply reads "Owl Jolson." He then breaks into his song, which is winning Jack Bunny over to the extent that he's getting out the "First Place" trophy. Mama hears him singing on the radio and bring Papa and the children to see him. They are looking through the window of the studio when young Owl notices them and freezes. He then lapses back into his rendition of "Drink to Me Only," and Jack Bunny is about to gong him. Papa and the family enter and Papa shouts, "Stop! Stop! Stop! Enough is too much!" He turns to his son, "Go on and singa about your moon-a and your June-a and the spring-a." Young Owl returns to his music and the cartoon ends with Jack Bunny handing him the First Place trophy. The film irises out to black, but the trophy remains outside. Young Owl opens the iris and grabs his prize before the cartoon officially ends.
This combination of a strong plot with tricks such as the radio gag, was to launch a new style in cartoons, as Schlesinger's unit slowly moved away from a simple animated backing for a song to entities in their own right, establishing strong, and eventually lasting, characters, and shifting the music to the background. We see the beginnings of this new philosophy of cartoons here, for although the cartoon is supposedly built around the song, in actuality, the song itself becomes secondary to the story of young Owl Jolson and is used to explain his persona. Leon Schlesinger and Warner Brothers came a long way since the debut of Bosko in 1931's Sinking in the Bathtub.
Trivia:
The short is one of the earliest Merrie Melodies produced in Technicolor's three-strip process.
The song, "I Love to Singa," was written by Harold Arlen and E. Y. Harburg and featured in the 1935 Warner Brothers musical The Singing Kid, where it was performed three times: first by Al Jolson and Cab Calloway, then by the Yacht Club Boys and Jolson, and finally by Calloway and Jolson.
Bert Lahr supplied the original voice of Papa Fritz, but Billy Bletcher replaced him in the final version. There are rumors that while Tommy Bond did the voice of Owl Jolson, Johnnie "Scat" Davis did the singing. That isn't true.
"Hello Strenza!" is a Yiddishism for "Hello, Stranger," and was the catchphrase of a character from Jack Benny's radio program named "Schlepperman." (To "schlep" in Yiddish means "to drag along.") It was a popularly quoted catchphrase of the day.
Buddy made a weird comeback of sorts in a 1994 episode of Animaniacs titled "The Warners' 65th Anniversary Special." In this episode it was revealed (according to the series' fictional history) that Yakko, Wakko and Dot were created to add life to Buddy's very dull cartoons. During the cartoons they would smash Buddy over the head with a mallet. After Buddy was dropped by the studio and replaced by the Warners, he retired to Ojai, where he earned a living as a nut farmer, all the while plotting revenge against the Warners. This came to a head on the Anniversary Special where he tried to exact his revenge but was foiled in the attempt.
The cartoon is also referenced in the very first episode of South Park (August 13, 1997) titled "Cartman Gets an Anal Probe." During the course of the episode, whenever an alien beam hits Cartman or Officer Barbrady, they break into "I Love to Singa," as warbled by Tommy Bond.
For those interested, the cartoon is available in a beautiful digital Technicolor transfer as an extra in the three-disc Deluxe Edition of
The Jazz Singer
. It is also included in the
Looney Tunes: Volume 2
DVD, and
Looney Tunes: The Platinum Collection, Vol. 1
(also available in Blu-ray).
Warner's One-Hit Wonders
So far we've written about the most repeated songs in the library of Warner cartoons and the cartoons with the most musical pieces in their soundtracks. It's only fair that we present the rare songs that appear just once, as a scene enhancement or only as a lyric reference to add to the humor. Although there are several tunes that fit this category, most of them have been covered in the two previous articles of Animation Orchestration. I've put together 10 of my favorites (there are probably more that the die-hard fans can come up with) from cartoons with which I will always associate these melodies.
1.
"Alouette,"
an 1879 French-Canadian children's song, composer unknown, was sung at the end of French Rarebit (1951 - Robert McKimson) by two wacky French chefs while basting themselves and sitting in a roasting pan in an oven. They were celebrating being taught the recipe for "Louisiana Back-Bay Bayou Bunny Bordelaise" a la Antoine of New Orleans by whom else? Bugs Bunny.
2.
"
Drink to Me Only with Thine Eyes"
was written in 1616 by Ben Jonson and was instrumentally played in the opening of The Hardship of Miles Standish (1940 – Friz Freleng). The original story is retold by a grandfather and has Elmer Fudd as John Alden performing a singing telegraph ("You Must Have Been a Beautiful Baby") to an Edna Mae Oliver-styled Priscilla just before Indians attack them.
3.
"I Love to Singa"
came out on July 18, 1936, and was written by Harold Arlen and sung by both Al Jolson and Cab Calloway. But in the cartoon I Love to Singa it is performed by a little owl (Owl Jolson) who is born to sing jazz rather than the traditional classical music his father teaches. (1936 – Tex Avery) "Drink to Me Only with Thine Eyes" is sung partially in this cartoon as well.
4.
"Is You Is or Is You Ain't My Baby?"
by Billy Austin and Louis Jordan in 1940 is one song that was not sung or played. In fact only the title appeared as a line spoken by Bugs Bunny in a comically "romantic" moment with Elmer Fudd in The Unruly Hare (1945 – Frank Tashlin) He had just shown a series of pin-up girls to Elmer through his surveyor's scope.
5.
"Mutiny in the Nursery"
is a bouncy, jazzy tune composed in 1938 by Harry Warren and Johnny Mercer. A chorus of book characters come-to-life in the cartoon Sniffles and the Bookworm (Chuck Jones – 1939) sings it. The climax of this mild version of Book Revue has Sniffles the mouse saving the shy, retiring bookworm from the Frankenstein monster merely by tripping him.
6.
"Sweet Georgia Brown"
is a song I'll remember not only from a cartoon but also from my Barbershop quartet career. I sang it in a competition with a quartet and we were fortunate enough to place second. (Don't ask me who was first; too long ago.) Written in 1925 by Ben Bernie, Maceo Pinkard (music) and Kenneth Casey (lyrics), it was played on trumpet by Yosemite Sam to Granny ("Emma" in this case) in Hare Trimmed (1953 – Friz Freleng). Sam is trying to woo the flattered Granny into marrying him so he can get her money and Bugs Bunny competes with him to thwart Sam's avaricious plans.
7.
"When the Swallows Come Back to Capistrano"
is a strange song about a lover's promise to return (on the title occasion) but it never happens. It was sung most notably by the Ink Spots and later by Pat Boone, and was written by Leon René in 1940. It devolved into the comic and trivial when Bugs Bunny sang it nonchalantly while bathing in a cooking pot in Hiawatha's Rabbit Hunt (1941 – Friz Freleng). This is also the only cartoon I can recall where Bugs misses his rabbit hole on one of his famous "dives" and has to shame-facedly skulk to where the hole actually is.
8.
"We're in the Money"
was the hit song of the movie Gold Diggers of 1933, written by Al Dubin & Harry Warren that year to cheer up a population going through the Great Depression by forecasting a time of plenty. A cartoon of the same name was also released in 1933. Produced by Hugh Harman and Rudolf Ising and animated by Friz Freling and Larry Martin, it takes place in a closed department store where a group of toys come to life and sing the title song.
9.
"A Cup of Coffee, a Sandwich and You,"
one of the most memorable tunes (but not for its original lyrics) was written in 1925 by Joseph Meyer, with lyrics by Al Dubin and Billy Rose. In Broomstick Bunny (1955 – Chuck Jones), Witch Hazel stirs her cauldron while adding "A cup of arsenic, a spider, some glue…" before meeting Bugs Bunny dressed as a witch on Halloween. Later, she sings "A cup of tea, a cookie and you…" when she mixes up a potion Bugs tricks her into drinking that makes her beautiful. This cartoon is one of my all-time favorites.
10.
Lastly, "The Five O'Clock Whistle," by Josef Myrow, Kim Gannon and Gene Irwin from 1940, so wonderfully sung by Ella Fitzgerald and orchestrated by Glen Miller, appeared in Little Red Riding Rabbit (1944 – Friz Freleng). Here it lost any class it originally had by being sung by an obnoxious, loud-mouthed, Bobby-Soxer, Red Riding Hood, who interrupts every scene with her annoying, gargled "Heeey, Grandma!" Even the Big Bad Wolf doesn't want her. Bugs Bunny makes sure she gets her due in the end with, "I'll hate myself in the morning, but I'll do it."
On the television show Seinfeld's episode, The Opera, Elaine tells Jerry, "All of your knowledge of high culture comes from Bugs Bunny cartoons." When it comes to music, that is true of me in great part. The rest of the obscure melodies in my memory were supplied by 35 years in Barbershop choruses and quartets. Add in all the Rock and Roll music I've collected, classical college courses I took and 45 rpm records my family inherited from others, and everything in life has become a song cue for me. Come to think of it, writing about these cartoons has made me want to watch them again. I think I'll do just that. Want to join me?
Animani

acs
After Bugs, Daffy, Sam and Foghorn
Animaniacs

(WB/Ambllin, 1993-98) Producers: Steven Spielberg, Tom Ruegger. Voices: Tress MacNaille, Rob Paulsen, Jess Harnell, Frank Welker, Maurice LaMarche, Sherri Stoner, John Mariano, Chuck Vennera, Nathan Ruegger, Laura Mooney, Mary Gross, & Bernadette Peters.
When the heyday of Warner Brothers cartoons ended in the 1960s we were all pretty happy watching the reruns knowing that nothing would compare to the sheer brilliance of comic writing, plots and superb synchronization of sight and sound. And pretty much, nothing did until Stephen Spielberg presented The Animaniacs in 1993. The characters were all new, the situations much shorter and compiled into a variety-style cartoon show knitted together by the two Warner Brothers, Yakko and Wakko and the Warner Sister, Dot. These three madcap monkeys (all evidence points to this as their species) heckle other stodgy characters with Marx Brothers' style quick humor (Yakko is definitely descended from Groucho) and in many cases, education. Yes, education. There are a few vignettes where Yakko dresses in a cap and gown and performs such amazing feats as singing "All the Countries of the World" to the tune of the Mexican Hat Dance.
All of the characters in the cast are drawn with the same three dimensional, fluid motion techniques of the originals and this adds to their charm. Yakko (Paulsen), as I mentioned is the wisenheimer, always quick with a joke, pun or witty remark. Wakko (Harnell) speaks with a Liverpuddlian accent and eats anything in sight but also comes up with many a clever quip. Dot (MacNeille), though she prefers to appear sweet and cute (she has an alter-ego title of Princess Angelina Contessa Louisa Francesca Banana Fanna Bobesca the Third) keeps up with her hyperactive brothers and never misses a punchline.
When Yakko, Wakko and Dot are not running from Ralph, the guard (Frank Welker) at the Warner Brothers Studio Lot, or locked in the water tower (from which they continually escape) we are treated to various other characters, such as The Goodfeathers, three pigeons – Bobby (Mariano), Pesto (Vennera), and Squit (LaMarche) – who worship Martin Scorsese and are obvious spoofs of Robert De Niro, Ray Liotta and Joe Pesci of Goodfellas (1990). Their faux-mob antics on a New York background are hilarious and push the envelope of ethnic comedy.
Adding a vaudeville note to the cast are Rita the cat (Peters) and Runt the dog (Welker), who always turn the dangerous situations they confront into a song opportunity.
The only characters to spawn a successful spin-off of the show in 1995 are the team of Pinky (Paulsen) and The Brain (LaMarche), two white lab rats who conspire night after night to "take over the world." Pinky, per the opening song is "insane" but his goofiness perfectly balances the straight-faced Orson Welles-like Brain. My Mom loved this cartoon the best. Once and only once did I see Pinky succeed in his quest; only to be disappointed in the power he acquired.
Slappy the Squirrel (Stoner) is a post-menopausal misanthropic survivor of the Golden Age of cartoons whose only friend is her nephew Skippy (Ruegger). Whoever else is unfortunate enough to appear in her scenes gets the worst of the episode, no matter how big or bad they are. Slappy always has the upper hand and ends each segment with, "Now that's comedy!" At first she's hard to take, but once you get the idea of the cartoon you look forward to the next one.
Whenever Mindy (Nancy Cartwright), a toddler who literally gets into everything finds herself in a bind (and that's every episode) it's up to Buttons (Welker), a watchdog to extricate her.
A character we don't get to see often is Chicken Boo, a giant chicken optimistic enough to believe he can be a part of normal society.
Also occasionally we see the short incidents in the life of Katie Ka-Boom (Mooney) a highly-strung teenager who wants things her way or else – KA-BOOM! It's amazing her long-suffering Mom (Gross) can survive her tantrums.
Lastly, there is the amorous couple, Flavio and Marita, two very funny hippos. There's something attractive about them despite their great mass. It could be the sexy accents.
I personally treasure the DVDs of the first four seasons on Animaniacs because I love every cartoon and it deserves to be in my collection. The only question is, where are the rest of them?
Animation Orchestration, Part 2
Music Profusion
Not only did Warner Brothers cartoons use the same popular pieces of music over and over in different situations, there were also cartoons in which dialogue was minimal to non-existent and took a backseat to the music. The most glaring example of course is Chuck Jones' What's Opera, Doc? (1957), in which Elmer Fudd and Bugs Bunny play parts in the Wagnerian opera Die Walküre (1870) singing alternative lyrics while still performing the hunter and rabbit roles. For those who don't recall it, all I have to say is, "Kill the Wabbit, Kill the Wabbit, Kill the Wabbit!" and it should come back to you. And you thought Wagner was impossible to sit through (well, maybe the entire "Ring" series).
The minimal dialog concept is best exhibited in Bob Clampett's Corny Concerto (1943) and Elmer has all the lines (what there are). He looms up in silhouette to the podium as orchestra conductor and when the spotlight hits him we see he's unshaven, slightly disheveled and having a comic battle with his tuxedo front. In his introduction of two Johan Strauss pieces, Tales from the Vienna Woods (1868) and The Blue Danube Waltz (1866), Elmer quotes the lyrics of "And it Comes Out Here" (Mike Riley, Ed Farley & Red Hodgson, 1935).
In the first scene, it's Porky Pig's turn to be the hunter stalking Bugs with his faithful but goofy dog. The movements of the characters are beautifully choreographed to the music while simultaneously delivering the loony comedy. The second piece depicts a mother swan gliding along the water followed by her babies while a little black duck longs to join the family. After being thwarted several times he sees them being attacked by a vulture and saves them. Though not as funny as the first cartoon, it's still excellently synchronized with the music.
Two cartoons in particular stand out as musicals in the Vaudeville or English Musical Hall Night styles. Both involve bookstores where everything comes to life after closing time. The first was Have You Got Any Castles? (Frank Tashlin, 1938) where, after a cuckoo announces the midnight hour a town crier (based on critic Alexander Woollcott, who hosted a popular CBS radio show called The Town Crier and who opened each show with "Hear Ye! Hear Ye!") plays emcee backed by "The Poet and Peasant Overture" by Franz Von Suppé (1846) and the book characters become the audience.
There is scene where Fu Manchu, the Phantom of the Opera, Mr. Hyde and the Frankenstein Monster leave their books menacingly and growl at the audience, then break character and do a dainty minuet to the "Gavotte" by Francois-Joseph Gossec (late 1700s). This piece of music also appears in Porky's Party (also 1938) as the background to a knitting silkworm. The Invisible Man does a lively tap dance to Vincent Scotto's "Vieni, Vieni" (1937), which segues into a cartoon Cab Calloway and group performing "Swing for Sale" (Saul Chaplin & Sammy Cahn, 1937). Then Old King Cole sings (appropriately) "Old King Cole" (Richard A, Whiting & Johnny Mercer, 1937). The Thin Man leaves his book to the tune of "Boulevardier from the Bronx" (Harry Warren, 1936), enters a cookbook and returns pear-shaped backed by "You're the Cure for What Ails Me" (Harold Arlen and E.Y. Harburg, 1936). The Three Musketeers and various book characters sing the title song, written by Richard A. Whiting and Johnny Mercer in 1937. Then they go literally "Three Men on a Horse," steal keys from another book cover and liberate the Prisoner of Zenda.
In the hilarious Book Revue (Bob Clampett, 1946), Daffy Duck takes center stage in a zoot suit and blonde Cab Calloway hairdo while praising "La Cucaracha" (1910) "wooh-hoo-hoo-hoo!" with a Russian accent. He then launches into a chorus of "Carolina in the Morning" (Gus Kahn & Walter Donaldson, 1922) while Little Red Riding Hood skips by to her possible doom at the hands of the wolf. When Daffy realizes where she's headed he instantly switches to a fabulous Danny Kaye scat (from his Melody in 4F, 1944) to warn her. The cartoon ends with the wolf jailed to the tune of the sextet from Donizetti's Lucia di Lammermoor (1835) and a wild jitterbug celebration, interrupted only by the wolf screaming, "Stop that dancing up there! Ya sillies."
(The actual title of a 1944 song by
Harry "the Hipster" Gibson
, with the lisping delivery of "sillies" caricaturing
Joe Besser
.)
Then there are the big "concert" cartoons, with song after song, most notably Friz Freleng's Notes to You (1941) where Porky Pig is kept awake by a serenading alley cat. His repertoire includes "The Umbrella Man" (James Cavanaugh, Vincent Rose & Larry Stock, 1938), "Largo Al Factorum" (Rossini, Cesare Sterbini) Figaro (1782), "Make Love With A Guitar" (Maria Grever/Raymond Leveen, words by Jimmy Messene & Al Bowlly, 1940), "Jeeper Creepers" (Harry Warren & Johnny Mercer, 1938), "Rockabye Baby" (Old English, 1765), "When Irish Eyes Are Smiling" (Chauncey Olcott & George Graff Jr., 1912), and ends with the "Sextet" from Lucia di Lammermoor (Donizetti, 1835).
The remake of Notes to You in 1948 was Back Alley Oproar and starred Elmer Fudd as the harassed sleeper and Sylvester as the insatiable singer. His song list is even longer with two reprises; "Largo al Factorum" and "Sextet." Poor Elmer gets to hear "Angel in Disguise" (Paul Mann, Stefan Weiss, Kim Gannon, 1940), "Carissima" (Arthur A. Penn, 1907), Liszt's "Hungarian Rhapsody # 2" (1847), "Moonlight Bay" (Percy Wenrich, Edward Madden, 1912), "Some Sunday Morning" (Ray Heindorf, Ted Koehler, M.K. Jerome, 1945), "Sweet Dreams, Sweetheart" (Ted Koehler, M.K. Jerome, 1944), "Wiegenlied", op.49 no 4 (Johannes Brahms, 1868, aka "Brahm's Lullabye"), and "You Never Know Where You're Goin' 'Til You Get There" (Jule Styne & Sammy Cahn, 1945).
The library of popular as well as obscure songs available to Carl Stalling was incredibly large and it seems the copyright laws were less strict than now (or the fees were a lot less) so Warner Brothers could easily create such cartoons as Friz Freleng's Yankee Doodle Daffy in 1943. Daffy is the promoter for his nephew, Sleepy Lagoon, and is desperately trying to get Porky Pig to hire him. In the process, we're treated to an entire show complete with costume changes and hear: "Angel in Disguise," "Can-Can" (1858) Offenbach, "I'm Just Wild about Harry" (Eubie Blake and Noble Sissle, 1921), "Laugh Clown Laugh" (1928) Ted Fio Rito & Sam Lewis & Joe Young, "Lone Ranger Theme" (actually the William Tell Overture) Rossin, 1829), "Rebola a Bola" (1941) Arranca-Telhados (in full Carmen Miranda costume), "We Watch the Skyways" (Max Steiner & Gus Kahn, 1941), and "Cheyenne" (Egbert Van Alstyne, 1906) with new lyrics to make it "I'm a Cowboy."
When Porky Pig needs to get egg production stepped up in Frank Tashlin's Swooner Crooner (1944) he hires a rooster who sings like Bing Crosby and it works, even on Porky. The music in this cartoon gives us an idea why women loved the sounds of Crosby, Frank Sinatra and the great crooners. The cavalcade includes "September in the Rain" (Harry Warren & Al Dubin, 1937), "Minnie the Moocher" (Cab Calloway, 1931), "When My Dreamboat Comes Home" (Clifford Friend & Dave Franklin, 1936), "It Can't Be Wrong" (Dick Haymes, 1943), "As Time Goes By" (Herman Hupfeld, 1931), "Blues In The Night" (My Mama Done Told Me) (Johnny Mercer & Harold Arlen, 1941), "Lullaby of Broadway" (Al Dubin & Harry Warren, 1935), and "Shortnin' Bread" – a plantation song written by James Whitcomb Riley in 1900.
Did I mention "obscure" songs before? Well, in 1948, Chuck Jones gave us Long Haired Hare. Bugs Bunny is trying to have a great time singing and playing various instruments out in the field while an opera singer is trying to rehearse "Largo al Factorum" at home. Invariably he winds up singing whatever Bugs is playing, he goes out to Bugs and stops him. "Of course you know, this means war!" says Bugs and he means it. In the beginning, Bugs sings "A Rainy Night in Rio" (Arthur Schwartz & Leo Robin, 1926), "My Gal Is A High-Born Lady" (Len Spencer & Barney Fagan, 1896, with substitute lyrics), and plays "When Yuba Plays the Rhumba on the Tuba"(Herman Hupfeld, 1931), of course on a tuba. Later, we hear the "Prelude," second theme from Act III of Lohengrin, Richard Wagner (1850) when the opera singer is signing autographs and "Beautiful Galathea Overture" by Franz Von Suppé (1865) when Bugs walks into the concert hall to the hushed tones of "Leopold!" (Stokowski).
Lastly, a new singer is introduced in 1955 when Chuck Jones directs One Froggy Evening and Michigan J. Frog gets to strut his stuff. The story involves a man who discovers a singing frog in the cornerstone of a building and thinks it will make him rich. But Michigan J. Frog will only sing for him. The high-stepping frog belts songs old and new: "Come Back to Erin" (Claribel, 1830-1869), "Hello! My Baby" (Joseph E. Howard & Ida Emerson, 1899), "I'm Just Wild About Harry" (Eubie Blake & Noble Sissle, 1921), "Please Don't Talk About Me When I'm Gone" (Sam H. Stept & Sydney Clare, 1930), "Won't You Come Over To My House" (Egbert Van Alstyne & Harry Williams, 1906), "You Must Have Been a Beautiful Baby (Harry Warren & Johnny Mercer, 1938), and a new song, "The Michigan Rag" (Michael Maltese & Chuck Jones, 1955), for which he was named, as well as (you guessed it!) "Largo al Factorum."
Just the mention of these songs from these various cartoons has the melodies playing in my head. I was amazed at how many actually had titles and authors. It seemed the deeper I researched the more I found and the memories came flooding back. I actually wanted to re-view the cartoons and re-experience them with my new perspective (in some cases I had to). I hope you will too. Next, I hope to explore the "One-Hit Wonders of Warners."
Animation Orchestration
, Part 1
Those of us who grew up with Warner Brothers' cartoons will proudly admit that our store of musical knowledge increased with our enjoyment and we didn't even know it at the time. This prompted me to do some research and compile a spreadsheet of music used in various cartoons.
It became obvious that certain songs appeared in more than two features and this gave me the basis for a "top ten" of frequently used melodies.
10.
At three iterations is "Jeepers Creepers" by Harry Warren and Johnny Mercer (1938). It was the title of a Bob Clampett cartoon in 1939 with the hapless Porky Pig as a cop who has to investigate "strange sounds" coming from a haunted house. The loony ghost inside sings the song with his own appropriate lyrics before driving Porky crazy. Then in 1941, Friz Freleng had an alley cat sing it to Porky as a part of his nightly repertoire in Notes to You. Most famously, though, in 1957 it provides Daffy Duck with a fast-paced tap dance in Show Biz Bugs, also directed by Freleng. Unfortunately poor Daffy only hears crickets from the audience for his efforts.
9.
Also at three times is "On Moonlight Bay" by Percy Wenrich and Edward Madden (1912). Freleng's Porky's Duck Hunt used it first in 1937 as Porky and his dog unsuccessfully try to capture Daffy. Then in 1942, it arises again in Chuck Jones' My Favorite Duck again with Porky and Daffy. And in 1948, it is a part of Sylvester the Cat's repertoire in Back Alley Oproar, the remake of Notes to You, once again directed by Freleng. Porky is now kept awake by a different cat.
8.
Again at three appearances is the "Sextet" from the opera Lucia di Lammermoor by Donizetti (1835). Freleng used it first in 1941 as six of the nine lives of the alley cat in Notes to You sing it as a finale. Then it comes up twice in 1948, in Friz's remake, Back Alley Oproar, and in Jones' Long Haired Hare. In the latter, Bugs Bunny is a major distraction to a practicing opera singer. It is also one of two cartoons where we hear, "Of course you know, this means war!"
7.
"The Merry-Go-Round Broke Down," by Cliff Friend and Dave Franklin (1937), with two cartoons and a full-length film to its credit. In 1938, we hear it sung by Daffy Duck in Daffy Duck and Egghead. Egghead would later evolve into Elmer Fudd. Then Robert McKimson used it in 1950 for Boobs in the Woods, where Porky and Daffy are once again paired. And in 1988, Rob Hoskins sings it in Who Framed Roger Rabbit to foil the weasels into laughing themselves to death.
6.
"I'm Just Wild About Harry," by Eubie Blake and Noble Sissle (1921), which also had three cartoons. Three different directors chose this song. Freleng was first in 1943 with Yankee Doodle Daffy, where Daffy puts on an entire show to promote his nephew Sleepy Lagoon to a more than reluctant Porky Pig. Then in 1948, Daffy Duck comes home drunk to Porky with an invisible kangaroo named Hymie and sings it substituting Hymie's name in Robert McKimson's Daffy Duck Slept Here. Most recently, Michigan J. Frog sings it in 1955 in One Froggy Evening, directed by Jones.
5.
Franz Liszt's "Hungarian Rhapsody # 2" (1847) takes the number five slot, having been featured four times. The first is in 1941 in Rhapsody in Rivets, where Freleng has a construction crew playing the piece while building a skyscraper. Then, Friz does it again in 1946 with Rhapsody Rabbit. Bugs Bunny is a concert pianist trying to play it while being interrupted by a mouse in the piano. Friz gives the song to Sylvester in 1948's Back Alley Oproar and in 2012, we see Daffy Duck sing his own lyrics in 3D while Elmer tries to shoot him in his first one-duck show.
4.
Raymond Scott's "Powerhouse" (1937). The dual jazz melodies of this masterwork have become second nature to anyone familiar with the rat-race/assembly-line experience. It appears twice in 1943. Frank Tashlin uses it in Porky Pig's Feat while Porky and Daffy desperately try to escape a hotel without paying. Then Clampett featured it in Falling Hare while Bugs Bunny grapples with a Gremlin who is gradually destroying the plane he's flying. Next, Clampett used it for the assembly line aspect where the babies are physically riding on one in his 1946 Baby Bottleneck. Jones is last to play "Powerhouse" in Duck Dodgers in the 24 ½ Century (1953) as Daffy passes under a huge eye on his way to his director.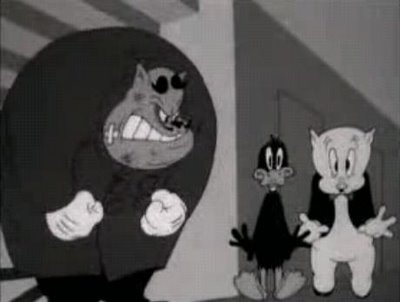 3.
With four playings, the third spot belongs to "You Must Have Been a Beautiful Baby" by Warren and Mercer (1938). Jones makes it a backdrop to his 1939 Daffy Duck and the Dinosaur while a Jack Benny-like cave man hunts Daffy with his goofy Brontosaur (Apatosaurus now) "dog." Then in 1940, Freleng has Elmer Fudd play John Alden delivering a singing telegram to an Edna Mae Oliver as Priscilla in The Hardship of Miles Standish. Then Robert McKimson gets on the bandwagon in 1952's Muscle Tussle where Daffy Duck must win back his girlfriend from a muscular Southern duck. One Froggy Evening has Michigan J. Frog sing the song in 1955 under the direction of Jones.
2.
"Largo al Factorum" by Rossini and Cesare Sterbini (1782), the familiar "Figaro" aria at five iterations. The same alley cat in Notes to You counts it as a part of his performance as does Sylvester in Back Alley Oproar (1948). Then again in 1948, Jones includes it in Long Haired Hare. It also appears in Jones' 1950 cartoon Rabbit of Seville, with new lyrics supplied by Bugs and Elmer Fudd, and then Michigan J. Frog sings it in One Froggy Evening, also for Jones.
1.
The undeniable number one is "Those Endearing Young Charms," a 19th century Irish folksong with words by Thomas Moore, again with five airings. Every time this piece is played, someone is blown up. In 1944, Clampett blows up Private Snafu in the U.S. Army's training cartoon, Booby Traps. Then when Yosemite Sam vows if elected to eliminate rabbits, Bugs Bunny runs against him in Ballot Box Bunny (1951), directed by Freleng. Sam gets blown up. Then Friz has Daffy Duck blown up in Show Biz Bugs (1957) at a xylophone he rigged for Bugs. McKimson was not to be outdone when Wile E. Coyote is blown up at a piano rigged for the Roadrunner in Rushing Roulette (1965). And lastly, in 1993 as a part of the Animaniacs TV show, Slappy Squirrel blows up Doug the Dog as she plays the xylophone intended for her in Slappy Goes Walnuts (1993). Jon McClenahan and Chris Brandt were co-directors of this cartoon.
Of course, this is still a work in progress and these 10 pieces of music are only ones I have counted so far. I probably missed some. But there is one song that beats them all because it was sung in every cartoon my favorite Warner Brothers character starred in. That character is none other than Foghorn Leghorn, and the song is Stephen Foster's "Camptown Races" (1850) – Do Dah, Do Dah
.
How Warner Brothers and Leon Schlesinger Changed Animation
By Steve Herte With Ed Garea
With the coming of sound in the late 1920s, the playing field for animation changed but little. In fact, one could say that the biggest change was the inclusion of a cartoon on a theater's nightly bill. In order to get people in, especially during the Great Depression, theaters led off with a newsreel, a cartoon, a short, the first feature, and then the second feature
During this time, cartoons consisted of animation and little else. There was practically nothing in the way of plot, as characters like Mickey Mouse and Bosko paraded around with a bevy of animated tricks. Max Fleischer, head of Fleischer Studios and a subcontractor to Paramount for cartoons, came upon his first big star –Betty Boop – and give audiences a simplistic plot to go along with her. In Minnie the Moocher (1931), Betty ran away from home rather than follow her parents' order to eat. In Stopping the Show (1932), she performed a vaudeville act consisting of impressions of popular singers of the day. In Betty Boop, M.D. (1932) she ran a traveling medicine show, selling a tonic that caused her customers to mutate. With the addition of Popeye the Sailor to the Fleischer Studio, more simple plots were added, all around the same theme: Popeye and Bluto are fighting over Olive Oyl. With Betty Boop, the plots weren't nearly as important as her look. She was a Pre-Code baby, a symbol of the carefree days of Jazz Age flappers, and unique among female cartoon characters because she was a fully realized sexual woman. When the crackdown of the Code came in 1934, Betty was greatly toned down and gradually lost her audience.
RKO bought its cartoon from Van Beuren Studios, most famous for the Mutt and Jeff duo, Tom and Jerry (before the famous cat and mouse). Van Beuren cartoon featured minimal plot, lots of music and antics. The studio folded in 1936 and RKO entered into a distribution deal with Disney.
In 1932, Disney blazed the way with Flowers and Trees, the first Technicolor cartoon. But there was little in the way of a plot. The studio also produced a cartoon adaptation of The Three Little Pigs (1933), a straightforward re-telling of the fairy tale, albeit one that contained, for the first time, actual characterization (through posture and movement). It also contained an original song written especially for it: "Who's Afraid of the Big Bad Wolf," by Frank Churchill. Yet, in the next few years, cartoons evolved little.
Meanwhile, Warner Brothers subcontracted their cartoon to producer Leon Schlesinger. Schlesinger hired ex-Disney animators Hugh Harman and Rudolph Ising, and they brought their new character, Bosko the Talk-Ink Kid with them. Although the Bosko cartoons are plotless, he was nevertheless a popular figure with Warners audiences. Bosko would go on to star in 19 cartoons for Warner Brothers, until a budget dispute with Schlesinger caused Harman and Ising to take Bosko and move over to MGM.
Left in the lurch, Schlesinger lured several animators from other studios and pushed his staff to create a new starring character. Tom Palmer, a refugee from Disney, came up with Buddy, a character Bob Clampett later described as "Bosko in whiteface." (See Leonard Maltin, Of Mice and Magic.) Because the Warners brass rejected the first two Buddy test cartoons, Palmer was fired and replaced with Isadore "Friz" Freling. Freling gave Buddy a flapper girlfriend, Cookie, and a dog, Towser. Buddy went on to star in 27 cartoons over two years. Because his reception by audiences had always been lukewarm, it was decided to retire him in favor of another star: Beans the Cat, created by Freling.
Beans was said to be modeled

after the Van Beuren character Waffles. Both are black cats dressed in overalls. Beans made his debut in Freling's I Haven't Got a Hat (1935), along with other characters Schlesinger hoped would catch on: brothers Ham and Ex, Oliver Owl, Little Kitty, and Porky Pig. The cartoon is modeled after the Hal Roach Our Gang comedies in that it takes place in a schoolroom and everyone is acting up. Though Beans was to be the focus, all audiences could talk about on their feedback cards was Porky, a character developed by Clampett, who has a short scene where he stuttered his way through "Paul Revere's Ride." The studio decided to focus on Porky as its main star. As for Beans, he would appear in 11 cartoons, most directed by Jack King.
Discovering Porky Pig was only the start of Schlesinger's renaissance. The important new hires were to make their mark, and with the promotion of another staff animator, would take Warner Brothers cartoons into the pop cultural stratosphere, leaving the competition behind.
Frederick Bean "Tex" Avery joined the studio in 1935, coming from Walter Lantz's studio where he worked on the Oswald the Lucky Rabbit cartoons. He convinced Schlesinger to let him head his own production team and create cartoons the way he thought they should be made. Schlesinger, desperate to keep his contract with Warner Brothers, gave Avery what he wanted. Avery took studio animators Bob Clampett and Chuck Jones and set up shop at a five-room bungalow at the Warner Brothers Sunset Boulevard backlot, which they dubbed "Termite Terrace" because of the plethora of termites there.
Avery's unit was assigned to work on the black and white Looney Tunes instead of the Technicolor Merrie Melodies. The unit's first short was Gold Diggers of '49, a parody of Warner's "Gold Diggers" series of musicals. It was credited as the cartoon that made Porky Pig a star. Avery's continuing experimentation with his cartoons laid the foundation for a new style of animation that dethroned Disney as the king of short animated films and created a legion of cartoon stars whose names are still well-known today. Avery, a perfectionist, spent long hours with each cartoon, crafting gags, providing voices (including his well-known belly laugh when needed) and editing each cartoon so that scenes were added or deleted from the final negative if he felt the gag and its timing weren't right.

Looking for new characters, Avery and Clampett created Daffy Duck, originally as a foil for Porky Pig, in the 1937 short, Porky's Duck Hunt. Daffy was possessed of a lunacy for lunacy's sake, a style that had not been seen before in cartoons. He was almost completely out of control as he bounced around the film's frame in double speed, screaming "Hoo-hoo, hoo-hoo!" in a sped up high pitched voice supplied by new hire Mel Blanc, who also took over the voice of Porky Pig.
Also in 1937, Avery created a human character he named Egghead. He was initially drawn with a bulbous nose, eccentric clothing, and egg-shaped head. He spoke like popular radio comedian Joe Penner and was voiced by mimic Danny Webb. He was introduced in the 1937 Merrie Melodies short Egghead Rides Again. Eventually Egghead crossed paths with Daffy Duck in the 1938 short Daffy Duck and Egghead, famous for introducing the song "The Merry Go Round Broke Down," sung by Daffy. By this time Blanc took over voicing the character. Egghead's career lasted for 13 shorts, until Jones, promoted to director, took the character and modified him into who we now know as Elmer Fudd. Elmer debuted in Jones's 1940 short, Elmer's Candid Camera, where he was driven crazy by a rabbit that Tex Avery modified and fashioned into Warner's most enduring cartoon star.
The success of Daffy Duck begat imitators, one of which was a crazy rabbit created by Ben "Bugs" Hardaway and Cal Dalton in the 1938 cartoon Porky's Hare Hunt. It is almost a frame-by-frame copy of Porky's Duck Hunt, only his tormentor this time is a crazy rabbit. The short also gives the rabbit his famous Groucho Marx line "Of course you know, this means war!" The rabbit caught on with audiences and more cartoons were planned.
The rabbit returns in Jones's 1939 short Presto–O, Change–O, as the pet of an unseen magician that torments two wayward dogs who enter his master's house. He then appears in another Dalton and Hardaway cartoon, Hare-Um, Scare-Um, where he torments a hunter. Charlie Thorson, lead animator on the film, gave the rabbit the name "Bug's Bunny," after Hardaway, his creator. This was later changed to "Bugs" Bunny. In Jones's Elmer's Candid Camera (1940), the rabbit looks like the present day Bugs, taller and with a similar face, but sporting a primitive voice.
It was now up to Avery to see what he could do with the rabbit. Because the recycling of storylines was commonplace in the studio, Avery took his material from Porky's Duck Hunt and Porky's Hare Hunt. He also incorporated the gags from Elmer's Candid Camera and slightly altered the design of Elmer Fudd. The finished cartoon was A Wild Hare. Besides polishing the timing, Avery provided the rabbit with a new character, one of a New York-esque cool character in control of every situation and with even more of a Groucho smart aleck attitude. Blanc, advised of the refining of the character, searched for a new voice, finally coming up with a combination Brooklyn-Bronx accent. It proved so successful that it became the permanent voice for Bugs. Avery also provided Bugs with his famous catchphrase, "What's up, Doc?" explaining that back in his native Texas, everybody was addressed slangily as "Doc." And so Bugs was born.
Avery directed only four Bugs Bunny cartoons: A Wild Hare (1940), Tortoise Beats Hare, All This and Rabbit Stew, and The Heckling Hare (all 1941). He also directed a number of travelogue parodies, Hollywood caricature shorts (Hollywood Steps Out, 1941), and a number of fairy tale parodies and one-shot character shorts often featuring Bugs Bunny clones (The Crack-Pot Quail, 1941).
Carl W. Stalling arrived at the Schlesinger studio in 1936. While in his early 20s he conducted an orchestra that accompanied silent films at the Isis Movie house in Kansas City. While there he befriended a young Walt Disney and began composing musical scores for several of Disney's early cartoons. Eventually he went with Disney to California and scored the Silly Symphonies series. When animator Ub Iwerks left Disney, Stalling went with him and scored Iwerks's cartoons. In 1936, he left to sign with Schlesinger, which gave him access to the vast Warner Brothers music library.
Although his composing technique was rooted in the musical conventions of the Silent Era, Stalling was also an innovator. Until his arrival at Warner Brothers, music was used strictly as background in cartoons. Working with Avery, Clampett, Frank Tashlin, Freleng, and Jones, Stalling was encouraged to broaden his horizons, so to speak. He became adept at what is known as the "musical pun," using references to popular songs or classical pieces to add to the humor on screen. He also, in coordination with the above directors, developed the style of very rapid and tightly coordinated musical cues. These would be punctuated with either instrumental or recorded sound effects, contributed by the equally brilliant soundman Treg Brown. And occasionally, Stalling would develop a full-blown musical piece for such cartoons as A Corny Concerto or
What's Opera, Doc?
Stalling used all kinds of music for his compositions: folk, classical, jazz, even nursery rhymes. When Warner Brothers licensed the music of jazz genius Raymond Scott in the early '40s, Stalling was given a gold mine of music and wasted no time putting it to use. His rendition of Scott's "Powerhouse" is so familiar that anyone who hears it will associate it with Warner Brothers cartoons.
Stalling knocked the lid completely off American animation and it would stay off for quite a while.
Tashlin came originally to Schlesinger in 1933 as an animator after a short but acrimonious stay at Amadee J. Van Beuren's studio. He made an impression as a fast but accurate animator. In his free time he drew a comic strip that ran in the Los Angeles Times from 1934 to 1936 called Van Boring and was based on his former boss Van Beuren. Signing the strip "Tish Tash," it became obvious that he was drawing the strip on Schlesinger's time. Schlesinger asked for a cut from the money he received and Tashlin basically told him to go to hell and quit.
When he returned to Schlesinger in 1936 as a director, he did so with a view to incorporating film technique into animation. He was assigned the task of making Porky Pig into the studio's major star. He did so by making Porky into an innocent chump, which perhaps reveals his dislike of the character. His first cartoon as director, Porky's Poultry Plant (1936) contains high and low angled shots, rapid editing, and montages of bugles being blown and rifles raised. In Porky's Romance (1937), Porky, armed with a ring, flowers and candy, rings Petunia's doorbell with an eye to a marriage proposal. When she rudely turns him down, he walks away dejectedly. Petunia is alerted by her pet dog that something is going on and looks out the window as the dejected Porky walks away. She spots the candy, done with a fast iris close-up of the box and rushes out at breakneck speed to retrieve her would-be beau and, more importantly, his candy. Tashlin uses a goodly number of frames to achieve a scene that takes about five seconds.
The peripatetic Tashlin left in 1938 and returned once more in 1943, making several Bugs Bunny features and three Private Snafu films.
While all Schlesinger's animators used clean lines, bold colors, topical references, and caricatures, Tashlin's cartoons, especially his black and white Looney Tunes, were some of the most elegant on the lot, beautifully drawn and shaded. Tashlin's animation career often gets lost when reviewing his career as a director, but he remains an important cog in the Warner's revolution.
Last, but certainly not least, is Robert Emerson "Bob" Clampett. Clampett began with the studio in 1931 and was promoted to director in 1937. Serving under Avery for two years had a great influence on him and, along with Tashlin, Clampett re-designed Porky Pig and gave him the character that would last throughout later years. He also took over Avery's Daffy Duck and made him the star of many a cartoon, including The Daffy Doc (1938), The Wise Quacking Duck (1943), Draftee Daffy (1944), and his classic The Great Piggy Bank Robbery (1946). Clampett also created
Tweety for his 1942
A Tale of Two Kitties
, although it was left to Freling to pair him with Sylvester. Other memorable cartoons helmed by Clampett include
Porky in Wackyland
(1938),
Horton Hatches the Egg
(1942),
Coal Black and De Sebben Dwarves
(1943), and
Book Revue
(1946). Film historian Jerry Beck had said that Clampett put the "looney" in Looney Tunes.
Nothing lasts forever. While Tashlin was in and out with the studio, Avery left for good in 1942 after an artistic dispute with Schlesinger. He landed at MGM, where he created some of the most memorable cartoons ever made. Tashlin returned in 1943 and left in 1944 to pursue a career in film proper. Carl Stalling remained with the studio until his retirement in 1958, and Clampett left, against the advice of almost everyone, at his creative height in 1946 to pursue television.
But not a beat was missed as Jones, Freling, and Robert McKimson stepped in to keep the product rolling and of quality. But that is a subject for another article.
STEVE'S 7 FAVORITE WARNER CARTOONS
:
Porky's Party
(1938): Bob Clampett invites us to Porky's house party which becomes hilarious when he receives a gift of a silkworm that knits embarrassing clothing on the command "Sew!" (or "So?" – it doesn't matter.)
Porky in Wackyland
(1938): Bob Clampett takes us through Dark, Darker, and Darkest Africa with Porky in search of the last of the Dodo birds and we witness his looney discoveries.
Corny Concerto
(1943): Bob Clampett dresses Elmer Fudd in an out-of-control tuxedo and has him conducting an orchestra which backs the most memorable version of "Tales from the Vienna Woods" and "The Blue Danube" I've ever seen.
Racketeer Rabbit
(1946): Friz Freleng stages a stormy night for Bugs to find a dry place to sleep, but he soon finds out it's the hideaway for gangsters Edward G. Robinson and Peter Lorre.
Easter Yeggs
(1947): Robert McKimson depicts Bugs as being tricked by a fat, lazy Easter Bunny to do his job and he finds out it's not all fun and games when he meets a mobster family.
Broomstick Bunny
(1956): Chuck Jones introduces us to Witch Hazel who thinks she's the "Ugliest of Them All" (or so her magic mirror says) until Bugs arrives in a witch costume for Trick or Treat.
Ali Baba Bunny
(1957): Chuck Jones directs Bugs Bunny and Daffy Duck into a "wrong turn at Albuquerque" that leads them into Ali Baba's treasure cave.
ED'S 7 FAVORITE WARNER CARTOONS
:
Duck Amuck
(1953): Chuck Jones breaks down the fourth wall completely in this short about Daffy and his problems with his animator.
Duck Dodgers in the 24th and a Half
Century
(1953): Daffy and Porky battle it out with Marvin the Martian in this hysterical short directed by Jones.
The Great Piggy Bank Robbery
(1946): Bob Clampett at the height of his powers, as Daffy stars in a clever parody of Dick Tracy.
One Froggy Evening
(1955): A Chuck Jones masterpiece as a construction worker finds what he thinks will bring a fortune, but brings nothing but trouble.
Book Revue
(1946): Bob Clampett directed this best of the "books come to life" cartoons.
Hair-Raising Hare
(1946): Bugs meets mad scientist Peter Lorre and his orange monster in this wonderful Chuck Jones cartoon.
Buccaneer Bunny
(1948); Friz Freling has a field day as Bugs outwits pirate Yosemite Sam.
Animated Movie Reviews
The SpongeBob Movie: Sponge Out of Water
By Steve Herte
Strange Magic
By Steve Herte
Penguins of Madagascar
By Steve Herte
Big Hero 6
By Steve Herte
The Book of Life
By Steve Herte
The Boxtrolls
By Steve Herte
Planes 2: Fire and Rescue
By Steve Herte
How to Train Your Dragon 2
By Steve Herte
Legends of Oz - Dorothy's Return
By Steve Herte
Mr. Peabody & Sherman
By Steve Herte
The Lego Movie
By Steve Herte

The Nut Job
By Steve Herte
Frozen
By Steve Herte
Rating: 5 out of 5 Martini glasses.
Free Birds
By Steve Herte
Turbo
Turbo
(DreamWorks/20th Century Fox, 2013) – Director: David Soren. Voices: Ryan Reynolds, Paul Giamatti, Samuel L. Jackson, Michael Pe
ña, Luis Guzmán, Bill Hader, Snoop Dogg, Maya Rudolph, Ken Jeong, Michelle Rodriguez, Kurtwood Smith, Ben Schwartz, & Mike Bell. Color and 3-D, 96 minutes.
It made me laugh, it brought tears to my eyes, and it made me forget it was an animated film.
As this beautifully-created animated movie from 20th Century Fox and Dreamworks begins, the audience is soaring high over Indianapolis until the famous racing stadium appears below. Then we swoop on down to track level and rocket around the course with the cars. It was some of the best camera work I've seen in a while and told me in no uncertain terms that this is no cartoon: They want us to believe this.
Under Soren's direction, Turbo is a tale of a snail tired of living his life at a literal "snail's pace." He dreams of being fast, idolizes racecar driver Guy Gagné (Hader), and is totally unmotivated by his daily "job" at "the plant" (literally a small patch of tomato plants in cages). Theo, soon to be Turbo (Reynolds), has the undignified job of re-routing rotting tomatoes when he hears the cry "Over-ripe!" More often than not, however, he's splattered with tomato juice. His brother Chet (Giamatti) looks out for him and tries desperately to curb his ambitions, even to the point of saving him from a lawnmower when Turbo attempts to retrieve an errant tomato on the lawn.
When Turbo's reckless antics get both he and his brother fired from "the plant" he leaves home and while crossing a highway bridge, falls, and eventually gets sucked into the engine of a high-powered car. The last sign he sees is "Nitrous Oxide" (laughing gas to us), which somehow gets into his blood flow and makes his heart pump faster, resulting in super speed, headlight eyes and other strange side effects. By the time Chet catches up to him they are both captured by Tito (Peña), who races snails between working with his brother Angelo (Guzmán) selling tacos at Dos Bros Taco Stand in a down-and-going strip mall. Tito also has a dream (in fact he's had several wild ideas in the past) to drum up business and become famous. He places Turbo and Chet on a small racetrack with his other snails Smoove Move (Snoop Dogg), Burn (Rudolph), Skidmark (Schwartz), Whiplash (Jackson) and White Shadow (Bell), and soon learns that this little snail is lightning fast.
Although Turbo and his snail compatriots cannot speak to humans they seem to understand what humans are saying to them, and by a flashy circling of a billboard advertising the Indianapolis 500, Turbo gives Tito the idea to enter him. Angelo won't hear of it and will not put up the entry fee. Neither will Kim Ly (Jeong), the owner of a small grocery in the same mall, nor Paz (Michelle Rodriguez), a nail salon owner, until the other snails manage to hijack a tour bus in the parking lot at the mall. The tourists spend money, the bus driver gets his flats fixed, and all witness a supercharged snail race that amazes them. The storeowners then pool their money and the entry fee is raised.
The next hurdle is to obtain permission for a snail to race against fuel-injected racecars. The Indy 500 chief executive officer (Smith) denies entry even after Turbo demonstrates that he can do the minimum 220 mph. It's only when Gagné speaks for Turbo that he's allowed to race. Turbo soon finds out that Guy is not the great sportsman he believed he was and his noble words on camera are just window dressing for an egotistic sore loser.
Turbo
is a great example of how far animation has come since the days of Steamboat Willie. The characters are fully three-dimensional, they move smoothly, and their voices are perfectly matched to their motions. Even though the snails have two eye stalks and a mouth, we can still see the full range of emotions depicted by their attitudes. The 3-D special effects enhance the story without cheaply throwing things at the audience, and the musical soundtrack flows with the action, never getting in the way or dominating. The story is novel and the script is clever and funny. Chet to Theo, "Why can't you just enjoy your life?" Theo, "I have a life?" White Shadow to Turbo, "They call me the White Shadow because I'm fast…like a shadow." Turbo, "You know, shadows are not inherently fast."
I thoroughly enjoyed Turbo and I believe it helped me negotiate pedestrian traffic effectively enough to get me from 42nd Street and 8thAvenue to 48th Street and 3rd Avenue in less than 20 minutes.

Rating: 4½ out of 5 Martini glasses.
Smurfs 2
(Columbia, 2013) – Director: Raja Gosnell. Cast and Voices: Hank Azaria, Neil Patrick Harris, Brendan Gleeson, Jayma Mays, Jacob Tremblay, Mr. Krinkle, Katy Perry, Christina Ricci, Jonathan Winters, J.B. Smoove, George Lopez, Anton Yelchin, John Oliver, Frank Welker, Tom Kane, Fred Armisen, Gary Basaraba, Jeff Foxworthy, Alan Cumming, Paul Reubens, Shaquille O'Neal, & Jimmy Kimmel. Color, 105 minutes.
Gargamel (Azaria) is now a big performance star in the Paris Opera House doing a magic act using real Smurf essence as magic and amazing audiences. But this doesn't mean he's no longer after the Smurfs. He realizes that he needs Smurf essence to continue his act and ultimately take over the world, so he hatches a plot to kidnap Smurfette (whom he previously created to infiltrate the Smurfs, but who was made a good Smurf by Papa Smurf) and force her to reveal the secret recipe for the essence. He opens a portal between Paris and Smurf village too small for himself but not too small for Vexy (Ricci) and Hackus (Smoove), two other of his creations. But they're not blue – hence naughty – and depend on him for drops of essence.
Smurfette (Perry) is successfully kidnapped when she leaves the safety of the Smurf village believing that everyone forgot her birthday. Papa Smurf (Winters) has a limited supply of magic crystals to form a rescue posse and wants to choose Brainy (Armisen), Gutsy (Cumming), and Hefty (Basaraba), but due to a ruckus winds up with Clumsy (Yelchin), Grouchy (Lopez), and Vanity (Oliver). They go to New York where their friend Patrick (Harris) lives, for they know that he is the only person who can tell them the whereabouts of Gargamel, and therefore rescue Smurfette.
Patrick, his wife Grace (Mays) and their son Blue (Tremblay) are living their life constantly catering to their circle of boring friends, even to the point of making a low-cholesterol, environmentally-friendly, organic, peanut-free birthday cake for their son's party. Victor (Gleeson), Patrick's stepfather, appears uninvited with a wagonload of gifts and a basketful of corndogs for all the guests. "Are there any peanuts in those corndogs?" "No, of course not." And after all the children take bites, "They're deep-fried in peanut oil." Needless to say many children have allergic reactions and the party is over.
The Smurfs arrive, explain their plight, and an unwilling Patrick is "voted" into helping them. They go to Paris, where Gargamel turns Victor into a mallard; Smurfette learns the fun of being naughty from Vexy and Hackus; and the rescue team overcomes several obstacles in accomplishing their goal before Gargamel accomplishes his.
This sequel proves the rule that sequels in general are not as good as the original movie. Azaria is still fantastic as Gargamel. Harris reveals that he actually can play a straight, non-annoying role (even though he's a bit wishy-washy at it), the computer graphic department does an amazing job with the interaction of the Smurfs and live people (and Azrael's constant antics and laughs), but the dialogue is dull and the jokes more often than not are corny to uninspired. The best part of the movie is when Smurfette uses her new wand (a birthday gift from Gargamel) to speed up the giant Ferris wheel in Paris to the point of its coming off its axle and rolling through the streets. I've already seen a similar scene in the trailers for Sharknado so it wasn't that novel for me.
It's a good film for families and there was one in front of me in the theater. But I never heard the children laugh at the funny parts. Maybe they didn't understand them, but they didn't even laugh at the obvious humor, i.e., when Gargamel reveals a flight-suit to glide from the top of the Eiffel Tower to the portal below and instead goes ricocheting down the side of the tower only to find that the portal is only big enough for his head. I laughed a few times but not as often as I would have liked. Even the heart-wrenching scenes were not enough to evoke tears. Then there was the Hackus, who really became annoying after a while. Oh well, it's a sequel.
Rating: 3½ out of 5 Martini glasses.
Despicable Me 2
Despicable Me 2
(Universal, 2013) – Directors: Pierre Coffin & Chris Renaud. Voices: Steve Carell, Kristen Wiig, Benjamin Bratt, Russell Brand, Elsie Fisher, Steve Coogan, Miranda Cosgrove, Dana Gaier, Nasim Pedrad, Ken Jeong, & Moises Arias. Color, 98 minutes.
"Good-night Agnes, never grow up," says Gru (Carell) to Agnes (Fisher), the youngest of three girls he adopted from Despicable Me, as he puts her to bed. In this sequel we find Gru playing the part of a loving single father, no longer a super-villain, worrying about his oldest, Margo (Cosgrove), and her interests in boys, and using his huge underground complex to create a line of jellies rather than weapons of mass destruction. The middle child, Edith (Gaier) is the tomboy/ninja who grosses out when "mushy stuff" happens. All three girls are now plotting to get Gru a girlfriend (and hopefully a mother for them) as is the meddling next-door neighbor Jillian (Pedrad).
His army of minions are assisting Doctor Nefario (Brand) make millions of jars of jelly that taste disgusting to all. Doctor Nefario quits because he longs for the times when they were a team of super villains (and he claims he has a better offer).
Meanwhile, someone steals an entire Russian base at the Arctic Circle with a giant flying magnet and the AVL (Anti Villain League) decide that the only way to find the perpetrator is to enlist Gru as an undercover agent. They send their operative Lucy (Wiig) to bring him in, which she does successfully along with two of his minions, Bob and Stuart (both voiced by Coffin). But Gru will have no part of Silas Ramsbottom (Coogan) – the minions have a field day over his name – because he has accepted his new role in life. He calls Silas "Sheep's Butt" and storms out. But when his minions start disappearing by the dozens he agrees to the job.
His cover is as the owner/operator of "Bake My Day," a mall bakery in the same mall as the suspected villain, who by the way has invented a serum (purple, of course) that can change a sweet cuddly white rabbit into a voracious purple killer (sounds like Monty Python, right?) – there were killer rabbits in The Lone Ranger as well. Unknown to Gru, Lucy is assigned to be his partner (because she was the newest employee, and nobody else wanted the job) and the two learn to work together. Suddenly the extremely rotund Eduardo (Bratt), owner of the Mexican restaurant Salsa Y Salsa, bursts into the bakery to order dozens of cupcakes with the Mexican flag on them for his Cinco de Mayo party. Gru has a flashback: He remembers a super villain called "El Macho" who looked (much better then) and spoke like Eduardo. But he supposedly died after strapping himself to a shark that was then strapped to a rocket that flew into the mouth of an active volcano. They never found the body. He convinces Lucy to break into Eduardo's shop after closing, and they are attacked by his watch-chicken.
The AVL however are convinced that the true villain is Floyd (Jeong), the Asian version of Truman Capote and owner of a wig shop in the mall. Traces of the serum are found behind a wall in his shop. Case closed, it would seem, but Gru's not convinced. Especially when Margot develops a crush on Antonio (Arias), who happens to be Eduardo's son and thus gets Gru and his girls an invitation to the Cinco de Mayo party. Eduardo acts suspiciously at the party and Gru follows him down to a secret underground hideout. (The code to his elevator is a musical dance floor and the tune is "La Cucaracha.") Gru's suspicions are confirmed when he meets Doctor Nefario in the sub-basement and discovers "The Plan" – to turn all of Gru's minions into vicious purple monsters and unleash them on the world and take it over.
Several friends of mine have recommended "comedies" which left me cold and shocked (Hot Tub Time Machine comes springing to mind), but this movie had me burst out in laughter many times. Not since the remake of The Three Stooges have I laughed so much. Even though the minions speak no English, they're extremely funny and the dialogue between Gru and any of the other characters is clever as well as funny. The story and the animation were so good I believed in all of them, even if they were improbable in real life. Thank you, Ken Daurio and Cinco Paul for the excellent screenplay, and Universal Studios for a wonderful animated film.
At one hour and 38 minutes it neither gets tedious nor leaves any salient detail out. It just leaves the audience wanting more – although (Spoiler Alert) with the marriage of Gru and Lucy at the end I can't see where another sequel will be created. I'm also slightly in awe that this is the second film in a row that was good clean fun and a delight for the whole family (the other was The Lone Ranger). I may even see it in 3D, now that I know where all the effects would be. Oh, and make sure to stay for the credits. The fun continues when the movie ends.
Rating: 4 ½ out of 5 Martini glasses.
The Blue Umbrella
(Pixar, 2013) – Director: Saschka Unseld. Color, 7 minutes.
This adorable short from Pixar is a mix of animation and imagination. The scene is a city street as it starts to rain. Normally inanimate things such as a downspout, a traffic signal, the window of a café, and a manhole cover develop facial features (but within the limits of what they really are) and begin to smile. A sea of black umbrellas open up as the rain becomes heavier but the one blue umbrella is the only one with a face and he's happy to be open in the rain. As the crowd passes, a red umbrella catches his eye and she sees him. They both act coy as love blossoms between them.
But then her handler goes one way and his handler tries to enter the subway. Fortunately, the wind from the oncoming trains blows him high into the air and he soars over the crowd. Eventually, he sees her. He gets tossed back and forth by the wind and the other formerly inanimate objects repeatedly save him from destruction until he's lying upside down by the curb. We see the boots belonging to his handler and a gloved woman's hand holding the red umbrella. The camera pans back and the couple, with their umbrellas, sit at the window of the café and all is happy. It's a very clever story: there's no dialogue, and only a simple tune ties this little adventure/love story together. Directed by Unseld, this petit gem deserves some recognition, maybe an award at Cannes?
Monsters University
(Pixar/Disney, 2013) – Director: Dan Scanlon. Voices: Billy Crystal, John Goodman, Steve Buscemi, Alfred Molina, Helen Mirren, Peter Sohn, Joel Murray, Sean Hayes, Dave Foley, Charlie Day, Julia Sweeney, Nathan Fillion, John Ratzenberger, & Noah Johnston. Color & 3-D, 104 minutes.
The Disney Corporation is very fortunate to own Pixar because their animation far exceeds that of Disney proper. The prequel to Monsters Inc. is every bit as entertaining and fun to watch as its predecessor. Scanlon's direction and his story and screenplay (in conjunction with Daniel Gerson and Robert L. Baird) give us a beautiful back-story that flawlessly flows into the hiring of Sully and Mike at Monsters Inc.
The story starts with Mike as a little monster (Johnston), on a field trip with his class to Monsters Inc. Because he's smaller than everyone else in the class, his classmates ignore him. However, his ambition to be a "Scarer" towers over his physical proportions. A group of professional Scarers pass the children and one recommends Monsters University to him. In an effort to see them in action, Mike steps over the line into the "danger" zone and follows the same Scarer into one of the doors to the "real" world. Everyone is horrified except the Scarer, who is impressed that he "didn't know Mike was in the room with him," and hands him a Monsters University cap. Mike is hooked.
Then the timeline switches to older Mike (Crystal) getting off the bus to attend Monsters University. In the dormitory he's paired up with Randy (Buscemi) a slithery lizard-like creature who can disappear at will. They go to their first Scarer class taught by Professor Knight (Molina), and just as Mike is answering a question Sully (Goodman) appears with a roar – right on cue – and takes a seat. Professor Knight is impressed by both Sully's entrance and his heritage (he's a Sullivan), and Mike is ignored again. Dean Hardscrabble (Mirren) makes a dramatic and frightening entrance and Professor Knight yields to her commentary. She's extremely unctuous in speech for a dragon-winged centipede but she makes her point. Those who are not scary do not belong in this class. Mike and Sully are by now competitors and in the process destroy a canister containing her famous scream. She boots both of them out of the class.
To prove themselves worthy of re-entering the class Mike decides to enter the Scare Games. In order to qualify he has to be a part of a fraternity but none of the cool fraternities want him. He's relegated to Oozma Kappa (we're OK!) where he meets Squishy (Sohn) a multiple-eyed pale, plump (not scary) kid, Don (Murray) a Dutch Uncle type with a bat-wing mustache and octopus arms (also not scary), Terri (Hayes) and Terry (Foley) a two-headed creature with four arms and tentacle feet (too silly to be scary), Art (Day) a purple furred monster consisting of two big legs and a face in between and two tiny arms dangling down (maybe scary) and the house-mother, Ms. Squibbles (Sweeney), who is also Squishy's Mom. None of these frat brothers could possibly win the competition if they tried. But Mike is determined and they need six contestants to compete (and a two-headed monster only counts as one) so Sully becomes the sixth in their group, much to Mike's protests.
The competition is in six stages with one team being eliminated in each. Oozma Kappa makes it to the final stage under Mike's coaching and with a little luck. They only have to beat Roar Omega Roar (the really cool guys – by the way, they accepted Randy right away when they saw him disappear) and two by two they compete in the final round, with the score tied before the last heat. Now Mike has to break a record scream to win against Johnny Worthington (Fillion) – a huge, purple, horned creature. No one is more amazed than Mike when he wins.
But there's a fly in the ointment. Sully recalibrated the final test so Mike would win and thereby cheated. In his outrage Mike sneaks into the room of doors to the real world and enters one but gets trapped when he fails to scare any of the bunkhouse full of children. Sully barrels in to save him and between the two of them they manage to totally frighten a group of adults, thus exploding the door and lighting up all the scare canisters in the room of doors, and escape.
This surprises Dean Hardscrabble and she tells them so but nevertheless they both are expelled – Sully for cheating, Mike for not being scary. They're buddies now and both apply for job in the mailroom of Monsters Inc. where their first boss is a Yeti (Ratzenberger) and they work their way up the corporate scale.
Monsters University
goes beyond great animation. The writing is clever, the background scenery is amazing, the 3D effects are only used to enhance the action on screen (not just to throw things at the audience), and it's just plain good clean fun. In writing this article I noticed that even Frank Oz had a part, the character Fungus, a fair-weather friend to Mike who deserts him in the beginning of the film. The time flew by without my getting saddle sore. It fully deserves my four and a half rating and I love Dean Hardscrabble (my kind of character).
Rating: 4.5 out of 5 Martini glasses.