By Ed Garea
Sometimes I wonder – if not for the arrival of sound – whether Myrna Loy would have been as a big a star as she became. And then there are times when I wonder that if not for MGM, whether Myrna Loy could have vaulted out of the supporting cast to stardom.
The story of Loy's early years in Hollywood has become one of the essential stories in Hollywood mythology. Born Myrna Adele Williams in Radersburg, Montana, on August 2, 1905, she was raised on a ranch outside Helena by an adoring mother and father who encouraged her in the arts. Her father, besides being a rancher, was also the youngest person elected to the Montana State Legislature. When he died in 1918 during the influenza pandemic, her mother moved the family to Culver City, California. Myrna was enrolled at the Westlake School for Girls, but when the administration dampened her theatrical aspirations, she left the school and enrolled at Venice High School, where she took part in various stage productions. (The school would later name its awards for Speech and Drama excellence, the 'Myrnas.')
At the age of 18, she landed a job as a dancer at Sid Grauman's Egyptian Movie House. Spotted in a publicity photo of theater by Rudolph Valentino and his wife, Natacha Rambova, Myrna was invited to test for the part of the leading lady in their new production, Cobra. Though she didn't get the part, she landed a small part as a vamp in Natacha Rambova's movie, What Price Beauty?
In her early career, Loy toiled as The Vamp. From what I've seen of her early silents, she was Theda Bara with bared fangs: focused and dangerous to the men who crossed her path. She accepted a number of small roles, some uncredited, for various studios. The highlight of this period was a small and uncredited role as a Roman slave girl in Ben Hur.
In 1925, she changed her last name to Loy and signed on with Warner Brothers. The studio continued to place her in small parts, but a pivotal role came with her casting in Across the Pacific (1926), playing a half-caste woman. Later she began to become typecast as "the exotic," playing Chinese, Asian Indians, American Indians, Mexicans, Eurasians, What Have You. Without a doubt, her most embarrassing role was in blackface as the dusky Parisian Fifi in Ham and Eggs at the Front (1927). The leads, Ham (Tom Conklin) and Eggs (Heinie Conklin), were also in blackface and are AWOL in Paris, where they meet up with Fifi. They later discover she's a spy and they follow her back to Germany and capture a general. It's the usual stereotyped hijinks and Loy later said that she would never again appear in blackface even if it meant suspension. Though I applaud her sincerity, I still wonder why she had no aversion to playing as a Chinese or mulatto (in dark makeup), as those roles are equally demeaning.
When Loy was allowed to step out of the typecast, she found her main purpose in the supporting cast, usually as a scheming vamp/bitch/trollop out to ensnare the leading man/discredit the leading lady/both. She did have a few starring roles, but in Poverty Row productions of which the best that could be said was that she acquitted herself well in the role.
Fortunately, the arrival of sound provided her with an opportunity to move into starring roles, for with so many silent stars failing voice tests, the competition was less. Myrna's voice came across quite clear, with a natural tone. This, combined with her beauty, positioned her for bigger and better roles.
She left Warner Brothers and freelanced for Fox, RKO, and Poverty Row studios. She had an abbreviated part in Goldwyn's production of Arrowsmith (1931), playing a New York socialite. She made her way over to MGM, where her first role was a supporting one in Emma, starring Marie Dressler in one of her best performances. The release of a film made before she signed on with MGM, Vanity Fair, where she played the lead as Becky Sharp, nearly ruined her career. The word 'inept' is not strong enough to describe this mess made by Allied Pictures Corporation, a studio best known for its Westerns and which folded shortly after Vanity Fair bombed at the box office.
The immediate result was that Myrna continued in the roles to which she had become accustomed. Her best known efforts from this time were Thirteen Women (made on loan to RKO), where she received accolades as an embittered Eurasian who decided to whack her former schoolmates for revenge, and The Mask of Fu Manchu, where she played the arch-criminal's daughter, Fah So Lee. [i]
Slowly, better roles began to come her way, as MGM began to expand her scope. 1933 was her breakout year. She received good notices for her work in
When Ladies Meet
and
Penthouse
, but it was
The Prizefighter and the Lady
, where she worked against Max Baer that not only cemented her in the mind of the public, but also the critics, and – most importantly – MGM's front office. The rest, we say out of the need for brevity, is history.
We will examine four of her efforts in this early period, two in a supporting role, one in a featured role, and one in a starring role.
THE GREAT DIVIDE
(First National, 1929): Starring Dorothy Mackaill, Ian Keith, Myrna Loy, Lucien Littlefield, and Creighton Hale. Directed by Reginald Barker.
The Great Divide
was made twice before, in 1915 and 1925. This was the first attempt at a sound version. Music was introduced as an added incentive to get audiences in the theatre.
Stephen Ghent (Keith) has co-owned a mine near the Mexican border for 15 years, and for many of those years he's been supporting the daughter of his long-dead partner in New York. Deciding to sell his interest, he attends the annual fiesta when he learns that his late partner's representatives will be delayed. There he meets Ruth Jordan (Mackaill), his late partner's daughter, for the first time. He's dejected when he finds that she has become a hard-drinking party girl and becomes convinced that what she needs is a strong dose of the great outdoors and the simple life that accompanies it. So he disguises himself as a Mexican bandit and kidnaps Ruth, taking her to a cabin in the wilderness. Naturally they fall in love and Ruth embraces the virtues of the simple life.
Loy plays Manuella, a hot-blooded Mexican/Indian servant girl who's warm for Stephen's form. It's she who, out of jealousy, sics the posse on Stephen when she learns that he's taken Ruth to that lonely cabin in the woods. Even clad in dark make-up with a hilarious Spanish accent at times, Loy nevertheless manages to be the focal point of every scene in which she appears. If her acting appears pantomimed at times it's because the movie was shot in both sound and silent versions for theatres that weren't yet converted to sound.
THE NAUGHTY FLIRT
(First National, 1931): Starring Alice White, Paul Page, Myrna Loy, Douglas Gilmore, and George Irving. Directed by Edward F. Cline.
The Naughty Flirt
was advertised at 78 minutes, but bad tests with preview audiences resulted in its being cut down to 57 minutes for release. Reportedly, one of those in a small role to be left on the cutting room floor was Bela Lugosi.
The star of the film is Alice White, Warners' answer to Clara Bow. Her career as a star ended in 1933 when a scandal in which she was involved hit the front pages. White is doing her usual flapper role, this time as Kay Elliot, an heiress who is frequently in night court trying to explain her escapades. While at one session she decides to marry fortune hunting Jack Gregory (Gilmour) as a lark, but is spotted by lawyer Alan Ward (Page) who works for her father. After a phone call, Ward breaks up the proposed marriage and escorts her back home to Daddy (Irving). Of course, she's smitten with Ward, but he avoids her like the plague, so she becomes a secretary in her father's firm and tries to win him over. She succeeds and they become engaged. But during a stay at a country club dance, Jack's mercenary sister Linda (Loy) arranges a frame to look as though Ward was visiting her room for some amour. The engagement is broken and Ward hands in his resignation at the firm. When Kay announces her intention to marry Jack on the rebound, Alan wakes up and crashes the wedding, winning Kay back.
Here we see Loy looking her normal self but still cast in a supporting role as a schemer. She does well in this role, dominating the scenes she's in with both Page and Gilmour. But a mitigating factor is that neither Page nor Gilmour are good actors; Gilmour was out of the business by 1932 and Page by 1934. Loy's one shining moment is when she frames Ward into coming into her room on the pretext that her heart is giving out and she needs brandy. It's well done and Loy carries the scene. Too bad the bigwigs at Warners weren't noticing.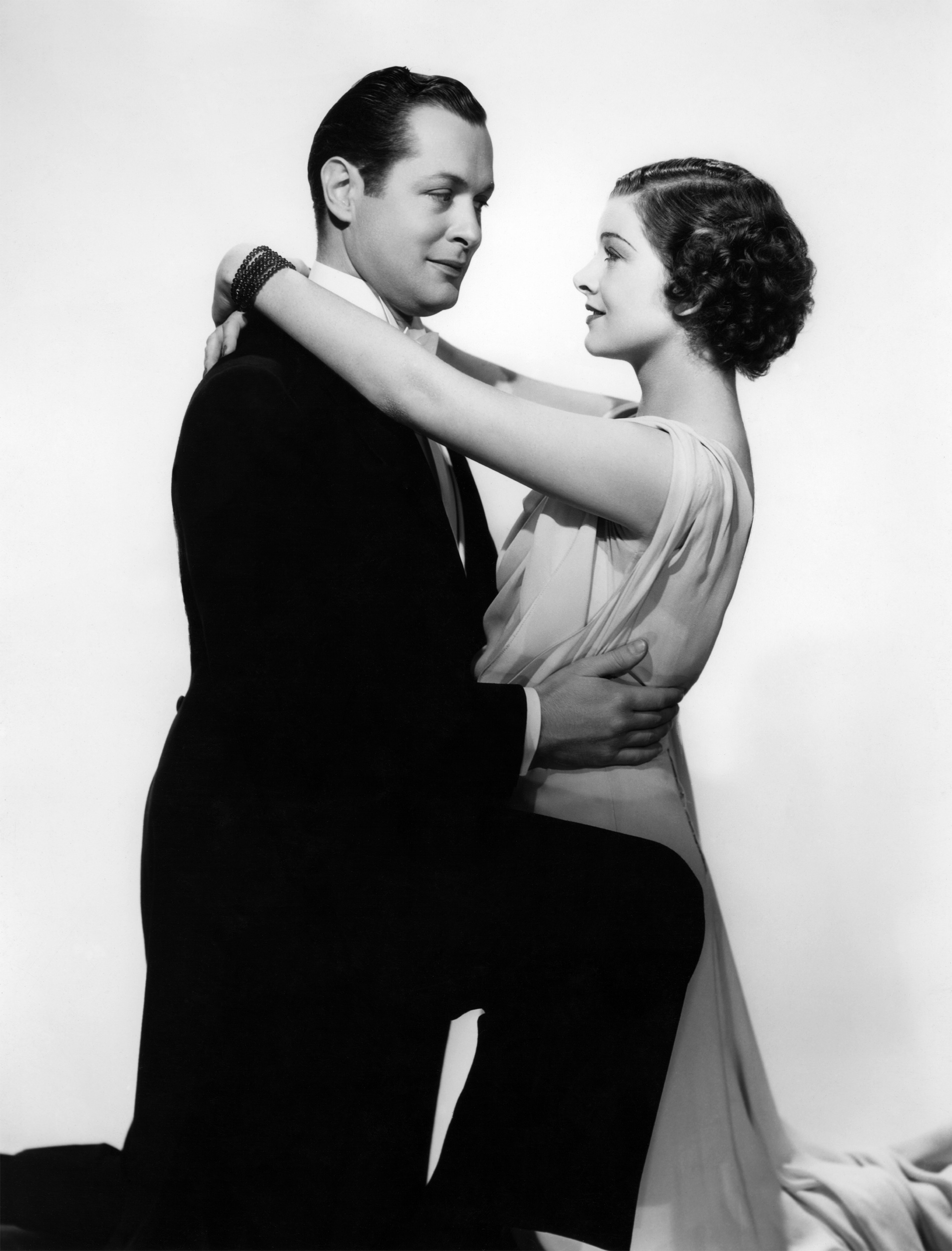 WHEN LADIES MEET
(MGM, 1933): Starring Ann Harding, Robert Montgomery, Myrna Loy, Alice Brady, and Frank Morgan. Directed by Henry Beaumont.
This film is an almost literal adaptation of Rachel Crother's drawing room drama. Except for a few changes of scenery from one locale to another, it remains static. However, once we establish our interest, the characters are strong enough and the actors portraying them appealing enough to hold our interest.
Ann Harding stars as Claire Woodruf, the wife of philandering publisher Rogers Woodruf (Morgan). Morgan's latest love interest is author Mary Howard (Loy) with whom he spends much time rewriting the final chapter of her novel. Complicating things is newspaper reporter Jimmie Lee (Montgomery), whose constant put-downs of Mary's novel conceal the fact that he's madly in love with her. After much give and take and scads of witty repartee by the characters, Jimmie, determined to break up Mary and Rogers, introduces Claire (who is oblivious to her husband's plans) as his new girlfriend to Mary without revealing her true identity. Later, as the women talk in Mary's bedroom, Rogers comes into the room and everything is exposed. With the cat now out of the bag, Claire provides Mary, in a blunt, common-sensical way, with her own personal take on love and straying husbands. Claire then tells Mary that she is prepared to give up her husband and leaves. Rogers, on the other hand, confesses to Mary that it's really Claire that he loves, and in the end, it's left to Jimmie to console a broken-hearted Mary.
This film is a real test for Loy for she's working with extremely talented actors at what was considered the crown jewel of studios. Judging by the results, Myrna handled herself quite well in this heavyweight crowd. In her autobiography, she tells of paling around with Montgomery and Alice Brady (who as the cynical hostess, almost walks off with the movie), spending off hours in their company at Brady's home. The film was later remade in 1941 with Joan Crawford, Greer Garson and Robert Taylor in the roles of Mary, Claire and Jimmie respectively. The remake is far glossier, but the difference in substance is the difference between the Pre-Code movies and their later counterparts. In the 1941 version, the dialogue isn't as crisp and one gets the feeling that something is missing.
THE PRIZEFIGHTER AND THE LADY
(MGM, 1933): Starring Myrna Loy, Max Baer, Primo Carnera, Jack Dempsey, Walter Huston, and Otto Kruger. Directed by W.S. Van Dyke.
Here was a role I'm sure Loy accepted not for what it was, but for its potential down the road, which proved to be a wise choice indeed. The movie may have been fashioned around Max Baer, but it's Myrna who delivers the knockout.
Baer plays Steve Morgan, a bartender with a dynamite pair of fists. While in the process of knocking around an unruly customer, he's spotted by the Professor (Huston), a boxing coach who convinces Steve that he has a terrific future in prizefighting and takes him under his wing. While in the midst of his roadwork, he's almost hit by Belle (Loy), a beauty who's making a name for herself as a nightclub singer. The narrow miss causes Belle's driver to lose control and flip the car over. Morgan rescues Belle from the auto and she's unhurt, but both become smitten with each other. Though she's currently the squeeze of underworld kingpin Willie Ryan (Kruger), Morgan won't take "no" for an answer and it doesn't take him long to win her away. They get married and Morgan's career soars with a string of impressive knockouts. But Morgan can't keep his eyes – or hands – off the other ladies. Things come to a boil and a despondent Belle leaves Morgan, going back to Kruger. Morgan in turn begins hitting the bottle hard and fires the Professor, just as he's lined up a championship bout with Primo Carnera. During the fight, Morgan is taking a bad beating until he looks up and spots Belle with the Professor in the stands rooting him on. He rallies and fights Carnera to a draw. Ryan, seeing his future with Belle is hopeless, gives her over to Steve and helps the newly reunited couple rejoice.
The film was originally titled The Sailor, and as written by Frances Marion, was supposed to star Clark Gable as a gruff sailor who falls for the charming Loy. However, things changed when Gable was not available for filming and the studio signed Baer. Marion was ordered to change it to a boxing film. When she refused, other writers were brought in to adapt her script to the world of boxing. The original director, Howard Hawks, also begged off the film, uncomfortable with the way things were changing. In order to save on the spiraling costs, Woody Van Dyke, a director with a reputation for economical filmmaking, was brought in.
Hawks was persuaded to stay on for two weeks in order to coach his friend Baer in the art of film acting. Baer turned out to be a natural before the camera, and dominates the film. A natural reaction for Loy would be to top Baer by overacting. But instead of playing against him, Loy underacts crucial scenes and plays off him, as in a dance where he would lead. The results are terrific and with the reviews and audience opinion, Myrna Loy had finally bridged the gap from supporting player to star. It didn't hurt Loy, either, to have Van Dyke in the director's chair. He was already a fan, having directed her in Penthouse (1933) and the two frequently put their heads together before a scene with Van Dyke providing suggestions. In her autobiography, Loy states that the only major mistake she made in her career was underestimating the presence of Baer's physicality, but she handled him perfectly.
Ironically, a year after this film was released, Baer faced off for real against Carnera in a championship bout and knocked the champ down 11 times before the referee stopped the bout and awarded Baer the championship. Wrestling fans should look out for a cameo appearance by Strangler Lewis before the climatic bout.
The good press and box office from The Prizefighter and the Lady stood Myrna well, leading to a leading role in the classic Manhattan Melodrama, [ii] and finally to the role as Nora Charles in The Thin Man, from which she never looked back.
---
[i] Loy was quoted in interviews as saying that Boris Karloff taught her more about the art of acting than anyone else she had met at the time. He looked out for her and gave her several important pieces of advice that she kept with her until retirement.
[ii] Polly Hamilton, Dillinger's girlfriend at the time of his demise, said that it was Dillinger's crush on Myrna Loy that compelled him to abandon common sense and attend the showing at Chicago's Biograph Theater of Manhattan Melodrama.