A Guide to the Interesting and Unusual on TCM
This is Cinema Inhabituel for the week of October 8-14, where we focus on movies either long forgotten or rarely shown, but interesting . . . always interesting.
If you are a fan of Westerns and are lucky enough to have the Encore package, you know about the Encore Western Channel. It's just Westerns, Westerns, Westerns, from such gems as Red River and The Man Who Shot Liberty Valence down to the Buster Crabbe – Al St. John Westerns for PRC and the Gene Autry singing Westerns for Republic. Each is unique and worth seeing not only for the fan of Westerns, but for all cinephiles. Also on the channel's menu are several classic Western television shows. You can tune into Wagon Train, Rawhide, Gunsmoke, and Bonanza, among others – and they're all uninterrupted and original length! The channel recently announced that it's running the rarely shown Bonanza episodes, commercial-free and uncut. What more could we ask for?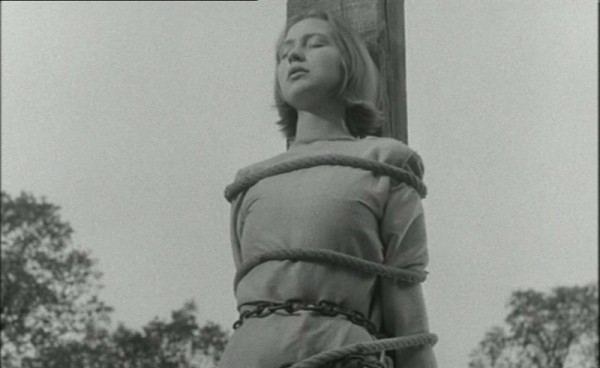 6:15 pm
Le Proces de Jeanne d'Arc
(Path Contemporary Films, 1965) – Director: Robert Bresson. Starring Florance Carrez, Jean-Claude Fourneau, Marc Jacquier, Roger Honorat, & Jean Gillabert.
This justly regarded masterpiece from director Robert Bresson stands out both for its rigorous plot construction and its economy of both time and means. The film comprises nine interrogations both in the court and in Joan's cell. What is especially noteworthy is that the film works from the actual trial transcripts. Even the acting is economical: medium shots are employed and one will notice that Joan never looks up to the camera; rather, she is always looking down. This, in part, is because Bresson wanted to distance himself as far as possible from Carl Dreyer's 1928 silent classic The Passion of Joan of Arc, noted for its expressionistic sets and exaggerated acting style. There isn't even any music, save for a drum roll at the beginning. Bresson wants the text, the questions and answers, the natural sounds of marching feet and clanking chains, to be the music.
Every line, every movement, is meticulously planned and shot. This economy of style adds up to a crisp running time of 65 minutes, although by the time the movie is over you'll be so involved that time won't matter.
1:30 am
Dead of Night
(Ealing, 1945) – Directors: Alberto Cavalcanti, Charles Crichton, Basil Dearden, & Robert Hamer. Starring: Mervyn Johns, Hartley Power, Roland Culver, Elisabeth Welch, Michael Redgrave, Miles Malleson, Sally Ann Howes, Robert Wyndham, & Googie Withers.
Although this wasn't the first of the horror anthology films (The 1924 German Das Wachsfigurenkabinett – Waxworks – has that honor), it's probably the best of the lot. Ealing was known mainly for its comedies and ironic dramas, and the release of this film was a surprise that could only have taken place after World War II and its real horrors had ended.
The film concerns itself with a meeting at a country house where the guests trade stories of the supernatural. One story, "The Ventriloquist's Dummy," starring Michael Redgrave as a schizophrenic ventriloquist, has its antecedents in the 1929 Erich Von Stroheim horror, The Great Gabbo. But it's the best story in the film and has itself gone on to be imitated on many other films and television shows, most notably the 1962 Twilight Zone episode "Dummy," Lindsay Shonteff's Devil Doll (1964), and Richard Attenborough's Magic (1978). When Ealing premiered the film in London, they ran a contest offering a prize of six guineas (about $28) to any woman who could sit through a midnight showing alone save for a coffin containing a skeleton beside her.
October 11
3:15 am
Kiss Me Deadly
(U.A., 1955) – Director: Robert Aldrich. Starring Ralph Meeker, Albert Dekker, Paul Stewart, Wesley Addy, Cloris Leachman, and Gaby Rodgers.
Robert Aldrich takes a Mickey Spillane novel and transforms it into one of the most influential noirs ever, especially on the French New Wave.
Ralph Meeker makes for a perfect Mike Hammer and has to go down as one of the most violent, unlikeable and unsympathetic private eyes in the history of film. But over the course of the film he goes from must being a brutal detective specializing in divorce cases to trying to retrieve a "whatzit" that people are dying over.
From the opening of the film, where he picks up a hitchhiking Leachman, an escapee from a mental institution, he becomes involved with a sinister group led by Dr. Soberin (Dekker) that appear to be trafficking in stolen atomic material. What everyone is after is a mysterious black box, the contents of which are finally revealed (to an extent) during the apocalyptic finale.
It's classic noir with a sci-fi twist and it has all the elements of a film noir, femme fatales, the anti-hero, cheap gangsters, a quest, and an overall mood of hopelessness. The editing is quick and first-rate, with complex plot threads abounding, but not allowed to become confusing. Cinematographer Ernest Laszlo's use of disorientating camera angles and uniquely lit shots is another highlight of the film. As mentioned before, it was a huge influence on the French New Wave and the plot insert of the black box would later appear in 1984's Repo Man and 1994's Pulp Fiction.




October 14
12:30 am
Legong (Dance of the Virgins)
(Paramount, 1935) Director: Henri de la Falaise. Starring
Goesti Poetoe Aloes,Goesti Bagus Mara, Njoman Saplak, and Njoman Njong Njong.
A unique silent film using the two-color (red and green) Technicolor process, it's shot on location in Bali and gives the audience a rare glimpse of Balinese culture and rituals during the 1930s, soon after the first wave of tourists from America and Europe began visiting the island.
It's also a love story about Poutou (Poetoe), a virginal maiden who dances the legong dance of the virgins at the sacred temple. On the day of the temple feast she meets Njong (Njong), a young man from northern Bali. They soon fall in love, and when Poutou's father (Bagus) tells her that it's time to select a husband and have her last dance at the temple, Njong is invited to dinner, an invitation he accepts. But the next day, when Njong goes to the spring he sees Poutou's younger sister, Saplak (Saplak), and it's love for both at first sight. He asks Bagus for Saplak's hand but is refused. Njong then writes Saplak a note telling her to meet him later and they will run away. Poutou discovers the note shortly before leaving for her last legong dance at the temple. Distressed, she later commits suicide by jumping off a bridge, and at her cremation ceremony, Bagus lights the pyre. Later he watches as her ashes are scattered at sea, insuring her reincarnation.
It wasn't the first production shot on location in Bali. Audiences have long been in love with films featuring exotic locations, and this film followed in the footsteps of Balinese Love (1931), Virgins of Bali (1932), Isle of Paradise (1932), and Goona Goona (1932). But it may well be the most beautiful shot there, capturing the culture magnificently.




1:30 am
The Unknown
(Universal, 1932) Director: Tod Browning. Starring Lon Chaney, Joan Crawford, Norman Kerry, Nick De Ruiz, and John George.
Tod Browning and Lon Chaney collaborated on quite a few films of the macabre, but none were weirder than this one. Set in a circus, Chaney is a popular sideshow attraction as Alonzo the Armless Wonder. Only he isn't really armless. He has trained himself to do everything with his feet, such as lighting cigarettes and throwing knives, which comprises his act. He throws knives at his lovely assistant, Nanon (Crawford), who stands in front of a target. When the performance ends, Chaney removes the straitjacket he uses to disable his arms and returns to normalcy. The sideshow act is a good one, for it conceals the fact that in reality he is a wanted criminal.
All would be well except for one fact: Alonzo is madly in love with Nanon. And she would gladly return his love, but she has an overwhelming fear of being touched by men. Because his love is so strong, Chaney decides to make the ultimate sacrifice for Nanon, which leads to a finale that is straight out of Grand Guignol.
Publicity from MGM pointed to the fact that Chaney really had learned to throw knives and light cigarettes with his feet, but for medium shots and close-ups a double named Diamuki, a man born without arms, was used. Later, while touring with the Al G. Barnes Circus, he was billed as "The Man Who Doubled for Lon Chaney's Legs in The Unknown."
The film also underlies Browning's experiences working in the circus as a young man and his fascination with the culture. It would later result in his weirdest film, Freaks (1932).
2:30 am
Das Testament des Dr. Mabuse
(Nero Film AG, 1933) Director: Fritz Lang. Starring Rudolf Klein-Rogge, Gustav Diesls, Oscar Berengi, Sr., Rudolf Schundler, Oskar Wernicke, and Theo Lingen.
I cannot recommend this film too highly. One of many excellent pictures directed by Fritz Lang, it is perhaps his finest political statement and resulted in his leaving Germany, his wife divorcing him, and Joseph Goebbels banning the film outright.
Dr. Mabuse is a criminal mastermind and has been locked away in an asylum for nearly a decade. But strange events are occurring – seemingly disconnected circumstances and characters are beginning to point to a common source. Following the trail, Police Commissioner Lohmann (Wernicke) is led to the respected psychiatrist Dr. Baum (Berengi, Sr.), the doctor in charge of the asylum where Mabuse is kept. We learn that Baum has been collecting Mabuse's asylum writings, a blueprint for a virtual empire of crime. Lohmann must stop the conspiracy before it gains momentum.
The genius of Lang is reflected in the fact that he uses the basic form of the crime thriller, puts it within the framework of the urban police story, and adds a bit of sci-fi to the mix while never losing sight that the film's raison d'etre is to entertain its audience. Lang is a modernist in that his films reflect the values of the present day, unlike those of D.W. Griffith, whose films reflect a 19th century culture and Cecil B. DeMille, whose object is to titillate, but still remains rooted in early 20th century American values.
As for his target – if ever there could be said to be an "empire of crime," – Nazi Germany fits the description perfectly. Lang knew this before Adolf Hitler came to power; bits and pieces of Mabuse's writings were taken from actual Nazi tracts. Lang's vision of the modern, industrialized state – the rational state – being underpinned by the irrational is also prescient and unnerving.
Lang wrote the screenplay along with his then-wife Thea Von Harbou. But when Goebbels looked at it he was aghast, summoning Lang and Von Harbou into his office. According to Lang, Goebbels informed him that Mabuse was to be banned as an incitement to public disorder, but nevertheless was so impressed with Lang's work that he offered the director the post as Head of Production for the German studio, UFA. According to Lang, he left for Paris that night. Von Harbou, a fanatical Nazi, divorced him in 1933 and became an important figure in the Nazi film unit.
A trivial note: Oscar Berengi's son, Oscar Jr., starred in many American television projects, including several guest roles on Hogan's Heroes.