Gino Corrado
The purpose of this column is to bring recognition to actors whom we've seen many times in the movies or on television over the years and whose name is always on the tips of our tongues. We no sooner recall it to mind than we forget it once again and it becomes a question passed around amongst movie buffs.
In this column, we are spotlighting an actor many people remember seeing at one time or another and yet whose name we can never quite recall for any length of time. It seems that as soon as we forget it, there he is once again in a movie or television show and the entire process starts over again to our eternal frustration.
In the case of Gino Corrado, it is entirely understandable, for this durable actor has – get this – appeared in 391 titles. No, I'm not making this up – 391 titles to his credit.
Granted, out of those 391 titles in which he appeared he is unbilled in all except for about 100. But still, this is an impressive number and a testament to the perseverance of hanging around at casting calls and getting steady work.
He was born Gino Corrado Liserani in Florence, Italy, on February 9, 1893. He attended the College of Strada in Italy, finishing his education at St. Bede College in Peru, Illinois. It's not known if he accompanied his family to America or came on his own, but his first credited film is a 1916 short titled The Last Challenge. He played a boxing referee and was billed under the name "Eugene Corri."
His next film was an uncredited appearance as "The Runner" in D.W. Griffith's lengthy masterpiece, Intolerance. After this, for the next few years he received billing in various silent films, always under the name "Eugene Corey," an Americanization of his last name.
Finally, in 1923, he was billed fifth under the name Gino Corrado in Sam Wood's comedy, produced by Famous Players-Lasky, My American Wife, starring Gloria Swanson. Work – and billing – appeared quite steady in the silent '20s, but when the Sound Era hit Hollywood to stay, his credited billing suddenly dried up, as did the size of his roles. He appeared in many films, but the roles were smaller, almost walk-on appearances, and it was a rare day indeed when he was billed in the cast. Many of the uncredited roles he played were as chefs or waiters, which was ironic, because when he wasn't working in films he earned a steady paycheck working as a real waiter.
Corrado holds a distinction of sorts, as he is the only actor to appear in Gone with the Wind, Citizen Kane, and Casablanca. He also made appearances in Mr. Smith Goes to Washington, The Great Dictator, and The Grapes of Wrath.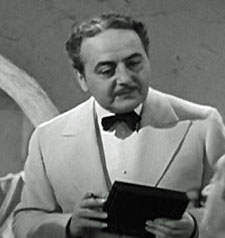 Rare were the occasions when his role lasted beyond two lines. He did well playing a rurales captain in the John Wayne low-budget Monogram oater, Paradise Canyon in 1935. Here he received fifth billing. Oft times, though, he was paid more for his unbilled roles with major studios than he earned with billing in the Poverty Row films.
In 1936 he had a small role – and 13th billing – as Forrenza in The Oregon Trail, a John Wayne Western for Republic. He was given billing in two other Westerns made shortly after, one of which, Rebellion (1936) co-starred a young Rita Cansino, who later achieved superstardom as Rita Hayworth.
His last credited appearance came in 1946 in the Columbia short Honeymoon Blues, starring Hugh Herbert and Christine McIntyre. Corrado played Bruno the Swordsman. He also made a mark in several Columbia shorts starring The Three Stooges. His best performance was in Micro-Phonies (1945) as a pompous violinist/singer with whom The Stooges have several run-ins. The highlight of the short is when Moe, Larry and Curley become annoyed and shoot cherries into his mouth as he sings an aria.
His last appearance was as a shoe salesman in the 1954 Dean Martin-Jerry Lewis comedy, Living It Up. After his retirement he worked as a maitre d' at a Los Angeles restaurant.
Corrado died at the age of 89 on December 23, 1982, survived by wife (of over 50 years) Anna Alberti, whom he married in 1931. He is buried at Valhalla Memorial Park Cemetery, and his gravestone epitaph is etched with his video-screen image from Micro-Phonies, along with the inscription, "Forever on the Screen – Forever in Our Hearts."
Special thanks go to reader Shelby Vick, who suggested Gino Corrado for this column.