A Guide to the Interesting and Unusual on TCM
6:00 am
Ladies They Talk About
(WB, 1933) Director: Howard Bretherton. Cast: Barbara Stanwyck, Preston Foster, Lyle Talbot, Dorothy Burgess, Lillian Roth, & Ruth Donnelly. B&W, 68 minutes.
It's the grandmother of all women-in-prison movies. Stanwyck was riding a crest of great Pre-Code performances when she made this one. She plays Nan Taylor, a decoy for a bank robbery, who's arrested shortly thereafter. Enter David Slade (Foster), a popular radio evangelist calling publicly for tougher prosecution of criminals. He recognizes her from childhood: her father was the deacon in the town's church while his was the town's drunk. But when she attempts to exploit this relationship, it backfires and he withdraws his support of her, sending her up the river. In prison, she learns the ropes and eventually comes to be a wielder of influence and power. I won't spoil the rest, but it's a wonderfully typical Pre-Code ending. Due to the ungodly hour at which it's being shown, one's recorder is necessary, for this is a movie that should be enjoyed with plenty of time allotted, a bowl of popcorn, and a large glass of one's favorite beverage.
Trivia:
Look for photos of Warner stars Joe E. Brown and Dick Powell in the prisoners' cells.
8:00 pm – 3:00 am A Night of Pierre Etaix
:
Includes –
Yo Yo
(1965),
Happy Anniversary
(short, 1962),
Le Grand Amour
(1969),
Rupture
(1961),
As Long As You've Got Your Health
(1966), and
The Suitor
(1963).
Who in the name of God is Pierre Etaix and why should I give a rat's tail about him? Good question. While he's a household name among the Baby Boomer French for his wonderful comedies, he's practically unknown in the States. To begin, he's a disciple of Jacques Tati, whose comedic style greatly influenced him when he worked as assistant director on Tati's Mon Oncle. Etaix won an Oscar for his 1932 short, Happy Anniversary, and he went on to make five feature films. Etaix also worked with Robert Bresson, and had the dubious distinction of being in the notorious and unreleased Jerry Lewis work, The Day the Clown Cried. (Oh, how we all would love to see that one!)
A large part of his success is due to his partnership with screenwriter Jean-Claude Carrire, who wrote some of Luis Bunuel's more noted films, such as The Discreet Charm of the Bourgeoisie (1972) and The Obscure Object of Desire (1977). He also adapted Gunter Grass's The Tin Drum.
The reason for this "celebration" is that Criterion is releasing a box set of seven of his films this month in both DVD and Blu-ray format. I haven't yet seen any of these myself, so I'll also be watching in rapt attention.
6:00 am
Mark of the Vampire
(MGM, 1935) Director: Tod Browning. Cast: Lionel Barrymore, Bela Lugosi, Elizabeth Allen, Lionel Atwill, Jean Hersholt, Henry Wadsworth, Holmes Herbert, Donald Meek, & Carroll Borland. B&W, 64 minutes.
The coming of sound gave studios a chance to remake a silent classic or two. MGM was no exception to this trend and gave director Browning a chance to redo one of his most famous silent mysteries, London After Midnight, which he made in 1927 with the great Lon Chaney in a dual role as a police inspector investigating the murder of Lord Balfour and a mysterious vampire-like personage who buys the Balfour mansion a few years later.
For the remake the scene shifts to Prague, where Sir Karrell Borotyn is found murdered in his house, with two tiny pinpricks on his neck. The attending physician, Dr. Doskil (Meek) and Sir Borotyn's close friend, Baron Otto von Zinden (Hersholt) arte convinced the killer is a vampire, namely one Count Mora (Lugosi) who has been seen prowling the area at night along with his daughter, Luna (Borland). For his part, police inspector Neumann (Atwill) thinks the vampire theory is bosh, but as it becomes clear that the murderer's next target is Borotyn's daughter, Irena (Allan), Neumann brings in the noted expert on vampires, Professor Zelen (Barrymore), to investigate the case as the secrets surrounding Borotyn's mysterious death begin to be revealed.
The film is still somewhat controversial among aficionados of the horror film for its ending showing the vampires to be actors hired to portray the undead in an attempt to smoke out the real killer. Even Lugosi found the idea absurd.
Trivia:
The film marked the only screen appearance of Borland, a dedicated Lugosi fan who was recruited by the Count to play the role of Lucy, Dracula's victim, in a 1934 stage version. He then secured the part of Luna for her. She retired from acting in 1953 to become a college professor. Of what I do not know, but much of her life is shrouded in mystery and rumor.
6:00 am
Reefer Madness (aka Tell Your Children)
(G and H Productions, 1936) Director: Louis Gasnier. Cast: Dave O'Brien, Dorothy Short, Kenneth Craig, Carleton Young, & Thelma White. B&W, 62 minutes.
Who hasn't seen Reefer Madness, the infamous marijuana scare film that practically kicked off the midnight movie craze? Probably the most famous exploitation film ever made, it starred the talents of the husband-wife team of O'Brien and Short, who were married shortly before the film was made. A special version of the film was released in 2004, with Mike Nelson, former host of Mystery Science Theater 3000, supplying a comical commentary track. In this version, the marijuana smoke is colored pink.
Trivia:
The film was allegedly inspired by the true case of Victor Licata, who killed his father, mother, two brothers, and a sister with an ax in Tampa, Florida, on October 16, 1933. He pleaded insanity because he was allegedly under the influence of marijuana while he did the killings. The court declared him unfit to stand trial for reasons of insanity, and a subsequent psychiatric examination at the Florida State Mental Hospital found that Licata suffered from schizophrenia with homicidal tendencies. The Licata case was used to publicize and gain support for the passage of the federal Marijuana Tax Act of 1937 that effectively outlawed legal sales of the "devil's weed."
8:00 pm
His Girl Friday
(Columbia, 1940) Director: Howard Hawks. Cast: Cary Grant, Rosalind Russell, Ralph Bellamy, Gene Lockhart, Ernest Truex, & Roscoe Karns. B&W, 92 minutes.
One of director/producer Hawks's best ideas was to re-cast The Front Page as a battle between the sexes. Getting the permission of his good friend Ben Hecht, who wrote the original, to adjust the remake, Hawks got Charles Lederer to write the script. His first choice for the male lead was Grant, who gladly signed aboard before seeing the script. He and Hawks worked together previously, and Hawks was one of Grant's favorite directors. The female lead, however, proved more difficult. The director's first choice for the role was Carole Lombard, but the studio balked at her salary demands. The script was then passed to Katharine Hepburn, Claudette Colbert, Jean Arthur, Margaret Sullivan, Ginger Rogers, and Irene Dunne. They each passed on the project. Finally, the part was given to Russell, formerly a supporting actress at MGM; one whose name could be found way down on the credits. The film not only made her into a leading lady, but also gave her the reputation as a gifted comedienne.
During the first few days of filming, Russell sensed that Hawks was treating her like the consolation prize in a contest. She took him aside one day in between takes and told him, "Well, you're stuck with me, so you might as well make the most of it." He was so impressed with her brass that they got along swimmingly the rest of the shoot. As with other films directed by Hawks, listen for the overlapping dialogue and ad-libs. While the average rate of human speech is 100-150 words a minute, the dialogue in the film was timed at 240 words a minute. As for ad-libs, there were two great ones by Grant. When asked if he could describe his ex-wife Hildy's new fiancée, he says that her fiancée looks like "That actor – Ralph Bellamy." Later, when cornered by the mayor he tells him, "Listen, the last man that said that to me was Archie Leach just a week before he cut his throat." Of course, that's Grant's real name.
Trivia
:
Russell's striped outfits were inspired by the look of newspaper reporter-turned- screenwriter Adela Rogers St. John . . . During filming Grant introduced Russell to theatrical agent Frederick Brisson. They married a year later, the first – and last – marriage for either, and stayed together for the rest of their lives.
8:00 pm
Freaks
(MGM, 1932) Director: Tod Browning. Cast: Wallace Ford, Leila Hyams, Olga Baclanova, Rosco Ates, Henry Victor, & Harry Earles. B&W, 64 minutes.
Browning's drama about freaks in a circus and the machinations surrounding one of them who marries a scheming trapeze artist Cleopatra (Baclanova) after finding out about his large inheritance has undergone a 180-degree turn over the years since it was made. At the time it was considered an unmitigated disaster, and had executives at MGM actually questioning the judgment of Irving Thalberg and pulled from not only from release but also from circulation for close to 40 years. Today it's seen as a masterpiece of the cinema and possibly director Browning's finest film. After MGM shelved it, the distribution rights were acquired by famed exploitation showman Dwain Esper, who ran it at roadshows throughout the country under the titles Forbidden Love and Nature's Mistakes.
Trivia:
The roles of trapeze artist Cleopatra, strongman Hercules and beauty Venus were first offered to Myrna Loy, Victor McLaglen, and Jean Harlow, respectively, but all turned it down because they felt the script was offensive . . . The movie was filmed on sets originally used for Greta Garbo's 1931 drama Susan Lennox: Her Fall and Rise.
3:00 pm
Attack
(UA, 1956) Director: Robert Aldrich. Cast: Jack Palance, Eddie Albert, Lee Marvin, Robert Strauss, Buddy Ebsen, & Richard Jaeckel. B&W, 107 minutes.
Aldrich's Attack is a most unusual war film. Set during the Battle of the Bulge, it asks the question, "Who is the real enemy?" Is it the Germans, who Lieutenant Costa (Palance) is fighting, or is it his cowardly commanding officer, Captain Cooney (Albert), protected by Colonel Bartlett (Marvin), who worked for Cooney's father before the war and hopes to return to his job with a big, fat raise for protecting the boss's son? It's this question, along with Costa's defiance of Cooney, which forms the moral center of the film.
Aldrich explained the situation to Edwin T. Arnold in Arnold's biography The Films and Career of Robert Aldrich: "My main anti-war argument was not the usual 'war is hell,' but the terribly corrupting influence that war can have on the most normal, average human beings, and the terrible things it makes them capable of that they wouldn't be capable of
otherwise." This attitude caused the military to deny Aldrich access to any form of cooperation during the filming of Attack. This meant no uniforms, no equipment, and no troops as extras. Aldrich was even denied access to Signal Corps footage, which is used for set backgrounds, among other things. Despite this Aldrich still managed to rent two tanks, and through careful staging and camerawork, managed to convey the impression that there were many more besides.
The film is also notable for the excellent performances contained within. Palance, in perhaps his finest outing as an actor, is the despairing Costa, and Albert, who made his career as one of the most likeable of fellows, is utterly convincing as the cowardly Cooney and comes across as a person in the film that we love to hate. Marvin is also quite effective as the political colonel, torn between what is right and what is expedient. There few war films that I would label as "Must See." This is one of them.
Trivia:
Despite playing a coward in this film, Albert was a genuine hero in World War II, braving heavy enemy fire to rescue 70 wounded Marines.
3:00 am
Wild Boys of the Road
(WB, 1933) Director: William A. Wellman. Cast: Frankie Darro, Edwin Phillips, Rochelle Hudson, Dorothy Coonan, Sterling Holloway, & Arthur Hohl. B&W, 69 minutes.
This is one of the starkest films of the Pre-Code era, driving home the horrors of the Depression like no other film of its time. With their parents out of work, two teenagers (Darro and Phillips), feeling they have become a burden on their families, strike out on their own to find work by riding the rails. On the train they meet fellow runaway Sally (Coonan), who is going to Chicago to live with her aunt. As they near Chicago they discover a large group of fellow teens are also doing the same thing. When they arrive at Sally's Aunt Carrie's home, they discover it's a brothel. Aunt Carrie, nonetheless is glad to see them and welcomes them in. But when the brothel is raided they find themselves on the road again, with all its attendant hardships. In the original script, both Sally and Aunt Carrie are prostitutes and Sally later hangs herself after being raped by a brakeman aboard the train. The brakeman in turn is thrown to his death off the moving train by the other teens after a trial by kangaroo court. The film cops out at the end in deference to supporting FDR and his New Deal, but until then it's one hell of a ride.
Trivia:
Coonan met future husband Wellman while on the set and became his fourth – and last – wife, their marriage lasting 41 years until his death in 1975 and producing seven children.
4:15 am
Lilly Turner
(WB, 1933) Director: William A. Wellman. Cast: Ruth Chatterton, George Brent, Frank McHugh, Guy Kibbee, Robert Barrat, & Ruth Donnelly. B&W, 65 minutes.
The only reason to watch this otherwise unremarkable Pre-Code film is for the performances of leads Chatterton and Brent. Chatterton is Lilly, the proverbial hard-luck dame. Most of her hard luck arises from her lousy taste in men. A young innocent, Rex Durkee, the stage magician in the local carnival, wins her heart and hand in marriage. He promises her the world, but after they are married he turns her into a cootchie dancer to earn her keep. Later she receives a shock when she learns that hubby is already married. Faced with the truth, Rex scrams, leaving Lilly alone – and pregnant. She then takes up with her alcoholic buddy, Dave Dixon, and needing a father for her child, marries him. But (surprise) the baby dies and the couple ends up working in a cheap medicine show. Dave's boozing leads Lilly to a succession of lovers, one of whom is unemployed engineer cum taxi driver Bob Chandler (Brent). She persuades him to join the show as a strongman. But the person he replaced has escaped the mental asylum, and the rest of the film becomes utterly predictable. Chatterton and Brent, however, show that it is possible to rise above the material, especially with a good director such as Wellman on the set.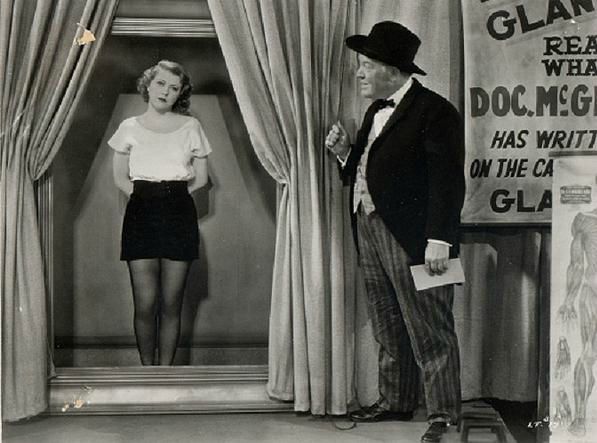 Trivia:
Sign of the changing times – Warner Bros. tried to re-release the movie in 1936 but was denied a certificate of approval by the Production Code Office.
For other Cinema Inhabituel films, click
here
.