A Guide to the Interesting and Unusual on TCM
10:15 am
A Matter of Life and Death
(The Archers/Universal, 1946) – Director: Michael Powell & Emeric Pressburger. Cast: David Niven, Kim Hunter, Robert Coote, Kathleen Byron, & Richard Attenborough. Color, 104 minutes.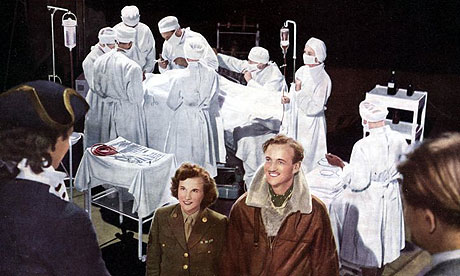 The '40s were an extraordinarily fruitful time for the duo of Powell and Pressburger. Besides this film, they co-wrote, co-produced and co-directed such well-known classics as The Life and Death of Colonel Blimp (1943), A Canterbury Tale (1944), 'I Know Where I'm Going!' (1945), Black Narcissus (1947), and The Red Shoes (1948). It's quite a track record, to say the least. Given that roster, it would be difficult to say for sure which was the best of the lot; it all comes down to personal favorites. My personal favorite of the bunch is A Canterbury Tale, but many more film buffs, I'm sure, would rate this film as their favorite. The plot, about a RAF flyer who falls in love and dies before his time, then asks Heaven to decide whether or not he deserves a second chance, is beautifully written, directed, and acted (including a near-perfect performance by the then unknown Hunter). If you're one of the few that hasn't yet seen it – and, believe me, you're in a distinct minority – then I wholeheartedly recommend you get up to speed, so to speak. You will not be disappointed, for the film holds up as well today as it did when it was released.
Trivia:
The film was released as Stairway to Heaven in the United States.
8:00 pm
In Our Time
(WB, 1944) – Director: Vincent Sherman. Cast: Paul Henried, Ida Lupino, Nancy Coleman, Mary Boland, & Alla Nazimova. B&W, 109 minutes.
Warner Brothers gives us this offbeat (in terms of subject matter) film set in pre-war Poland right before the Nazi invasion. Dashing Henried is a Polish count and Lupino his English-born wife. Leonard Maltin calls it "a plush soaper," and noted that it "never quite hits the mark." I have to agree with Maltin here, but I recommend this nonetheless because of the subject matter and the performance of Nazimova, who steals the film as Henreid's aristocratic mother.
Trivia:
When director Sherman started out as an actor on stage in 1931, he secured a small role in Nazimova's stage production of The Good Earth thanks to her good graces. He never forgot, and when Nazimova was suffering financial and health setbacks, he cast her as Henried's mother in the film.
6:15 am
Sh! The Octopus
(WB, 1937) – Director: William McGann. Cast: Hugh Herbert, Allen Jenkins, Marcia Ralston, & John Eldredge. B&W, 60 minutes.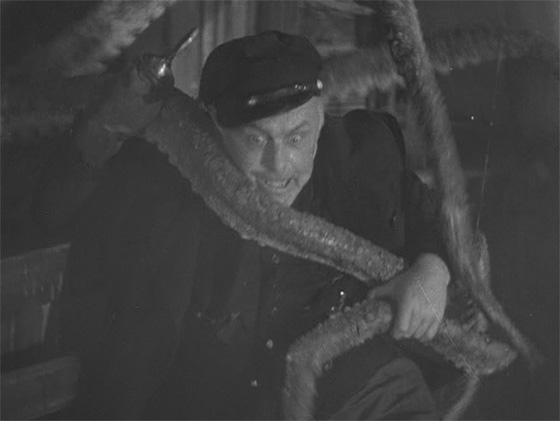 Bad Movie Alert:
Usually, Bryan Foy, who headed the Warner Bros. B-unit, made fast, entertaining films that sometimes outshone the featured film on the bill. Not this time, though. Herbert and Jenkins are dizzy detectives trapped in a deserted lighthouse with a group of strangers. Besides being terrorized by a killer octopus (!), there is also a mysterious crime figure known as The Octopus. It's actually based on a Broadway play from 1928 that ran for only 47 performances, though it seems more like a remake of The Gorilla with The Bat Whispers thrown in for good measure. If bad movies are your thing, this won't disappoint, especially when you get a gander at the visible wires moving the octopus.
8:30 am
Thunder Rock
(MGM, 1943) – Director: Roy Boulting. Cast: Michael Redgrave, Barbara Mullen, James Mason, & Lilli Palmer. B&W, 90 minutes.
If Powell and Pressburger could be said to have any competition in the British film world, it would come from the formidable producer/director team of brothers John and Roy Boulting. Disillusioned world-renowned journalist David Charleston (Redgrave) has given up trying to warn Europe of the dangers of fascism and the coming war so he retires to a life as a lighthouse keeper on Lake Michigan. Though a series of imaginary conversations with the passengers on a boat that sank in the 19th century, he begins to recover his own will to live and fight.
7:30 am
Hercules, Samson and Ulysses
(MGM, 1963) – Director: Pietro Francisci. Cast: Kirk Morris, Richard Lloyd, Liana Orfel, & Enzo Cerusico. Color, 85 minutes.
Italian sword and sandal movies are always enjoyable viewing – especially on a Saturday morning when nothing else is being shown – and this one will fill any movie lover's bill. Morris, Lloyd, and Cerusico play the mythic heroes, as the marooned Hercules and Ulysses team up with Samson to battle sea monsters and the tyrant of Gaza.
The movie pulls out all the stops as it emphasizes every cliché of the genre – from fights to the death with lions to a boulder tossing battle between Hercules and Samson that sets a record for use of Styrofoam props. Just park the brain for 90 minutes or so and enjoy the fun.
9:30 am
Terror of Rome Against the Son of Hercules
(Embassy, 1964) – Director: Mario Caiano. Cast: Mark Forest, Marilu Tolo, Elisabetta Fanti, Claudio Undari, & Franco Cobianchi. Color, 103 minutes.
Now, if you didn't get your fill of the genre in the previous film, TCM brings you yet another. Made in Italy as

Maciste, gladiatore di Sparta

(Maciste, Gladiator of Sparta), it was released in the U.S. under the title above. Forest is Maciste, and the highlight (?) of the movie is where he fights a skinny ape man in the arena. It's guaranteed 100% psychotronic.
3:45 am
Children of the Damned
(MGM, 1964) – Director: Anton M. Leader. Cast: Ian Hendry, Alan Badel, Barbara Ferris, Alfred Burke, Sheila Allen & Ralph Michael. B&W, 90 minutes.
MGM British Studios had an unexpected hit in 1960 with Village of the Damned, where George Sanders sacrifices himself to stop 12 alien children from taking over the world. This follow-up is taken from the same source – John Wyndham's sci-fi novel The Midwich Cuckoos – but this time there are six children that are discovered by authorities and flown to London for further study. But if the producers thought they would make an improvement over Village of the Damned, they were sadly mistaken. The film lacks the punch and the vigor of the original and rather cops out in the end. Still, for sci-fi fans and completists, it's must viewing.
9:30 pm
The Devil-Doll
(MGM, 1936) – Director: Tod Browning. Cast: Lionel Barrymore, Henry B. Walthall, Maureen O'Sullivan, Frank Lawton, Rafaela Ottiano, & Robert Grieg. B&W, 79 minutes.
For many critics and historians, the advent of sound was one of the worst things that happened to Tod Browning – that and the reception of his movie Freaks, that is. Sound seemed to cramp Browning's macabre stylings; the camera became static, as if he were filming a stage play. (However, when I first saw Freaks, the one thing that stuck out in my mind was the fluid camerawork.) But this film seemed to have shaken Browning out of his "doldrums," as it were.
In The Devil-Doll, the camerawork is masterful, and the special effects – especially the scenes featuring oversized sets and "miniature" people still retain their power to dazzle. Barrymore has a field day as Lavond – a falsely incarcerated businessman who escapes Devil's Island with diabolical inventor Marcel (Walthall). Marcel has come up with a formula for shrinking people to doll-like size, and bequeaths it to Lavond. Lavond uses it for revenge on those that framed him. Like Browning's other films, it's difficult to classify this in the strict horror genre, but at any rate, it's good viewing.
Trivia:
Bert I. Gordon remade this in 1958 as Attack of the Puppet People, starring that noted thespian, John Agar.
2:45 pm
La Cucaracha
(Azteca, 1959) – Director: Ismael Rodriguez. Cast: Maria Felix, Emilio Fernandez, Dolores Del Rio, & Pedro Armendariz. Color, 97 minutes.
Mexico's four biggest stars – Felix, Del Rio, Armendariz, and Fernandez – star in this melodrama of love and passion during the Mexican revolution from director Rodriguez.
Felix, Mexico's biggest female star at the time, plays Refugio, a soldier in the Revolution who can shoot, ride, drink, and fight as hard as any man. She is known among the men in her loosely formed band of warriors as "La Cucaracha," because, like a cockroach, she is not satisfied with one mate, Del Rio, Mexico's other top female star, is Isabel Puente, the wife of the local teacher and the opposite of Refugio in every way: cultured, refined, and devoted to only one man.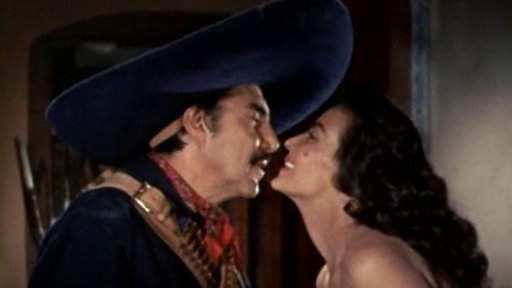 Isabel and Refugio do not cross paths until Colonel Antonia Zeta (Fernandez) rides into their village to take charge of the rebels. At first he becomes involved with Refugio, but comes to the realization that their affair is destructive when he kills Valentin Razo (Armendariz) purely out of jealousy. When he ends the relationship and turns his attentions to the quietly beautiful Isabel (now a widow), his actions stir feelings of anger and resentment in Refugio.
The performances of the leads and the stunning Eastman Color photography make
La Cucaracha
one to watch, especially for those unfamiliar with Mexican cinema of the '50s and early '60s. Not all Mexican movies featured wrestlers fighting monsters, but sadly, those were the ones most often shown on American television during the '60s and '70s, when many of us were in out formative film years.
For other Cinema Inhabituel films, click
here
.