A Guide to the Interesting and Unusual on TCM
It's a slow week, as the Memorial Day weekend means war films, which I'm certainly not against. It's just the screening of the same old war films to which I object. A couple of years ago they broke pattern with the screening of some seldom-seen gems, one of which I hadn't seen in 40 years. Perhaps the time has come to dig into the vault and come out with some rare jewels. They're out there; they just haven't been screened.
1:00 am
Men Must Fight
(MGM, 1933) Director: Edgar Selwyn. Cast: Diana Wynyard, Lewis Stone, Phillips Holmes, May Robson, Ruth Selwyn, & Robert Young. B&W, 72 minutes.
Note the year this film was released. If it were six years later, it wouldn't have even been made. But then 1933 was a strange year at MGM – in addition to this anti-war film the even more bizarre Gabriel Over the White House was released. In its own way, though, this film is every bit as unexpected and strange as Gabriel. We begin in World War I, where young impassioned flyer Geoffrey (Young) has met young impassioned nurse Laura (Wynyard). As he's scheduled for his first combat mission the next morning, the time is right for a night of whoopee with Laura. Guess what? Yeah, he dies and she's pregnant (this is a Pre-code film). Well-mannered suitor Edward Seward (Stone) arrives to offer her marriage and a safe haven in which to raise her son. She accepts, vowing that her son will never have to fight.
Cut to 1940 and Stone is Secretary of State. While he's celebrating a peace treaty he's just negotiated, the gaiety is cut short when a U.S. ambassador is assassinated (Shades of World War I!) and war is declared against Eurasia (Shades of Orwell!). Huge biplanes bomb Manhattan! The Statue of Liberty and the Empire State Building are destroyed! Poison gas is released in the streets! The enemy captures the Panama Canal!
War fervor is building; we have to respond in kind. But guess who won't be fighting? You guessed it: Son Bob (Holmes), trained by Mommy to stick to his pacifist guns. Step-Daddy, who comes to the realization that our postwar pacifism has allowed our enemies to re-arm, would like to see Bob mellow his tone but is too polite to ask. Bob's stance does not come without cost, however: his fiancée, Peggy (Selwyn), has given him back his ring with the admonishment that she wouldn't never marry a man that won't fight for his country and under this sort of pressure, he's beginning to question his principles.
Mom, on the other hand, shows no signs of letting up. She's out headlining a peace rally in the midst of death and destruction. Hubby has forbidden this, but who listens to him? While she's speaking, a mob breaks up the pep rally and chases her back to the family home. They shatter the front window before Edward comes out to admonish them about respect for freedom of speech and the like. But in the end, love triumphs over principles and Bob joins up as a flyer, taking off in the last scenes to defend the country as Laura sheds a tear.
Men Must Fight
is a solid "B" entry with credible performances from leads Wynyard and Stone. Wynyard was an accomplished stage actress in England whose film career never really took off, partly for reasons of disinterest. She would return to England in 1935, pausing only a couple of times to appear on the screen, and then usually for her then-husband Carol Reed. He best known film role was in the original English version of Gaslight, playing the terrorized wife that Ingrid Bergman would latter take on in the MGM remake. Stone, as film buffs are aware, is most famous for his portrayal of Judge Hardy in the immensely popular "Andy Hardy" series with Mickey Rooney.
The only sour note in the film is the performance of Holmes as Bob. He comes across not fully convincing as a man of principle. MGM was noted for the depth of their supporting lineup and this film is no exception. Robson, who made quite a career out of playing crusty old ladies, is in fine form as the family matriarch, and Robert Grieg, who along with Alan Mowbray, Eric Blore, and Halliwell Hobbes, formed the Hollywood man-servant corps, is also in fine form playing – What Else? – a butler. Hedda Hopper appears as Mrs. Chase, Peggy's mother, reminding us once again that her best career movie was to go from in front of the camera to behind a desk as a Hollywood columnist. Young, whose career was just beginning, wasn't in the film long enough to make an impression, and Selwyn, who played Peggy Chase, was director Selwyn's wife.
4:30 am
The Cranes Are Flying
(Mosfilm, 1957) Director: Mikhail Kalatozov. Cast: Tatyana Samojlova, Aleksey Batalov, Vasiliy Merkurev, Aleksandr Shvorin, & Svetlana Kharitonova. B&W, 94 minutes.
When I noted earlier that less frequently viewed war films are the ones that should be on TCM's docket for the weekend, this is the kind of film I had in mind. The Cranes Are Flying is a tender and subtle romance set during World War II, and came out at the height of the post-Stalinist Thaw that took place in the years immediately following the dictator's death, in which the bonds restricting creative freedom were loosened. Oh yes, there was still censorship, particularly with regards to how far one could go politically, and (of course) in regard to sexuality.
Veronika (Samojlova, who was awarded best actress honors at Cannes for this performance) is a young woman whose world revolves around Boris (Batalov), her beloved. However, World War II destroys their serenity, and Boris's patriotism moves him to enlist. While the audience sees that Boris is killed at the front while coming to the aid of another, the official verdict is that he's Missing In Action, which gives Veronika the hope that he survived after all.
Moving in with Boris's family after German bombers reduce her home to dust, she gives in to Boris's cousin, Mark (though it's implied that he forced himself on her), and later marries him out of guilt and shame. The marriage quickly becomes one long sour note with the in-laws finally realizing the depths of Mark's depravity and the fact that Veronika didn't "betray" Boris of her own volition. This leads to a very sensitive ending as Veronika comes to terms with Boris's death, although she is consoled with the thought that his memory will always live within her.
This is the sort of material that must be treated sensitively and carefully; otherwise it will quickly degenerate into a camp classic. To the director's credit, he manages to get the best out of each actor while balancing their performances so that the story remains on track. The cinematography is excellent, as is the editing, free of the heavy-handed montages that were so in evidence during the Stalin era. For those who don't believe a war story can co-exist with a love story, this is essential viewing.
2:00 am
Shaft's Big Score!
(MGM, 1972) Director: Gordon Parks. Cast: Richard Roundtree, Moses Gunn, Drew Bundini Brown, Joseph Mascolo, & Kathy Imrie. Color, 106 minutes.
4:00 am
Shaft in Africa
(MGM, 1973) Director: John Guillermin. Cast: Richard Roundtree, Frank Finley, Vonetta McGee, Neda Arneric, & Debebe Eshetu. Color, 112 minutes.
The success of Shaft in 1971 dictated a sequel – in this case, two. The first – Shaft's Big Score! – is a direct sequel in the sense that it features the same director, writer, and leads, and basically picks up the plot from where the original left off or gave room. Shaft discovers that his recently deceased friend, a funeral director, not only ran a numbers racket from his business, but was also whacked by the Mob, who want to take over his rackets. There's also $200 grand missing, and Shaft has his hands full tracking it down, nailing the hoods who ordered the hit, and protecting his late friend's sister from those same hoods. Gunn is back as Harlem mobster Bumpy Jonas (based on real-life Harlem gangster Bumpy Johnson), and, given a slightly bigger budget to work with than the original, director Parks ramps up the action while still keeping the gritty style and urban settings.
As the sequel did well at the box office, a third film was put into the works. Director Parks bowed out of the series, so British journeyman director Guillermin was recruited, and Sterling Silliphant handled the screenplay chores, taking over from Ernest Tidyman, who wrote the first two films. This time Shaft takes a page out of James Bond, as he travels to Africa to infiltrate and break up a slavery ring that kidnaps Africans and sands them to Europe as slave labor. Finley is the baddie and the gorgeous McGee supplies the requisite eye candy.
Trivia:
Richard Roundtree's next stop was a television version of Shaft in 1973 that went belly up after only seven episodes.
7:00 am
The Mayor of Hell
(WB, 1933) Director: Archie Mayo. Cast: James Cagney, Madge Evans, Arthur Byron, Allen Jenkins, Dudley Digges, and Frankie Darro. B&W, 90 minutes.
Having scored big with I Am a Fugitive From a Chain Gang, Warners followed it up in a way with this tale of abuse at a boys' reform school. Made on the cheap and strictly for the coin (as opposed to a great social message as in Chain Gang, or Public Enemy), the always energetic Cagney stars as Patsy Gargan, a ward heeler whose talents in garnering votes for the ruling party earns him the reward of being appointed to a no-work position as "deputy inspector" at a reform school, which, of course, turns out to be corrupt.
At first Patsy couldn't give a rat's tail about what's going on, as long as he gets a regular paycheck. But soon he begins to take an interest in the kids, thanks to Lovely Nurse Evans (Well, Hello Nurse!) with whom he falls in love. She is committed to making the little convicts' stay a more pleasant one but can't override by evil Warden Thompson (Digges), who feeds them barely edible slop, works them long hours, and dishes out several sadistic forms of punishment for those that break the rules. Once he takes an interest, it takes Cagney no time to institute reforms and civilize the little rascals, but he's called away to deal with a fly in the organization and has to take it on the lam after swatting said fly. Thompson then goes back to the way things used to be, only worse, which in turn instigates a full-blown riot that only Cagney can stop by coming out of hiding.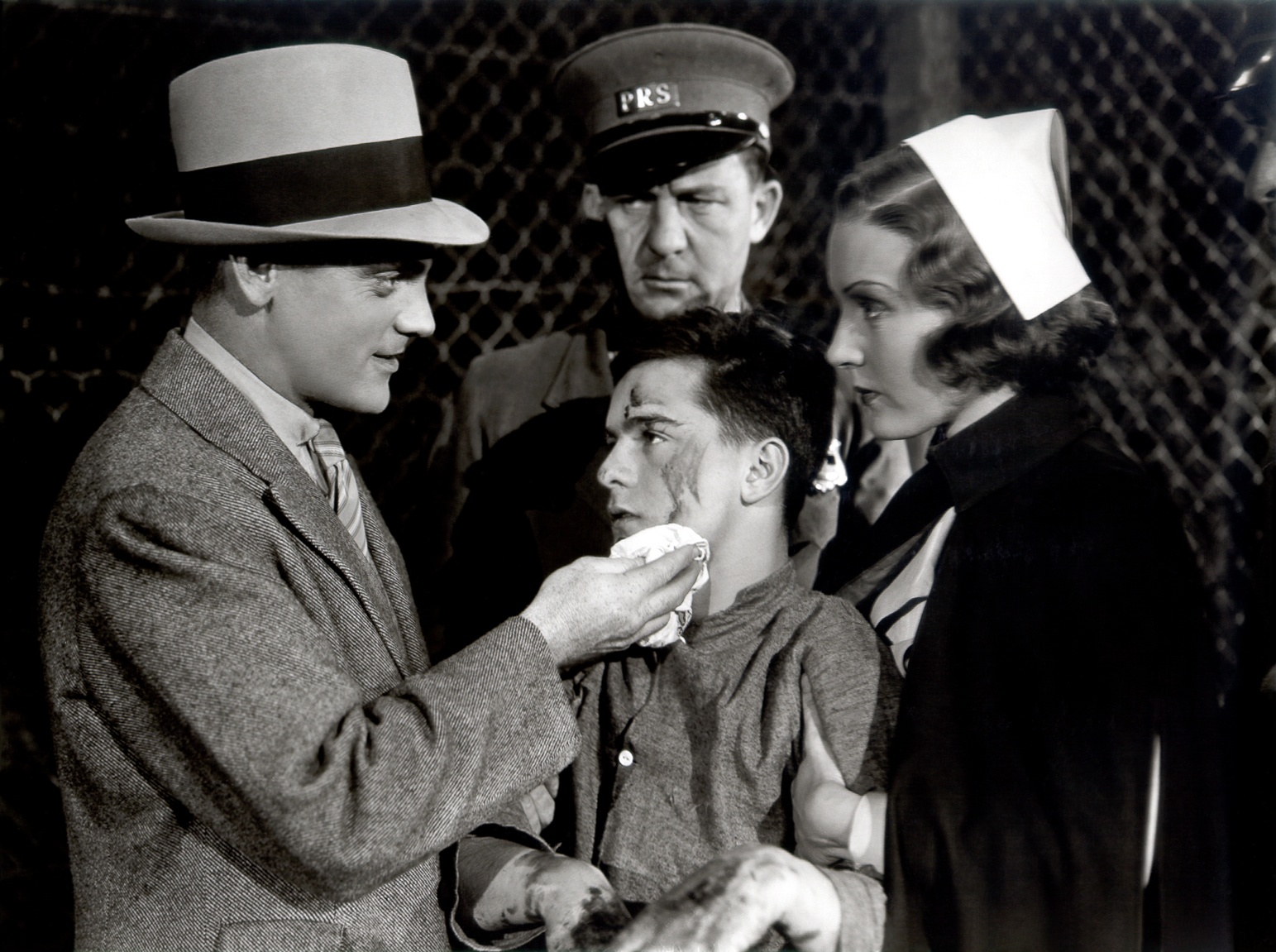 If this all sounds highly implausible, there is a good reason for that – it is. But at the same time, it's one hell of an entertaining movie, demonstrating how a great actor can raise the level of a piece of dreck by the sheer will of his energetic performance. Of course, it helps to have a good supporting cast, and Evans, Digges (wonderfully evil) and designated-sidekick-for-this-movie Jenkins provide the sort of support that makes Cagney's travail that much easier. Darro (who started out like gangbusters in films like Wild Boys of the Road in the 30s and worked his way down to Bowery Boys films in the 40s), Allen "Farina" Hoskins, and Raymond Borgaze (who has a great corny death scene) head up the delinquents.
There was a last-minute change in the ending of the film. The Hays Office apparently decided the ending should be changed to Thompson committing suicide while on trial. But test audiences hated the suicide ending, so Warners called in director Michael Curtiz to shoot the ending the Hays Office had warned against, and that is the one in the film where the boys chase Thompson into a barn and set it alight (shades of Frankenstein). Thompson then falls to his death, passing through a mesh of barbed wire and hitting his head of a rock in the pigsty.
By the way, Warner Brothers, ever the environmentally-minded studio, remade the film twice: in 1938 as Crime School, starring Humphrey Bogart and the Dead End Kids, and in 1939 as Hell's Kitchen, with Ronald Reagan, Margaret Lindsay, and the Dead End Kids (say, we're getting into a rut). Speaking of Crime School, it directly follows The Mayor of Hell at 8:45 am. Listen carefully and you'll notice that much of the same script is used in the remake.
Trivia:
Shooting took 36 days at a cost of $229,000, a pittance even in those days. Frankie Darro's most unusual role was his uncredited turn as Robby the Robot in Forbidden Planet. Marvin Miller of The Millionaire television fame provided Robby's voice.
For other Cinema Inhabituel films, click
here
.