Dinner and a Movie
The Iron Man Landmarc‏
Surprise, surprise! There's yet another line to stand on awaiting the availability of the theater in a megaplex. Well, I expected it knowing the popularity of the Iron Man series. I was just happy to get a good seat in a large, almost half-full theater at 5:00 pm. I was also happy that nobody talked at the movie. The evening went without a hitch and was enjoyable, but you'll know that when you read on. Enjoy!
Iron Man 3 (Marvel/Paramount, 2013) Director: Shane Black. Cast: Robert Downey, Jr., Gwyenth Paltrow, Don Cheadle, Guy Pearce, Rebecca Hall, Ben Kingsley, James Badge Dale, William Sadler, & Jon Favreau. Color, 130 minutes.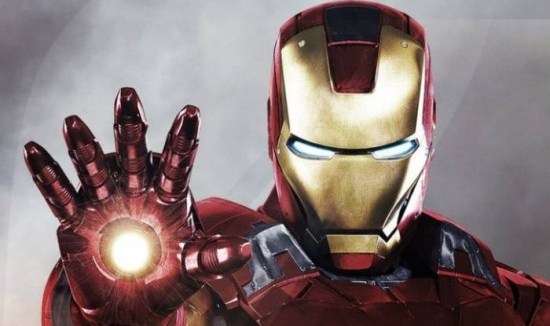 The entire time I was watching Iron Man 3 I was thinking how good Robert Downey Jr. would have been in Oz The Great and Powerful. He definitely is Tony Stark and this third edition of the Iron Man series gives him a chance to portray another side of the character. The usually brilliant, confident, sarcastic tinkerer gives way to several bouts of anxiety attacks whenever New York is mentioned and Downey does them superbly.
A new villain arises in this episode under the guise of a terrorist called "The Mandarin" (Kingsley). He takes credit for several major bombings, including L.A.'s Chinese Theater (formerly Grumman's), which leaves no evidence of bomb fragments. There are no clues as to why a Chinese terrorist would blow up a Chinese theater or his ultimate plan.
A subplot of the story is Maya Hansen (Hall) and her experiments to create a regenerating formula to replace missing limbs on paraplegics. She demonstrates it to Tony with a fig plant in her apartment and it seems to work but the plant blows up, causing Tony's friend Happy Hogan (Favreau) to throw himself on Tony to protect him. Unknown to Tony, however, Maya is already working with Aldritch Killian (Pearce) – who was snubbed by Tony in the past – on humans.
Tony wants to stop the Mandarin as Iron Man and foolishly gives his home address on camera in a show of bravado. Next thing you know, bomb-toting helicopters swoop in on his seaside cliff-perching home and destroy it, leaving him with the Prototype 42 Iron Man suit – which malfunctions hilariously at several key moments – to defend Pepper Potts (Paltrow) and his country. Tony's best friend Colonel James Rhodes (Cheadle) also has an Iron Man suit re-colored in red, white and blue, and re-dubbed the Iron Patriot and is in the service of President Ellis (Sadler). When the President is captured in a bizarre scene aboard Air Force One, Rhodes becomes involved with the Mandarin's scheme.
This episode surpasses the previous one in that the plot is not cut and dried. There are twists and surprises as we would expect in a good mystery. The script is well done and the humor liberally sprinkled throughout – usually in Tony's lines. When signing an autograph for a young girl he notices her younger, blonde bespectacled brother and turns to him with, "By the way, I loved you in Christmas Story." Later on in the movie he says to Pepper, "I thought I had lost you." And she replies, "Why? Because I fell 200 feet?" (into an inferno, no less).
The action in this movie is fast and furious at times and difficult to see in places because of the timing, but the stage sets are big and the explosions dramatic. Jarvis, Tony's computer (voiced by Paul Bettany), more than once provides comic relief to the serious terrorist plot. My only question is about any further sequels. The end of the movie (I won't give it away) begs to ask where it can go from there. Rating: 4 out of 5 Martini glasses.
179 West Broadway (near Leonard Street)
New York
A small sidewalk café under a brown awning with the name in white letters tells you that you've arrived at Landmarc TriBeCa (the original Landmarc is in the Time-Warner Center at Columbus Circle). The entrance to this two-story bistro is through an incredibly heavy, ill-fitting door that slams like an explosion. When I first arrived I thought I used the wrong door because I could not see the handle on the inner door accessing the lower floor where the captain's station is located. At my second attempt, I saw a young lady opening the inner door and I was able to check in.
My table on the second floor was at the top of a steep flight of wooden steps and cordoned off from the stairs by a fence made of the spiral-twisted steel rods used to strengthen concrete in skyscrapers. The rest of the room was bare brick walls, full-length windows on street-side, and kitchen in the back with strings of white lights hanging overhead. I had a feeling of déjà vu when I saw the décor that later on turned out to be unfounded. This restaurant has been in existence for nine years. How did I miss it?
Its billing as Contemporary French on Opentable.com intrigued me and when I sat down and unfolded the single piece of paper that was the menu and saw "bordelaise" and "Boudin" were the only words in French, I wondered what the cuisine title meant. My waiter Brett greeted me and brought a glass of water and the wine and cocktail list. He informed me about the one and only special: six Malpeque Oysters on the half shell for a surprisingly low price. I saw a cocktail that I liked and ordered the Hangar Mandarin Cosmopolitan (probably because of the villain in Iron Man 3). Consisting of mandarin orange vodka, triple sec (orange Liqueur) and cranberry juice, it proved to be a refreshing starter.
There were many interesting choices on the menu so I took my time. There were several Appetizers, Salads, Pastas, Mussel dishes, Steaks, Entrées, Sides and what were called "Landmarc Classics." The appetizer was an easy decision – the special of the day. Since the salads all had small and large sizes, I thought it was time for a salad rather than my usual soup (French Onion was the only choice anyhow). I asked Brett about the Braised Rabbit Cavatelli and was assured it was "Awesome." Then I asked if the Boudin Blanc or Noir dish could be made with both kinds. He checked with the kitchen and came back with a "yes." I asked for a few minutes to consult the wine list, and he brought the basket with five slices of wonderful crusty bread accompanied by a small steel cup of butter.
Talk about an Alice in Wonderland moment! I had to pinch myself to make sure I was seeing the low prices of excellent wines page after page after page. There were (of course) wines by the glass, but also half-bottles, magnums and full bottles, and all very reasonable. I was ready. I chose a 2010 Cabernet/Merlot/Malbec varietal from South Africa called De Toren Z from Stellenbosch vineyards. It was nothing short of miraculous: the flavor was full-bodied and spicy with a fruity aftertaste, an excellent red wine.
The six good-sized oysters were served resting on ice with a horseradish sauce and an onion sauce (I used both). Since the little fork I'm used to with oysters was missing I guessed rightly that these were to be slurped right from the shells. After downing the first one (delicious, tender, cold and fresh) I had to suppress laughter because it brought back scene from the movie Mr. Bean's Holiday and his hilarious experience (and disposal) of the dish.
Best to compliment the wine was the small Mediterranean Salad - celery, cucumber, chickpeas, pepperoncini, black olives, grape tomatoes & feta cheese topped with two wedges of grilled flatbread and in an oregano vinaigrette – which went down in my dining history as one of the few times I enjoyed a salad so much it brought tears to my eyes. The pepperoncini gave it just enough spicy kick to echo the wine's spice and amplify both experiences.
The Grilled Boudin Blanc et Noir was cuddled together by a mound of beautifully green spinach and sliced cooked apples under caramelized onions and a ramekin of whole mustard. My first acquaintance with boudin was in New Orleans and I loved it so much I cannot resist having it when I see it on a menu. Basically it's a sausage – the white being almost pure white and finely ground but firm texture, only slightly salted, the black (noir) being essentially a blood sausage, stronger flavor, soft and coarser – and the two combined with a little mustard were divine! I never order apples or apple products because I don't care for them particularly, but the transformation that happens with caramelized onions is amazing. The spinach, though eclipsed by the boudin and apples was well done and only slightly crunchy. But wait, there's more. I ordered a side dish, Red Quinoa (pronounced "keen-wah") and Grilled Vegetables. Quinoa is a species of goosefoot, a grain-like crop grown for its edible seeds. I expected the quinoa to be the dominant part of the side dish but it turned out to be a lovely accent to the chickpea, zucchini cubes and other vegetables that filled the ceramic cup.
The Nutella Eclaire for dessert was unfortunately the low point of the meal and would probably have shocked any Frenchman just by the concept. It was tasty, but I would never order it again and will avoid anything with Nutella in it in the future. But, after the double espresso and a fine glass of Maestro 12-year-old Amontillado, the dessert was forgotten. Landmarc TriBeCa is a busy restaurant – downstairs was full and upstairs filled in while I was there – with great food and fantastic wine prices and good service.
"Contemporary French" reminded me of the country French food I had at other places but with the sauve bistro style so chic in New York. There are still several dishes I need to try.