A Guide to the Interesting and Unusual on TCM
Glenda Farrell Gets Her Day
This week this column is dedicated to a single day for a special actress. Upon hearing the words "brassy fast-talking blonde," the name that comes first to my mind is Glenda Farrell. On August 29, TCM is devoting a day of its annual "Summer Under the Stars" to Farrell. Several of the movies being shown have not been seen on television in years, so this is a "Must See" for all cinephiles.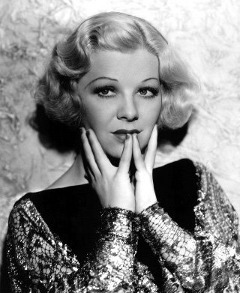 Born in Enid, Oklahoma, on June 30, 1904, Farrell had been acting since the age of 7, when she appeared as Little Eva in a production of Uncle Tom's Cabin. Realizing she had found her life's work, she would continue on the stage through the early '30s, taking time off only to finish her education and to marry Thomas Richards, a film editor, in 1921. The marriage lasted until 1929 and produced a son named Thomas.
Her film career began in 1928 with a bit part in the film Lucky Boy for Tiffany-Stahl. Warner Brothers signed her in 1930 and immediately placed her in a Vitaphone short, The Lucky Break, to see what she could do. Impressed by her performance, her next role was a featured one later that year in Little Caesar. Warners kept her busy throughout the '30s in roles centered around her persona as a brassy, hard-boiled, wise-cracking blonde. She gained good notice for her role as Paul Muni's scheming wife in I Am a Fugitive From a Chain Gang. But for the greater part of her career at Warners, she was cast in supporting roles as the girlfriend, sidekick, or friendly adversary of the hero/heroine. Farrell realized early on that it was a man's world at Warner Brothers and this would be her glass ceiling. She was frequently paired with Joan Blondell, another brassy, wise-cracking blonde whom the studio had no idea about what to do with, in a series of B comedies.
In 1936 came the role that would cement herself permanently in the hearts of film fans – that of Torchy Blane, the fast-talking reporter with a nose for news and a habit of getting herself into such trouble that she always had to be rescued by her boyfriend, police Detective Steve McBride (Barton McLane). Their first film, Smart Blonde, released in 1937, was just supposed to be a one-shot B programmer, but like so many of the B series in Hollywood history, it just took off with audiences and distributors alike, and a series developed. Farrell and MacLane did seven films together, all moneymakers.
Farrell's star faded in the '40s, but in 1941 she married Dr. Henry Ross, a West Point graduate and Army physician who served on General Dwight D. Eisenhower's staff. When not traveling with her husband she worked on stage and in a few select movies. In 1954 she again was in the spotlight with her role as Mrs. Winston in the Charlton Heston adventure epic Secret of the Incas (Paramount), a film that directly influenced 1981's Raiders of the Lost Ark. In the '60s she won an Emmy for her work on the television series Ben Casey, and had a supporting role in the 1964 Elvis Presley film, Kissing Cousins. She was starring on Broadway in Forty Carats in 1969 when she got news that she was diagnosed with lung cancer. She continued in the play until her health gave out and returned home to die on May 1, 1971. She is interred in the West Point Cemetery, West Point, New York.
Below is the day's schedule, along with a short synopsis. All films this day were made for Warner Brothers save for the last, The Talk of the Town, made for Columbia in 1942. The year and director are in parentheses.
A note of trivia: Farrell's son, Tommy also went into acting and billed himself as Tommy Farrell. He performed mainly as a supporting character, and later went into television with some success.
6:00 am –
Little Caesar
(Mervyn Le Roy, 1930): Farrell's first feature. Her dancer Olga takes Joe Massaro (Douglas Fairbanks, Jr.) away from Rico (Edward G. Robinson) and his gang, leading to Rico's downfall.
A+
7:30 am –
I've Got Your Number
(Ray Enright, 1934): Farrell has a small role as Bonnie, a fortuneteller exposed by telephone repairmen Terry (Pat O'Brien) and John (Allen Jenkins) as a fake. But she does get some revenge by dating John.
B
9:00 am –
The Personality Kid
(Alan Crosland, 1934): Farrell's in solid form in this blue-collar romance as Joan McCarty, the wife and manager of brash upcoming boxer Ritzy McCarty (Pat O'Brien). When Ritzy gains success he wanders away from Joan, with the predictable results.
B-
10:15 am –
Kansas City Princess
(William Keighley, 1934): Farrell and Joan Blondell are a couple of fast-talking grifters on the lam over a mix-up involving a diamond engagement ring given to Blondell by gangster boyfriend Robert Armstrong. Aboard a ship to Paris, they find new marks to con. Farrell is particularly adept at handling the script's fast dialogue. She was timed speaking 390 words a minute while on Broadway.
B
11:30 am –
Snowed Under
(Ray Enright, 1936): Pat O'Brien is a playwright with writer's block who has retreated to a snowbound cottage to write the play's third act. Genevieve Tobin is his first wife, sent to the cabin by O'Brien's producer to nudge him along. Farrell is his second wife who shows up at his retreat for her alimony. Patricia Ellis is the neighbor who wants to have fun. So we find O'Brien stuck in a snowbound chateau with three women and a jug of applejack.
C+
12:45 pm –
Fly Away Baby
(Frank McDonald, 1937): A routine entry in the Torchy Blane series, as Torchy takes to the air to track a band of killers.
C
2:00 pm –
The Adventurous Blonde
(Frank McDonald, 1937): Jealous that Torchy Blane is getting the scoops, rival reporters plan a fake murder to fool her and embarrass her paper. But to their surprise, the fake turns into the real thing.
C
3:15 pm –
Blondes at Work
(Frank McDonald, 1938): Steve McBride promises his captain not to let Torchy in on his cases, but she continues to scoop the other reporters. And in this film she even scoops the police.
C+
4:30 pm –
Torchy Gets Her Man
(William Beaudine, 1938): A notorious counterfeiter passes himself off as a Secret Service agent to Steve and gets him to unwittingly bilk a race track of its receipts. Torchy manages to penetrate the counterfeiting ring and bring the man to justice.
C
5:45 pm –
Torchy Blane in Chinatown
(William Beaudine, 1939): Not only are Torchy and boyfriend Steve on the trail of a Chinese gang, but they must also deal with a phony Scotland Yard inspector trying to extort $250,00 from a rich young man who is trying to marry a senator's daughter.
C
6:45 pm –
Torchy Runs For Mayor
(Ray McCarey, 1939): Torchy conducts a one-woman campaign against a corrupt mayor and crime boss, and when the reform candidate is murdered, she takes up the banner.
C
8:00 pm –
Smart Blonde
(Frank McDonald, 1937): In this, the first in the Torchy Blane series, Torchy and boyfriend Steve McBride team up to solve the murder of an investor who just purchased a popular local nightclub.
B
9:15 pm –
The Mystery of the Wax Museum
(Michael Curtiz, 1933): Reporter Farrell discovers something's fishy in the city's new wax museum run by Professor Igor (Lionel Atwill). With Fay Wray and Frank McHugh.
A-
10:45 pm –
I Am a Fugitive From a Chain Gang
(Mervyn Le Roy, 1932): Farrell gives a solid performance as escaped fugitive Muni's landlady, who forces him to marry her when she discovers the truth about his past. A classic.
A+
12:30 am –
Gold Diggers of 1935
(Busby Berkeley, 1935): In this entry about another show on the rocks Farrell has a minor role as hotel secretary Betty Hawes, who nonetheless plays a crucial role in keeping the show's backer from discovering her daughter has married hotel desk clerk Dick Powell instead of millionaire Hugh Herbert. Great musical numbers and Gloria Stuart is show-stopping gorgeous as the female lead.
A-
2:15 am –
Gold Diggers of 1937
(Lloyd Bacon, 1936): Another contrived backstage musical, only the numbers themselves are not enough to redeem the script. But tough Termite Terrace was able to put the songs to good use in the Merrie Melodies cartoons. Farrell is Joan Blondell's pal, who's trying to land a millionaire.
C
4:00 am –
The Talk of the Town
(George Stevens, 1942): Farrell has a good supporting role in this comedy about an unjustly accused arsonist Cary Grant, whom Jean Arthur champions to vacationing law professor Ronald Colman. Farrell is a beauty parlor owner who knows the truth of what really happened that night.
A