Dinner and a Movie
Snails and Sea Fire
Even though the day at work was not "happy, happy, joy, joy," (I now know why some people take off on their birthday) the evening was spectacular. The movie and the dinner were both aces, the perfect way to celebrate my 63rd birthday. No, I'm not particularly anti-social, I just love my quiet time and there are few people since Helene that would like to share it with. I'll tell you a story. Helene was always into mystic stuff (Pisces, you know) and she told me all about the sixth sense and that it was stronger when one was well rested, tired or inebriated. Well, we were walking along the boardwalk in Ocean City, Maryland, after breakfast one morning and everyone and his brother was flying enormous elaborate, colorful kites. I was well rested at the time (just to keep the record straight) and suggested to Helene, "What if tomorrow's headline reads - Couple on Boardwalk Wiped Out by Giant Kite!" Two seconds later, a huge kite crashed onto the boardwalk about a yard away from us. "Don't do that!" warned Helene. I never forgot it.
Sometimes I have a sixth sense about restaurants and after viewing this one's website (which was visually stunning in itself) I knew I had found another place that would make me feel at home. Enjoy!
Turbo
(DreamWorks/20th Century Fox, 2013) – Director: David Soren. Voices: Ryan Reynolds, Paul Giamatti, Samuel L. Jackson, Michael Pe
ña, Luis Guzmán, Bill Hader, Snoop Dogg, Maya Rudolph, Ken Jeong, Michelle Rodriguez, Kurtwood Smith, Ben Schwartz, & Mike Bell. Color and 3-D, 96 minutes.
It made me laugh, it brought tears to my eyes, and it made me forget it was an animated film.
As this beautifully-created animated movie from 20th Century Fox and Dreamworks begins, the audience is soaring high over Indianapolis until the famous racing stadium appears below. Then we swoop on down to track level and rocket around the course with the cars. It was some of the best camera work I've seen in a while and told me in no uncertain terms that this is no cartoon: They want us to believe this.
Under Soren's direction, Turbo is a tale of a snail tired of living his life at a literal "snail's pace." He dreams of being fast, idolizes racecar driver Guy Gagné (Hader), and is totally unmotivated by his daily "job" at "the plant" (literally a small patch of tomato plants in cages). Theo, soon to be Turbo (Reynolds), has the undignified job of re-routing rotting tomatoes when he hears the cry "Over-ripe!" More often than not, however, he's splattered with tomato juice. His brother Chet (Giamatti) looks out for him and tries desperately to curb his ambitions, even to the point of saving him from a lawnmower when Turbo attempts to retrieve an errant tomato on the lawn.
When Turbo's reckless antics get both he and his brother fired from "the plant" he leaves home and while crossing a highway bridge, falls, and eventually gets sucked into the engine of a high-powered car. The last sign he sees is "Nitrous Oxide" (laughing gas to us), which somehow gets into his blood flow and makes his heart pump faster, resulting in super speed, headlight eyes and other strange side effects. By the time Chet catches up to him they are both captured by Tito (Peña), who races snails between working with his brother Angelo (Guzmán) selling tacos at Dos Bros Taco Stand in a down-and-going strip mall. Tito also has a dream (in fact he's had several wild ideas in the past) to drum up business and become famous. He places Turbo and Chet on a small racetrack with his other snails Smoove Move (Snoop Dogg), Burn (Rudolph), Skidmark (Schwartz), Whiplash (Jackson) and White Shadow (Bell), and soon learns that this little snail is lightning fast.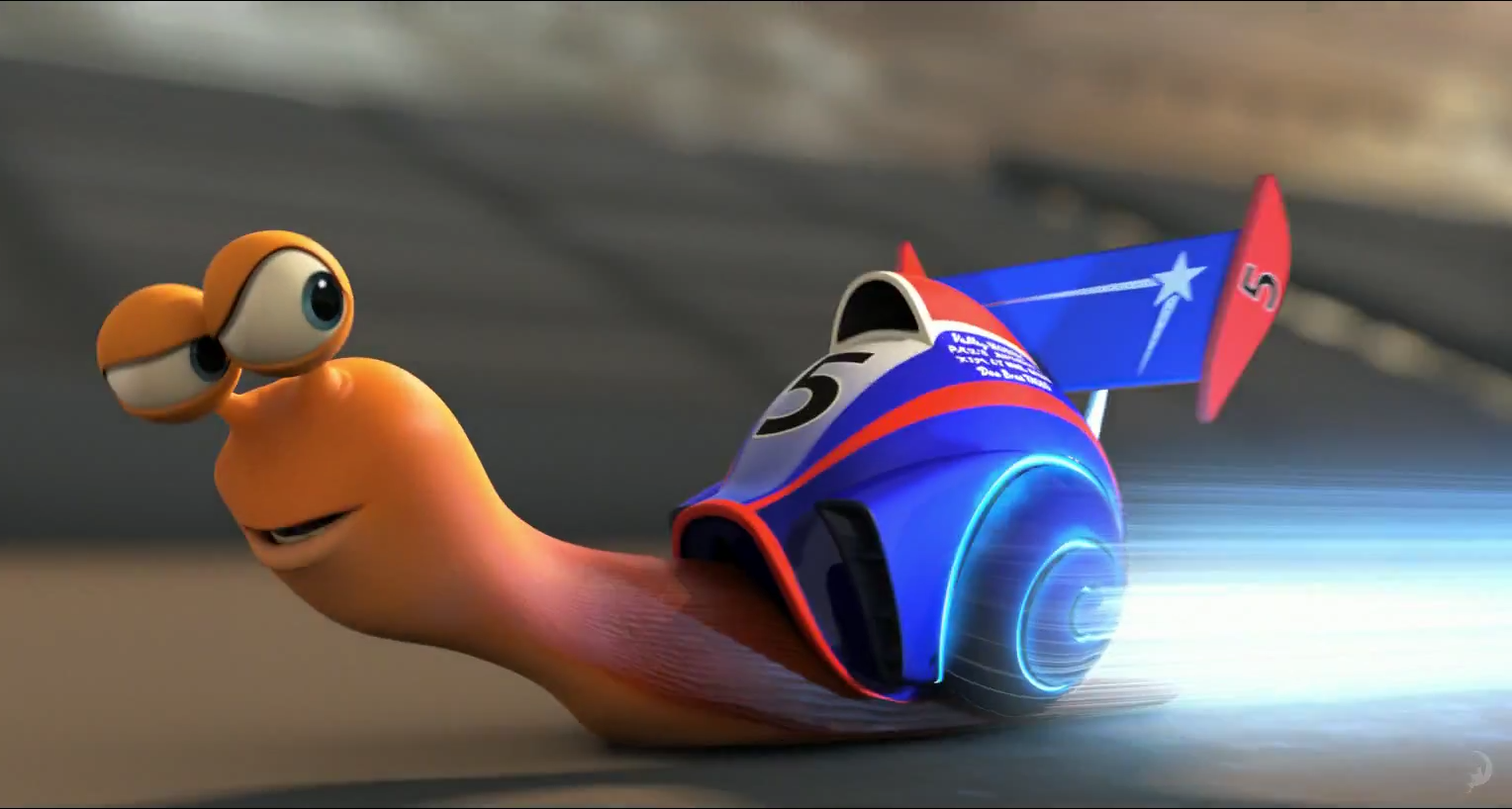 Although Turbo and his snail compatriots cannot speak to humans they seem to understand what humans are saying to them, and by a flashy circling of a billboard advertising the Indianapolis 500, Turbo gives Tito the idea to enter him. Angelo won't hear of it and will not put up the entry fee. Neither will Kim Ly (Jeong), the owner of a small grocery in the same mall, nor Paz (Michelle Rodriguez), a nail salon owner, until the other snails manage to hijack a tour bus in the parking lot at the mall. The tourists spend money, the bus driver gets his flats fixed, and all witness a supercharged snail race that amazes them. The storeowners then pool their money and the entry fee is raised.
The next hurdle is to obtain permission for a snail to race against fuel-injected racecars. The Indy 500 chief executive officer (Smith) denies entry even after Turbo demonstrates that he can do the minimum 220 mph. It's only when Gagné speaks for Turbo that he's allowed to race. Turbo soon finds out that Guy is not the great sportsman he believed he was and his noble words on camera are just window dressing for an egotistic sore loser.
Turbo
is a great example of how far animation has come since the days of Steamboat Willie. The characters are fully three-dimensional, they move smoothly, and their voices are perfectly matched to their motions. Even though the snails have two eye stalks and a mouth, we can still see the full range of emotions depicted by their attitudes. The 3-D special effects enhance the story without cheaply throwing things at the audience, and the musical soundtrack flows with the action, never getting in the way or dominating. The story is novel and the script is clever and funny. Chet to Theo, "Why can't you just enjoy your life?" Theo, "I have a life?" White Shadow to Turbo, "They call me the White Shadow because I'm fast…like a shadow." Turbo, "You know, shadows are not inherently fast."
I thoroughly enjoyed Turbo and I believe it helped me negotiate pedestrian traffic effectively enough to get me from 42nd Street and 8thAvenue to 48th Street and 3rd Avenue in less than 20 minutes. Rating: 4½ out of 5 Martini Glasses.
158 East 48th Street (between Lexington and 3rd Avenues), New York
As is the story with so many establishments in New York City, The Seafire Grill's entrance is currently partially hidden by construction scaffolding. But the sleek name in silver lettering on a deep blue background was visible enough for me to find it.
"Would you like a table in the bar area?" asked the lovely hostess. Immediately noting the lively conversation going on in the bar I demurred and chose the dining room instead hoping for quiet. Not too much difference. At seven o'clock this offshoot of both The Benjamin, and Ben & Jack's Steakhouses was jumping with activity. More than half of the 20 tables were occupied (including a table for eight) with diners having a great time.
The room is oyster-white with matching chairs and banquettes and large-faceted mirrors set like port holes on the wall, giving the feeling of being on a luxury cruise ship. I was seated at a corner table at the junction of the two rooms – perfect. The Headwaiter, Alex, introduced himself and welcomed me and took my martini order. My server, Timmy, brought the water and had the breadbasket sent over while I read the menu and wine list. The Beefeater martini arrived quickly: perfectly chilled and balanced. I decided to try the rosemary bread with the accompanying spread. Oh, what flavor: So creamy, smoky, and slightly herbal. This was definitely not butter. I told Timmy I could take a large container of this home if they sold it separately. He thought it was a good idea and mentioned that several patrons went wild over it.
Since I had already decided upon my meal and was selecting a wine, I ordered the 2011 Domaine Christian Moreau Chablis (Timmy was there intently watching me). I commented that the only wine missing from the remarkable affordable list was Frascati and he agreed that it should be included. While he set off on the search for the wine, I finished my martini, and Alex was back. I asked for its twin brother and set him off on that task. They almost crashed when both returned simultaneously. I used the bread to clear my palate while Timmy poured the wine. The wine was perfect: crisp and chilled nicely. He placed it in a wine bucket out of sight in the room with a bubble waterfall between the bar and myself.
Let it be said that every course worked beautifully with the wine. The Lobster Bisque, with its musky (not overly creamy) taste and good-sized pieces of lobster meat, provided a decidedly masculine accent to the meal. The Madagascar Garlic Prawns were served with the heads and legs looking like three alien beings on my plate, but after quickly decapitating and dismembering them I found them sweet, almost crunchy, and with just the right amount of garlic to satisfy my taste. I told Alex I ordered them in honor of him (being named Alex, who was the lion in the movie Madagascar). He looked dubious but smiled and thanked me.
Then the Wild Striped Bass arrived: an inch-thick hefty piece of fish with crispy skin on top resting on the red Spanish Risotto. I had thought of ordering a side dish but was glad I didn't. Between the wonderful flaky fish and the robust flavored risotto there was no need of a side. Besides, I had to order more rosemary bread to get more of that excellent spread. And…I had room for dessert.
It's been a long time since I've had a pecan pie as delicious as this one, with just the right amount of whipped cream on top. The double espresso was a comfortable accompaniment. The Seafire Grill opened sometime early last November and I see great things in store for it, including future visits. The staff is well trained, attentive and efficient, the food is excellent and the atmosphere divine. Helene would have loved this place. The only reason I did not reveal that it was my birthday is that I heard the staff singing to someone in the next room. They need a little work there.
For the Dinner and a Movie archive, click
here
.